The Thunder Road Speed Bowl is a quarter-mile, heavily banked oval nestled in a Barre, Vermont hillside. This story is about my attendance at an annual event held here. Unfortunately, we are here only as spectators rather than as competitors — but it's still quite the shindig.
Normally, this track is bustling every Thursday night with some great racing from three different classes, ranging from full-on stock car-style race cars down to the street-stock class, which could also be considered spec fox-body Mustang racing with a Cavalier or two thrown in for fun.
Today is a special day, though, for many reasons, not least of which because it's Sunday — and following a 50-lap showdown for the Mustang vs. Cavalier crowd, it begins: The spectacle of all spectacles, where the amount of coolant and oil burned is only equaled by the amount of Bud Light consumed in the stands. The regulars call it the "Enduro," while one of my acquaintances — who's also a competitor in this event — calls it "the ultimate lesson in spacial awareness." The concept is fairly simple: first to 200 laps wins.
In practice, there's more to it than that. The cars are limited to any nonsports car with a 4-cyl, V6 or V8 engine, and they must be completely stock except for the removal of nonessential items and the addition of some safety equipment. This may sound unfair — but wait, there's more! The race begins from a standstill when the crowd counts down from three.
Now, here's where it gets interesting: There are no caution flags. Unlike normal races, if you wreck or break down, you wait at your resting place until a red flag comes out. These do still exist to stop the race, but they're used sparingly — and their presence requires more than getting a dirty look from an opponent. In fact, there are a total of three things that'll stop the race. First, if you come to a stop on your roof. Second, if your car catches fire. And finally, if the death of your car leads to your drivers door being unsafely exposed to the flow of traffic. These are also your only opportunities to get out of your car.
But wait, I haven't gotten to the best part: The starting grid consists of more than 100 cars — and when they're lined up three wide, they take up half the course.
The back of the pack hasn't even begun to start when the first cars reach them. The next twenty minutes are exactly like driving in New York City. Horns and fingers fly as everyone just bullies their way through the crowd. Some make it, some don't. The first batch of cars are taken out quickly, thinning out the field enough for a flow of traffic to start.
As night starts to fall, half the cars have retired either from internal issues or by more forceful means. During the red flag stops, if your resting place is overly inconvenient, your car will be moved gingerly … by a huge fork-equipped bucket loader.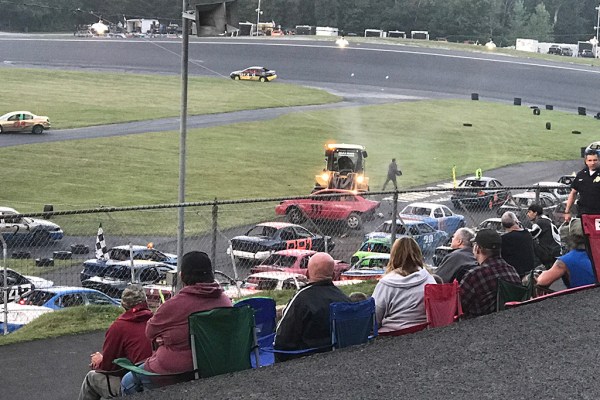 If you think it all sounds like it's set up purely for the amusement of the fans, you're right. However, as you watch and start to focus on some of the drivers, you can see the skill it can take to win — or indeed, survive — this race. This is no longer just a turn-left-every-few-seconds race — you also need to remember where all the dead cars are sitting. Then you have to watch several cars ahead of you, because you never know when you're going to have to make a run for the infield to dodge the pandemonium ahead. And, of course, next time you come around, all of those dead cars will be in different places. Oh, yeah, and you have to stay out of the direct paths of the 70 other people you're sharing the road with. And don't forget you have to go around the track more than anyone else if you want to win.
In the end, there can only be one winner. The car he was driving probably has never won a race before. Heck, it's probably never even been in a race before, or even over the speed limit as it cruises in the passing lane of your local major interstate. In case you haven't guessed yet, I'm talking about the Toyota Avalon.
Many of these cars will be carefully attacked with crowbars and sledgehammers so that they can come back next year to try again. Among the field of cars is a Volvo S80 that's been around a couple years, a couple Cadillac Seville sedans, some Chevy Impalas, a 1980s Oldsmobile Cutlass that's been running for more than 20 years and a Mercury Sable that was getting pretty adept at drifting its way around the curves. My friend who was running the event in a Ford Contour was taken out halfway through the race. There's also a huge number of Cavaliers, Neons, Accords and Civics, making for a great David vs. Goliath battle.
But wait, there's more…
Here is an in-car view (Part 1 and Part 2), provided by our friend in what's left of his Ford Contour SVT.
Indeed, it's a spectacle of epic proportions, and I'll be going back next year. I'll see you there. You bring the Bud Light, and I'll find us a good seat! And maybe, if we pester Hoovie enough, he'll bring a member of his fleet over. He seems crazy enough to give it a try.
MORE FROM OVERSTEER:
The 5 Coolest Concepts From the SEMA Show
Here's Why the McLaren 720S Is Worth $300,000
BMW Will Soon Have 7 SUVs