The Volkswagen Golf is what is referred to as a "world car": It's sold in just about every market across the globe. Here in the U.S., it seems that a prerequisite to being a car enthusiast is some experience with the Golf, especially in GTI form. The Golf and GTI surely have their fans here at Oversteer: I own a GTI, Will Kinton owns a GTI, Sam Keller owns a Golf Cabrio Collectors Edition, and Doug DeMuro has owned a GTI.
This is because the Golf and GTI embody what is almost the perfect car: a car for the world, for the people! Variations of the Golf check the boxes for practicality, efficiency, performance, ease of use and the ever-important resale value. Some versions, like the GTI, check all of the above. That said, I often muse about all the other variations of the Golf offered — both here in the U.S. and abroad. Longer Golfs, taller Golfs, faster Golfs, more efficient Golfs.
VW doesn't necessarily build every possible configuration — that's to say, you can't get a Golf R Sportsvan or a GTI Alltrack — but what Volkswagen enthusiast hasn't fantasized about one of those configurations? Theoretically, though, if any of us had free roam of the assembly line for a day to put together a Golf however we wanted, the possibilities would be pretty much endless.
So with that in mind, what would you build? Here's just about everything you'd have to choose from:
Engine/Drive System
Needless to say, there are a lot of choices here. Across the world, VW offers the Golf with 14 different gasoline engines and five different diesel engines, plus plug-in hybrid, CNG and fully electric versions. That's a lot of choices I'm not going to outline fully here. Essentially, there are five types to choose from:
Gasoline (MSI, TSI, GTI, R)
Diesel (TDI, TDI Bluemotion, GTD)
Plug-In Hybrid (GTE)
Compressed Natural Gas (TGI)
Fully Electric (e-Golf)
Each of these powertrain types lends itself to a number of trims — MSI, TSI, TDI, TDI Bluemotion, GTI, GTE, e-Golf, GTD, R and, in compressed natural gas form, TGI. Bet you didn't know about that one.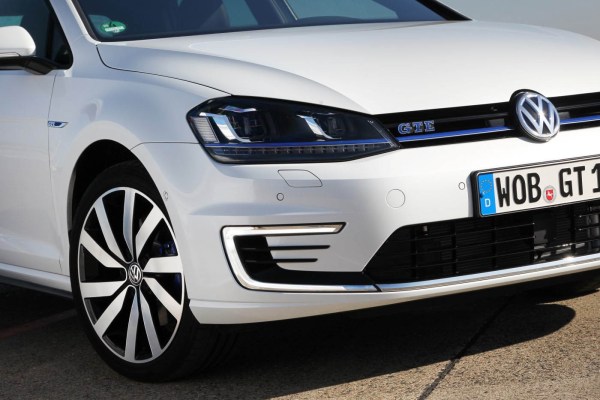 Transmission
5-Speed Manual
6-Speed Manual
6-Speed Automatic
6-Speed DSG
7-Speed DSG
This one really comes down to the manual vs. automatic camps. Of note here? The DSG dual-clutch gearbox is truly remarkable, but even that doesn't come without a cost; usually at least $1,000 onto the sticker price, plus costly DSG fluid changes every 40,000 miles. But then again, DSG-equipped performance models come with paddle shifters, and paddle shifters are cool.
Drive Wheels
Most enthusiasts would be compelled to flock to all-wheel drive — but as someone who's had considerable seat time in both the MKVI Golf R and GTI, I'll make the argument that the front-wheel-drive GTI is more enjoyable to drive at everyday speeds, thanks to its lighter weight and squirrelier character. That makes this decision a little more difficult.
Body Style
There are five different Golf body styles offered worldwide:
3-Door Hatch
5-Door Hatch
Variant (what we know in the States as the Sportwagen)
Alltrack (a raised-up, ruggedized Sportwagen)
SportsVan (raised roof for increased cargo capacity)
So there you have it — a fairly comprehensive list of every body style, engine, transmission and trim level available on a Volkswagen Golf. Theoretically, if we car enthusiasts ruled the world, we could order any combination of the above, making just about the perfect, personalized vehicle for any one of us. Personally, if I could have things my way, I'd take a DSG-equipped Golf R Variant, but raised up a little with components from the Alltrack's suspension to make for a super-practical, high-performance German rally-car. Now it's your turn: What say you, reader? What would you concoct? Find a Volkswagen Golf for sale
Chris O'Neill grew up in the rust belt and now lives in Salt Lake City, Utah. He worked in the auto industry for a while, helping the Germans to design cars for Americans. On Instagram, he is the @MountainWestCarSpotter.

MORE FROM OVERSTEER:
Video | The 1970s Maserati Ghibli Is Very Different From the Maserati of Today
Where Is the Next DougCar?
Video | I Fixed a Big Mistake I Made With My LS-Swapped Porsche 911