Last week, I featured a 2005 Toyota Tacoma that was listed on Autotrader with 445,000 original miles. And that got me thinking: What are the highest-mileage cars listed on Autotrader? What do they cost? What kind of shape are they in? And most importantly, why do they have so many miles?!
So I dug around a bit, and I discovered the seven highest-mileage cars listed on Autotrader. Here's what I learned: Five of them are pickups, and three of those trucks -- including the one with the highest mileage -- are heavy-duty models, undoubtedly used for serious work duty. One is a Honda Accord. And one is a limo. A stretch limo. Someone drove a stretch limo 430,000 miles in 10 years.
Here's the list:
7. 2006 Lincoln Town Car Limousine: 429,657 Miles
Although this 2006 Lincoln Town Car Limo has the lowest mileage of the seven vehicles on our list, it is absolutely the most confoundingly, ridiculously insane. Let me try to explain why: This is a limo. With 430,000 miles. And I don't mean it has some 1-foot stretch or a couple extra doors. I mean this thing is a bona fide, serious, rap video-style limousine that has very nearly covered the distance to the moon and back.
Here's why this is so insane: because these things are impossible to drive. You can't have them in big cities, or basically anywhere there's a lot of traffic, because it's tremendously difficult to make lane changes or sharp turns. If I owned a limo, I would want to drive it as little as humanly possible. The owner of this one drove it as much as humanly possible, adding 250,000 miles to the odometer (which already read 179,338) since purchasing it in early 2013.
I have no explanation for how this limo traveled so many miles, but I do know that you could be its next steward. It's available at Lakeside Automotive Group in Spring Lake, Michigan, near Grand Rapids, for $8,000. And yes, according to the ad, it has "FLAT SCREEN TVS."
Find a Lincoln Town Car for sale
6. 2006 Chevrolet Silverado 2500HD Flatbed: 438,475 Miles
When you think of high-mileage vehicles, this 2006 Chevrolet Silverado 2500HD is exactly what you picture: enormous pickup trucks with diesel engines and some sort of work purpose, being driven all across the country hauling stuff. This particular Silverado has a custom flatbed on the back, and I have no idea what it was hauling. But I do know it was stuff.
Offered by Bale Chevrolet in Little Rock, Arkansas, for $11,500, this Silverado's Carfax report verifies its crazy mileage -- and it also verifies the kind of maintenance schedule you need if you're going to get 438,000 miles from your vehicle. This truck's previous owner seems to have done an oil change just about every month, on average, which is what happens when you drive 438,000 miles in 10 years.
Find a Chevrolet 2500HD for sale
5. 2005 Toyota Tacoma: 445,000 Miles
This 2005 Tacoma is a 1-owner base model with 445,000 miles, offered for $4,990 by CARZ in San Diego, California. We featured it last week.
4. 2000 Ford F-350: 470,012 Miles
This is exactly what I was expecting when I was thinking of "high-mileage vehicles." It's a serious Texas work truck, made for serious Texas work, which involves driving serious Texas distances. There's a giant push bar on the front, and a custom bed on the back that features all sorts of opening panels and an enormous number of scratches and dents -- 470,000 miles' worth, I suppose.
Interestingly, this F-350 -- offered for $7,888 by Gloff Ford in Clifton, Texas, about 100 miles south of Dallas -- isn't a turbodiesel, which you'd expect to see in a high-mileage F-350 Super Duty. Instead, it uses the pickup's formerly available gas-powered V10 engine. More unusually, it isn't an automatic: This thing has three pedals and a stick shift. And a V10. Think of it as a Dodge Viper with a custom bed on the back.
3. 1995 Mazda B2300: 471,000 Miles
On the outside, this 1995 Mazda B2300 looks like any other 1995 Mazda B2300, which is to say that it appears to be the kind of vehicle your gardener would drive carefully through traffic while thinking about pollination. On the inside, it's a little different, because it has 471,000 miles.
Offered for $2,995 by Carson Cars in Lynnwood, Washington, near Seattle, this bright-red B2300 actually looks pretty clean on the outside, save for slightly discolored steel wheels and some scrapes in the bed. You'd never expect it had traveled 471,000 miles, but the Autocheck report verifies it: It was purchased new in July 1995, it already had 139,000 miles by August 1997 and the odometer just kept rolling from there. This one is especially impressive because the B2300 is the base-level Mazda B-Series, and this one is the base model, with a vinyl seat, crank windows, no air conditioning and a gutless 100-horsepower 2.3-liter 4-cylinder under the hood.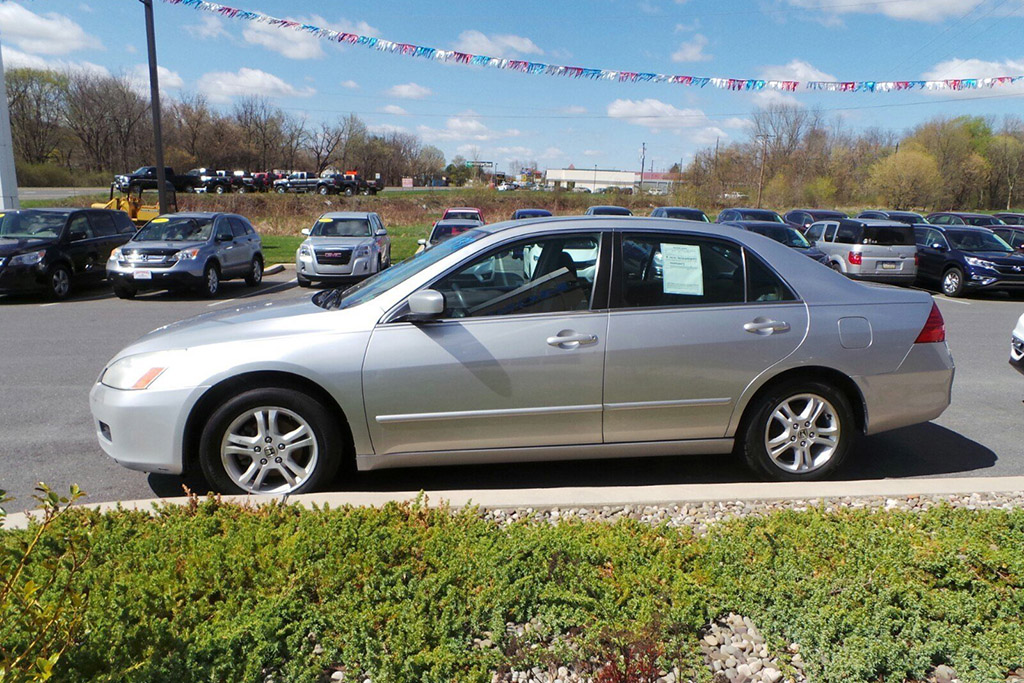 2. 2006 Honda Accord: 487,337 Miles
I was expecting every vehicle on this list to be a pickup truck, and I'm truly stunned that No. 2 is a regular ol' 2006 Honda Accord EX, with a sunroof, alloy wheels and -- oh, yeah -- 487,337 miles on the odometer. It's located at Independence Honda in Bloomsburg, Pennsylvania, where it's listed without a price because the dealer appears to be using it as a promotional vehicle.
And what a promotion it is! The Carfax report clearly verifies the (1-owner) mileage, which was added pretty regularly between its purchase date -- June 29, 2006 -- and its last service in December 2015, when it seems the owner finally gave it up. In the 3,400 days of its life, it traveled around 140 miles per day, on average, every single day.
1. 2006 Chevrolet Silverado 3500HD: 580,000 Miles
The highest-mileage car on Autotrader is this 2006 Chevrolet Silverado 3500HD, available from Dillon's Auto in Lincoln, Nebraska, for $15,900. It has 580,000 miles. I am completely serious -- 580,000 miles. You'd know I'm completely serious if you checked the truck's Carfax report, posted in the listing, because it's the single most ridiculous Carfax report I've ever seen.
Here are some highlights: It was bought new on October 12, 2005, and received its first oil change on November 1, 2005 -- 19 days later. It hit 100,000 miles by September 2006, 11 months after it was sold. It crested 300,000 miles in early 2008, when it was only 2.5 years old. And 400,000 miles came in October 2009, right before it celebrated its fourth birthday. At the time, it was doing just under 10,000 miles a month, or roughly 275 miles a day.