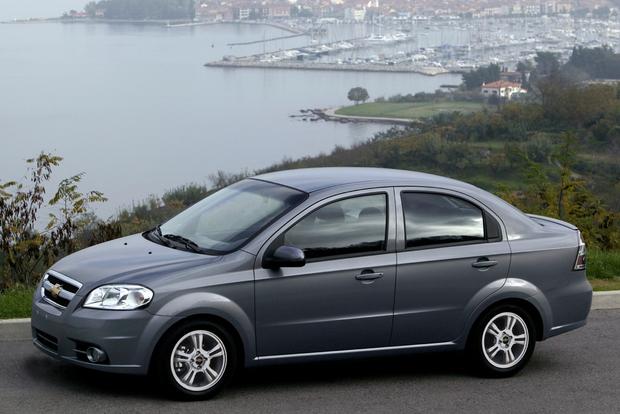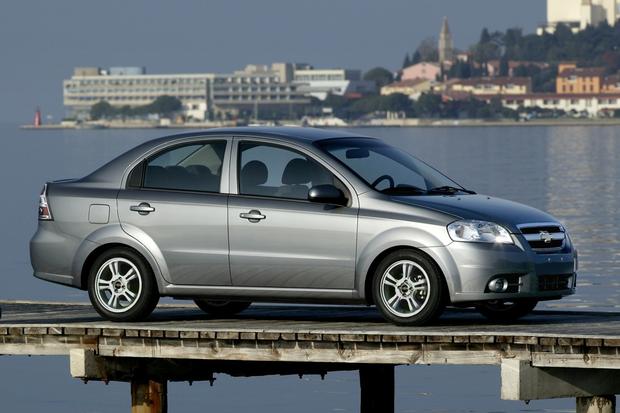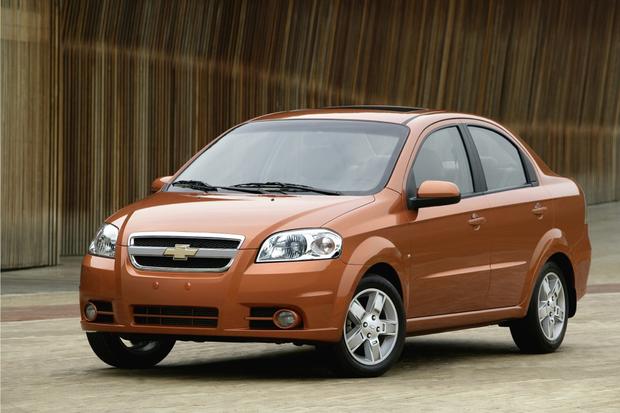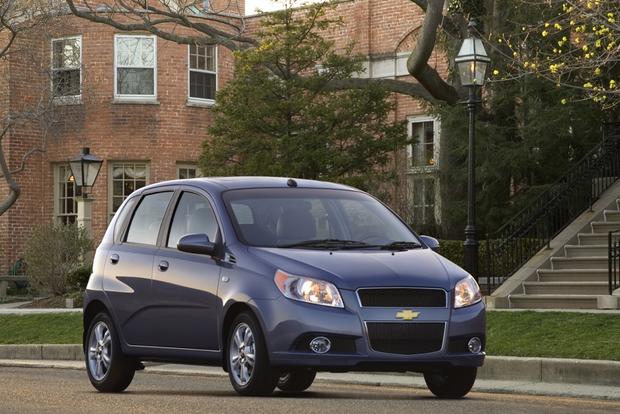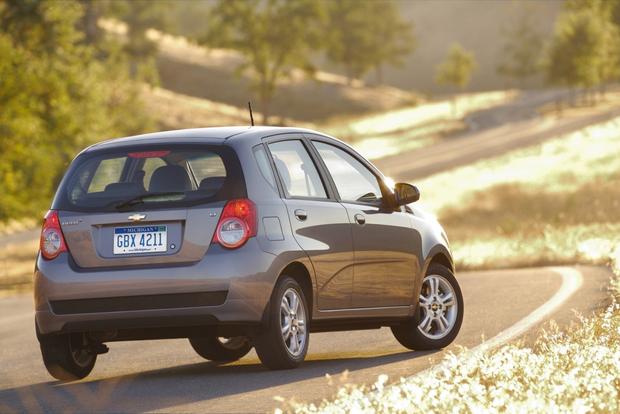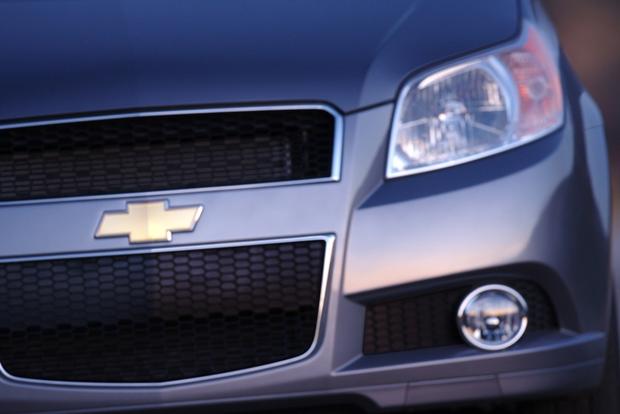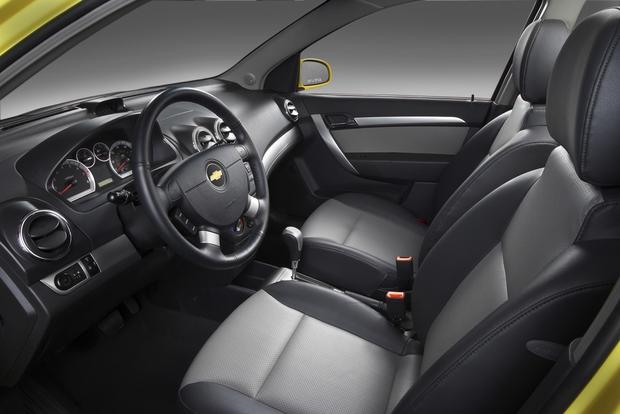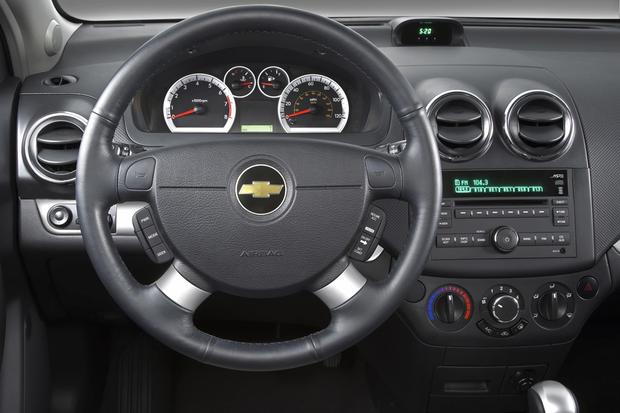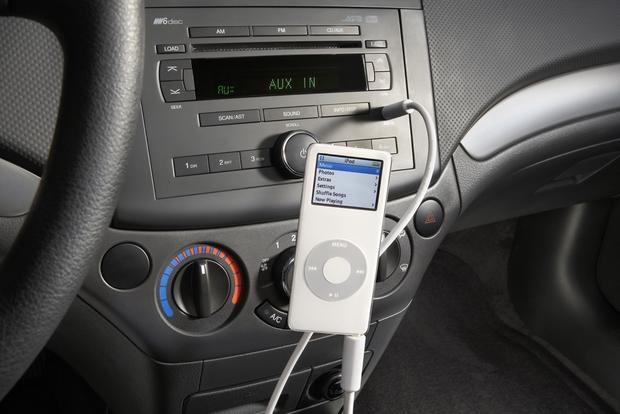 With gas prices rising in the early 2000s and the Geo brand gone for good, Chevrolet needed a new subcompact that could compete with small, fuel-efficient rivals from Kia and Hyundai. That model was the Aveo, which was offered as a 4-door sedan or 5-door hatchback with five seats from 2004 to 2011. While it was known for its spartan appointments and tepid acceleration, the 2004-2011 Chevrolet Aveo did exactly what it promised. That involved providing budget-priced transportation for big-city car owners who didn't need the latest technology or the snazziest design. With prices starting under $10,000, the Aveo was among the least expensive cars on the U.S. market. After the 2011 model year, it was replaced by the Chevrolet Sonic, which also offers 4-door sedan or 5-door hatchback body styles.
Why You Want It
The Aveo is no luxury car, and it certainly doesn't make any claim to be high-performance or sporty. But its small size makes it ideal for big-city car shoppers who sometimes need to carry gear or the occasional passenger. Indeed, maneuverability is a strong suit, though it's equaled by fuel economy: The Aveo's 34 miles per gallon in city driving with its 4-speed automatic isn't great by today's standards, but it's hard to find among low-priced used cars. The Aveo is also much newer than many cars at its price point. That's good news for shoppers on a tight budget who otherwise may be considering Honda and Toyota models that are several years older -- and have thousands more miles on their odometers.
Five-door Aveo hatchbacks are the most practical. That's because the model's rear seats fold down (though not completely flat), allowing drivers to get larger, bulkier items in back. But even the 4-door Aveo sedan offers room for five people and enough trunk space for a few moderately-sized bags. The Aveo's tall height provides good headroom, which is rare in the subcompact class. And its large windshield gives an expansive view of the road, which is also welcome.
Notable Features and Options
Base-level Aveo models are, as expected, rather sparsely equipped. For example, the budget-friendly Special Value Model (SVM) didn't offer air conditioning or anti-lock braking. It also lacked power windows, power locks, power mirrors and even a CD player. But its 4-figure price made it one of the least expensive cars on the U.S. market.
Shoppers who upgraded to the mid-level Aveo (initially called just the Aveo; later renamed Aveo LS) received a few more features, including standard air conditioning, most notably. Anti-lock brakes were now optional, as was a CD player. The mid-level Aveo also included a height-adjustable driver's seat and power steering, though power locks and windows remained on the options list.
Drivers who wanted more amenities had to step up to the top-level Aveo, which was first called the LS but was later renamed the LT. That model included power windows, power locks and power mirrors along with air conditioning, alloy wheels and a CD player. It was also the only Aveo model to offer an optional sunroof. Cruise control, initially unavailable, was added in 2006.
Model Milestones
2004: The Aveo came out for 2004 in 4-door sedan and 5-door hatchback body styles. Available trims included the base-level SVM, a mid-level model and a top-line Aveo LS. A 5-speed manual was standard, while a 4-speed automatic was optional.
2005: In 2005, Chevrolet changed the Aveo's trim levels. The SVM remained, but last year's Aveo became the Aveo LS. And the former Aveo LS was renamed the 2005 Aveo LT.
2006: Standard front side airbags were the Aveo's biggest change for the 2006 model year. The top-level Aveo LT trim also added cruise control and remote keyless entry to its list of standard equipment.
2007: Aveo sedans were face-lifted in 2007 to remain fresh in the wake of new competition from the Nissan Versa and Honda Fit. The Aveo hatchback retained its styling but changed its name to Aveo5. The 4-door Aveo SVM models were gone, leaving the trim to carry on solely as a hatchback. And the newly-updated sedan now had a stereo jack for auxiliary music players.
2008: The Aveo was largely unchanged for the 2008 model year.
2009: For 2009, Aveo hatchbacks finally received the face-lift that the sedans received in 2007. The Aveo also added GM's OnStar telematics system, which was now standard across the General Motors model line.
2010: The Aveo was unchanged in 2010.
2011: The 2011 Chevrolet Aveo also received no changes in what ended up being its final year. The Chevrolet Sonic debuted for the 2012 model year and replaced both of the Aveo's body styles.
Engine and Performance
All Aveo models are powered by a 1.6-liter 4-cylinder engine that makes 106 horsepower and 104 lb-ft of torque. In 2010, the engine got a tiny boost to 108 hp, along with a slight torque increase to 107 lb-ft. The Aveo offered two transmissions. A 5-speed manual was standard and installed in a high number of Aveo models. That transmission has the best fuel economy, returning a rating of 27 mpg city/37 mpg highway from the Environmental Protection Agency (EPA). An available 4-speed automatic was rated at 26 mpg city/34 mpg hwy.
As expected, the Aveo's performance is underwhelming, despite its very low curb weight of around 2,600 pounds. With the standard manual transmission, getting from 0 to 60 miles per hour takes around 10 seconds, while it's closer to 11 seconds with the 4-speed automatic. Both figures mean that highway merging and passing can be a challenge. That's especially true with the automatic transmission, which can be slow to downshift even when a driver plants a foot to the floor.
On the plus side, the Aveo's engine is quite smooth and surprisingly quiet. And in spite of its small wheels and tires, the Aveo doesn't feel out of place cruising on the highway. It does, however, feel noticeably more labored with the air conditioning switched on -- an important consideration for highway drivers in warm climates.
Finally, while the Aveo is very maneuverable around town, the small car feels out of its element on the high-speed curves often found in rural areas. Body lean is noticeable, and acceleration out of most corners is mediocre. Numb steering feel doesn't help the subcompact's case.
Recalls, Safety Ratings and Warranties
The National Highway Traffic Safety Administration (NHTSA) has issued the following recalls for the 2004-2011 Aveo:
2004: The rear seat belt retractor may lock in position, causing the belt to become unusable and twisted. Dealers fixed the issue by installing a new rear seat belt guide.
2007: The fuel line could fracture in a collision, which may cause a fuel leak and a fire. Dealers fixed this problem by installing a new section of the Aveo's fuel line free of charge.
The 2004-2011 Aveo received mostly good crash test ratings from the NHTSA. In front impact collisions, the Aveo earned a perfect 5-star rating for both the driver and the front-seat passenger. In side impacts, the Aveo received 4-star ratings for both front occupants when equipped with side airbags. Aveo models without side airbags earned only three stars in the side impact test. In the NHTSA's rollover test, the Aveo also earned a 4-star rating. These ratings apply to both the 4-door sedan and 5-door hatchback models.
The 2004-2011 Aveo has a 3-year/36,000-mile basic warranty, often referred to as a bumper-to-bumper warranty by automakers. The Aveo's powertrain warranty lasts five years or 100,000 miles. Shoppers that buy an Aveo under Chevrolet's Certified Pre-Owned (CPO) program receive an 172-point inspection and an additional 12-month/12,000-mile basic warranty that starts when the original warranty expires. The Chevrolet CPO program also includes a free maintenance plan that includes oil changes and tire rotations for 24,000 miles.
Word on the Web
The Aveo is generally known to be fairly reliable, aside from a few key trouble spots. The most important is the timing belt on 2004-2007 Aveo models, which is known to sometimes snap before its 60,000-mile recommended replacement interval. This can cause severe engine damage because the Aveo uses an interference engine, which means that, without the timing belt, the cylinders could collide.
The Aveo's plastic thermostat housing is also known to crack, which can cause engine overheating issues. Savvy Aveo buyers and owners will replace it with a metal housing. Finally, some Aveo drivers complain about excessive wind noise around the model's A-pillar. While the fix for this may be additional weather stripping, most drivers will likely just choose to leave it alone.
Other issues with the Aveo seem fairly minor and relate mainly to suspension components that are designed to wear over time. Later models also suffer from a minor engine issue related to the spark plugs, which could cause a check-engine light and a rough idle. Fortunately, a recent voluntary emissions recall should remedy that problem.
Competitive Set
Honda Fit: Only available as a 5-door hatchback, the Fit's build quality and materials are a step above the Aveo's. But so is its price, as the Fit retains value far better than the Aveo. The Aveo also holds an edge on fuel economy, though the Fit offers more interior space.
Hyundai Accent: The 2006-2011 Accent was offered as a 4-door sedan or a 2-door hatchback. Refinement is a cut above the Aveo, and used examples should be available in a similar price range. The Accent's city fuel economy also trumps the Aveo's.
Nissan Versa: On sale since 2007, the Versa is a popular subcompact also available in 4-door sedan or 5-door hatchback body styles. While no excitement machine, the Versa offers strong fuel economy and a rock-bottom base price.
Toyota Yaris: Toyota debuted the subcompact Yaris for the 2007 model year. Initially offered as a 3-door hatch or a 4-door sedan, the Yaris also added a 5-door hatch for 2009. The Yaris is far more substantial than the Aveo and boasts a larger interior. It offers slightly better city and highway fuel economy, as well.
AutoTrader Recommends
While the Aveo is no luxury car, it certainly makes sense for shoppers looking for an efficient subcompact on a budget. We prefer the more practical hatchback and highly recommend a 2008 or later model to avoid the timing belt issues that plagued earlier Aveos. But we also suggest that shoppers consider the competition, since many rivals offer similar fuel economy, larger interiors and a greater level of refinement. Still, buyers looking for a cheap city car with good fuel economy will find that the Aveo delivers exactly that.