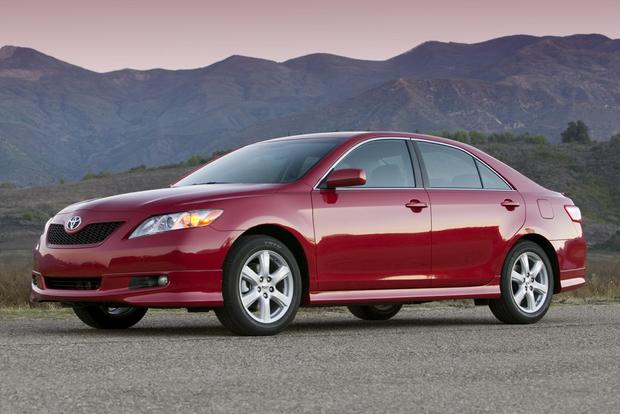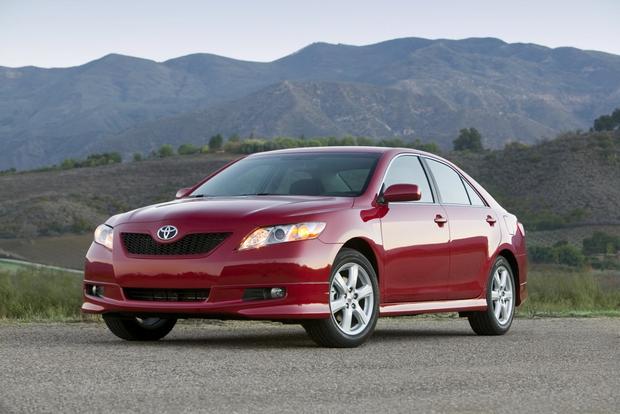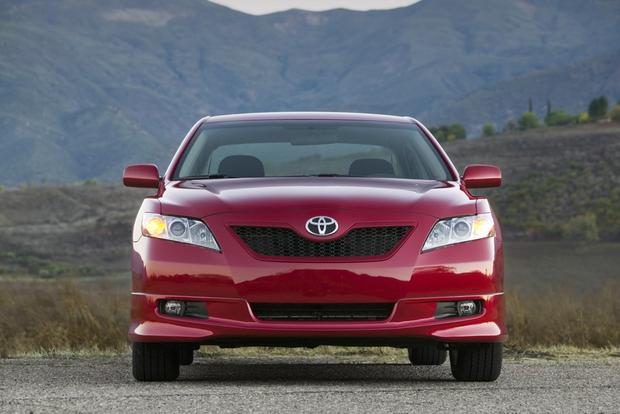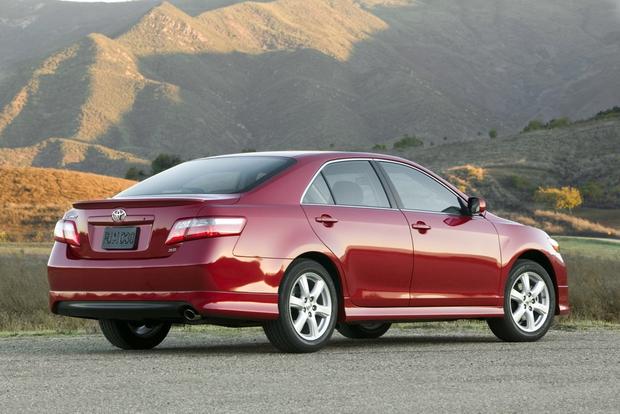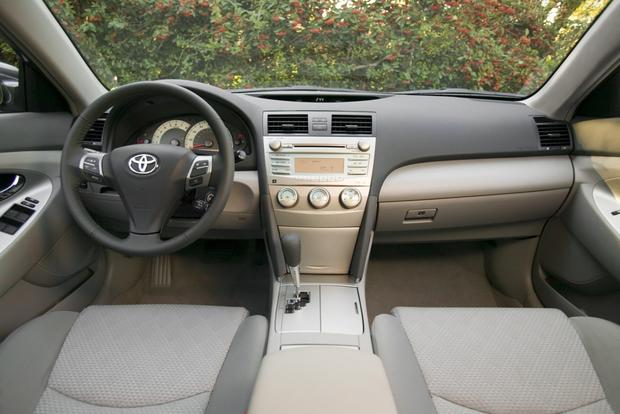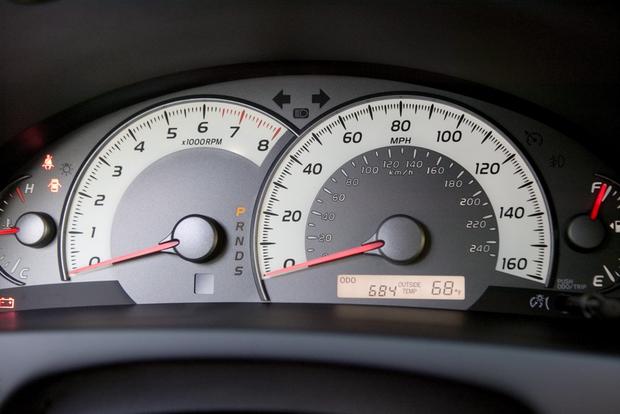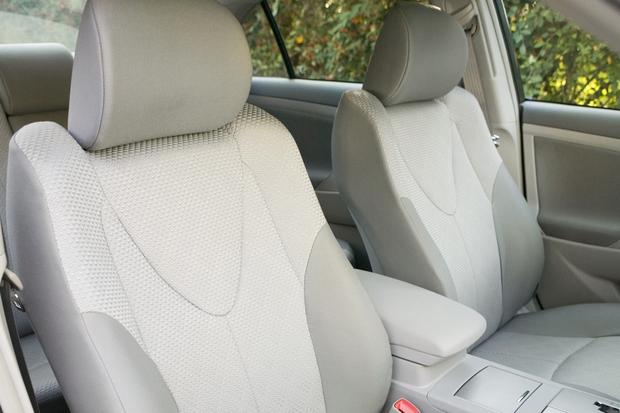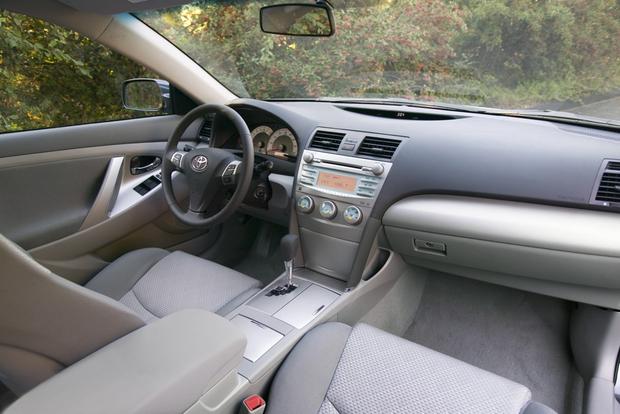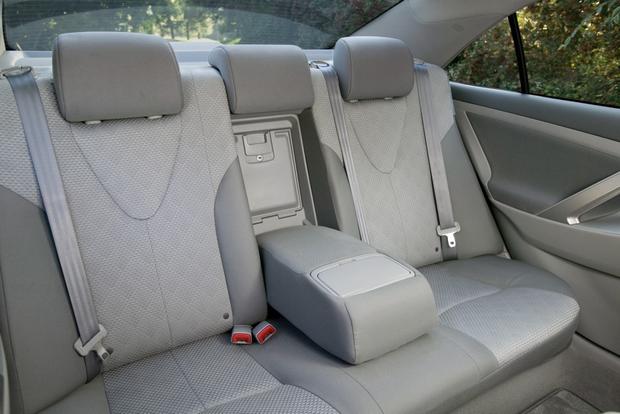 Even people who know practically nothing about cars know that the Toyota Camry is one of the most trusted and valued family cars. As used cars go, the 2007-2011 Toyota Camry remains true to its familial image, only with a bit more style and substance than previous generations. That's because Toyota got a little wild (well, wild for Toyota) with the 2007 redesign, adding a bit more flair to the Camry's exterior and a bit less drab to the interior. In these years, the Camry also sees the addition of a hybrid model that delivers impressive fuel economy while asking for a little more sacrifice, giving up some trunk room and a few options.
Why You Want It
Unless you're buying a certified pre-owed Camry -- which we highly recommend if you can afford it -- a used Camry is about the best buy you can make when rolling the used car dice. Outside of the well-publicized sticking accelerator recall, the Camry has a nearly flawless repair, reliability and resale record. Better yet, the 4-cylinder and hybrid models deliver fuel economy on par with much smaller economy cars yet provide more inviting interior space. This includes a usable backseat that can easily accommodate two adults or two bulky child safety seats. For those who desire more power and luxury, a previously owned XLE V6 comes pretty close to Lexus-like luxury, though we admit Toyota was behind the curve in these model years when it comes to the latest in audio and navigation features. Still, the basic Bluetooth and USB/iPod interface show up on most models, which is probably all that someone shopping for the Camry requires.
Notable Features & Options
We know most people prefer an automatic transmission, but it's nice that the Camry still offers a smooth shifting manual on some of its 4-cylinder models. Even the most basic CE trim includes such nice features as power functions for the windows, locks and mirrors, cruise control, air conditioning, a tilt/telescopic steering wheel, 60/40 split folding rear seat and a AM/FM/CD stereo with auxiliary input jack. The LE trim adds an 8-way power driver's seat, remote keyless entry, upgraded audio and an available V6 engine. The luxury oriented XLE includes leather seating, alloy wheels, dual-zone automatic climate control, a power moonroof, power passenger seat and a 40/20/40 reclining rear seat with fixed center pass-through. Options include electronic traction and stability control (made standard after 2010), a JBL audio system, voice activated navigation, heated front seats and a Smart Key remote with push-button starter. The Hybrid trims are equipped very much like the LE trim and include a CVT automatic transmission and hybrid electric/gas powerplant.
Model Milestones
2008 - The Camry Hybrid has some of its standard equipment removed, a move intended to help lower the base price.
2009 - The base CE trim is now simply called Camry
2010 - The Camry and Camry Hybrid receive a mild exterior freshening, while the Camry receives a new 2.5-liter 4-cylinder engine good for 169 horsepower. Also new is a 6-speed manual transmission, new radios with USB port and Bluetooth streaming capability and the addition of electronic stability and traction control as standard equipment on all models. XLE and SE trims receive new wheels, while the Hybrid gains fog lights, new wheels and new seat fabric.
2011 - No major changes for 2011.
Engines and Performance
The Camry's 4-cylinder engine isn't a bad choice, delivering adequate power for most circumstances and outstanding fuel economy. The 2.4-liter unit used in the 2007-2009 models produces 158 hp and 161 lb-ft of torque. Environmental Protection Agency (EPA) estimates for the manual transmission are 24 miles per gallon in the city and 34 mpg on the highway, while the automatic earns 24/33. The more powerful 2.5-liter used after 2010 puts out 169 hp (179 in the SE trim) and 167 lb-ft of torque. EPA estimates drop slightly, with the manual transmission cars earning 22/33 and the automatic 22/32. The 3.5-liter V6 is a wise choice for those who like ample passing power as well as a more spirited drive. Rated at 268 hp and 248 lb-ft of torque, the V6 earns a respectable 19/28 fuel economy rating. Those seeking the best fuel economy should opt for the Camry Hybrid, which gets an EPA estimated 31 mpg city and 35 mpg highway.
As for the Camry's driving characteristics, we place them on par with other family sedans in its class. The ride is smooth and quiet, the steering fairly precise and the brakes strong. The sportier SE trim adds more structural bracing, sport-tuned shocks and springs, larger bushing and an anti-roll bar and firmer steering. If you don't mind a firmer ride, the SE trim is a much more enjoyable car to take on winding roads, but its rear strut tower brace forces the deletion of the fold-down rear seat. We also recommend the V6 for those choosing the SE. Surprisingly, the Camry Hybrid is no sleeper, offering brisk acceleration from a standing stop and decent passing ability. We did find the transfer between the electric and gasoline engine to be somewhat obvious, but overall the Hybrid's driving experience is very similar to the gasoline-powered cars, albeit quieter in city driving when the electric motor is doing all the work. The downside is a smaller trunk (the battery pack takes up space back there) and a fixed rear seat.
Recalls, Safety Ratings and Warranties
The National Highway Traffic Safety Administration (NHTSA) has issued the following recalls for the 2007-2011 Toyota Camry and Camry Hybrid.
2007 - A recall was issued for possible defective airbag inflators in the front, side and knee airbags.
2007-08 - A recall was issued to replace all-weather floor mats that could break loose from their anchor pins and interfere with the accelerator pedal.
2007-09 - A recall was issued for a possible problem with the power window master switch that may lead to overheating, possibly resulting in a fire.
2007-10 - A recall was issued for a defective accelerator pedal design that, in certain circumstances, could become more difficult to depress, slower to return and, in some instances, stuck in a partially depressed position.
2007-11 - A recall was issued for some models sold in the Southeast equipped with improper tire and wheel load carrying specification labels.
2009 - A recall was issued for a possible defective rear brake light switch.
2010 - A recall was issued for a possible ill-fitting brake hose that could wear and perforate, resulting in loss of brake fluid.
We should note that the 2007-2011 Toyota Camry was included in the recall related to uncontrolled acceleration in Toyota vehicles. While there was much media coverage and Toyota recalled nearly 8 million cars, an exhaustive study by both NASA engineers and NHTSA could find no flaws with the electronics in Toyota vehicles.
Recall repairs are required by law even if the vehicle is out of warranty. Your dealer can check to see if the repairs were performed and, if not, will fix the car at no charge to you.
As for safety, the Toyota Camry and Camry Hybrid score well in both the government and the independent Insurance Institute for Highway Safety (IIHS) tests. NHTSA gives the Camry with side airbags five out of five stars for the driver and passenger in the front-end crash test and five stars for the driver and passenger in the side-impact crash test. The Camry earns four out of five stars in the rollover test. IIHS also gives the Camry its highest marks in the offset front crash test, side-impact test and roof strength test.
The Toyota Camry has a 3-year/36,000-mile basic warranty and a 5-year/60,000-mile powertrain warranty. The Camry Hybrid comes with the same warranty plus a 96-month/100,000-mile warranty on the hybrid components and battery. Extended warranties purchased when the car was new are transferable, so be sure to inquire if the vehicle you are buying has an extended plan. Toyota also offers a line of certified pre-owned vehicles through its dealerships. If you purchase a certified pre-owned Camry, the warranty coverage for the powertrain is extended to 7 years/100,000 miles from the vehicle's original service date. CPO cars also come with a 12-month/12,000-mile comprehensive warranty, one year of roadside assistance and a free CARFAX report. Best of all, certified customers are eligible for standard new car financing rates. Vehicles that qualify for the CPO program cannot be older than six years or have more than 85,000 miles on the odometer. To learn more about the Toyota CPO program, visit their website at www.toyotacertified.com.
Word on the Web
Outside the numerous commentaries regarding the unintended acceleration recalls, most owners and consumer sites have nothing but high praise for the Camry. Consumer Reports gives it high marks in all but one category involving issues with engine cooling problems on the 2007-2009 models. On Toyotanation.com, we did find numerous unrelated threads with one common theme: rattles and squeaks. Whether in the sunroof, door panels, console or dash, this is something we didn't expect to find with a Toyota product, but many customers have experienced it. In almost every case, the dealer was able to locate and fix the problem either with additional insulation or by fixing broken or missing clips.
Competitive Set
Honda Accord - The Accord is every bit the equal of the Camry, especially in the areas of resale, safety and fuel economy. But the Accord doesn't offer a hybrid model or a sporty trim to match the Camry SE.
Chevrolet Malibu - The Malibu is roomier than the Camry and its styling is a bit more distinctive. The Malibu Hybrid isn't really a true hybrid in the same technical sense as the Camry, and it doesn't offer some popular options, such as onboard navigation.
Ford Fusion - The Fusion has an enviable repair and recall history. It offers a hybrid model that gets better fuel economy than the Camry Hybrid, and it offers high-end audio and communications equipment, such as Ford's SYNC voice-activated infotainment system. The Fusion also offers an all-wheel-drive model.
Autotrader Recommendations
It's hard to go wrong with a previously owned, late model Toyota Camry. But, if you're looking for the best bang for the buck, we'd say look for a 4-cylinder LE or SE. If safety is a paramount concern, shop the 2010 or newer models, as they come standard with electronic traction and stability control (it was optional on the 2007-2009 trims). We also think the Camry Hybrid makes a good choice if fuel economy trumps the need for a roomy trunk and fold-down rear seats. No matter which model you choose, there should be an abundance of models and colors on the market. After all, Toyota sold nearly 2 million Camry models over a 5-year period. Finding the model and features you want is a pretty easy task.
What do you think about the 2007-2011 Toyota Camry? Let us know in the comments below.