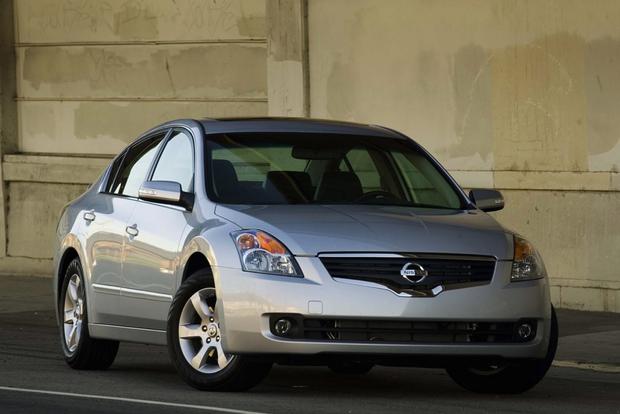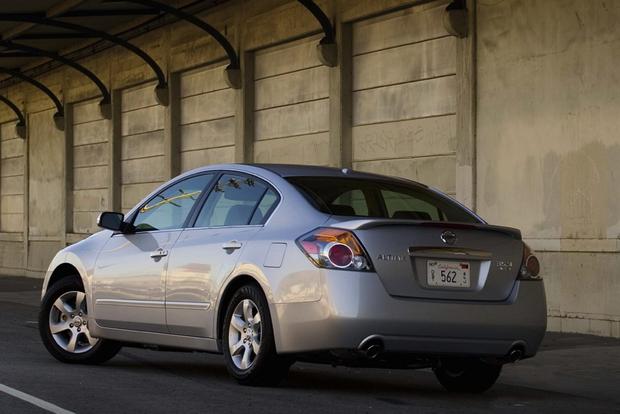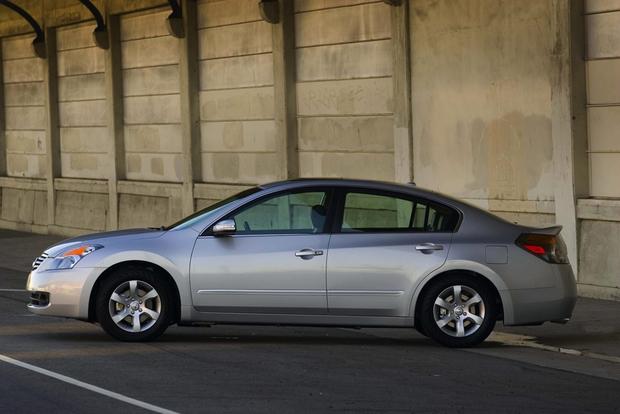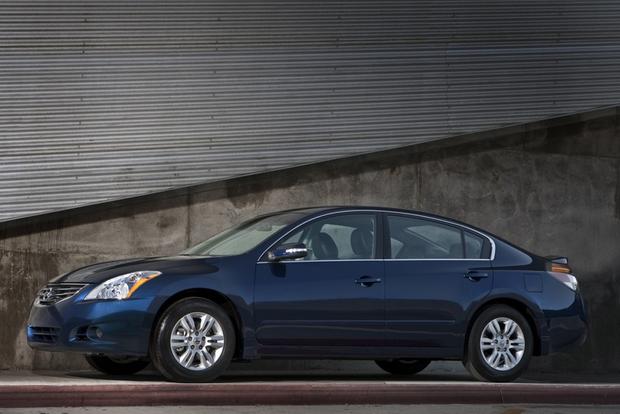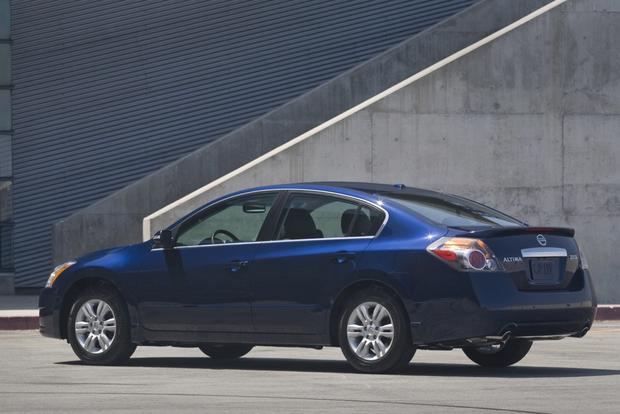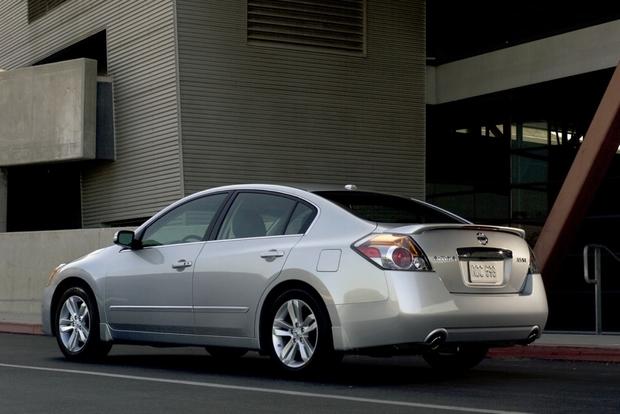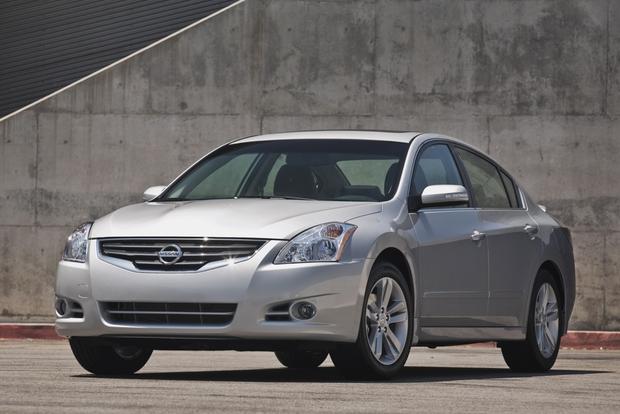 Nissan positions its Altima sedan as the sporty alternative to the mass-produced Honda Accord and Toyota Camry. The 2007-2012 Nissan Altima fulfills the company's vision of a sedan that surpasses expectations by offering impressive performance, a host of upscale features and optional equipment -- and even a hybrid model for improved fuel economy. The Altima mirrors the Camry and Accord's reputation for reliability and strong resale while offering a more visually distinctive profile, a sportier ride and better handling. For those who prefer a more personalized driving experience, there is even a racy coupe model.
Why You Want It
If you need the convenience of a 5-passenger family sedan, but what you really crave is a performance car with a taut suspension and razor sharp steering, the 2007-2012 Nissan Altima is probably going to win you over. Nissan provides a wide range of Altima models that runs the gamut from a stripped-down economy car to a fully loaded V6 sport sedan. A choice of manual or Continuously Variable Transmission (CVT) automatic transmissions across the range gives the Altima a leg up on competitors who generally offer only a manual on the base cars, if they offer one at all. Early Altimas also best comparable sedans by offering such high-end features as Bose audio, on-board navigation, push-button start and a rearview camera. Of course, the Altima doesn't offer the roomiest backseat or the biggest trunk in its class; if these are your priorities, you may want to go with the Accord, Camry or even a Dodge Charger. Also, the CVT automatic does take some getting used to, as it doesn't shift gears like a traditional automatic.
Notable Features & Options
Even the base Altima 2.5 features push-button start, power windows and locks, a split folding rear seat and 16-inch wheels with plastic covers. The 2.5 S adds air conditioning, an AM/FM/CD stereo, a tilt/telescopic steering wheel with audio and cruise control and alloy wheels. The 3.5 SE and SL up the roster with a potent V6 engine, available 6-speed manual transmission, Bose audio, leather seating and 17-in alloy wheels. Options for both the 4- and 6-cylinder cars include Intelligent Key keyless entry and start, Bluetooth hands-free cell phone connectivity, navigation radio with rear backup camera, heated front seats, leather seating surfaces and anti-lock brakes (later made standard along with stability control). A power sunroof, dual-zone automatic climate control and a power driver's seat are also available. The V6 trims offer a few unique options of their own, including electronic traction and stability control (made standard on later models), HID headlamps and a Bose premium audio system.
Model Milestones
2008 - Anti-lock brakes (ABS) are made standard, while satellite radio is a new option.
2009 - The base 2.5 gains more standard features, including new wheel covers, a CVT automatic transmission, power mirrors and a trip computer. Vehicle Dynamic Control (VDC) electronic traction and stability control is made standard on the 3.5 SE, along with HID headlights and fog lights.
2010 - The Altima receives a minor update with a new hood, front face and wheel designs. The interior is also spruced up with new seat fabrics and less use of dark-colored plastics. VDC is now standard on all models, while the 3.5 SE is re-badged as the 3.5 SR.
2011 - A new 2.5 SE trim is added, which brings a rear spoiler, front fog lights, automatic headlights, 16-in alloy wheels and a leather-wrapped steering wheel.
2012 - Bluetooth is made standard on the 3.5 SR and available on the 2.5 S.
Engines and Performance
The Altima 2.5, 2.5 S and 2.5 SE are all powered by a 2.5-liter 4-cylinder engine that develops 175 horsepower and 180 lb-ft of torque. On early models, this engine is mated to a 6-speed manual with a CVT as optional. In 2009, the manual option is dropped. Environmental Protection Agency (EPA) fuel economy figures for the 2.5 with the manual transmission are 23 miles per gallon city/32 mpg highway; the CVT automatic earns 23 mpg city/31 mpg hwy.
The Altima 3.5 SE, SL and SR are powered by a 3.5-liter V6 good for 270 hp and 258 lb-ft of torque. When equipped with the 6-speed manual, the 3.5 delivers an EPA-estimated 19 mpg city/27 mpg hwy. With the CVT automatic, estimates rise to 20 mpg city/27 mpg hwy.
The Altima Hybrid uses the 2.5-liter gas engine teamed to a 105-kW electric motor for a combined output of 198 hp and 199 lb-ft of torque. EPA fuel economy estimates are a respectable 35 mpg city/ 33 mpg hwy. This model was only sold in states that follow California's strict emissions standards (California, Oregon, Maine, Connecticut, New Jersey, Massachusetts, Maryland, New York, Rhode Island and Vermont) and may not be widely available in other states.
As for the driving experience, we found that the Altima lives up to the promises Nissan makes about the car's purpose. Both the 2.5- and 3.5-liter engines deliver excellent acceleration and fuel economy in their class, and the hybrid model is surprisingly quick, as well. We prefer the 3.5 V6 with the 6-speed manual, but most people will opt for the automatic, which works well but does cause the engine to drone loudly under hard acceleration. This added noise is due to the fact that a CVT will hold the engine at peak rpm rather than allowing it to rev up after each shift.
The Altima delivers a firm but smooth ride, slightly stiffer than in the Accord or Camry but on par with the Mazda 6 and Ford Fusion. The Altima's steering is precise and direct, and it's easy to push this car to its limits without fear of tremendous understeer (a front-drive car's tendency to plow forward when the wheels are turned). Coupe models deliver a stiffer ride, due in part to their shorter wheelbase and firmer shock/spring settings.
Recalls, Safety Ratings and Warranties
The National Highway Traffic Safety Administration (NHTSA) has issued the following recalls for the 2007-2012 Nissan Altima:
2007 - Recalls were issued for possible flammability issues if the engine air filter contacts hot material, and for a possible problem with the tire pressure monitoring system being disconnected during servicing of the BCM module.
2007-08 - A recall was issued for a possible defective airbag seat sensor that could result in the airbag's failure to deploy.
2008 - A recall was issued for a possible problem with the left side suspension transverse link bolt. The bolt may have been improperly tightened and could come loose.
2009 - Recalls were issued for a possible out-of-spec weld on the door assembly that fails to meet federal side-impact protection standards, and for possible defects in the 16-in alloy wheels that allow the bolts holding the wheel in place to come loose.
2009-10 - A recall was issued for a possible defect in the upper front strut insulator pad that could cause it to crack.
2010 - A recall was issued regarding a possible problem with a door weld placing it out of spec with federal side-impact regulations.
2011 - A recall was issued for a possible problem with a transverse link bolt that may not have been torqued to the proper specifications.
2012 - A recall was issued for a possible problem with transverse link bolts and power steering rack bolts not being torqued to the proper specifications.
Recall repairs are required by law even if the vehicle is out of warranty. Your dealer can check to see if the repairs were performed. If they were not, the dealer will fix the car at no charge to you.
As for safety, the 2007-2012 Nissan Altima sedan scores fairly well in the government's front-impact test, scoring four out of five stars. The Altima earned five stars in the side-impact test and four stars in the rollover roof-strength test. The NHTSA did not test the Altima Coupe under its new crash test standards, but it did test the 2010 car under the previous, less stringent standards and gave it equally good marks in the front- and side-impact tests.
The independent Insurance Institute for Highway Safety (IIHS) gives the Altima its best score of Good in the moderate overlap front crash test and side-impact test, as well as in the roof-strength test.
Nissan provides the Altima with a 3-year/36,000-mile bumper-to-bumper warranty and a 5-year/60,000-mile powertrain warranty. The Hybrid adds an 8-year/100,000-mile warranty on the hybrid components. Also, Nissan recently extended the warranty for the CVT transmission to 10 years/120,000 miles. If you purchase your Altima through Nissan's Certified Pre-Owned (CPO) program, the vehicle not only goes through an extensive 150-point check but also comes with an extended factory warranty of 7 years/100,000 miles from the original date the vehicle entered service. Other advantages of the program include a free CARFAX report, 24-hour roadside assistance, rental car reimbursement and towing benefit and a 3-month free trial subscription to SiriusXM satellite radio. To qualify for the Nissan CPO program, vehicles typically are no older than five years and must have less than 60,000 miles.
Word on the Web
Consumer Reports gives the 2007-2012 Altima and Altima Hybrid fairly good scores, and rates them better than average overall. There were some blemishes in the areas of electrical systems and brakes, a view echoed by various enthusiast sites such as Nissanclub.com. Problems with brake sensors, squeaking brakes and early pad/rotor wear are common complaints, as are problems with some of the audio head units and surging issues with the CVT transmission upon slowing (usually just the torque converter releasing; it's a design issue not a defect). Early CVTs suffered problems, ranging from sluggish response to total failure, that prompted Nissan to extend the warranty coverage for the CVT. Later models seem to have improved.
Overall, Altima owners rave about the car's handling and ride, quiet interior and premium features. Some V6 owners say that the fuel economy around town is not what the EPA claims, but the 2.5-liter seems to exceed its highway mileage estimates and is generally a well-received engine.
Competitive Set
Toyota Camry: The Camry sells in massive volumes, and will be much easier to find on a used car lot. The Camry may hold its resale value better than the Altima, but its ride and handling are noticeably softer, its interior somewhat bland and its options list not as robust.
Ford Fusion: The Fusion handles nearly as well as the Altima and includes lots of cool options, such as Ford's SYNC infotainment system and the availability of AWD. The Altima has more front-seat legroom, but the Fusion has more in the rear as well as more hip, shoulder and trunk space.
Chevrolet Malibu: You'll find more interior room and a bigger backseat in the Malibu, plus a lower sticker price. But there is no hybrid model or manual transmission offered, and the Malibu doesn't offer features such as Bose audio, navigation or push-button start.
AutoTrader Recommends
We'd be very happy with a nicely equipped 2.5 S or SE with the CVT transmission. This model delivers good power and fuel economy, and has plenty of creature comforts. We'd opt for a 2010 or newer model, as stability and traction control are standard after this time period. Those seeking a more performance-based ride without concern for poor fuel economy should definitely take the 3.5 SE with the 6-speed manual for a spin. Though difficult to find, this model may just be the best-handling family sedan on the used car market. The Altima Hybrid offers better mileage but at a premium cost, and the coupe, while fun, isn't really set up for carrying more than two adult-sized passengers.