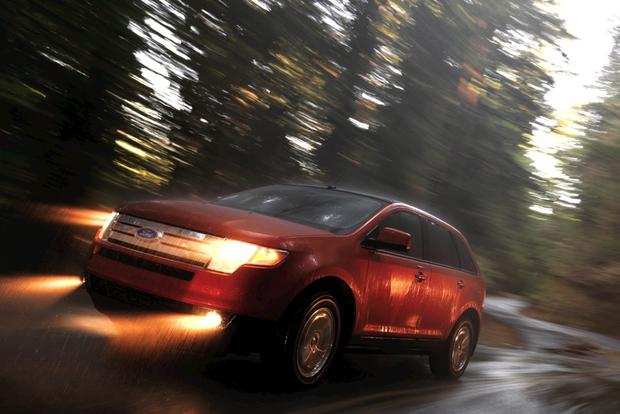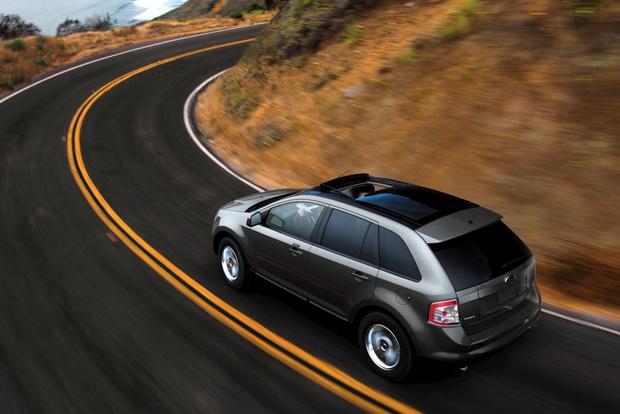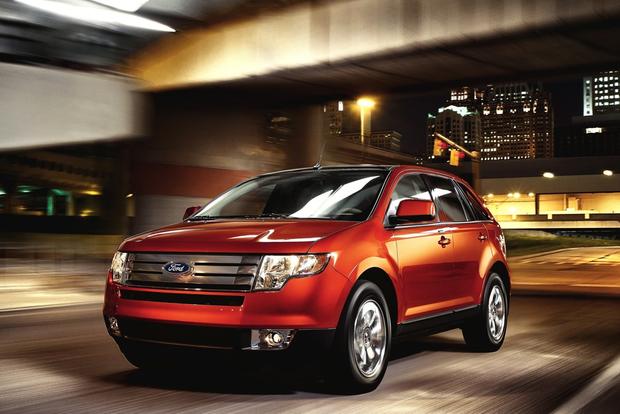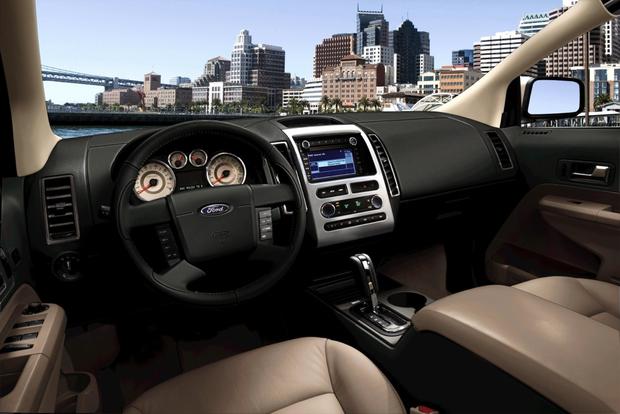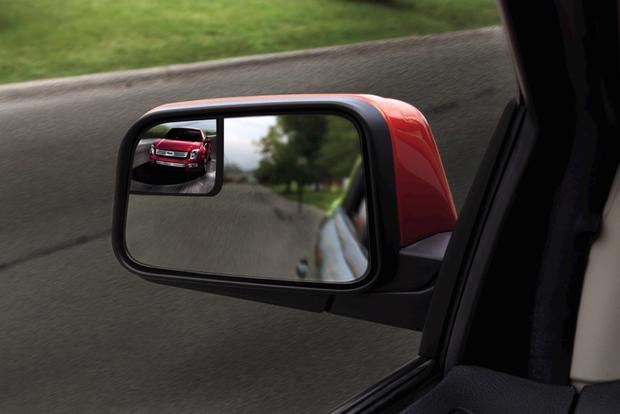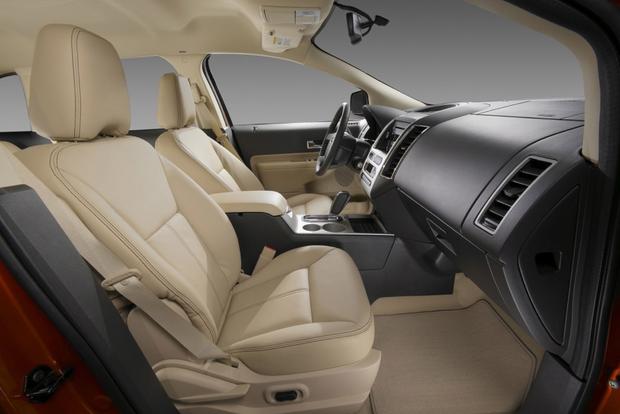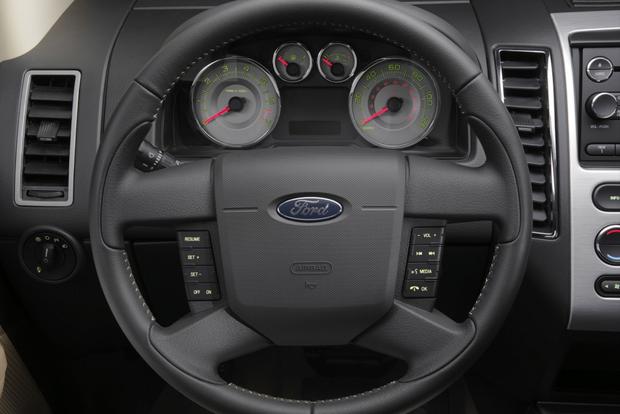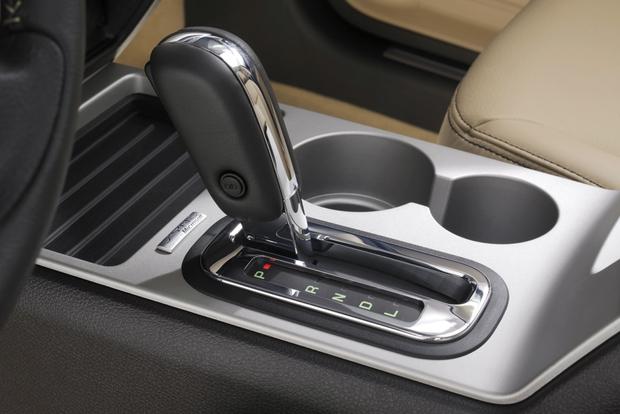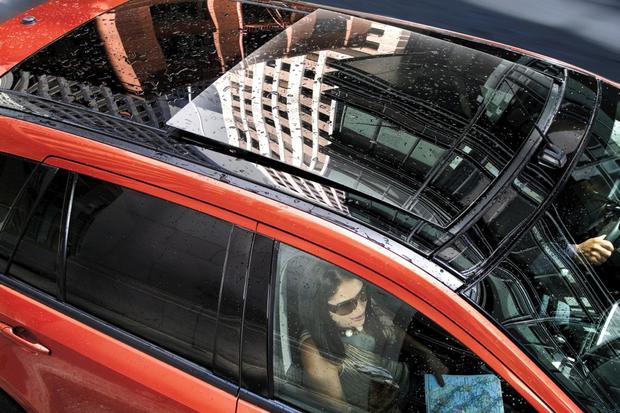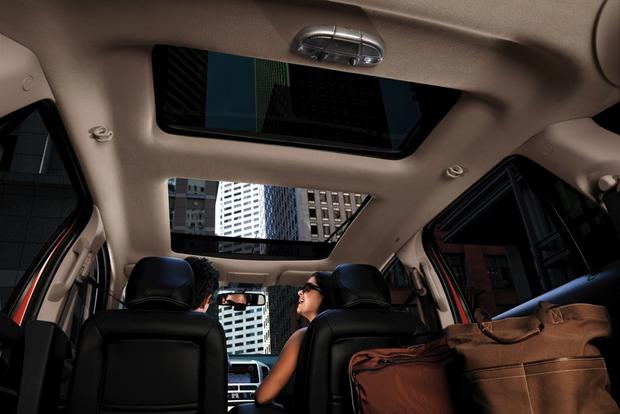 The 2007-2013 Ford Edge straddles the line between the compact Ford Escape and the larger Ford Explorer. As such, this 5-passenger crossover SUV (CUV) offers more rear seat legroom than most compacts, and has considerably more presence on the road. Although its basic architecture remains the same over the years, Ford has continually made improvements from year to year, bettering the Edge's interior features, engines and overall styling. In other words, while we find the early model Edges to be competent, they don't impress with the same interior materials, features or performance of the later models. The Edge still has some shortcomings, however, namely the lack of an optional third row seat and the inability to pair the most fuel-efficient EcoBoost turbo with the AWD feature.
Why You Want It
If you're looking at a crossover that only needs space for five people, has a powerful V6 engine and offers the latest in in-car audio and infotainment systems, then the 2007-2013 Ford Edge should be on your radar screen. In truth, the 2007 model didn't offer Ford's SYNC infotainment, navigation or rear backup camera, so if these features matter, you'll want to start with the 2008 and move up from there. Bigger inside and out than most compact SUVS, the Edge should appeal to those who shun the compact feeling of a small SUV, preferring instead a more substantial vehicle with a big car ride, an impressively appointed and quiet interior and excellent safety ratings. The Edge also offers some unique features in this class, such as the keypad locking/unlocking system and the SYNC infotainment system that allows voice control of a connected external audio device such as an iPod.
Entry-level Edge models are reasonably priced and equipped, although once you move to the Limited and Sport trims, pricing can move to near luxury brand status -- which is fine because the Edge can also be equipped like some luxury brands. The Edge's AWD system isn't off-road capable, but can tackle snow-covered roads with ease. If your budget allows for a low-mileage late model Edge, and you don't need the option of AWD, the 2012 and 2013 models offer a turbocharged 4-cylinder engine with as much horsepower as a V6, yet with fuel economy at the top of its class.
Notable Features & Options
The Ford Edge is available in four trims: SE, SEL, Limited and Sport. The SE trim may be the entry-level model, but it has most features required by the modern CUV buyer. Standard equipment includes power windows, a tilt/telescopic steering column, rear privacy glass, rear wiper/washer, power locks and mirrors, air-conditioning, 6-speaker AM/FM/CD stereo, reclining rear seats, 17-inch painted aluminum wheels, a 3.5-liter V6 engine and a 6-speed automatic transmission. The SEL adds steering wheel controls for cruise and audio, fog lights, alloy wheels, a keypad entry system, automatic headlights, a message center with trip computer and compass, the rear parking sensors and a 6-way power driver's seat. Limited models gain leather seating, 9-speaker premium audio, automatic temperature control, heated front seats, a fold-flat power adjustable passenger seat, cargo area controls for folding second-row seats, and memory for the driver's seat and exterior mirrors. The Sport trim gains a sport suspension, more powerful 3.7-liter V6 engine (2011 and up), 22-in chrome wheels, sport styling cues and interior upgrades. Standard safety features on all trims include 4-wheel anti-lock disc brakes, electronic traction and stability control, front side-impact and side curtain airbags.
Many of the most desirable options are to be found on the SEL and Limited trims and include a panoramic glass moon roof, audiophile sound system and voice-activated navigation, rear backup camera, power rear lift gate, SYNC audio, AWD, 20-in wheels and a trailer prep package. After 2011, Intelligent Access with push-button start, adaptive cruise control and MyFord Touch join the options sheet.
Model Milestones
2008 - New options include SYNC, a voice-activated navigation system and a power rear lift gate.
2009 - The Sport trim debuts featuring sport suspension, 20-in wheels, an 8-piece exterior body kit and unique exterior paint choices.
2010 - Changes are limited to some new package options on the Limited trim and improvements to the vehicle's drivetrain resulting in improved fuel economy.
2011 - The Edge receives a thorough makeover with a bold 3-bar grille, new wheels, a vastly improved interior and a big boost in horsepower from the 3.5-liter V6. The Sport trim receives a new 3.7-liter V6, while push-button start and adaptive cruise control are added to the Edge's option sheet.
2012 - The turbocharged EcoBoost 2.0-liter engine is made available, but only on FWD models. Also new is an available 10-way power passenger seat with power lumbar control.
2013 - AWD is made available on the SE trim and a Sport mode is added to the SelectShift 6-speed automatic.
Engines and Performance
For the first four years of its life, the Edge is powered by only one engine: a 3.5-liter V6. Rated at 265 horsepower and 250 lb-ft of torque, this engine returns an acceptable 16 miles per gallon city/24 mpg highway fuel economy rating. AWD models return a slightly lower 15 mpg city/22 mpg hwy rating. Improvements to the engine and transmission in 2010 move the fuel economy figures up to 18 mpg city/25 mpg hwy (FWD) and 17/23 mpg (AWD). In 2011, the 3.5-liter receives a big boost in horsepower, jumping to 285 hp and 253 lb-ft of torque. Fuel economy also increases to 19 mpg city/27 mpg hwy (FWD) and 18/26 mpg (AWD). The Sport model receives a new 3.7-liter V6 good for 305 hp and 208 lb-ft of torque. This engine is rated by the Environmental Protection Agency (EPA) at 18 mpg city/25 mpg hwy (FWD) and 17/23 mpg (AWD). In 2012, the 2.0-liter EcoBoost engine is made available. This 4-cylinder produces 240 hp and 270 lb-ft of torque, yet achieves an impressive 21 mpg city/30 mpg hwy.
The early model Edge has sufficient power to make it an easy vehicle to live with, but fuel economy figures, especially in the city, are less than admirable. On the open highway, the Edge cruises along effortlessly, with a smooth ride and a remarkably quiet cabin. The steering feel is somewhat heavier than in other SUVs of this size, and the brakes are not as adept at bringing the Edge to a halt as in later years (2010 and up). The Sport models equipped with the 3.7-liter V6 see a noticeable improvement in acceleration and passing prowess, but it's the 2.0-liter EcoBoost engine that most impresses us. Power comes online the second the throttle is depressed and keeps on coming without hesitation or drop off. The EcoBoost engine is quiet and smooth and every bit the equal of its V6 siblings. We only wish the SelectShift 6-speed was a bit quicker to change gears; but since the Edge isn't a sports car, we doubt many owners will give it much thought.
Recalls, Safety Ratings and Warranties
The National Highway Traffic Safety Administration (NHTSA) has issued the following recalls for the 2007-2013 Ford Edge:
2008 - A recall was issued on a limited number (less than 200) of Edges for a possible defect in the fuel tank manufacturing process that could lead to fuel leaks.
2011 - A recall was issued for a possible defective Body Control Module (BCM) that could short circuit and overheat, leading to a possible fire. A second recall for the same problem was issued when it was discovered that the scanning tool looking for the defective BCM may have let some bad units go undetected. A recall was also issued for a possible defective locking/unlocking mechanism in the lift gate.
2012 - A recall was issued for models equipped with the 2.0-liter engine. The fuel line pulse damper metal housing may suffer cracks, which can allow seepage (fuel odors) or a continuous leak while the fuel system is pressurized.
Recall repairs are required by law even if the vehicle is out of warranty. Your dealer can check to see if the repairs were performed and if not, will fix the car at no charge to you.
As for safety, the Edge earns three out of five stars from the NHTSA in its newly revised front impact test and five stars in the side impact crash test. The Edge earns four stars in the rollover test and earns an overall score of four out of five stars.
The Insurance Institute for Highway Safety (IIHS) gives the Ford Edge a Top Safety Pick Award for 2013, and ranks the 2007-2013 models with its best rating of Good for the moderate overlap front crash test and side impact test. The 2007-2010 Edge gets only an Acceptable mark for roof strength, but the 2011 and newer models earn a Good rating.
The 2007-2013 Ford Edge rolled off the showroom floor with a fully-transferable 3-year/36,000-mile basic warranty and a 5-year/60,000-mile powertrain warranty. Ford does offer extended warranties on its Certified Pre-Owned (CPO) Vehicles, which includes 7-years/100,000-miles on the powertrain from the date the car entered service, and a 12-month/12,000-mile comprehensive plan for cars which are no longer covered by the factory basic warranty. CPO cars also undergo a rigorous 172-point inspection to repair or replace any part not up to Ford standards. The CPO plan has many additional benefits such as a free Carfax vehicle report, 24-hour roadside assistance and rental car reimbursement.
Word on the Web
While we generally respect the opinion of Consumer Reports, their evaluation of the Edge has us scratching our heads a bit. With the exception of some transmission issues on the 2007 and 2008 models, and some glitches related to the first MyFord Touch system, CR gives the Edge average to excellent marks in most major categories -- yet gives the Edge an overall much worse than average score. This score is based on a comparison of how the Edge fares for problems and complaints versus other SUVs over the same time period. Confusing, we know, but from what we've read on the net (FordEdgeForum.com and Edgefanatics.com.), most owners are pretty satisfied with their purchase and have even gone back for seconds. The biggest problem areas for the Edge relate to some early model transmission shifting issues and to problems with the MyFord Touch configurable instrument cluster and infotainment setup. First generation systems were too slow and needlessly complex. Owners complain of rebooting issues, shut downs and smartphone integration problems. Voice command technology also proved somewhat inconsistent. Other issues that seemed to crop up for more than just a few owners include premature brake and rear wheel bearing wear (2007, 2008 models), outward visibility issues and more than a few complaints about stalling issues on early V6 models. In an as yet unrelated matter, the NHTSA has opened a probe into stalling issues on the Ford Escape, Mercury Mariner and late model Fusions. The probe centers around problems with the throttle body, which was the same piece of equipment some Edge owners with stalling issues reported having to fix or replace.
Competitive Set
Kia Sorento - The late model (2011 and up) Kia Sorento can easily match the Edge for power, interior amenities and resale value, plus it comes with a better standard and CPO warranty and can be had with a third row seat. 4-cylinder models offer superior fuel economy but can't match the power output of the Edge's EcoBoost engine.
Nissan Murano - The Murano offers a more refined interior and a softer ride, but it will cost more than a comparably equipped Edge and it is neither as powerful nor as fuel-efficient. The Murano's shiftless CVT automatic transmission takes some getting used to.
Mazda CX-7 - The CX-7 is definitely a driver's SUV. Its standard turbocharged 4-cylinder delivers great power and decent highway fuel economy. Early models have much nicer interiors than the early model Edge, but the CX-7 model's AWD system isn't as sophisticated as the Ford's, and it doesn't offer anything to match Ford's SYNC and MyFord Touch.
Auto Trader Recommendations
If you are on a tight budget we recommend the SE or SEL trims. Try to avoid the 2007 and 2008 models as they seem to have the most complaints and problems. If you can swing a 2011 or newer, you'll have a nicer car with less potential problems, plus you'll have better engine options and improved fuel economy. The Limited and Sport models are nice, but they can also be pricey and the added features are not must-haves for most families.