Car Review
2010-2013 Volkswagen Golf: Used Car Review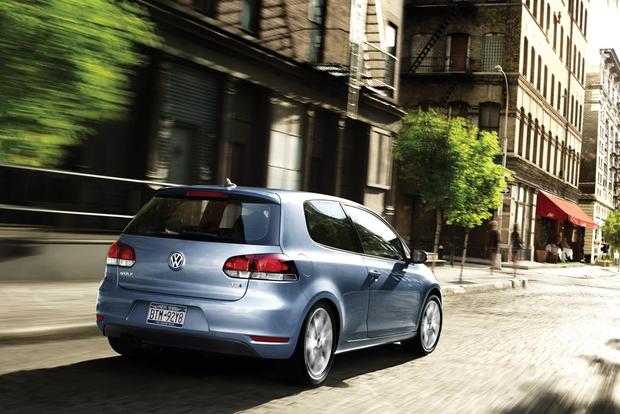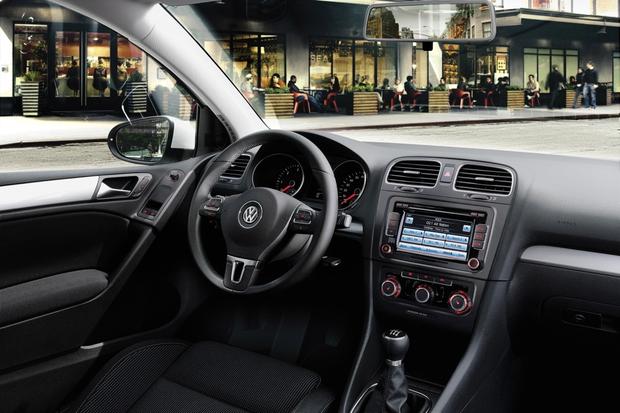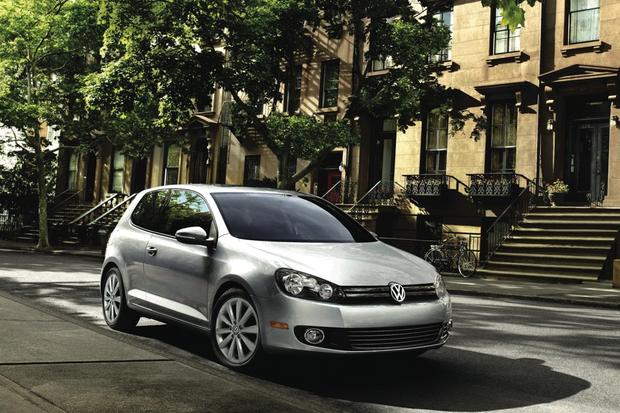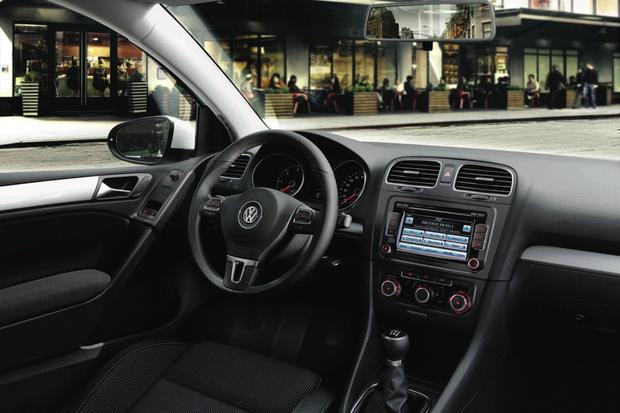 After a brief stint wearing the old Rabbit moniker, 2010 marked the return of the Golf name to the VW lineup. Despite the name jockeying, the handsome and efficient 3- and 5-door Golf never surrendered its status as a global best-seller. The 2010-2013 VW Golf may look like an economy-minded compact car, but it outclasses, outperforms and out-options just about every other player in its competitive set. The Golf is so solid and well put together that it has become the benchmark that other compact car builders strive to reach.
Why You Want It
If you're looking for a smartly styled, comfortable yet fuel-efficient hatchback, but you don't want to drive something that feels like it was assembled from the cheapest parts available, the 2010-2013 VW Golf is the car for you. Available in 3- and 5-door models, the Golf retains a substantial feel worthy of its German heritage and tradition. The interior is almost Audi-like in its execution and quality, and the extremely supportive front seats are comfortable for passengers of all sizes. The Golf's cabin is so well insulated that exterior wind and road noise are all but shut out, and VW loads the Golf with a plethora of standard features that makes even the most basic model a delight to drive. The Golf delivers a comfortable ride even over rough pavement, and the handling -- though not GTI quick -- is nonetheless sporty and confident.
The Golf's standard engine is a peppy 2.5-liter gasoline-powered 4-cylinder that delivers adequate performance and acceptable fuel economy. However, VW offers another choice, a turbodiesel model known as the Turbo Direct Injection (TDI), that we much prefer. The Golf TDI is faster than its gasoline counterpart yet returns fuel economy figures in the high 30s to mid 40s. Those looking for a compact thrill ride might also consider the high-output, all-wheel-drive turbocharged Golf R. But, as this model tipped the scales around $35,000 when new, it's really not something most budget-minded drivers would consider.
Notable Features & Options
The Golf 2.5-liter comes with a 5-speed manual transmission, and the diesel-powered TDI has a 6-speed unit. A 6-speed Tiptronic automatic is optional on the 2.5-liter, while the TDI offers the same direct-shift gearbox (DSG) automatic found in the performance-oriented VW GTI. Standard equipment on the Golf includes power-heated side mirrors, cruise control, a tilt/telescopic steering wheel, air conditioning, one-touch auto up/down power windows, remote keyless entry, driver and passenger front seat lumbar support, an 8-speaker stereo with a CD player and a 60/40 split-folding rear seat. The TDI adds alloy wheels, a leather-wrapped steering wheel with touch controls and a touchscreen radio with iPod interface and Bluetooth. Options for the Golf include a cold weather package with heated seats and windshield washer nozzles, a power sunroof and upgraded wheels. The TDI offers a touchscreen navigation unit with an upgraded 300-watt Dynaudio stereo and HID headlights. All Golfs feature six airbags (front, front side impact and side curtain), ABS and electronic traction and stability control. All 4-door Golf models can be equipped with optional rear-seat side airbags.
Model Milestones
2011 - The Golf receives an upgraded Bluetooth system that allows for voice control of the phone book and for making outgoing calls. The new system is available on all 3- and 5-door Golf models.
2012 - Option packages are simplified for 2012 and iPod integration is added to premium audio systems. A new Tech Package includes bi-xenon HID headlights, Adaptive Front Lighting and push-button start. The Golf R makes its debut.
2013 - The manual transmission is dropped from the 4-door Golf model.
Engines and Performance
The base engine for the VW Golf is a 2.5-liter 4-cylinder that produces 170 horsepower and 170 lb-ft of torque. Environmental Protection Agency (EPA) fuel economy estimates for this engine with the 5-speed manual are 23 miles per gallon city/33 mpg highway; the 6-speed automatic nets 24 mpg city/31 mpg hwy. Optional on the Golf is VW's award-winning 2.0-liter turbodiesel, which makes a usable 140 hp and 236 lb-ft of torque. That second figure is important because torque is the force required to move an object at rest into motion, and the Golf TDI has more than enough power on hand to accomplish the task with haste. Fuel economy estimates for the diesel engine are 30 mpg city/42 mpg hwy with either the 6-speed manual or the DSG automatic.
From a driver's standpoint, the Golf is an extremely pleasurable car to pilot. Its ride and handling belie its size, as it delivers the feel and stability of a midsize sedan. The Golf can cruise effortlessly at 75 miles per hour all day long and never leave its occupants feeling fatigued or frazzled. Overall, the Golf's steering is nicely weighted and fairly precise, though we are not big fans of the electric power-steering setup, which sometimes feels over-assisted and slow to respond. The 2.5 is a good engine, but it's not a great one. It's not as refined as the small engines from Honda or Mazda, and its flat torque curve leaves it wanting for more power when the tachometer reads below 3,000 rpm; passing at high speeds, on the other hand, is right up the 2.5 engine's alley. We much prefer the 2.0-liter TDI turbodiesel in the Golf. This engine delivers rapid acceleration from a dead stop, provides excellent passing power and returns impressive fuel economy -- especially on the highway, where we noted nearly 48 mpg on one trip. And while it's true that diesel fuel costs more than gasoline, the additional distance you can travel before having to fill up more than compensates for the difference.
Recalls, Safety Ratings and Warranties
The National Highway Traffic Safety Administration (NHTSA) has issued the following recalls for the 2010-2013 Volkswagen Golf:
2010-12 - A recall was issued for the diesel engine due to the possibility of small cracks developing in one of the fuel lines.
Recall repairs are required by law even if the vehicle is out of warranty. Your dealer can check to see if the repairs were performed; if not, your dealer will fix the car at no charge to you.
As for safety, the 2010-13 VW Golf performs admirably in all its safety tests. The NHTSA gives the Golf four out of five stars in its front-end crash tests, five out of five in the side-impact crash test and four out of five stars in the rollover crash test. The Insurance Institute for Highway Safety (IIHS) gives the Golf its highest rating of Good in the frontal offset crash test, side-impact crash test and roof strength crash test.
When new, VW provided the Golf with a 3-year/36,000-mile basic warranty and a 5-year/60,000-mile drivetrain warranty. If you purchase your Golf through VW's Certified Pre-Owned (CPO) program, the vehicle warranty is extended by 2 years/24,000 miles, provided that the car is less than five years old and has less than 60,000 miles. CPO cars undergo a thorough 112-point vehicle inspection and come with 24-hour roadside assistance.
Word on the Web
Golfs of the past have a spotty reputation at best, suffering from electrical gremlins that undermine an otherwise excellent car. The 2010-2013 VW Golf seems to have shaken this curse, at least in the short term. Consumer Reports gives the Golf better than average scores, though 2010 cars do earn worse than average scores for squeaks and rattles, fuel systems and audio. Enthusiast sites such as VWVortex are filled with high praise for the Golf, with special mention going to the DSG automatic. The dual clutch gearbox is so quick and precise that it can actually outperform a manual transmission. TDI owners report very few problems with their cars, and after a 10K break-in period, most found that their fuel economy figures far exceeded EPA estimates.
Competitive Set
Nissan Versa: The Versa offers more headroom and a better fit for tall drivers, plus it costs much less than the Golf. However, the Golf is a far better driving car, with a better interior, more features and the option of a diesel engine.
Ford Focus: The Focus (2011 and newer) is every bit the Golf's equal in the areas of ride, handling and comfort. But the Focus isn't as quick or powerful as the Golf, has a rather slow-shifting automatic and can get rather pricey when options are loaded on. The Focus model's fuel economy, however, is far better than the gasoline-powered Golf and nearly as good as the TDI.
Mazda 3: The Mazda 3 returns a much sportier drive with a superior suspension, manual transmission and steering setup. In 2012, Mazda introduced the Skyactiv 2.0-liter gasoline engine, which achieves 40 mpg highway versus the Golf 2.5-liter's 31 mpg. However, the Mazda's looks are somewhat polarizing, it's not as roomy or quiet as the Golf and it doesn't offer a 3-door model.
AutoTrader Recommendations
We can't help but say that if you're going for the Golf, go for the Golf TDI. Yes, the TDI costs a bit more than the Golf 2.5-liter, but it also offers more features, has far better fuel economy and delivers a much more spirited drive. It also holds its value exceedingly well. If you're a fan of technology, try to get a 2011 or newer model, as the Bluetooth in 2010 cars lacks voice command and iPod integration.