Car News
2011 Nissan Leaf - New Car Review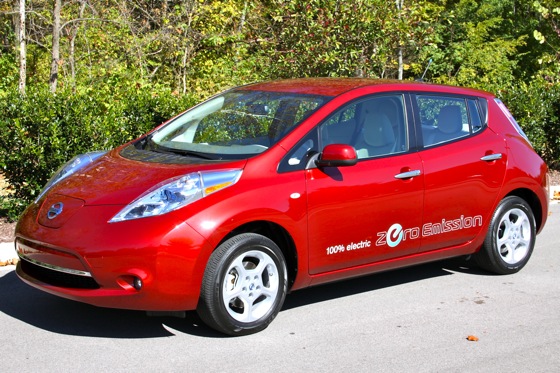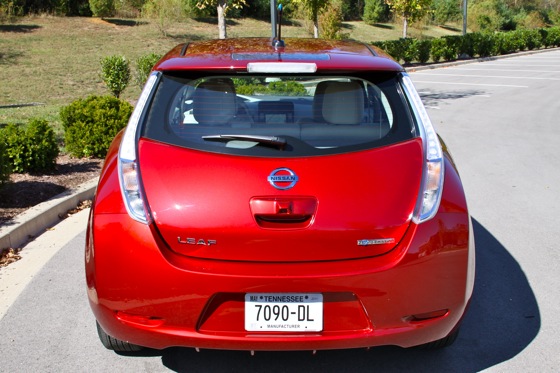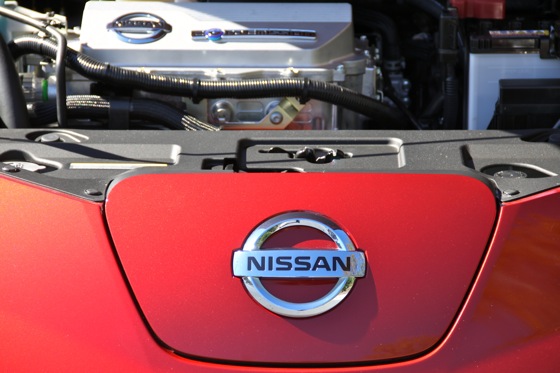 Thomas Edison was born just a little too early.
What are your expectations when you start your car? If you're like most, conditioned by decades of internal combustion, you anticipate the sounds of an engine coming to life–subdued sounds, in this age of tough noise regulations, but unmistakable; and gratifying, too: they tell you you're ready to roll.
Buyers who slide in behind the wheel of a new Nissan Leaf will have to unlearn that time-honored expectation. What you get when you punch the start button on this new electric car–the first mass market electric to be offered in the U.S. since the 1920s–is some subdued electronic chimes, not unlike the audible accompaniment that goes with booting up a computer.
Nissan programmed the chimes into the system, because it became apparent during development that people needed some prompt to let them know the car was ready to go. The booting up of the various dashboard gauges and readouts, though immediate, doesn't quite satisfy our all-but-indelible need for a little propulsion music.
And of course the start-up is just the beginning of the re-education process. Although the basic functions–accelerating, braking, steering–are familiar, the secondary elements are new.
For example, the driver will have to learn how to think in terms of miles per kilowatt hour, rather than per gallon. At full charge, there are 24 kilowatt hours in the Leaf's 92-cell (600-pound) lithium-ion battery pack, and one of the dashboard displays will let you know, minute by minute, exactly how well you're managing your energy supply.
It's like an mpg reading in a conventional car, but with this critical distinction: when your energy supply starts running low–a readout keeps you apprised of miles remaining–there's no point looking around for a filling station. The support infrastructure in the U.S. is in its infancy–actually, it's barely embryonic–so when the battery pack says no go, you're stationary until it can be recharged.
The rejuvenation process takes up to 19 hours on normal household current, about seven hours on a 220-volt system (Nissan will sell you one for about $2500, including installation.) A system refill will add about $3 to your electric bill, according to Nissan, though rates will vary.
So how do miles per kilowatt hour relate to miles per gallon? No one really knows, including those responsible for making that determination at the environmental protection agency. As we speak, they're still trying to figure out what the fuel economy line on the new window stickers should say for electric cars, as well as an extended range electric such as the Chevrolet Volt.
Getting home on the range
The issue of range, of course, has been the challenge facing electric cars since the dawn of the automobile, and the problem that led to their disappearance in the 1920s. And it will continue to be the number one preoccupation of those who drive one today.
Nissan claims a potential range of 100 miles for a fully-charged Leaf with five adult passengers aboard.
That's 60 miles better than the electric-only range claimed for the Volt, though the Volt's on-board gasoline generator makes its drivability open-ended.
But in any case, driving the Leaf 100 miles on a single charge would require an unusual level of vigil on the part of the driver, with or without passengers. Paying close attention to the system gauges will help a lot, but extracting max mileage means no sudden bursts of acceleration, and also being extraordinarily stingy with powered accessories: air conditioning, for example. Or cabin heat.
According to the Car and Driver test equipment, the Leaf is capable of 0-to-60 mph in 10 seconds, sprinting through a quarter-mile in 17.6 seconds at 78 mph, and attaining a top speed of 92 mph.
All of these numbers are tepid by conventional subcompact car standards, and a bit slower than corresponding performance results for the Chevy Volt. But they're essentially irrelevant.
An electric motor develops max torque from zero rpm, and the Leaf's single AC motor gets the car moving smartly from a standstill. That's the critical element, because quarter-mile and 0-to-60 sprints aren't part of driving in urban traffic. And that's the environment for which the Leaf is intended.
Nissan research suggests that most commuters drive far less than 100 miles per day (Chevrolet says it's even lower–just 40 miles).
This means two things: one, that you'll get to and from your office without having to worry about running out of juice; and, two, that you'll need another car for any real traveling.
Nissan readily acknowledges the latter, and anticipates that the first wave of Leaf buyers (and/or lessees), will have not one but two or more cars or SUVs at home.
The first proposition – no worries in sub-100-mile commuting – the jury is out. Based on my own experiences, I suspect that Leaf drivers are likely to be borderline obsessive regarding remaining range. And it seems even more likely that 70 to 75 miles will be a realistic miles-per-charge goal for most drivers. With careful driving, and attention to the gauges.
Still, that vindicates the electric car allure: zero emissions, and extraordinary fuel economy. Based on first test results, and the tricky business of translating electric sourcing into quantifiable automotive energy, look for the Leaf to rate close to 100 mpge (miles per gallon equivalent).
The inner Leaf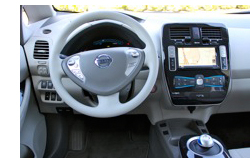 Assessed as a people pod, the Leaf measures up better than most in the small five-door hatchback realm.
The foundation employs some structural components from Nissan's Versa, one of the biggest of the current crop of subcompact cars. But its chassis is essentially unique in the Nissan inventory, and its interior volume puts it into compact territory.
Moreover, by any standard, the Leaf is roomy. Headroom is exceptional, legroom is generous front and rear, and while five adults would make a crowd, four could travel in mid-size sedan comfort all day – if all day travel were a possibility.
The quality of the interior materials is first rate, the front seats are well shaped and offer a good range of adjustability, passive safety features (dual-stage front airbags, front seat side airbags, front and rear side curtain airbags, standard antilock braking, stability control and traction control), and the instruments – though novel to those accustomed to conventional arrays – are easy to interpret without consulting the owner's manual. Pleasing to the eye, as well.
The outer Leaf
Pleasing to the eye is not an expression that leaps to mind regarding the Leaf's exterior.
Though assembly quality is high, the styling is a little offbeat–something that can be said of some other recent Nissan offerings (the Juke comes to mind). Shall we say unique?
And of course, unique is exactly what the Leaf design team had in mind. Like the Toyota Prius, the Leaf represents a new chapter in the ongoing saga of personal transportation, and Nissan doesn't want the car to be confused with any garden variety compact hatchback.
There's a benefit to this, too. The Leaf's tall roofline–61 inches–makes ingress and egress (getting in and out of the car) easier than just about any car in its class.
Going and stopping
Aside from its propulsion system–an aside almost impossible to ignore–the Leaf is otherwise similar to most small front-wheel drive cars on the road today.
As noted, the acceleration numbers are modest, but it's reasonably brisk up to 30 mph and has no trouble keeping up with urban traffic. The direct drive transmission is ultra-smooth. No surprise there, since there's no shifting at all–the driver simply selects forward or reverse.
And it's ultra-quiet. There's essentially no mechanical noise at all, and the only sounds penetrating the interior are a hint of wind noise above 50 mph and suggestions of tire noise, depending on the road surface. This is a car that makes a Lexus seem almost raucous.
It's so quiet, in fact, that Nissan saw fit to include a gentle back-up beep, and an even more subdued audible warning for when the driver is crawling forward at parking lot speeds.
There are dynamic elements that could be better. The electric power steering, for example, is ultra-light and all but devoid of road feel, operating with parking lot levels of assist at all speeds.
And braking performance–185 feet from 70 mph, according to Car and Driver test results–is not at all laudable, although to be fair most small cars don't stop as quickly as they should.
At 3360 pounds, the Leaf is also pretty chunky by compact standards, thanks to that big battery pack. On the other hand, the batteries ride low in the chassis, giving the car respectable responses in quick maneuvers.
The price of zero emissions
The Leaf is offered in two trim levels. The SV is the base model, at $33,600, including destination charges. It's well equipped, with a list of features that includes a navigation system and three years of free roadside assistance, a particular plus for an electric car.
The uplevel SL model, our test car, starts at $34,450 and adds refinements such as automatic headlamps and a roof mounted solar panel that keeps the 12-volt accessory battery crisp.
These are obviously high prices for a compact car, but because the Obama administration, as well as various state governments, wants to promote electric car development and use, there are numerous incentives and credits available.
Most prominent among these is $7500 federal tax credit. Factored into the numbers, that brings the base price down to a more reasonable $26,100, $7400 less than a Chevy Volt.
Nissan is also offering a lease deal, from $349 per month, and this would seem to make more sense than an actual purchase. The Leaf may be the only mass market pure electric available today, but there will be others coming soon. Honda, for example, will unveil a new electric car November 17 at the Los Angeles Auto Show, and Toyota plans to be in the market by the 2012 model year. The technology can only improve, and the costs can reasonably be expected to diminish–although how long government subsidies will last is anybody's guess.
Leaf sales began in December in Washington state, Oregon, California, and Tennessee. Texas and Hawaii joined up in January, and Nissan plans to be nationwide by the end of 2011.
Thomas Edison worked on battery development for most of the first decade of the 20th century. His goal: batteries that would make electric cars competitive with the steadily improving gasoline cars that were on their way to dominating the market.
Although Edison batteries were employed in cars from the two most successful electric companies of the day–Baker and Detroit–Edison never achieved his goal. Another case of born too soon? We'll see.