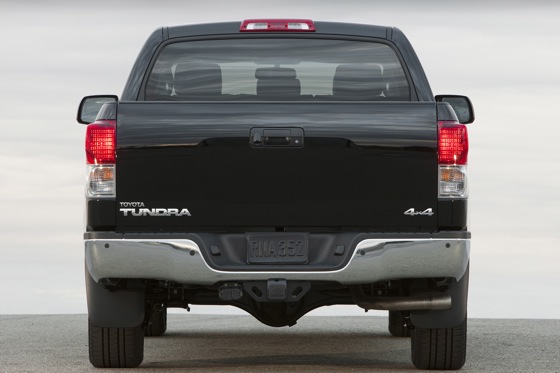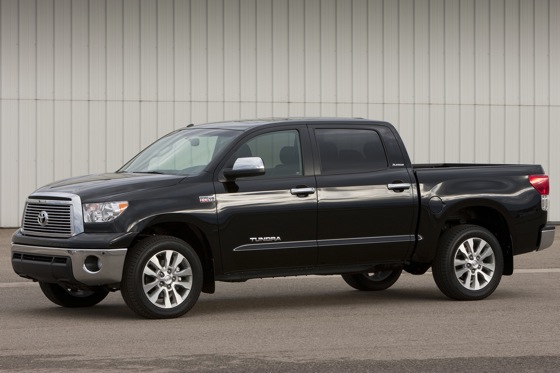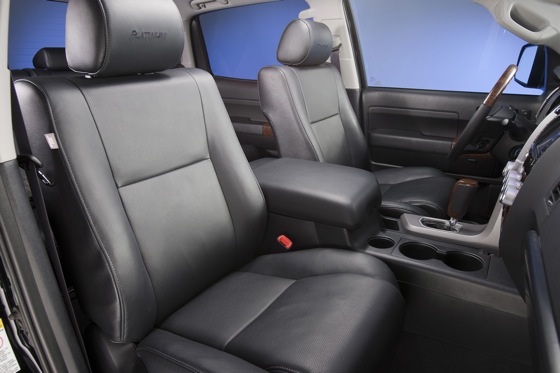 Shopping for a pickup can be daunting. All Pickups have a variety of engine choices to accommodate buyer's needs for a thrifty business tool or a fire breathing stump puller and everything in between. Add to that a variety of cabs plus two- or four-wheel drive as well as varying bed lengths and equipment levels and suddenly ordering a simple truck isn't so simple.
Thankfully, Toyota has done for the pickup the same thing they've done for every type of vehicle they make, they've made it fool proof - the easy, go-to choice. Granted, the Toyota Tundra doesn't have a diesel powered heavy-duty model to compete with Chevy, Ford and Dodge, but the Tundra does everything else so well you almost forget you're driving a full-size truck. Plus, for 2011 Toyota has cut down on the number of configurations to make buying one even easier.
Functional Interior
The Tundra's interior is a mixture of rugged and functional. The large round knobs are easy to use even with work gloves on, and the materials used on the door panels and dash look as if they're designed to stand up to years of abuse rather than win any beauty contests. It's the same story with the gauges; the speedometer, tachometer, temperature and other indicators are large and easy to read, but since each one is housed in a separate and rather deep hole in the dash it's hard to get all the information at a glance. Also, the optional navigation system is a bit of a reach from the driver's seat.
Interior space, especially in the CrewMax four-door Tundra is impressive. There's more leg and headroom in the Tundra's rear seat than in most large sedans. The truck's width is impressive, as well - which means even regular cab and double cab models feel roomy. The wide front seats are comfortable and have lots of hip room. A huge center storage bin and lots of little storage areas throughout the cab mean there's always a place for all your stuff.
Powerful Engines
The base Tundra regular cab comes with a 4.0-liter V6 making 270 horsepower. That's a 34 hp increase over last year's V6 thanks to newly added variable valve timing. The base Tundra isn't the chrome grilled 4x4 four door you'll probably see launching a ski boat at the lake, but rather a basic work truck that's more likely to spend its life as a parts runner for your local repair shop.
A 310 hp 4.8-liter V8 is optional on regular and double cab models with rear wheel drive. It's a perfectly capable engine and is Lexus smooth in the process. Standard on the Tundra Limited is a 5.7-liter V8 that's good for 381 hp and 401 lb-ft of torque. This powerful engine, combined with the six speed automatic transmission, peg the Tundra's towing capacity at 9,300 lbs. which is more than adequate unless you regularly tow a bulldozer. By comparison, some heavy-duty pickups can tow more than 10,000 lbs. To make towing and hauling heavy loads easier, the Tundra has a Tow/Haul mode that changes shift points and throttle response. The result is more confident towing, giving the driver greater control. For 2011, all Tundras get trailer sway control as standard equipment.
You'd think the Tundra's beefy towing credentials would result in a harsh ride. In fact, just the opposite is true. The Tundra's steering is so light and the pedals work with such little effort, that it almost drives like a big beefy Camry. The truck does feel a bit oversized in urban settings but opting for the rear parking camera is one way to remedy that. The ride is firm but never busy and the cab remains fairly quiet even on the highway. Little touches like fold down rear seats and a fully retractable rear window mean the interior is almost as useful for hauling stuff as the truck bed.
In the end, the 2011 Toyota Tundra is a lot like Toyota's sedans. It's the easy choice that will work well for most people. Resale value is excellent, reliability is virtually bulletproof and unless you're moving 737s around an airport tarmac, it's more than able to handle whatever you can throw at it.