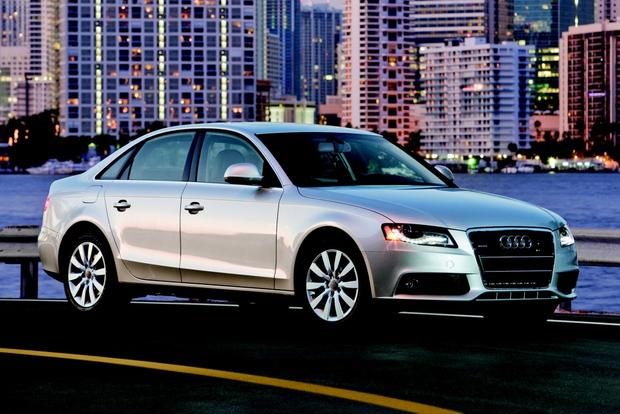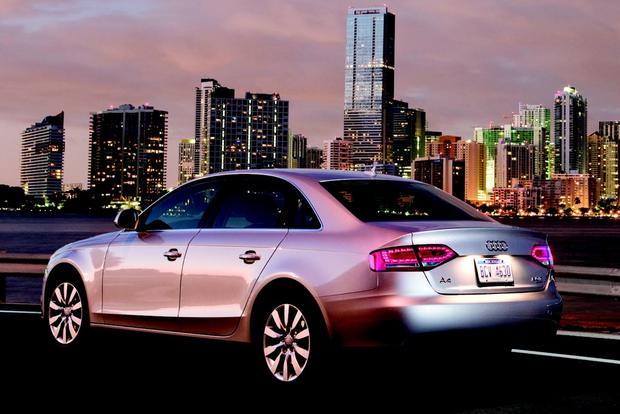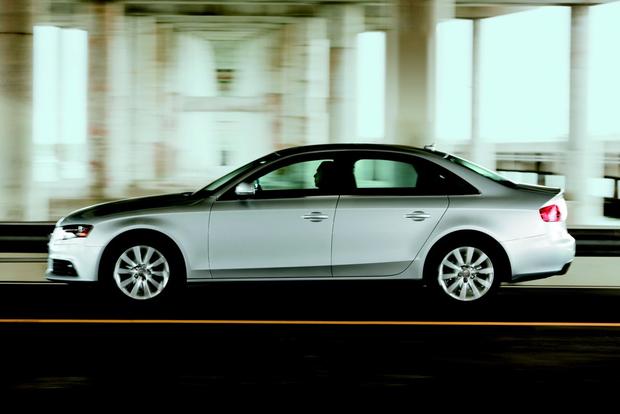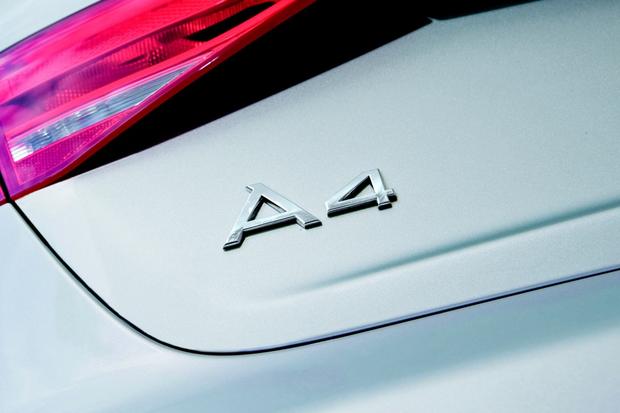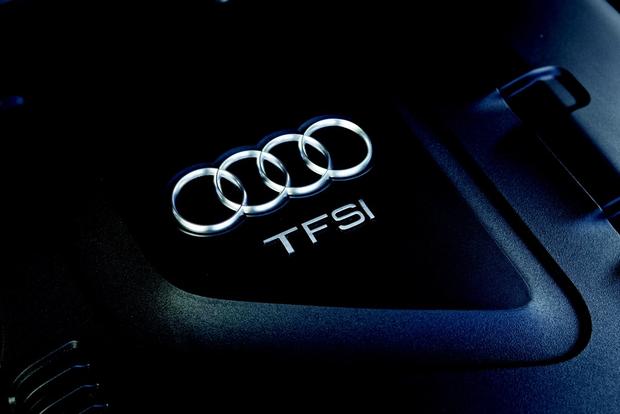 Pros: Sporty yet upscale character, beautiful interior, much roomier back seat than in the past, available as a wagon (Avant).
Cons: Turbocharged inline-4 lacks power, CVT isn't pleasant, base front seats disappoint, Avant's cargo capacity is limited.
Introduction
The 2012 Audi A4 is proof that a lot of automotive scribes were wrong. A couple years ago, you see, Audi got rid of the A4's optional 3.2-liter V6, leaving just a turbocharged 2.0-liter inline-4 under the hood. The critics were beside themselves. "Audi's bringing a knife to a gunfight!" they protested. "Luxury shoppers demand six cylinders!" But two years later, the A4's selling better than ever-and BMW and Mercedes have followed Audi's lead by installing turbocharged inline-4s in their own entry-level sedans.
So from a business standpoint, Audi's 4-cylinder experiment has been a home run. From our standpoint as vehicle evaluators, however, the turbo four is something less than that. Rated at just 211 horsepower, the "2.0T" engine gets smacked around by the 6-cylinder competition, and BMW's new 4-cylinder 328i also shows its taillights to the Audi. The optional Quattro all-wheel-drive system helps off the line, but the A4's acceleration at speed is only satisfying if you've just been driving the 201-horsepower Mercedes-Benz C250. The 2.0T's fuel economy isn't great, either.
But here's the good news: just about everything else about this Audi is top-notch. From its beautifully trimmed interior to its surprisingly roomy back seat and available wagon body style, the A4 is really an exceptionally pleasant car. We're quite sure that we're not wrong about that. As for the 2.0T engine, you'll have to drive an A4 for yourself to find out.
Comfort & Utility
The 2012 Audi A4 sedan and wagon (Avant) are offered in three trim levels: Premium, Premium Plus and Prestige.
The Premium comes with 17-inch alloy wheels, foglamps, a sunroof (panoramic in the Avant), leather upholstery (an unusual standard luxury in this class), 12-way power front seats, a tilt-telescopic steering wheel, single-zone automatic climate control, the Multi-Media Interface system with a dash-mounted control knob and a ten-speaker audio system with an auxiliary input, an SD card reader and satellite radio.
The Premium Plus adds 18-inch alloy wheels, xenon headlamps with LED daytime running lights, LED taillights, auto-dimming mirrors, driver memory functions, Bluetooth and iPod integration, heated front seats and tri-zone automatic climate control-meaning the rear passengers get their own separate climate controls (another unusual feature).
The Prestige goes to town with adaptive xenon headlamps that include LED running lights, a blind-spot warning system, keyless entry with push-button ignition, rear parking sensors, MMI Plus with navigation and a console-mounted joystick knob and a 14-speaker, 505-watt Bang & Olufsen audio system.
Many of the higher trims' features-notably Bluetooth and iPod integration-are available on lower trims as options. Among the other available niceties, depending on the trim level, are a Sport package (including sport front seats, a sport-tuned suspension, a three-spoke steering wheel and shift paddles for automatic-transmission cars), adaptive cruise control and the Drive Select system, which allows the driver to adjust settings for steering, transmission (automatic models only) and throttle response.
The A4's default front seats are frankly a disappointment, providing little of the contoured lateral support we expect in a European sport sedan. The Sport package's upgraded front seats are much better in this regard, but only Premium Plus and Prestige models are eligible for this upgrade. The tilt-and-telescopic steering wheel has a wide range of adjustability, as does the standard multi-way power seat, so most drivers should have no trouble getting situated. However, drivers with long legs may find their left elbows hanging off the back of the door armrest.
The A4 sports classic analog gauges with that distinctive Audi font for the numerals. Like just about everything else in the A4's cabin, the gauges impart a sense of luxury and sophistication. The sole notable exception is the silver plastic trim that surrounds the gauge cluster and the MMI screen. For some reason Audi continues to feature this piece in the A4, even though the similar Q5 crossover ditches it in favor of higher-quality materials.
Ergonomics are hit-or-miss in the A4. Try to adjust the climate control's fan speed and you'll see what we mean-it's a two-step process. Whatever happened to a dedicated fan knob that does what it's told? On the bright side, we think Audi has made great strides with the MMI system's intuitiveness, which we discuss in more detail below.
The A4's back seat marks a huge improvement relative to previous A4s. Two adults can now comfortably ride in back for extended periods, which couldn't honestly be said before. And how about the available tri-zone climate control system? Separate rear climate controls are typically the province of executive-class luxury sedans, not entry-level cars like the A4.
The A4 sedan's trunk capacity is about average at 12.4 cubic feet, but the Avant disappoints, measuring 27.6 cubic feet behind the rear seats and a maximum 50.5 cubic feet with the rear seatbacks folded down. The Avant is still a handy car, but its steeply raked rear windshield takes a big bite out of its versatility.
Technology
The base A4 doesn't come standard with iPod or Bluetooth connectivity, but those are easy enough to add as standalone options, so we're not too annoyed. More objectionable is the absence of a USB port. If you typically rock out to a flash drive full of mp3s, prepare to alter your routine in the A4, though it's admittedly not that hard to buy an SD card and use the A4's standard SD slot for your mp3s instead.
In any case, the technological nerve center of the A4 is the MMI system, which comes in two forms. In standard spec without navigation, MMI is controlled via a knob on the center stack that requires an uncomfortable reach from the driver's seat. If your budget can handle it, we recommend stepping up to the MMI Plus system, which includes navigation, a more sophisticated display screen and a control knob that's conveniently mounted precisely where your right hand rests on the center console. Audi has greatly improved the intuitiveness of MMI's menu structure, and the console-mounted knob now features a nifty joystick-like top section that aids operation.
Performance & Fuel Economy
Every A4 is powered by a turbocharged 2.0-liter inline-4 rated at 211 horsepower and 258 lb-ft of torque. The sedan starts with front-wheel drive and a continuously variable automatic (CVT), while the optional Quattro all-wheel-drive system brings a choice of a six-speed manual or an eight-speed automatic. The Avant is only offered with Quattro and the eight-speed automatic.
The CVT is kind of the A4's dirty secret. Although the Quattro-equipped models get all the press, the front-wheel-drive sedan with the CVT is the "price leader"-the one Audi's ads refer to when they proclaim a starting price under $33,000 for the A4. We've found this transmission neither responsive nor particularly refined, and it seems to sap some of the engine's power. Although Quattro will cost you another grand or three, we think it's well worth the upgrade, as both of the Quattro models' transmissions are satisfying devices.
Fuel economy for the base sedan with the CVT is 22 mpg city/30 mpg highway, which isn't very impressive these days for a 211-horsepower sedan. Surprisingly, adding Quattro has basically no effect on fuel economy with the six-speed manual-rated at 21/31 mpg-while the automatic yields a barely worse 21/29 mpg. But when you consider that the BMW 328i gets up to 23/34 mpg from its 240-horsepower turbo four, not to mention the 274-horsepower Kia Optima SX's 22/34 mpg, you might start to wonder why the A4 isn't more efficient.
Safety
The 2012 Audi A4 comes with standard stability control, four-wheel antilock brakes and six airbags (front, front side, full-length side-curtain). Rear side airbags are optional on Premium Plus and Prestige.
In government crash-testing, the A4 received four stars out of five overall, including four stars for frontal impacts and five in all other categories. The independent Insurance Institute for Highway Safety gave the A4 its highest rating of "Good" in every category.
Driving Impressions
The A4 has a more delicate feel than the rival 3 Series. The steering-wheel rims have a thinner diameter, and the car generally feels lighter on its feet, even though the scales say otherwise. The base suspension calibration is fairly conservative by sport-sedan standards, however, so we advise enthusiastic drivers to step up to the Sport package, which elevates the A4's handling to class-leading status (and adds those superior sport seats) without compromising ride quality too much. On the highway, the A4 is a champ, tracking straight and true with nary a vibration at any speed. Particularly with the softening of the latest 3 Series, the A4 has emerged as one of the top driver's cars in this segment, though the Audi's power deficit holds it back.
Other Cars to Consider
BMW 3 Series: The redesigned "3er" sedan boasts an amazingly strong and efficient turbocharged inline-4 in 328i trim, and you can also get a formidable turbocharged inline-6 in the 335i. Note that the 3 Series wagon is a carryover model for 2012, offered only as a 328i with the old naturally aspirated inline-6.
Mercedes-Benz C-Class: The new C250 sedan's turbocharged 1.8-liter inline-4 actually makes the A4's engine feel powerful, but the Mercedes also offers a smooth 3.0-liter V6 and a muscular 3.5-liter V6 if you want more urge. The C-Class wagon is not available stateside, unfortunately.
Infiniti G: The G drives like a larger car, but it's priced to compete with sport sedans like the A4, and it's got serious V6 power in G37 trim. Its 370Z-inspired chassis delivers inspired handling, though the Audi wins easily on refinement.
AutoTrader Recommends
We suggest avoiding the front-wheel-drive A4 with the CVT and targeting the Premium Plus Quattro with the Sport package. It won't be prohibitively expensive, and you'll get to enjoy one of the most capable and rewarding vehicles in this class.