An Athletic Breed
Mazda has been working hard to make good looking, well built, and importantly fun-to-drive cars. And they've been succeeding. With vehicles like the Mazda2, the MazdaSpeed3, and the CX-9, Mazda has proven affordability and drivability aren't mutually exclusive.
Though Mazdas are good-looking, affordable, and peppy, their fuel ratings are typically lower than many of their competitors. The reason for this is simple: Engine power comes from gasoline. The more power you give a car, the more fuel it will consume.
In order to stay remain relevant, Mazda needs to find better fuel economy. Their engineers put their collective nose to the grindstone and came up with a very inventive engine design technology: Skyactiv.
Skyactiv is comprised of several engine technologies. It includes high engine compression, an innovative piston cavity design, and direct fuel injection. These technologies together with the Mazda Skyactiv transmission, give the 2012 Mazda3 Skyactiv an EPA estimated miles-per-gallon rating of 28 in the city and 40 on the highway.
The first generation Mazda3 was introduced in 2004. Mazda is currently on its second generation, which debuted in 2009.
Arguably, most every brand-new car is pretty good on the test drive. So we decided to give Mazda's new, highly touted powertrain a 2,000-mile shakedown by driving it from Portland, Oregon to San Francisco, California and back in two days.
Smiling Wide
The 2012 Mazda3 Skyactiv is a mid-model refresh, being that Mazda hasn't changed much for the new model year including exterior styling. The 2012 looks just like the 2011 model but with slightly different headlights and grille.
The new headlights are adaptive and turn with the vehicle so that the light on the inside of each corner followed the road, mildly increasing road visibility at night.
The exterior looks of this second generation Mazda3 are rather polarizing. Some find it fabulous looking, likening it to an eagerly smiling face. Others think it looks like a bug with a football mouth-guard. Either way, there's no denying its looks are distinctive. In a world of aerodynamic-driven styling, distinction is becoming increasingly rare so we give Mazda kudos for doing something different.
Lots of Black
Not much has changed on the interior of the 2012 as well. Our test vehicle had the optional leather wrapped steering wheel and seats. Both looked and felt nice. Unfortunately, the rest of the interior was rather pedestrian.
For a Grand Touring model, the Mazda3 Skyactiv didn't have satellite navigation. So we were forced to rely on our iPhone's spotty AT&T signal for directions.
Surprising, too, the climate control on the Grand Touring was adjusted manually. Mazda includes a small display screen on upper-trim cars for automatic climate control, but our Grand Touring model's screen was present, but not connected. It felt almost like an oversight on Mazda's part.
The interior of the previous Mazda3 was youthful and exciting. The current interior is a disappointing exercise in mediocrity.
As disappointing as it appears, the interior held up well during hours of prolonged driving. We never found ourselves clutching our lower backs and cursing our existence at fuel stops. The seats were comfortable and driver and front passenger room was plentiful.
A Buzzy Bottom-Feeder
The 2012 Mazda3 Skyactiv is powered by a 2.0-liter inline four-cylinder engine making 154-horsepower and 148 foot-pounds of torque. Behind the high-compression motor is a Skyactiv-Drive six-speed automatic transmission with manual shift that works to keep RPMs low unless absolutely necessary, increasing miles-per-gallon.
Mazda claims the 2012 Mazda3 Skyactiv is both fuel efficient and sporty. Fuel economy in the city was around 20 MPG and on the highway it held a steady 36-MPG. Unlike the non-Skyactiv Mazda3 with a larger engine, the Mazda3 Skyactiv is a little buzzy on steep hills.
Cornering Courage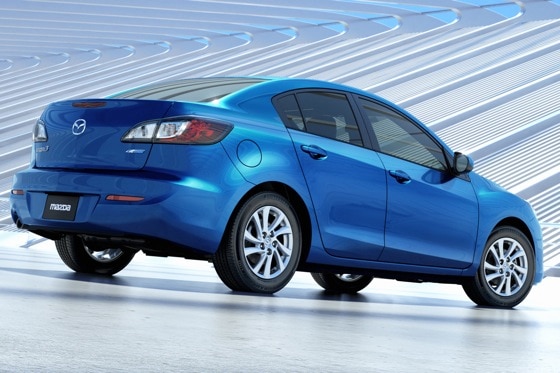 Mazda is spending a lot of time and money advertising their new Skyactiv technology. And it's working. Before we got a hold of the Mazda3 Skyactiv, we were very excited to see what their engineers had cooked up. But once we were behind the wheel, the Skyactiv-powered Mazda3 underwhelmed.
Unfortunately, the car was neither quick nor particularly quiet on the road, but for its price range, we'd venture to say that the Mazda3 is still one of the sportiest economy cars in the bunch.
The best aspect of the Mazda3 was by far its handling. On remote country roads during spirited driving or on the highway, the Mazda3 never lost its footing and easily inspired confidence in its abilities to handle whatever the roadway threw at it.
We experienced the car's handling prowess in spades when, on our way back north, the California Highway Patrol closed Interstate 5 and we were forced to venture back south to find Highway 101 to once again find our way back north.
We first connected with Highway 299 near Redding and found ourselves on a delightfully twisty road carved from the side of a series of hills and mountains. As the sun set to our left, we hammered the Mazda3 around the remote switchbacks, chasing a 2010 Toyota Corolla S. Though we did eventually overtake the Corolla, we were constantly high-revving the motor, praying for more power.
Decent Value?
Our 2012 Mazda3 Grand Touring Skyactiv had an MSRP of $24,970 as tested. Arguably, this is a sizeable asking price in an increasingly competitive group of small cars.
Unfortunately, compared with its competitors, the Mazda3 Grand Touring Skyactiv simply doesn't hold up. Dollar for dollar, the 2012 Volkswagen Jetta TDI runs circles around the Mazda3 Skyactiv. The Jetta is the same price but its better looking, has a far nicer interior, gets better mileage and includes scheduled maintenance for three years.
The Mazda3 once was one of our favorite cars not only in its class but also in the market as a whole. This new one, however, has fallen surprisingly far from grace, proving that driving enjoyment and fuel efficiency aren't as easily paired as one might thinks.