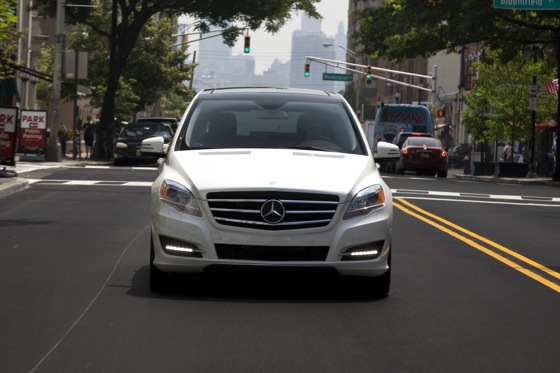 Pros: six- or seven-passenger cabin; rich seating; spacious; well equipped; availability of a clean-diesel engine
Cons: Ambiguous character; steep learning curve for COMAND system; limited maneuverability; shortage of driver assistance technologies
The 2012 R-Class is as close to a minivan as Mercedes gets. But unlike a minivan, it has conventional swing-out doors. You can also argue that it's an SUV or a crossover or a wagon, but none of those suggestions are completely correct, either. It's an amalgam of all of these vehicles with a dose of sporty sedan thrown in. The R, with its long, large, low-slung form, can best be described as a luxury people mover.
Some may question why the six- or seven-seat R-Class, slotted between Benz's M-Class and GL-Class utilities, even exists. The lineup doesn't have a large gap there, and the GL already seats seven. Fans of the R-Class, however, claim that it is a unique blend of crossover and car that touts supreme comfort, tremendous functionality and its own brand of driving dynamics.
For 2012, the R-Class improves in power and efficiency with a new V6. It also makes some of its more popular content into standard equipment.
The R-Class may suffer from an identity crisis, but that doesn't make it invalid. It offers many positive features for large families shopping in the luxury class. And for those reasons, it's worth a look.
Comfort & Utility
Inside, the R-Class looks and feels like a luxury minivan. The cabin is well crafted and very spacious, with the high-quality materials to be expected from Mercedes.
There are three rows of seating. In seven-seat form, the second row trades individual chairs for a three-person bench. All positions are highly comfortable, providing lots of support and room to stretch out. The driver gets eight-way power adjusters, four-way lumbar support and optional heat. Even rear-seaters receive conveniences like individual seat adjustments and a chunky middle console with cupholders. The standard vinyl upholstery can be upgraded to soft leather.
Storage space and cargo room is not as much as you'd find in a conventional minivan, but there's more here than some large luxury SUVs. There's plenty of cubic footage for a long road trip worth of luggage. With both rows folded down, the R-Class can haul a boatload of anything, including longer items like skis and lumber.
Standard and available conveniences include such features as tri-zone climate control, a power tilt/telescoping steering wheel with heat, a panoramic sunroof and a handy power liftgate for easy rear loading and unloading.
Overall, the R-Class interior is flexible for weekend runs to the local home improvement store, weeklong trips to the beach or weekday carpools to work and school. This minivan-crossover-utility-wagon is a useful as it is luxurious.
Technology
The R-Class offers a nice array of technology features, but not as many cutting-edge innovations as Mercedes's top-end sedans.
Standard amenities include Bluetooth, an eight-speaker stereo with USB connectivity and the Mercedes COMAND system, which unfortunately suffers from a steep learning curve and a finicky modus operandi. Newly standardized are navigation and satellite radio.
Notable options include a backup camera, a premium Harman Kardon sound system and a rear DVD entertainment system. The R-Class now gets standard LED daytime running lamps and bi-xenon self-cleaning headlights.
Performance & Fuel Economy
Both conventional and Bluetec versions of the R-Class have 4Matic all-wheel drive.
The R350 is more powerful and more efficient than last year thanks to Mercedes's new 3.5-liter V6 producing 302 horsepower and 273 lb-ft of torque. It utilizes an upgraded seven-speed automatic and yields fuel economy of 16 mpg city/21 mpg highway.
The R350 Bluetec clean diesel finds power from a carryover 3.0-liter turbo-diesel V6, making 210 hp and an very stout 400 lb-ft of torque. Fuel economy is 18/23 mpg, making it greener than its conventional RL350 sibling.
While the gas-powered RL has more top-end performance and speed, the Bluetec shows its muscle off the line with a massive punch of acceleration.
Safety
The very solidly built R-Class protects passengers with a full complement of front, side and head curtain airbags. Active front head restraints are standard fitment for minimizing whiplash from rear collisions.
Also standard is the Mercedes PreSafe system. PreSafe takes a series of safety measures - like tightening seatbelts and closing windows - when it senses that an impact is about to occur.
Blind Spot Warning and Mercedes mbrace emergency telematics are optional safety features. But the brand's higher-end driver assistance technologies like Lane Departure Warning and Night Vision with Pedestrian Detection are not available on the R-Class.
Driving Impressions
Although the R350 and the R350 Bluetec are considerably different in the way they lay down power, the primary emphasis for the R-Class is comfort. It delivers a smooth, plush ride that is ideal for moving passengers over long distances.
But it also displays the characteristics of a legitimate sport tourer. Sure, it's large and not very maneuverable in tight parking lots, but when you get the R-Class out on the open road, it feels sure-footed and agile. Some of that is due to its all-wheel drive, but credit should be shared with its capable suspension.
We're not saying it's nimble, but the R-Class does exhibit some athletic tendencies around curves, especially when matched with the low-end oomph of the Bluetec. Optional adaptive suspension dampers and two separate suspension settings - Comfort and Sport - help make the R-Class driving experience more dynamic than one would expect.
Although the R-Class is not really intended for going off-pavement, it does possess a high degree of all-condition drivability. Helping that cause are its large 19- or 20-inch wheels. As a whole, the R-Class is well suited for almost any kind of road type - except for narrow city streets, due to its sheer size.
Other Cars to Consider
Lexus GX460 - Comparably priced with the R-Class, but it only offers a big, thirsty V8, as opposed to Mercedes's V6s, including the Bluetec diesel. The GX460 offers a ride that's as supple as that of the R-Class.
Infiniti QX56 - The R-Class offers more comfortable seating, even in the third row. The Mercedes also beats the QX56 in both ride and handling.
Buick Enclave - Significantly less expensive than the R-Class but offers fewer features and less refinement and sophistication. The R-Class also feels much more solid.
AutoTrader Recommends
The R350 Bluetec is our first choice. Touting advanced 50-state-legal clean diesel technology, the R350 Bluetec provides better fuel economy and a smaller carbon footprint than the conventional R-Class. It also displays considerable sporting character thanks to its high torque output, making it a more spirited daily driver. The R350 Bluetec is a luxury people mover with strong acceleration and a socially conscious approach to motoring . There aren't too many cars, minivans, SUVs, crossovers or wagons than can claim all of that.