Car Review
2012 Mercedes-Benz SLK350: New Car Review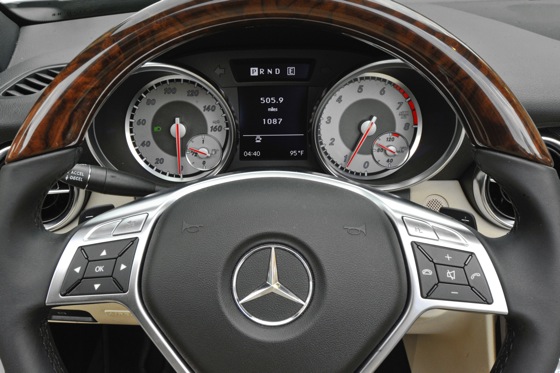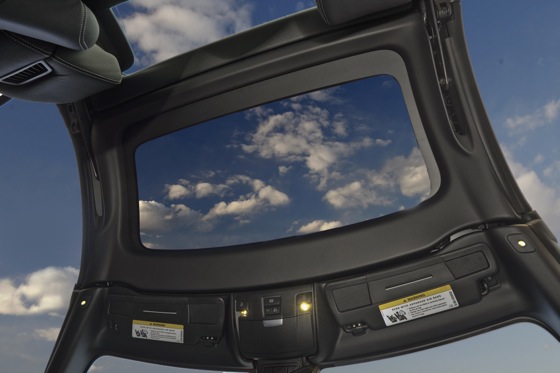 Pros: Inventive engineering details in a compact package; folding hard top adds versatility; greater driver focus than predecessor
Cons: Can't shake "cute car" stigma; unresponsive paddle shifters detract from otherwise improved dynamic characteristics; uncharismatic styling
Mercedes-Benz introduced the SLK in 1996 with a first-in-class innovation: a folding hard top. It was heavier and bulkier than a standard canvas lid, but it sat atop a roadster with a distinctive stance featuring short, taut lines and flat body panels.
Now in its third generation, the SLK has distinguished itself among competitors like the Porsche Boxster and the BMW Z4. It has improved performance while maintaining its definitively Mercedes-Benz traits. The folding hard top remains, but the SLK has become a bit more involving behind the wheel compared with its earlier iterations.
The 2012 Mercedes-Benz SLK350 starts at $54,800 and offers more power and better fuel economy than its predecessor. Also available are the thriftier SLK250 ($42,500) and the gruntier SLK55 AMG ($67,500).
Comfort & Utility
Nobody buys a compact two-seat roadster for its utility, and the SLK doesn't pretend there's a whole lot of practicality in its small cabin and modest 10.1-cubic-foot trunk.
Yet the folding hard top does offer a certain level of functionality thanks to its insulating properties, while handy features like the neck-warming AIRSCARF and an infrared hardtop remote-part of the $2,590 Premium 1 package, which also includes heated seats and a Harman Kardon 11-speaker sound system-certainly make life with this diminutive convertible easier and more fun.
Other nifty features include Airguide ($350), a rotating plexiglass wind deflector that reduces turbulence by blocking airflow, and standard rain-sensing windshield wipers.
Technology
Innovative features like AIRSCARF made their debut on the SLK. For 2012, this roadster introduces Magic Sky Control, a $2,500 option that can instantly alter the glass from opaque to transparent. For $970, Parktronic helps size up parking spots and squeeze the SLK into them. Other options include a Lighting Package ($1,090) with bi-xenon headlamps and active curve illumination and a Multimedia Package ($2,150) that includes a COMAND system with a voice-controllable 80-GB hard drive navigation system, satellite radio and a 10-GB music hard drive. Not to mention the presto change-o hard-top roof, offering perhaps the single most identifiable piece of technology on the SLK.
Performance & Fuel Economy
Thanks to a new direct-injected 3.5-liter V6, the SLK350 produces more power and better fuel economy: 302 horsepower and 273 lb-ft of torque, with fuel economy figures of 20 mpg in town and 29 mpg on the highway. In contrast, the SLK250's turbocharged four-cylinder yields 23/31 mpg. The V6 mated to a seven-speed automatic transmission is good for 0-to-60-mph runs in 5.4 seconds, but don't ask for a manual, as a clutch pedal is only available on the SLK250.
Safety
It may be small, but the SLK350 squeezes more safety features into its compact body than the previous generation. Standard on the SLK is Attention Assist, which observes a number of parameters including steering and throttle input and eye movements and warns the driver when drowsiness is detected. An updated supplemental restraint system includes front, head, thorax side and knee airbags for driver and passenger. Active head restraints are designed to move toward passengers to prevent whiplash injuries.
The SLK's braking system adds an adaptive functionality, which detects when your foot has been removed quickly from the accelerator, "priming" the brakes for shorter stopping distances. A new fiber-reinforced roll bar deploys automatically in the event of a rollover.
Driving Impressions
From the driver's seat, the SLK feels sporty and compact, an impression that is confirmed when the vehicle is in motion. Thanks to Mercedes-Benz's Direct Steer system, which effectively quickens the on-center steering response due to an unevenly spaced rack, the SLK feels nimble and responsive at turn-in and far more entertaining to drive than in previous generations. Still, although it's agile enough for most driving circumstances, more extreme dynamics are better suited to the tighter and quicker SL55 AMG.
The SLK's V6 feels flexible and torquey as it winds up, and the seven-speed transmission's shifts feel smooth yet quick-although it sometimes upshifts earlier than we'd like, especially when its adaptive programming detects mild driving patterns but more aggressive downshifts are called for. The gearbox doesn't respond well to paddle shift inputs and pauses momentarily before actual gear shifts occur. The brakes, on the other hand, are strong and reassuring, even if they lack the pedal feel of sportier competitors.
Other Cars to Consider
Porsche Boxster - The latest version of this two-seat roadster is a force to be reckoned with, offering more power, lighter weight and better fuel efficiency in a more spacious package. With their standard-setting driving dynamics and handling, the $49,500 Boxster and $60,900 Boxster S are hard to beat for the dyed-in-the-wool driving enthusiast.
Audi TT Convertible - Less involving to drive than the Porsche, Audi's TT Convertible makes more of a style statement than a performance impression, with a model range that offers a more attainable sweep from the $41,300 base model to the $50,000 TTS Roadster.
BMW Z4 Convertible - BMW's tiny roadster offers a compelling array of powerplants, from the 2.0-liter inline-4 powered sDrive28i to two 6-cylinder variants that produce as much as 335 hp. The BMW's styling is memorable, though its driving dynamics aren't quite as pure or unfiltered as the Porsche Boxster's.
AutoTrader Recommends
The diminutive SLK350 was made for driving with the wind in your hair, so we'd definitely opt for the Premium 1 package with its neck-warming Airscarf and hard-top remote. Kudos to Mercedes for making this roadster more fun to drive, which is the point of a roadster, after all.