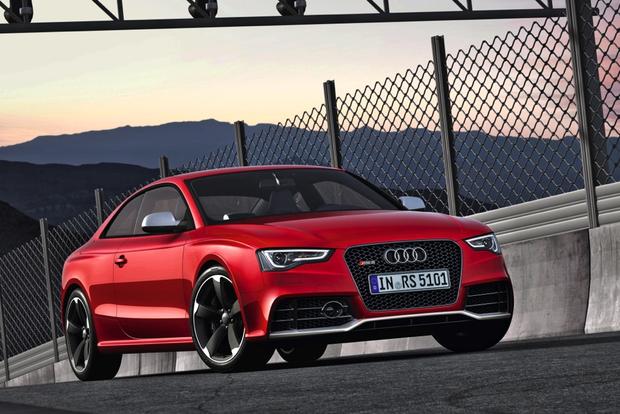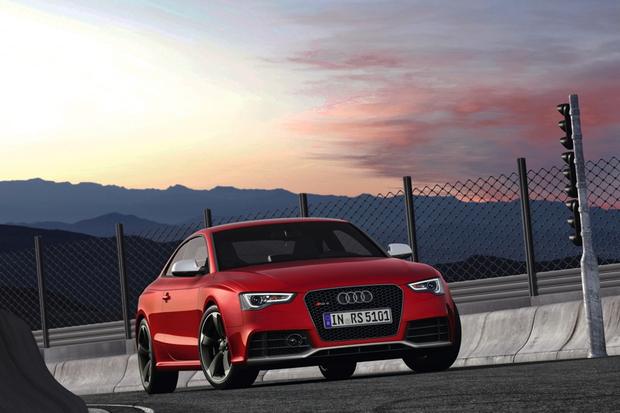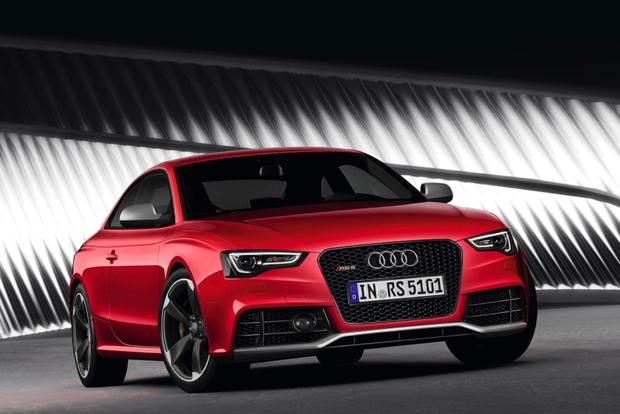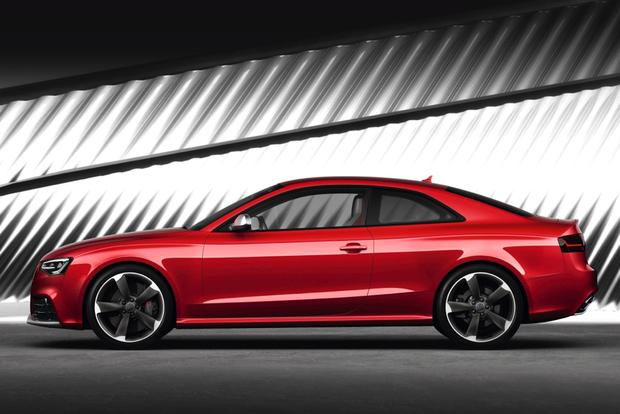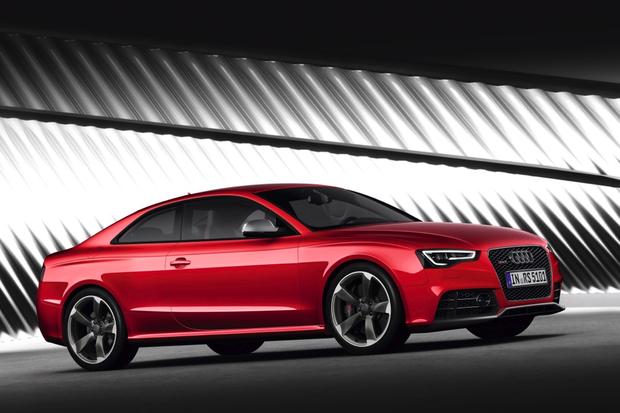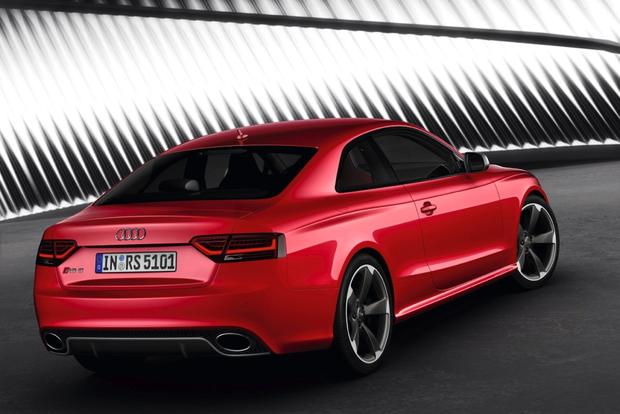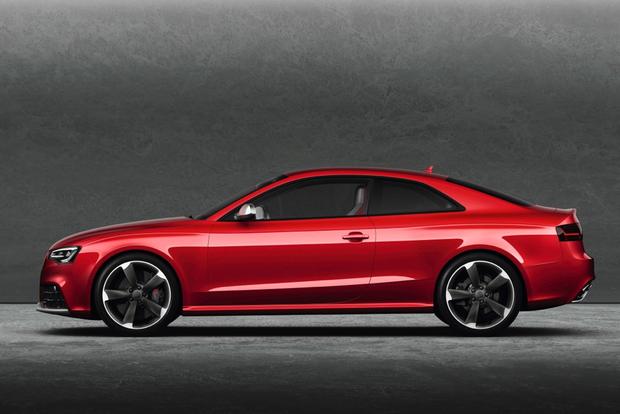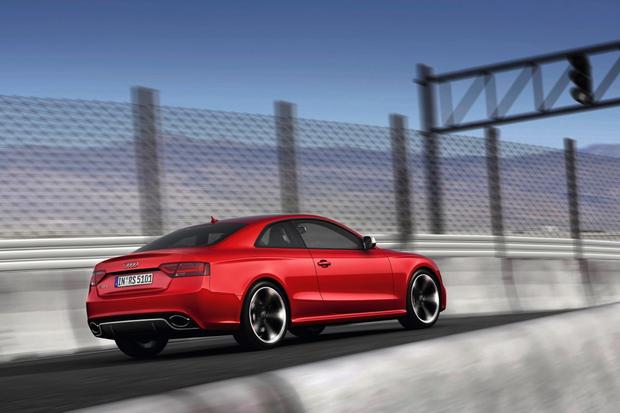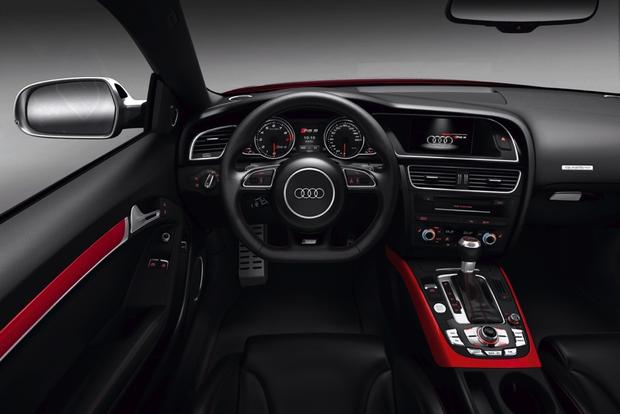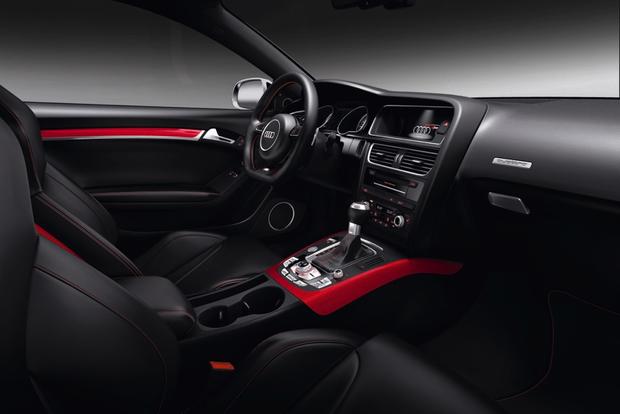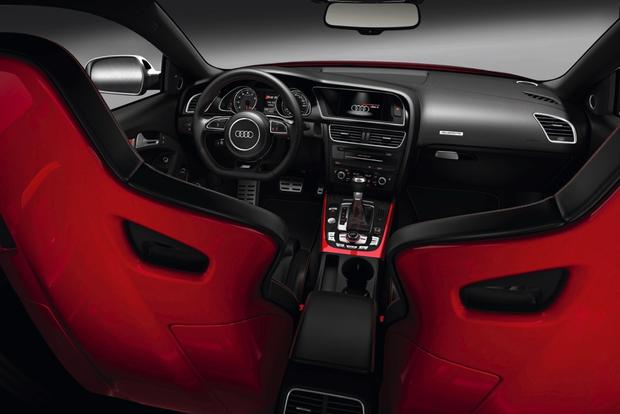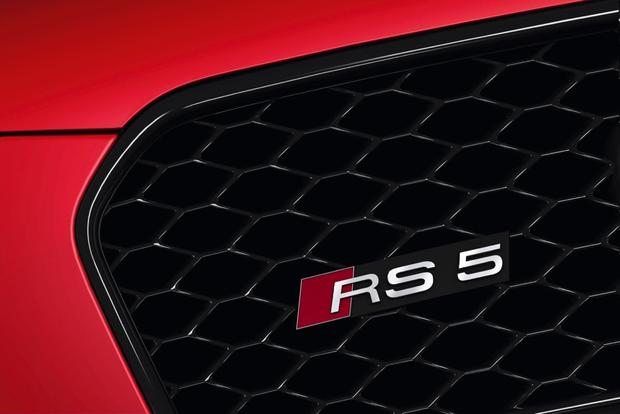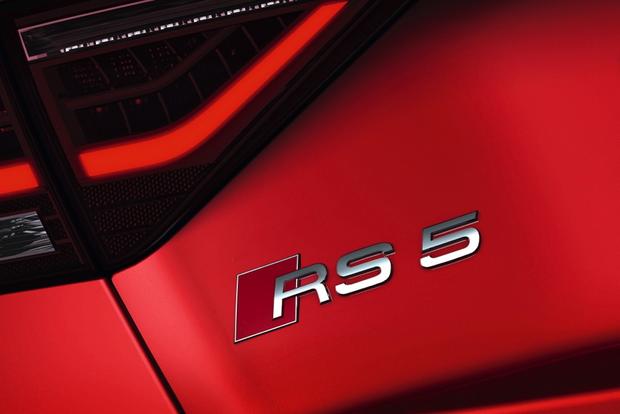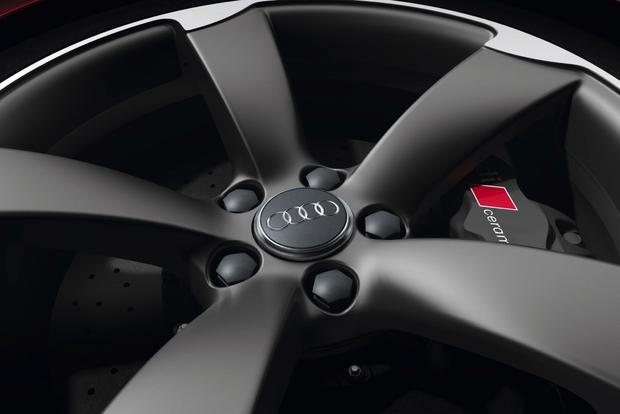 Pros: Scintillating V8 engine, beautiful to behold, sticks like glue, classy interior, technology aplenty.
Cons: No manual transmission, top-shelf MMI system with Audi connect costs extra.
What's New: Making its debut this year, the 2013 Audi RS5 is an amped-up performance coupe with a 450-horsepower V8.
Introduction
Automakers are putting on a brave face about tightening fuel-economy regulations, but they know there's no substitute for a high-performance, naturally aspirated V8. That's why Ferrari continues to use this type of engine in its purest car, the 458 Italia.
It's also why the 2013 Audi RS5 exists.
And no, mentioning the RS5 and Ferrari's finest in the same breath is not hyperbole.
Here's the backstory. Audi already makes a dynamic coupe called the S5 that looks great, handles well and goes pretty darned fast. But starting this year, the S5 no longer features Audi's excellent 4.2-liter V8, instead making do with a more fuel-efficient but less engaging 3.0-liter supercharged V6.
That's where the RS5 comes in. It boasts a heavily modified version of the old V8 that tops out at a stratospheric 8,500 rpm, and if you treat that number as a "shift here" indicator, you'll be rewarded with a soundtrack that's genuinely worthy of an Italian badge. You'll also enjoy 450 purebred German horses versus the S5's 333. Various suspension tweaks ensure that the RS5's handling likewise eclipses that of its more sedate sibling.
Given that the RS5 is aimed at the small subset of drivers who truly appreciate the V8's added value, we're surprised it's only offered with Audi's admittedly superb dual-clutch automatic transmission. If you care that much about engines, you might also prefer to handle the clutching duties yourself.
But hey, who are we kidding? This Audi is pure awesome. And with the BMW M3 about to ditch its epic V8 in favor of a force-fed inline-6, the 2013 RS5 just might be the best V8-powered performance car under $100,000.
Comfort & Utility
The coupe-only RS5 generally offers the same features as the S5 Prestige model, but it adds a number of RS-specific items. Standard perks include 19-inch alloy wheels (20-inchers are optional), adaptive xenon headlights with LED accents, LED taillights, special wide body exterior panels, an automatic rear spoiler, keyless entry with push-button start, a panoramic sunroof, tri-zone automatic climate control, 12-way sport front seats with driver memory, carbon fiber interior trim, Bluetooth and iPod integration, the Multi-Media Interface system (MMI) with a dash-mounted control knob and a 10-speaker audio system with an auxiliary input, an SD card reader and satellite radio.
The optional MMI Navigation plus adds upgraded MMI software with navigation and a console-mounted joystick knob, Audi connect (see "Technology," below), a rearview camera, SiriusXM Traffic with a 4-year subscription and a 14-speaker, 505-watt Bang & Olufsen audio system with HD radio. Additional packages contribute niceties like adaptive cruise control and "black-optic" exterior trim.
The RS5's interior is highlighted by extraordinarily high-quality materials and a low-slung, intimate driving position with a cool flat-bottomed steering wheel. The aggressively bolstered front seats buck Audi's tradition of skimping on lateral support, yet they remain exceptionally comfortable on longer treks. We wish they were standard in every Audi. The tilt-and-telescopic steering wheel has a wide range of adjustability, so most drivers should be able to find a comfortable configuration.
Ergonomics, however, are hit-or-miss in the RS5, just like in the A5 and S5. For example, want to adjust the climate control's fan speed while driving? Good luck, because it's a two-step process rather than the simple twist of a knob. In brighter news, Audi has made huge strides as of late with the MMI system's intuitiveness, at least if you get the superior MMI Navigation plus version. It's now possible to accomplish most important tasks without consulting the owner's manual, and that's real progress.
With regard to the back seat, we've said it before of the A5 and S5, and we'll say it again: Only pint-sized humans will be happy back there for more than a few minutes. Trunk space, though, is more than respectable at 12.4 cubic feet.
Technology
Like other Audis, the RS5 comes standard with an SD-card reader, but it doesn't offer a USB port. That means you can't plug in your USB-compatible mp3 player, and if you're used to playing mp3s off a flash drive, you'll have to go buy an SD card and switch over.
But otherwise, the RS5 is a technological tour-de-force, highlighted by the MMI system, which comes in two forms. In standard spec without navigation, MMI is controlled via a knob on the center stack that requires an uncomfortable reach from the driver's seat. We recommend stepping up to MMI Navigation plus, which includes navigation, a more sophisticated display screen, and a control knob that's conveniently mounted precisely where your right hand rests on the center console.
Audi has greatly improved the intuitiveness of MMI's menu structure, and the console-mounted knob now features a nifty joystick-like top section that enhances operator control. Moreover, the Audi connect system, which only comes with MMI plus, delivers revolutionary new connectivity options, from voice-activated search and mobile wi-fi hotspot capability to Google Maps with auto-update.
Performance & Fuel Economy
The RS5 is powered by a naturally aspirated 4.2-liter V8 that makes 450 hp and 317 lb-ft of torque. That's 20 more hp than the similar V8 in Iron Man's car, the Lamborghini-based R8. The sole transmission is a 7-speed dual-clutch automated manual.
At full throttle, with the tachometer needle sweeping effortlessly toward 8,500 rpm, the RS5 is about as close as you can get to V8 nirvana without ponying up for a Prancing Horse. It's not just the speed that impresses; it's also the astounding lack of vibration through the controls, and the exquisitely refined noises from both engine and exhaust. As for the transmission, it may only have two pedals, but it's as good as any automated manual we've tried, and that includes Porsche's PDK. Just rip off a few rev-matched downshifts with the standard paddle shifters, and you'll be a believer, too.
Fuel economy actually isn't that bad for a high-revving V8 at 16 mpg city/23 hwy.
Safety
The RS5 comes with standard stability control, 4-wheel antilock disc brakes, and eight airbags (front, front side, front knee, full-length side-curtain). A blind-spot warning system is available.
Like the A5 and S5, the RS5 has not been crash-tested in the U.S.
Driving Impressions
The RS5 starts with the confident high-speed demeanor of its lesser siblings and cranks it to eleven. On a racetrack or winding road, there's a real sense of invincibility: Just plant your right foot mid-corner, and let the magical V8 and quattro all-wheel-drive system sort out the rest. Notably, the RS5's version of quattro comes standard with the sports rear differential (optional on S5), which virtually eliminates understeer by sending extra power to the outside rear wheel as required.
In normal driving, the RS5's ride proves rather stiff. While we applaud Audi for declining to offer the synthetic-feeling Drive Select system with its adjustable suspension, we do think the RS5's fixed damper settings could stand to be relaxed a bit. But you can still feel that characteristic German suppleness in the suspension, so impacts are rarely harsh. Moreover, the quiet cabin makes this Audi a stellar road-trip companion.
Other Cars to Consider
BMW M3: Depending on when you read this review, your BMW dealer might have some leftover V8-powered M3s from last generation, but those will soon be replaced by the new M3 with its turbocharged six. Either way, you owe yourself a test drive before going with the RS5.
Mercedes-Benz C63 AMG: Now available as a coupe, the C63 lacks the RS5's heroically controlled handling, but it'll do powerslides all day if that's your thing. Plus, the 6.2-liter AMG V8 makes some beautiful noises of its own.
Chevrolet Camaro ZL1 - We know it's a dark-horse candidate, but the ZL1's unique suspension gives it world-class handling, and there's something to be said for its 556 supercharged horses and look-at-me styling.
AutoTrader Recommends
We recommend the RS5, period. If you've got the means, you're not going to be disappointed.