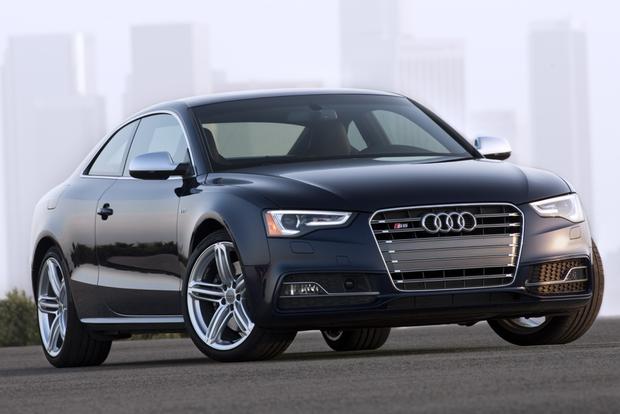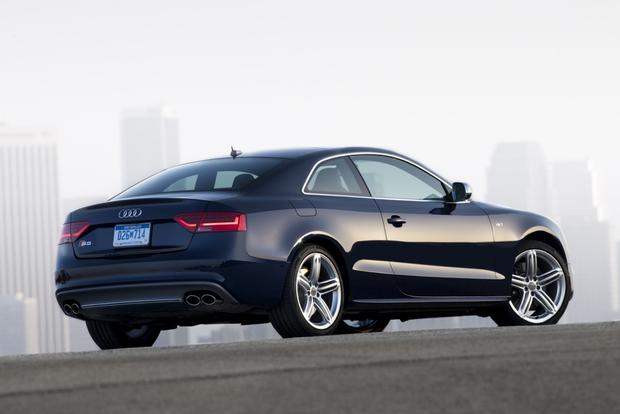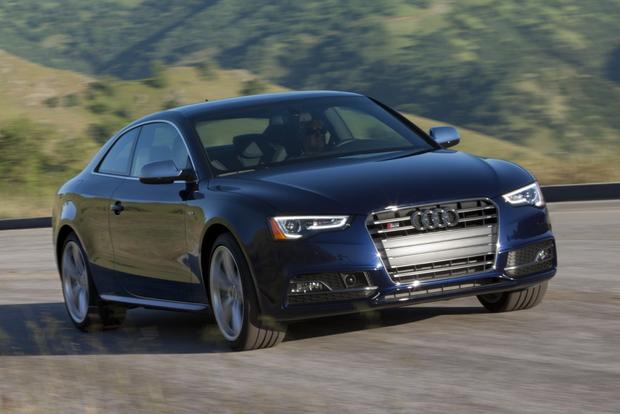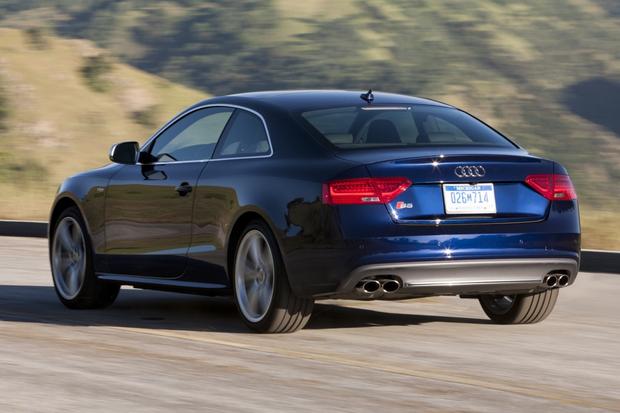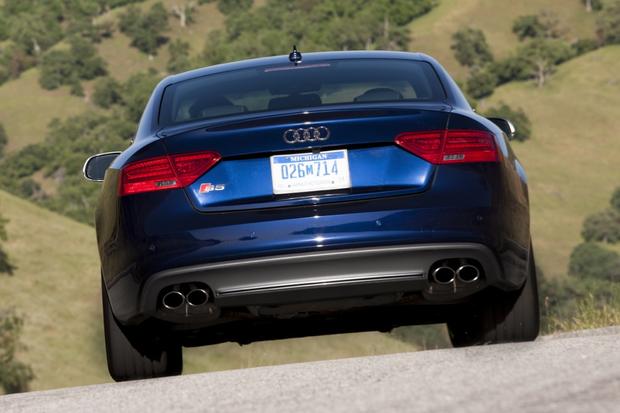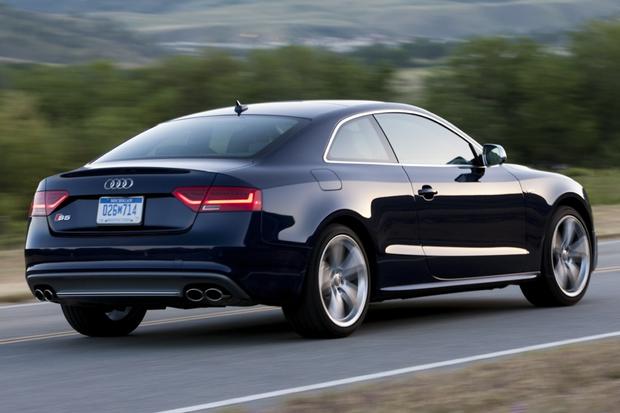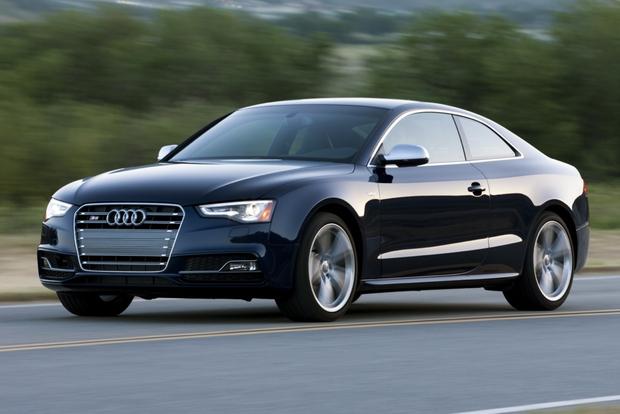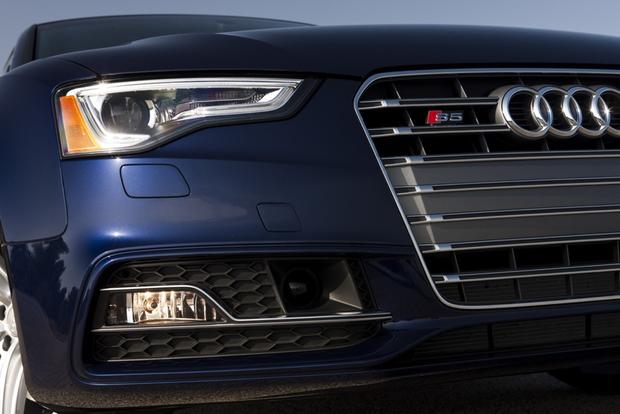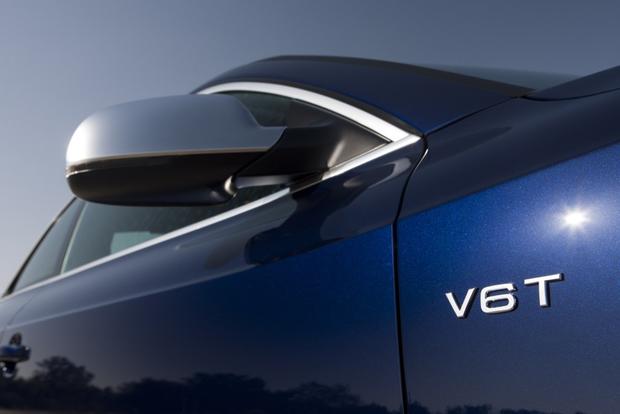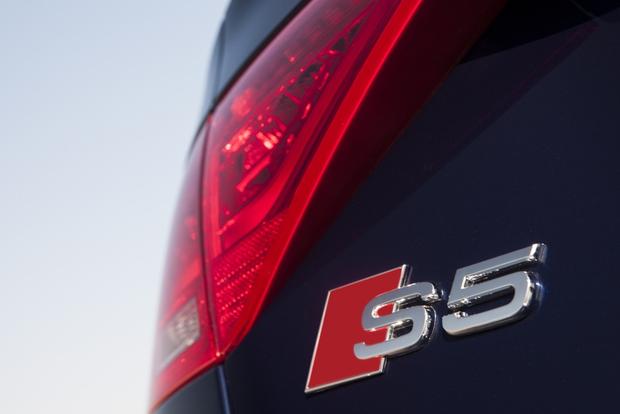 Pros: Head-turning styling, satisfying supercharged V6, high-class interior, plenty of technology options.
Cons: Handling could be sharper, Cabriolet's soft top is relatively insecure and doesn't seem to save much weight.
What's New: The S5 coupe loses its lusty 4.2-liter V8, a casualty of fuel economy concerns. As such, all S5s employ the supercharged 3.0-liter V6 for 2013, and all benefit from mildly updated exterior and interior styling, as well as the availability of Audi connect with Google integration.
Introduction
We regret to report that the 2013 Audi S5 has lost something near and dear to our hearts: the coupe's awesome 4.2-liter V8. It sounded great, went like the wind, and now it's gone for good, replaced by the supercharged 3.0-liter V6 that was already in the S5 Cabriolet.
We're prepared to forgive Audi, though, because we already went through this with the closely related S4 sedan. When the current version of that car came out, all the talk was about how Audi had ditched the perfectly lovely V8 in favor of a boring V6. Sound familiar? The engines involved were basically the same. And once we drove the stellar S4, we understood exactly why Audi made the switch.
For one thing, the supercharged 3.0T V6 gets much better fuel economy, and that's the name of the game these days. With the S5, Audi dangled the V8 for a few extra years as a juicy carrot for coupe fans, but it was only a matter of time.
Here's the other thing, though: The 3.0T is quite simply a fantastic high-performance engine. Its throttle response is instantaneous, so there's no delay like with a turbocharged engine, and its power delivery is linear and relentless. The only thing missing is the beautiful burble of that dearly departed V8.
What we have here, then, is a drop-dead gorgeous coupe or convertible that goes fast, isn't bad on gas, and cossets its riders with one of the nicest interiors around. Yes, we'll miss the V8, but we think the 2013 Audi S5 is going to be just fine without it.
Comfort & Utility
The S5 coupe and convertible (Cabriolet) are offered in two trim levels: Premium Plus and Prestige.
The Premium Plus trim level includes 19-inch alloy wheels; quad tailpipes; Xenon headlights with LED accents; LED taillights; fog lights; a panoramic sunroof (coupe only); a power-operated vinyl roof (Cabriolet only); Napa leather upholstery; tri-zone automatic climate control; sport front seats; a tilt-telescopic steering wheel; Bluetooth and iPod integration; the Multi-Media Interface system with a dash-mounted control knob; and a 10-speaker audio system with an auxiliary input, an SD card reader and satellite radio.
The Prestige upgrades to adaptive Xenon headlamps; a blind spot warning system; keyless entry with push-button ignition; MMI Plus with navigation and a console-mounted joystick knob; and a 14-speaker, 505-watt Bang & Olufsen audio system.
MMI Plus (with available Audi connect telematics; see Technology below) can be added to the Premium Plus as an option, as can the Bang & Olufsen stereo. A sports rear differential with side-to-side power distribution is available on both trim levels. Exclusive Prestige extras include adaptive cruise control, power rear sunshades and the Drive Select system, which adds the sports differential, adaptive suspension dampers, and electronic adjustments for steering, suspension, transmission (automatic models only) and throttle response. The Cabriolet's Comfort package adds heating vents at the top of the front seats for comfortable top-down driving in chilly weather.
The S5's interior is highlighted by extraordinarily high-quality materials and a low-slung, intimate driving position. The thoughtfully contoured sport front seats mostly rectify the shortcomings of the A5 coupe's generic seats, though we'd like to see power adjustability for the side bolsters to provide custom snugness. The tilt-and-telescopic steering wheel has a wide range of adjustability, so most drivers should be able to find a comfortable configuration.
Behind that 3-spoke wheel, the classic analog tachometer and speedometer use Audi's distinctive font for the numerals. Consistent with virtually everything else in the S5's cabin, those gauges impart a sense of luxury and sophistication.
Ergonomics, however, are hit or miss in the S5. Try to adjust the climate control's fan speed and you'll see what we mean—it's a two-step process. A simple dedicated fan knob would be a godsend here. But on the bright side, we think Audi has made great strides with the MMI system's intuitiveness; it's now possible to accomplish most tasks without consulting the owner's manual.
Although the S5's back seat is treated to a separate temperature control, it's not for full-sized humans; only kids will find it agreeable. As for trunk capacity, the coupe gets 12.4 cu-ft, while the Cabriolet's trunk checks in at an admirable 12.3 cu-ft with the top up and 10.2 cu-ft with it lowered.
Speaking of the Cabriolet's top, the good news is that it retracts in just 15 seconds, and you can operate it at speeds up to 30 mph. However, its fabric construction invites attention from thieves, and the Cabriolet is still nearly 400 lb heavier than the coupe, even without a retractable hardtop.
Technology
Although the S5 comes standard with an SD-card reader, it doesn't offer a USB port, so it won't accept flash drives or USB-connected mp3 players. But at any rate, the technological centerpiece here is the MMI system, which comes in two forms. In standard spec without navigation, MMI is controlled via a knob on the center stack that requires an uncomfortable reach from the driver's seat. We recommend stepping up to the MMI Plus system, which includes navigation, a more sophisticated display screen, and a control knob that's conveniently mounted precisely where your right hand rests on the center console.
Audi has greatly improved the intuitiveness of MMI's menu structure, and the console-mounted knob now features a nifty joystick-like top section that aids operation. Moreover, the introduction of Audi connect for MMI Plus delivers revolutionary new connectivity options, from Google Maps and voice-activated search to mobile Wi-Fi hotspot capability.
Performance & Fuel Economy
The S5 is powered by a supercharged 3.0-liter V6 that makes 333 horsepower and 325 pound-feet of torque. If anyone's counting, that's the same torque rating as the discontinued V8, though horsepower is down a smidge. No matter: acceleration is intense, and the supercharged six responds with every bit as much immediacy as its predecessor. A precise 6-speed conventional manual transmission is standard on the coupe, with a highly responsive 7-speed dual-clutch automated manual offered as an option. The Cabriolet, meanwhile, comes only with the automated manual.
According to the EPA, the coupe with the automated manual returns a solid 18 mpg city/28 mpg highway, while the 6-speed manual regresses to 17/26 mpg. The Cabriolet nets 18/26 mpg.
Safety
The S5 comes with standard stability control and 4-wheel antilock disc brakes. The coupe gets six airbags (front, front side, full-length side-curtain), while the Cabriolet gets four airbags (front, front side).
The S5 has not been crash tested yet, nor has the A5 on which it's based.
Driving Impressions
Like the A5, the S5 has a confident, almost invincible feel at speed. The main handling difference comes courtesy of the S5's optional sports rear differential, which really does mitigate the nose-heavy S5's tendency to understeer, even if rear-drive machines like the M3 remain sharper. Although the standard 19-in wheels don't do the ride quality any favors, the S5 still exhibits that typical Germanic suppleness over rough pavement. We'd avoid the expensive Drive Select system, however, as the S5's standard calibrations are just fine. More natural-feeling steering would be nice, but that's hardly a deal breaker.
Other Cars to Consider
BMW M3: Still available while BMW readies a new model, the V8-powered M3 marks the end of a glorious M-car era. Less glorious is the elevated price tag, however.
Mercedes-Benz C63 AMG: Now available as a coupe (but not as a convertible), the C63 is another one that's more expensive than the S5 but also more desirable.
Infiniti G37: Offered as either a coupe or a hardtop convertible, the Infiniti lacks the S5's manners, but its acceleration is similarly forceful, and it's a lot cheaper.
AutoTrader Recommends
We think the S5 is at its most beautiful as a coupe, and call us old school, but we're fans of the precise manual shifter that's shared with the S4. We'd also want the sports rear differential and MMI Plus with Audi connect, though we know all that stuff doesn't come cheap.