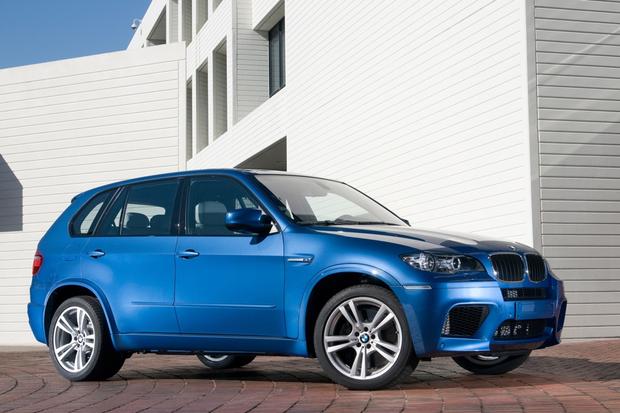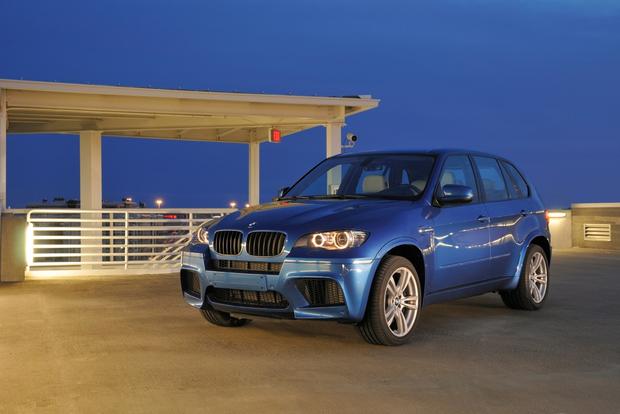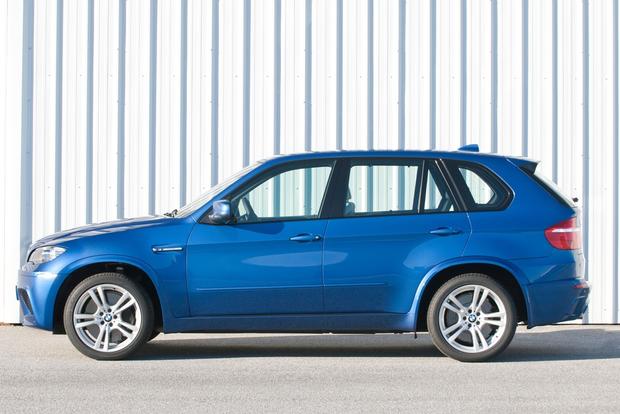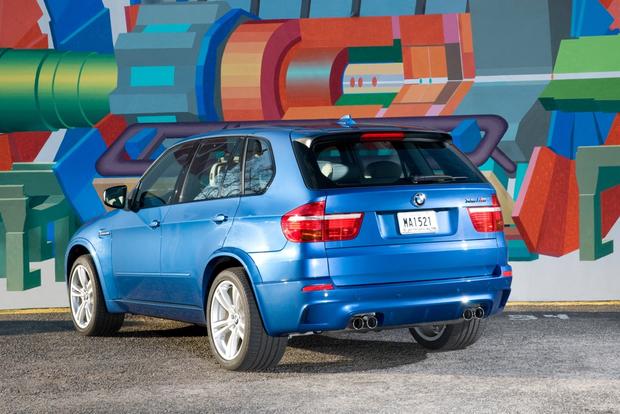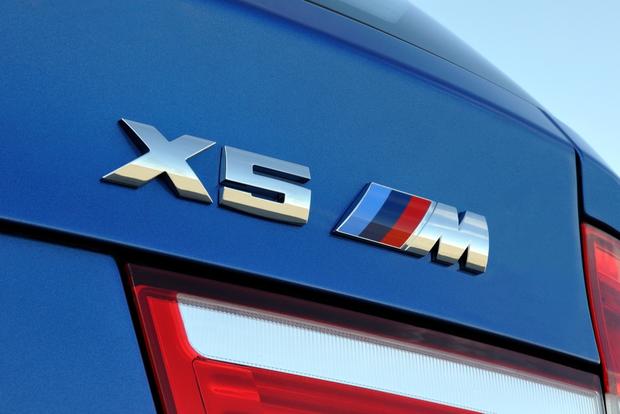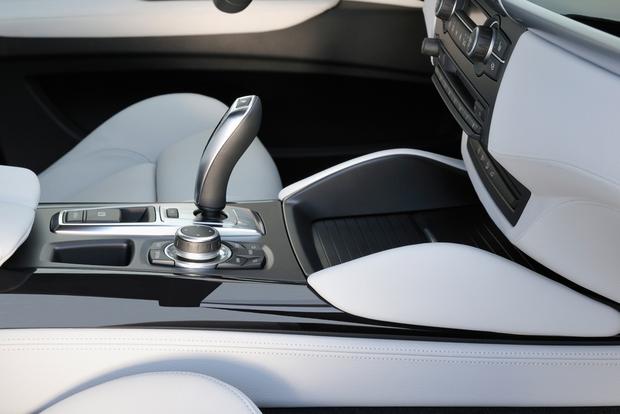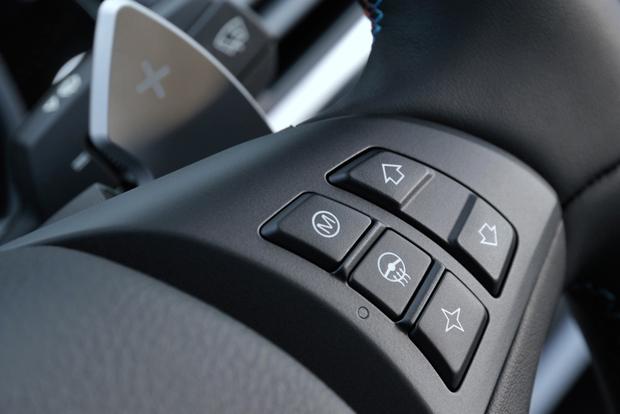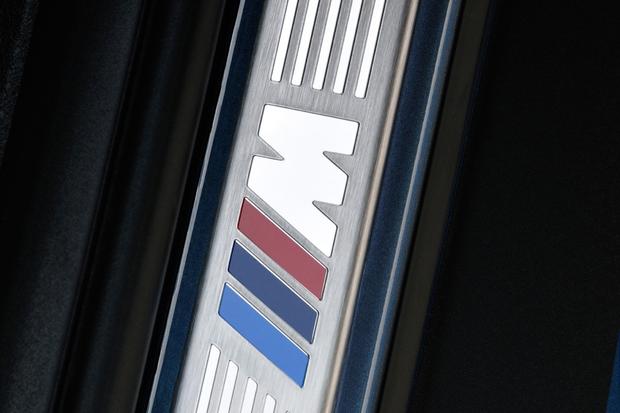 Pros: Wild acceleration, inconceivable handling, subtly menacing styling tweaks, incredible cargo capacity for 555 horsepower.
Cons: Regular X5's third row isn't available, six speeds instead of eight, flatulent exhaust noises during redline upshifts.
What's New: The 2013 X5 M receives a smattering of minor changes, including M5-style blue brake calipers, standard 20-way M Multi-contour front seats and optional full LED headlights.
Introduction
The 2013 BMW X5 M high-performance crossover is a good test of what you consider "bang for the buck."
Priced a couple bottle-service tabs shy of $90,000, the X5 M costs about 25 grand more than the regular X5 xDrive50i, which has a similar 4.4-liter twin-turbocharged V8. But thanks to extensive internal revisions to that engine, the M boasts 555 hp versus the ordinary X5's 400. And underneath, the X5 M has been given the full M Division suspension treatment, resulting in a 2.5-ton crossover that's astonishingly capable in corners. In other words, this isn't just an appearance package; the X5 M is a real-deal high-performance vehicle.
Having said that, the X5 M's luster has lessened a bit in light of a couple new developments for 2013. First, the xDrive50i, which already had a superior 8-speed automatic transmission, was blessed with an optional M Performance package that raises output to 440 hp. Then, the government surprisingly decided to crash-test the 2013 X5 even though an all-new X5 will likely debut next year. The X5's 4-star overall rating (out of five) included a subpar 3-star score for frontal impacts.
We wouldn't be overly concerned about crash tests in this case, though, because the X5 M's sports-car-like braking and agility are major advantages in avoidance situations, and heavy crossovers are inherently safer than most vehicle types. As for that sibling rivalry with the lesser X5, keep in mind that the X5 M is a bargain compared to its direct rival from Porsche, the megabuck Cayenne Turbo.
So is the X5 M worth it? If you think so, yes. Here's another way of looking at it: We've never come across an X5 M owner who regretted paying that initial premium.
Comfort & Utility
The X5 M comes in one thoroughly loaded trim level. Standard features include 20-inch alloy wheels, sport-tuned adaptive dampers, a self-leveling rear air suspension, a power liftgate, adaptive xenon headlamps with retractable washers, fog lights, a panoramic sunroof, keyless entry with push-button ignition, extended leather upholstery, 20-way Multi-contour sport seats, dual-zone automatic climate control, iPod/USB and Bluetooth connectivity, a 16-speaker audio system with dual subwoofers, and the hard-drive-based iDrive infotainment system with navigation, digital music storage and a widescreen display.
If that's not enough for you, some of the more notable options include LED headlights, quad-zone automatic climate control, a leather-trimmed dashboard, an 825-watt audio system (crushing the base system's measly 600 watts) and a rear-seat entertainment system.
The X5 M's standard front seats for 2013 are of the formerly optional Multi-contour variety, and they're among the very best automotive thrones ever made. The gauges are pure BMW: white-on-black numerals that change to orange-on-black at night. The dashboard design is similarly recognizable as a BMW design, though the X5 is getting on in years, and we find newer BMW dashboards to be a little nicer in terms of both materials and build quality.
The X5 M's back seat is surprisingly low, especially for a crossover SUV. We're surprised second-row passengers don't get a higher bench with more thigh support. Unlike the regular X5, the X5 M doesn't offer a third-row seat. Cargo capacity measures 35.8 cu-ft behind the second row and a healthy 75.2 cu-ft with the rear seatbacks folded.
Technology
The X5 M may have a somewhat dated interior relative to newer BMW products, but its technology is anything but dated. Let's focus on iDrive, though, because it's the technological nerve-center of this beast. Every X5 M comes with the hard-drive-based version of iDrive, which includes a beautifully crisp widescreen display and plenty of digital music storage. The iDrive interface has improved dramatically from its controversial early years, now featuring a vastly better menu structure and numerous physical buttons next to the controller knob for direct access to common pathways. It's one of the best infotainment systems on the market, and we appreciate that it's controlled by that console-mounted control knob instead of a touch-screen, so there's no need to lean forward and smudge the screen with your fingertips.
Performance & Fuel Economy
The X5 M is powered by twin-turbocharged 4.4-liter V8 rated at 555 hp and 501 lb-ft of torque. All X5 M models get an exclusive all-wheel-drive system with torque-vectoring for putting maximum power to the pavement in all situations. The transmission is an adequate 6-speed automatic, though it's worth noting that the regular X5's twin-turbo V8 gets a thoroughly modern 8-speed automatic.
Acceleration is just completely bonkers insane in the X5 M. There's no way a 2.5-ton SUV should be piling on speed like a Porsche 911, but that's exactly what this BMW does. It's epic. Aside from the aged 6-speed's sometimes abrupt responses, our only quibble is with the flatulent soundtrack trumpeted by the exhaust system during full-throttle upshifts. You don't want to be making embarrassing noises while you're out-sprinting that 911 to the next stoplight, do you?
Fuel economy is a dismal 12 mpg city/17 mpg hwy.
Safety
The X5 M comes with standard stability control, 4-wheel antilock disc brakes and six airbags (front, front-side, full-length side-curtain).
In government crash tests, the 2013 X5 was awarded four stars overall (out of five), including just three stars for frontal impacts. However, the independent Insurance Institute for Highway Safety (IIHS) previously awarded the X5 its highest rating of "Good" in every tested category.
Driving Impressions
The 2013 BMW X5 M's lowered sport suspension does a ridiculously good job of keeping this massive SUV planted at speeds you won't believe until you drive the thing for yourself. Still, the ride remains more than tolerable, a tribute to the fundamental goodness of this aging X5 platform and its 5 Series roots. The steering is amazingly precise for a vehicle of this type. Among SUVs, only the far more expensive Porsche Cayenne Turbo (well, and the mechanically similar BMW X6 M) can do what the X5 M does dynamically.
Other Cars to Consider
Mercedes-Benz ML63 AMG: Now equipped with a twin-turbo 5.5-liter V8, the AMG-tuned ML will certainly give the X5 M a run for its money in a straight line. Corners are a lost cause, however.
Porsche Cayenne Turbo: The Cayenne is a good match for the X5 M if you don't mind paying considerably more for that Porsche cachet. We think the BMW's cachet is just fine.
Jeep Grand Cherokee SRT8: The hotrod Grand Cherokee is less athletic than the X5 M, and less civilized to boot--but it does deliver the awesomeness of a 6.4-liter Hemi V8 for about half the price of the BMW.
AutoTrader Recommends
Although we can't help but recommend anything with 555 hp, we'd upgrade to the 825-watt stereo, for sure. The X5 M definitely isn't about restraint.