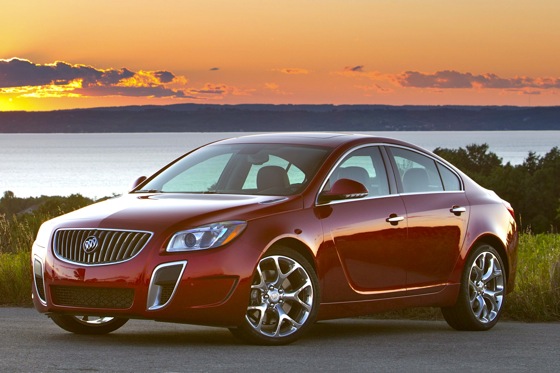 Pros: Dramatic exterior design; athletic tendencies; high-performance potential (GS); premium-level cabin; long list of standard amenities; good fuel economy (eAssist Hybrid).

Cons: Lethargic off the line; turbo lag; tight trunk; poor visibility; road noise with 20-inch wheels (GS).
What's New: eAssist standard with base 2.4-liter engine; available XM Travel Link; heated steering wheel (except GS model).
The 2013 Buick Regal represents a real departure from the model line it descends from. For many years, the Buick Regal was one of the stodgy statesmen of the sedan world. It was a nameplate that stood for reliability, comfort and sturdiness, perhaps at the expense of excitement. After a long, successful run, the Regal was discontinued early in the decade of the 2000s. Fast forward several years to 2010, when the Regal was unearthed, dusted off and brought back to life as an all-new car. But this one was nothing like its ancestor. Rather, it was a svelte European-style sport sedan with an infusion of advanced electronics. The two versions resembled one another in name only.
However, the new Regal had some problems. First, it alienated the nameplate's previous fans--older drivers who wanted a big, comfortable cruiser, not a Euro-tuned handler. Another challenge was the car's reserved overall performance character, despite its handling prowess.
To remedy this situation, Buick offers both the Regal Turbo and the even sportier GS model. These two use the same turbocharged engine but in two distinct states of tuning. The eAssist mild hybrid, meanwhile, goes after those interested in a green-leaning sport sedan. For 2013, the eAssist setup becomes standard fare.
Buick's hope is to make deeper inroads into the highly competitive near-luxury sport sedan segment.
Comfort & Utility
The 2013 Regal's interior is decidedly upscale. Gauges and controls exude a sophisticated, Euro-flavored appearance. The driver's cockpit is nicely carved to emphasize the sedan's performance credentials.
The front seats are supportive, well shaped and adequately bolstered for spirited driving, although on the narrow side. The Regal's second row can accommodate three adults but is more ideal for two. This rear seat offers plush seating with good legroom and shoulder room. Rear headroom for taller passengers is limited; the low-slung roof is the culprit there.
For cargo, the Regal's trunk offers a usable 14.2 cu-ft of space for turbo models. But that cubic footage shrinks to just 11.1 on the standard Regal with eAssist because of the space taken up by battery storage.
The Regal is available in five trim levels: base, Premium I, Premium II, Premium III and GS. The interior is not the most refined in its class, nor does it have the most performance character. But it does offer a balance of each, making sporty elegance an appropriate theme for this cabin.
Technology
The base model offers Bluetooth, USB interface and the IntelliLink smartphone-based communication system. Premium I adds keyless entry, rear parking sensors and remote start. Premium II adds HID headlights and 9-speaker Harman/Kardon sound. The 220-horsepower, 2.0-liter turbocharged engine and 19-in wheels are part of the Premium III package, which doesn't include any additional technology equipment. Finally, the Regal GS packs all the extras in the Premium packages along with front parking sensors and the 270-hp engine. Navigation is an option on Premium II trim and above.
Performance & Fuel Economy
The front-wheel-drive 2013 Buick Regal is powered by either a base 2.4-liter eAssist 4-cylinder or a turbocharged 2.0-liter that's available in two distinct states of tuning.
The base eAssist unit produces 182 hp and 172 lb-ft of torque. It's combined with an 11-kw electric motor that derives power from an advanced lithium-ion battery. Energy is sent to the front wheels by way of a 6-speed automatic transmission. EPA-estimate fuel economy with the mild hybrid eAssist setup is 25 mpg city/36 mpg highway. That's an overall increase of 25 percent compared with the 2012 model with the 2.4-liter engine alone.
The Regal Turbo is propelled by a turbocharged 2.0-liter inline-4 that makes 220 hp and 260 lb-ft of torque. This engine mates with either the standard 6-speed automatic transmission or an optional 6-speed manual.
At the top of the Regal range is the GS model, which uses the 2.0-liter turbo engine but adds more boost and an exhaust system optimized for more power. These modifications increase the GS's output to 270 hp and 295 lb-ft of torque. This uprated model uses a standard 6-speed automatic or an optional 6-speed manual to achieve fuel economy ratings of 19/27 mpg.
Safety
Occupant protection comes from six standard airbags--front, side and curtain. Premium II trim Regal models and higher get two more side airbags for the rear-seat outboard passengers.
The Regal also is equipped with ABS, stability control and OnStar emergency telematics.
Driving Impressions
The base Regal does a good job at splitting the difference between ride and handling. Steering isn't as responsive as one would hope, but the car still displays a good bit of nimbleness. The eAssist 4-cylinder engine delivers smooth and refined power quietly.
Moving up to the Regal Turbo gives this chassis a chance to live up to its sporting credentials. The steering feels sharper, and the car has a more dynamic feel. This Regal's Euro-tuned suspension was designed to show off its athleticism on quick-cutting switchbacks and in high-speed maneuvers. Unfortunately, the Turbo does suffer from a noticeable lag when launching from zero.
But the Regal GS delivers fully athletic agility thanks to its sport suspension, 20-in wheels and powerful brakes. Even hard-core enthusiasts will be impressed with its high-performance dose of power and track-caliber capabilities.
Granting flexibility to the Regal driving experience is the Interactive Drive Control System (IDCS), which alters suspension damping, throttle response, shift points and steering speed based on three adjustable drive settings: Tour, Normal and Sport.
Other Cars to Consider
BMW 325i - The BMW is more expensive than the Regal but also offers a higher level of refinement and handling prowess.
Acura TSX - The TSX is richer in content but falls short of the Regal's comfortable ride. Both cars are equally sharp and precise in turns.
Volvo S60 - From a ride and handling standpoint, the S60 and the Regal Turbo are very comparable. Both are sporty in nature but also deliver a comfortable cruising experience. The Volvo, however, feels more solid and offers a higher level of safety.
Volkswagen CC - The CC is better engineered with spryer dynamics and more features, but the Regal, with more horsepower and torque, delivers better straight-line performance.
AutoTrader Recommends
We like the Regal with the Premium II package, as it's available with either the fuel-sipping eAssist engine or the more powerful turbocharged motor. Plus, it comes with premium equipment such as the Harman/Kardon sound system and HID headlights, and it can be specified with a sunroof and navigation--both recommended extras. Choose the eAssist for superb, 36-mpg highway fuel economy, or get the turbo for a more dynamic driving experience.