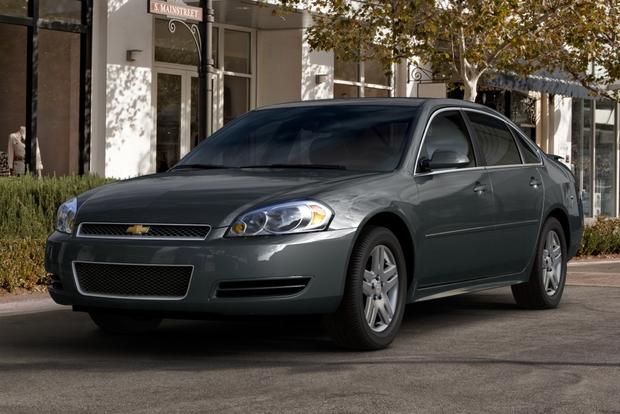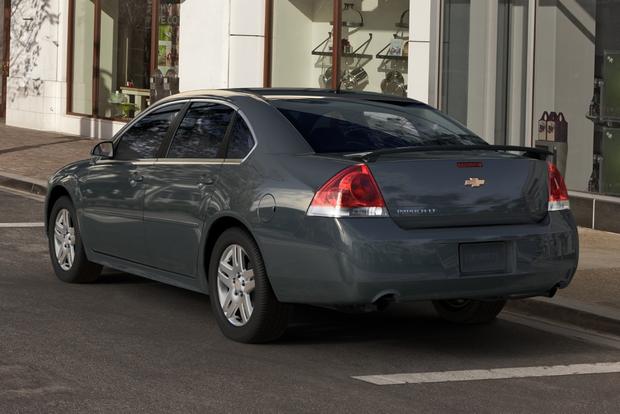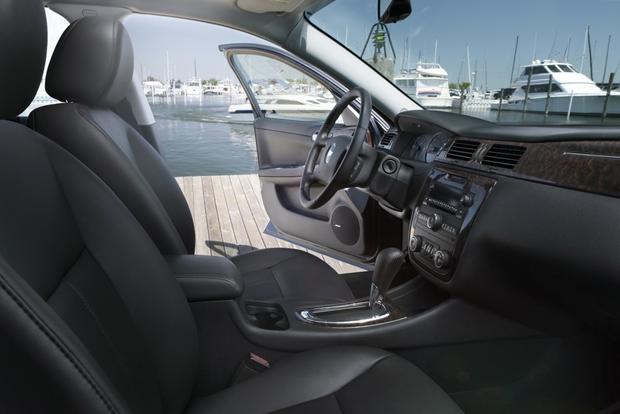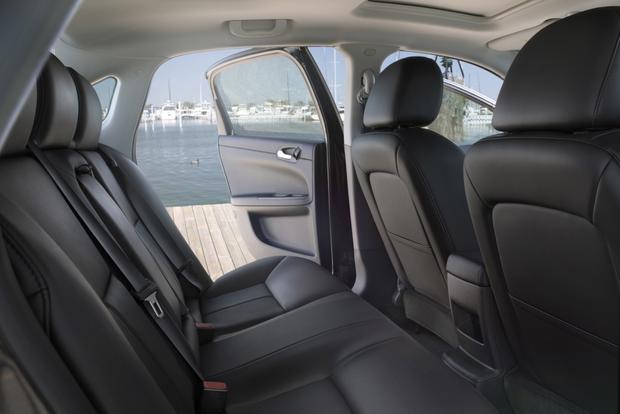 Pros: Robust and refined engine; roomy interior; available 6-seat configuration; large trunk.
Cons: Dated styling; lack of innovative features; low-quality interior materials; uninspiring dynamics.
What's New: Luxury Edition available on LT, standard on LTZ.
Chevrolet's full-size Impala sedan is a mainstay in its category, offering reliability and plenty of space to suit family needs. But the competition is tough, and the latest 2013 Chevrolet Impala includes few changes from the previous model. Meanwhile, such competitors as Buick, Chrysler, Hyundai and Volkswagen continue to modernize and refine their offerings. Fortunately, a completely redesigned 2014 Impala arrives late in 2013. Until then, this aging model will have to suffice.
That said, the Impala nameplate is still trusted among older buyers as one that has stood the test of time. And for some, longevity is all that's needed to feel comfortable about a buying decision.
For 2013, a Luxury Edition package comes standard on the top-trim LTZ and is optional on the midrange LT. The package adds heated leather front seats, a power passenger seat, premium Bose sound, an auto-dimming rearview mirror, power-adjustable heated side mirrors, a universal home remote and a one-year SiriusXM subscription.
Along with its 2012 updates, there's no doubt the new equipment package makes the Impala a better car. But in a segment full of winners, it's just not enough. For that reason, the 2013 Chevrolet Impala feels as dated and stodgy as ever.
Comfort & Utility
Within, the Impala underscores its old-school approach to motoring with bland-looking gauges and a simplistic control layout. Buttons are large and easy to maneuver but lack sophistication. Then again, for those who want straightforward operation with little fuss, it's here for the taking.
Seats are supportive and plush, excellent for daily driving or long-distance cruising. Buyers can choose between 5- and 6-seat configurations. The latter makes use of a front bench, which is practically unheard of for a sedan today. Most, however, will go with the more comfortable front bucket seats with center console.
The rear seats are spacious and versatile. For those who need serious cargo-carrying functionality, the Impala offers available flip-and-fold rear seats to extend the already large trunk.
The Impala is available in three trims: LS, LT and LTZ. Standard base features on the LS include cruise control, a 6-way power adjustable driver's seat and a 6-speaker stereo. The midlevel LT adds dual-zone climate and the aforementioned fold-down rear seat. The up level LTZ brings leather upholstery, power heated mirrors, heated seats and a premium stereo.
In short, the Impala cabin can be called practical and even functional. But there's little in the way of refinement, innovation or visual appeal.
Technology
Technology amenities are limited to Bluetooth and a stereo with MP3 capability. Unfortunately, common modern features such as navigation, a rear-view camera or even a USB interface are not offered on the Impala.
Performance & Fuel Economy
All trims of the 2013 Impala are powered by a 3.6-liter V6 with direct injection. Output is a robust 300 horsepower and 262 lb-ft of torque. Energy channels to the front wheels through a 6-speed automatic transmission. EPA-estimated fuel economy is 18-mpg city/30-mpg highway.
Safety
Occupant protection comes from a complement of six airbags (front, side, head curtain) and GM's OnStar telematics service. The Impala also comes equipped with ABS and stability control for a firmer grasp of the roadway.
Driving Impressions
The Impala's engine provides good, responsive performance. It delivers strong off-the-line acceleration and plenty of confidence in left lane passing at highway speeds, all in a very smooth and quiet manner. A seamless 6-speed transmission offers a substantial feel and well-spaced shifts throughout the rev band.
The Impala's ride is as comfortable as it has ever been. It offers a plush and solid feel in all types of driving. The cabin is well shielded from road, wind and engine noise. All of these traits keep buyers coming back to the Impala.
But the Impala falls short when it comes to handling. It's unwieldy in corners and doesn't feel very sure-footed when making quick directional changes. Aggressive maneuvers are clearly not this car's strong suit. Fortunately, the Impala's larger 17- and 18-in wheels give it some much-needed road grip in the absence of agility.
Overall, fans of the Impala will be impressed with its power. The car's emphasis on ride over handling will also remain a draw among its more mature clientele.
Other Cars to Consider
Buick LaCrosse - Also part of the GM lineup, the LaCrosse is more refined and athletic than the Impala, and its near-luxury credentials make it more of a status symbol. But the Impala delivers a softer ride for those looking for that.
Chrysler 300 - The 300 has a more opulent interior and exterior. Even its ride is more luxurious. It also offers more features and better handling. The Impala excels in straight-line performance, which is rarely a priority to buyers in this class.
Hyundai Azera - The Azera is significantly more modern and refined inside and out. It offers many more innovative technology features, as well as a driving experience that is far more balanced between ride and handling.
Volkswagen Passat - The Passat is a higher-quality automobile all the way around. It's so well engineered that it makes the Impala look and feel even more pedestrian. The Impala, however, is less expensive and offers more cargo space.
AutoTrader Recommends
The Impala that makes the most sense is the range-topping LTZ model. It's a good value for all the standard equipment it offers. The most important of these features might be its large 18-in wheels, which will help compensate for the Impala's shortfall in handling skills. The LTZ's Bose sound system and leather upholstery will enhance the driving experience as well. We recommend adding the optional sunroof to cap the LTZ package.
Until the 2014 model arrives, the Impala might not be able to compete with the refinement of many of its rivals. But the loaded LTZ is as close as it gets for now, and in most cases it comes at a lower price than the competition.