Editor's Note: You may also be interested in reading more of Autotrader's model vs. model car comparison reviews as well as the 2013 Chevrolet Traverse review and the 2009 Chevrolet Traverse review.
Introduction
Five years ago, consumers didn't need to tell Chevrolet that they would rather buy an SUV instead of a minivan, it was obvoius based on what they were buying. So Chevy gave the people what they wanted in the original Traverse crossover SUV, and now the 2013 Chevrolet Traverse is updated and upgraded after four successful years.
An 8-passenger, 3-row, crossover SUV with a V6 engine and standard front-wheel drive, the Traverse is, for all intents and purposes, a minivan that has swapped its sliding rear side doors for conventional hinged rear doors. The Traverse offers greater passenger space, greater cargo capacity, and greater fuel economy than the Chevy Tahoe, all for a lower price. Plus, the Traverse drives more like a car than a truck.
This year, the 2013 Chevrolet Traverse receives new styling, a refined interior, modern infotainment and safety technology. It also features an industry-first front center airbag. But are these upgrades enough to justify spending thousands more on a new 2013 Traverse instead of a certified pre-owned (CPO) example? Let's find out.
Fuel Economy
Since the Chevy Traverse debuted for the 2009 model year, it has been equipped with a direct-injection 3.6-liter V6 engine and a 6-speed automatic transmission. With LS and LT trim levels, this engine is rated to generate 281 horsepower at 6,300 rpm and 266 lb-ft of torque at 3,400 rpm. With LTZ trim, a dual exhaust system bumps horsepower to 288 at 6,300 rpm and torque to 270 lb-ft at 3,400 rpm.
Front-wheel drive is standard for the Traverse. The optional all-wheel-drive system automatically distributes engine power to the rear wheels based on street surface conditions, throttle position and wheel speed. When properly outfitted, a Traverse can tow up to 5,200 pounds.
For 2013, this engine, transmission and AWD system are carried over without change. Horsepower ratings, torque ratings and the tow rating are all the same. Not surprisingly, the 2013 Traverse's fuel economy ratings are the same too.
Last year, the Environmental Protection Agency rated the front-wheel-drive 2012 Traverse at 17 miles per gallon in the city, 24 mpg on the highway and 19 mpg in combined driving. With AWD, those figures were 16 mpg in the city, 23 mpg on the highway and 19 mpg combined.
The 2013 Traverse provides the exact same fuel economy estimates. Therefore, we have a tie.

Safety
In 2012, the Chevy Traverse offered six standard airbags, including side-curtain airbags that protected passengers seated in the outboard positions of all three rows of seats. A traction and stability control system was standard, as well as 4-wheel-disc anti-lock brakes and an OnStar telematics system equipped with six free months of Automatic Crash Notification service. The Traverse 1LT model added heated blind-spot side mirrors and rear parking assist sensors. The 2LT model included a standard reversing camera. All of these features were included on LTZ models.
As a used vehicle, the Automatic Crash Notification service requires an active subscription to OnStar Directions and Connections service. When active, Automatic Crash Notification automatically puts a live operator in touch with the Traverse's occupants in the event of an airbag deployment. The operator checks to see if everyone is all right. Even if nobody inside the SUV can respond, the operator can send emergency personnel to the Traverse's exact location.
For 2013, the blind-spot side mirrors and reversing camera are standard equipment, while the rear park assist sensors and new front center airbag are included on the Traverse 1LT, 2LT and LTZ. The front center airbag deploys between the front seats to protect the driver or front seat passenger from injury when a side-impact collision occurs on the far side of the vehicle. The 2013 Traverse LTZ model adds standard Side Blind Zone Alert and Rear Cross Path Detection — technologies that are not available on other Traverse models.
In the event a collision should occur, the 2009-2012 Traverse models are very safe vehicles. In 2009 and 2010, they received 5-star crash test ratings from the National Highway Traffic Safety Administration (NHTSA), except for rollover resistance, for which both the front-wheel-drive and all-wheel-drive models earned a 4-star rating.
In 2011 and 2012, after the NHTSA strengthened its crash test program requirements, the Traverse continued to receive 5-star ratings in every assessment except for front seat passenger protection in a frontal-impact crash and for rollover resistance, each of which was rated 4 stars. As a result of its impressive performance, the 2011 and 2012 Traverse models were awarded a 5-star overall crash test rating from the NHTSA.
The Insurance Institute for Highway Safety (IIHS) called the Traverse a Top Safety Pick in 2009, 2011 and 2012. The SUV did not earn a Top Safety Pick rating in 2010 because the IIHS added a roof crush strength test as a requirement for Top Safety Pick status, and the Traverse wasn't tested for this until 2011.
As this article is written, the new 2013 Traverse has not been evaluated by the NHTSA. The IIHS calls the 2013 Traverse a Top Safety Pick but has not evaluated the SUV's performance in the new small overlap frontal impact evaluation, which will be a part of the Top Safety Pick formula for the 2014 model year.
Clearly, the Chevrolet Traverse is a safe vehicle no matter which model year you choose. We'll give the 2013 model the nod, however, because it has standard and optional safety features that the 2009-2012 versions lack.
Reliability
Take one look at the Chevy Traverse's reliability history, which is merely average, and you might decide that buying a new Traverse is the best plan of action — or that buying something else is an even better idea. That's because owners of the 2009 model have reported problems with all vehicle systems except for the transmission, brakes and engine cooling system. The 2010 and 2011 models are not quite as troublesome, but in general this Chevy is not considered to be a paragon of dependability.
If you move forward with a plan to buy a used Chevy Traverse, we advise purchasing a GM Certified model from a Chevrolet dealership. These models have passed a 172-point inspection and include a detailed vehicle history report, a 12-month/12,000-mile bumper-to-bumper limited warranty and a 5-year/100,000-mile powertrain warranty. The powertrain warranty includes free 24-hour roadside assistance and courtesy transportation while your Traverse is in for repairs.
Chevy further sweetens the deal with two years or 30,000 miles of free scheduled oil changes, tire rotations and vehicle inspections, plus a free trial of OnStar telematics service and satellite radio. As this article is written, Chevrolet is offering interest rates as low as 1.9 percent to consumers buying a CPO Traverse before the end of February 2013. Plus, if you decide you don't like your CPO Traverse, you can return it within three days or 150 miles thanks to a money-back guarantee.
That kind of CPO program really provides confidence in a vehicle that needs it, and makes the 2013 Traverse's standard warranty less compelling by comparison. New Traverses are protected by a 3-year/36,000-mile basic warranty, a 5-year/100,000-mile powertrain warranty and 5-year/100,000-mile roadside assistance program with courtesy transportation.
Still, we'll tip a hat in favor of the new Traverse. Chevy's CPO program might be impressive, but after that first year is over, anything that goes wrong outside of the powertrain is going to be on your dime, not GM's. And based on this SUV's unimpressive reliability record, there is significant potential for a used Traverse to chew up plenty of expendable income and personal time.
Value
AutoTrader has 2,128 certified used Chevy Traverses listed for sale as this article is written, ranging in price and mileage from a 2009 Traverse LS with front-wheel drive and 61,865 miles to a 2012 Traverse LTZ AWD with 8,160 miles for $38,900.
Compare these prices to a new 2013 Traverse. The LS model with front-wheel drive starts at $31,370, while the LTZ AWD with every factory option costs $46,280.
Given a discount of 15 percent or more for a low-mileage, 2011 or 2012 Traverse model, combined with Chevrolet's excellent CPO warranty program — and in light of the fact that the 2013 model isn't substantially improved over older models — we think the best value is a lightly-used, late-model version of Chevy's full-size crossover SUV.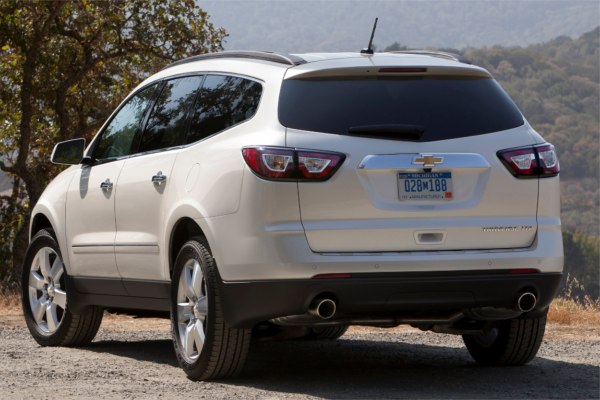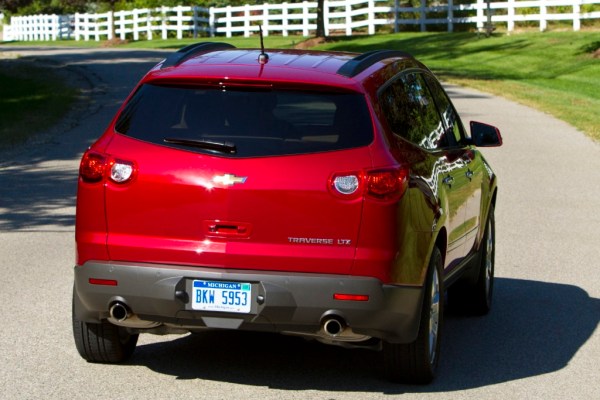 Technology
As a part of the 2013 Traverse's upgrades, Chevrolet has installed new technology that consumers are likely to appreciate, starting with a standard Color Touch radio equipped with a 6.5-inch touchscreen display. Chevrolet MyLink Bluetooth connectivity and music streaming technology is optional, operated through the display screen, and features the ability to stream Internet radio right to the Traverse's sound system. Owners of the 2013 Traverse also can install an OnStar mobile application to an Apple or Android smartphone and remotely lock or unlock the SUV's doors, check remaining fuel level and range and monitor other vehicle data.
In addition to these upgrades to the infotainment system, the new Traverse LTZ is equipped with Side Blind Zone Alert and Rear Cross Path Detection technology. Unfortunately, Chevrolet offers these key safety features only on the most expensive, top-of-the-line trim level.
When it comes to technology, the clear advantage lies with the 2013 Traverse.
AutoTrader's Recommendation
Our recommendation of a new 2013 Traverse over a used CPO Traverse is guided primarily by the old model's average reliability ratings, which indicate that it might be worth spending thousands more on a new model to provide greater long-term confidence in the mechanical package. At the same time, buyers of the new Traverse simultaneously benefit from upgraded safety and infotainment technologies.
That said, the 2009-2012 Traverse is safe, and we think low-mileage, late-model CPO examples are an excellent value. Buyers who are seeking a bargain and are willing to forego the new Traverse's technology upgrades might find that Chevy's CPO program provides enough peace of mind in exchange for saving thousands of dollars over a new model.
What do you think of the Chevrolet Traverse model? Let us know it the comments below.
Find a 2013 Chevrolet Traverse for sale
Find a 2012 Chevrolet Traverse for sale