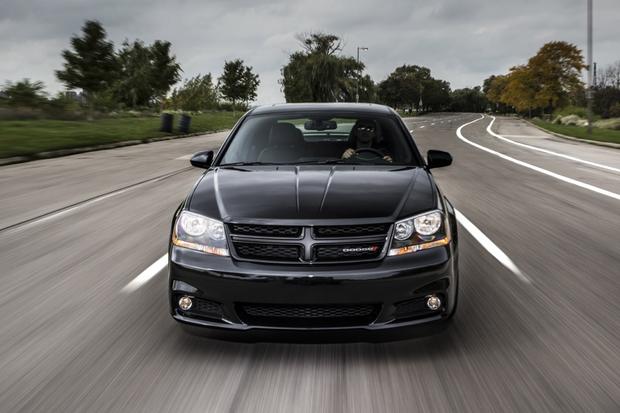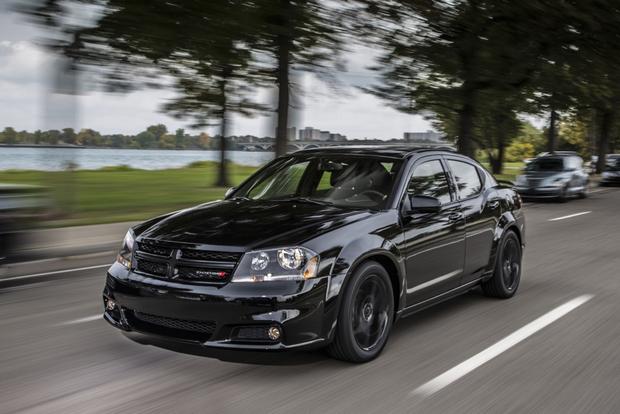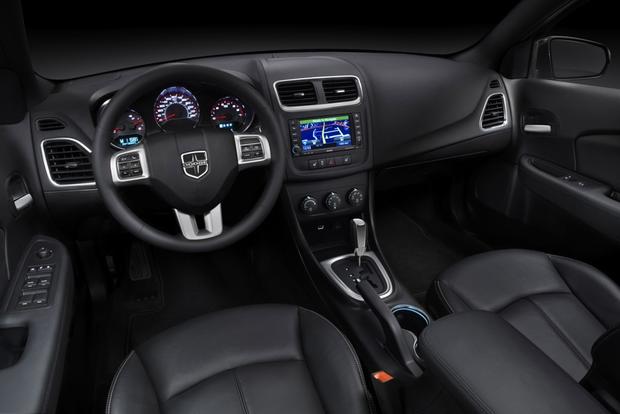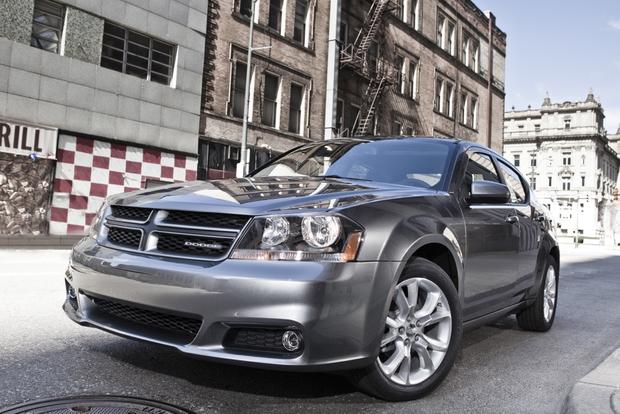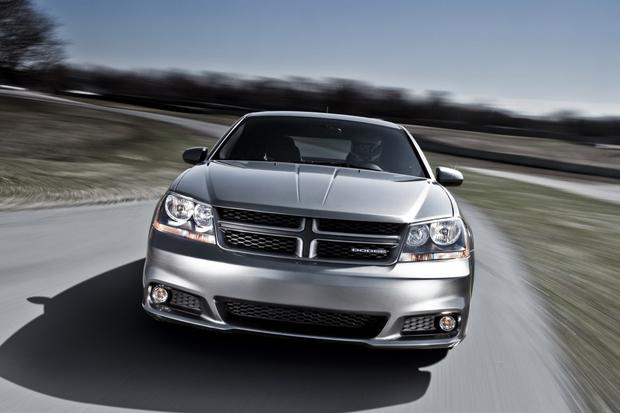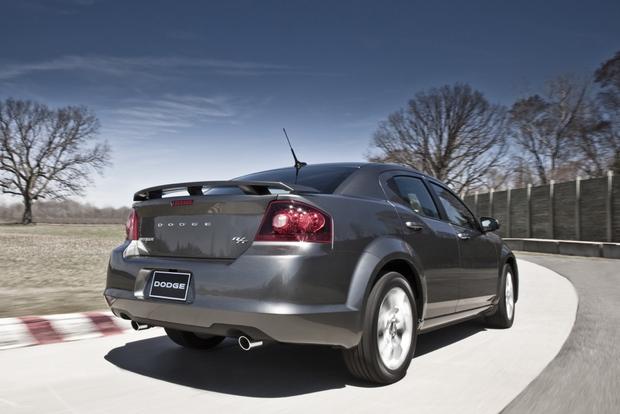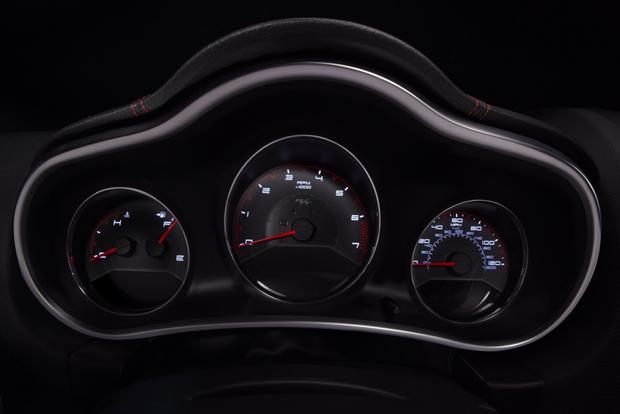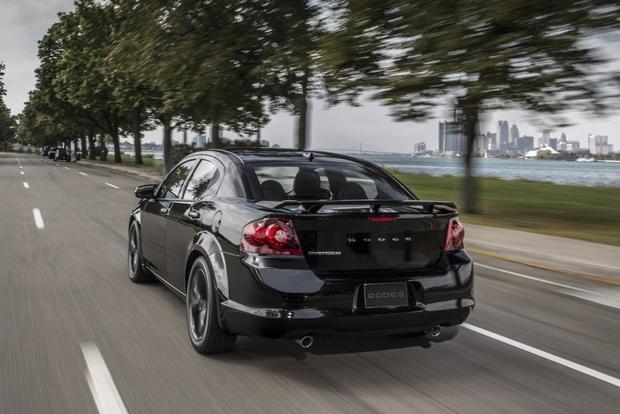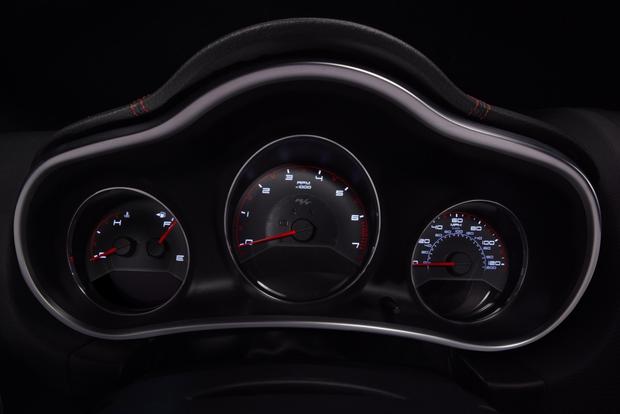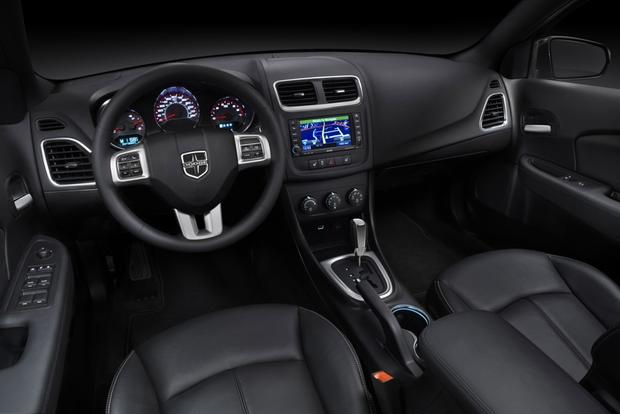 Pros: Rock bottom price; stellar value even when loaded; respectable interior quality; impressive range of performance options; optional V6 is excellent
Cons: Tight rear seat space; smaller trunk than rivals; outdated base level 4-speed automatic; unimpressive fuel economy
New for 2013: Reshuffled model lineup and option packages
Introduction
First, the good news: the 2013 Dodge Avenger is a very affordable a midsize sedan that has come a long way from the horrible car it was from 2008-2010, thanks to a heroic rejuvenation for 2011. Interior quality is quite respectable, ride and handling are refined and the available 3.6-liter V6 delivers satisfying power at a very reasonable price. The bad news? Its fundamental design and shape have remained more or less unchanged while most of its competition has been redesigned. Thus, for 2013, it remains nowhere near the head of the class in any measure except for value and the power of its available V6 engine.
One of the Avenger's shortcomings is its somewhat awkward in-between size, which is slotted above compact sedans but below familiar family sedans like the Toyota Camry. Consequently, the Avenger comes up short on both passenger and cargo space. The 4-cylinder base model is also low on refinement, with its ancient 4-speed automatic transmission -- most competitors added more gears to their transmissions years ago. At least all the other Avenger models feature better powertrains.
The Avenger is also priced very aggressively, so you might get a great deal on what has become a pretty solid car.
Comfort & Utility
The 2012 Dodge Avenger comes in four trim levels: SE, SE V6, SXT and R/T. The just-the-basics Avenger SE ($18,995) features a 4-cylinder engine, 17-inch steel wheels with plastic covers, power accessories, cruise control and a 4-speaker audio system with an auxiliary input jack (but not a USB input). The Avenger SE V6 ($21,695) adds a 283-hp V6, 6-speed automatic transmission, rear spoiler, 17-in aluminum wheels and dual exhaust tips.
For the same price as the SE V6, the Avenger SXT ($21,695) reverts to the base model's 4-cylinder engine, but adds the superior 6-speed automatic transmission. The SXT model also has 17-in alloy wheels, a power driver's seat, a 6-speaker stereo, satellite radio, automatic climate control, fog lamps and a leather-wrapped shift knob and steering wheel. A Rallye Appearance package ($495) tacks on 18-in alloys, body color grille and rear spoiler, darkened headlamp bezels and unique seat fabric. A Blacktop package ($595) also adds darkened headlamps, but adds black-painted 18-in wheels and a black grille. You can add the V6 to the SXT for $1,795. Incidentally, adding leather to the SXT for $595 makes it America's cheapest midsize sedan with leather upholstery.
The Avenger R/T ($25,495) gets its own 18-in polished alloy wheels, sport-tuned suspension, various sport-themed styling cues, jazzed-up seats with leather bolsters, red LED ambient lighting, remote start, Bluetooth connectivity, Boston Acoustics speakers and an exclusive gauge cluster with a center-mounted tachometer.
The Avenger's front seats are squishy and lack adequate lateral bolstering, even in the R/T's special leather bolsters that have little in the way of improved support. The R/T chairs do look kind of cool, though. From the driver's vantage point, the most notable feature of the R/T is its unique gauge cluster, which includes a center-mounted tachometer (never mind that a manual transmission isn't offered). Its usefulness is debatable, but the fact that Dodge went out of its way to add this feature speaks to the company's commitment to its R/T line. Most folks, though, will end up with something other than the R/T, and for their sake we're happy to report that every Avenger's dashboard is swathed in the same supple, soft-touch material.
The backseat is where the Avenger starts to lose some of its luster. The Avenger does have a surprisingly high rear bench, which helps alleviate the legroom shortage, but there's still a sense of snugness back there that's not present in any midsize rival.
The snugness continues in the trunk, which maxes out at 13.5 cu ft of storage. To be fair, there's a decent amount of space in the Avenger's boot; it's just that most rivals offer considerably more.
Technology
The Avenger SE may seem like a good value, but note that it doesn't come standard with iPod/USB or Bluetooth connectivity, so you'll have to pay extra for these increasingly expected features -- even on the SXT. Still, we give Dodge credit for making sure that the Avenger offers a full range of technological goodies, including a 6.5-in touchscreen infotainment system, to which navigation can be added for a little extra on most models. This isn't exactly a cutting-edge system, as it dates back a few years and obviously lacks the crisp graphics and intuitive interface of the 8.4-in touchscreen that appears in newer Chrysler products. But the Avenger's touchscreen is functional enough, and we definitely appreciate its 28 gigabytes of hard drive storage, which is a boon for digital music aficionados.
Performance & Fuel Economy
The base Avenger SE model comes with a 4-speed automatic transmission and a 2.4-liter inline-4 rated at 173 horsepower and 166 lb-ft of torque. The engine is okay, but we think this transmission is the worst in the family sedan class. We recommend stepping up to the SXT, SE V6 or the R/T, all of which use a relatively smooth 6-speed automatic instead. Acceleration is acceptable with the 4-cylinder, but fuel economy is unfortunately below average with either transmission: the 4-speed yields 21 miles per gallon city/30 mpg highway, while the 6-speed surprisingly does about the same at 20 mpg city/31 mpg hwy.
As for the optional 3.6-liter V6 (standard on the R/T), it's a beast; it cranks out 283 hp and 260 lb-ft of torque through a 6-speed automatic. The V6-powered Avenger is one of the best values out there for folks who want a little extra oomph, and it gets nearly the same fuel economy as the 4-cylinder models, checking in at 19 mpg city/29 mpg hwy.
Safety
The 2013 Dodge Avenger comes with standard stability control, 4-wheel anti-lock disc brakes and six airbags (front, front side, full-length side curtain). In government crash testing, the Avenger received an overall rating of four stars out of five, while the independent Insurance Institute for Highway Safety (IIHS) gave the Avenger its top rating of Good in every category.
Driving Impressions
The Avenger is a relatively pleasant car to drive. Quiet and soft (except for the firmer R/T with its 18-in wheels) yet surprisingly coordinated in corners, the Avenger strikes a good dynamic balance for American roads and reflects the Dodge brand's accent on performance. Easily the most memorable aspect of the driving experience is the thrust from that powerful optional V6, which transforms the Avenger into a little muscle car that's totally worthy of its Charger-inspired styling.
Other Cars to Consider
Kia Optima - The daringly styled Kia Optima ($21,200) has superior fuel economy and a bigger backseat, yet it's still aggressively priced even with the optional turbocharged inline-4.
Chevrolet Malibu - The Chevrolet Malibu ($22,390) offers fresh interior and exterior design and high feature content (and OnStar telematics) along with excellent fuel economy, for about the same price as the Avenger SXT. Like the Kia Optima, Chevrolet is offering a turbocharged inline-4 instead of an optional V6 for performance-minded customers.
Toyota Camry - The sterile Toyota Camry ($22,235) has great fuel economy, plenty of space all around and few notable flaws. The V6-powered Camry SE is even fun to drive this time around, easily giving the Avenger R/T a run for its money, while matching the 4-cylinder Avenger's fuel economy.
AutoTrader Recommends
Considering how inexpensive the Avenger line is, we think upgrading to a V6-powered model is clearly the way to go, even if it costs you a little more up front. The R/T is an acquired taste, however, with its boy-racer styling cues, so we'd stick with the SXT Plus and enjoy the money we saved over rival V6-powered sedans.