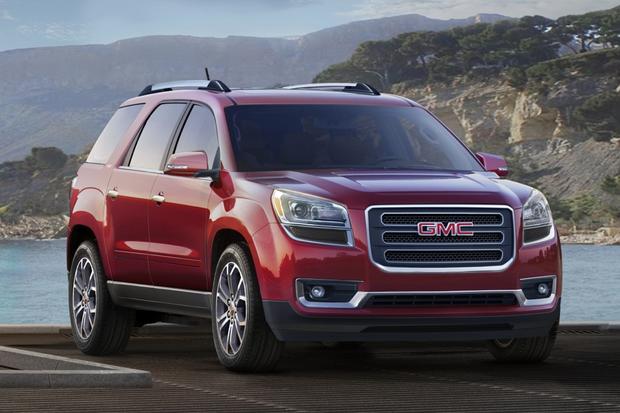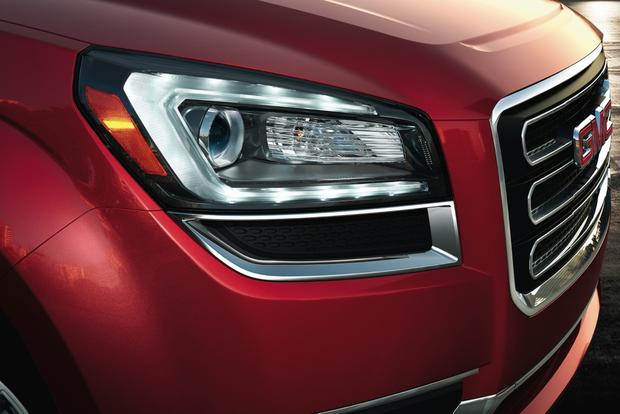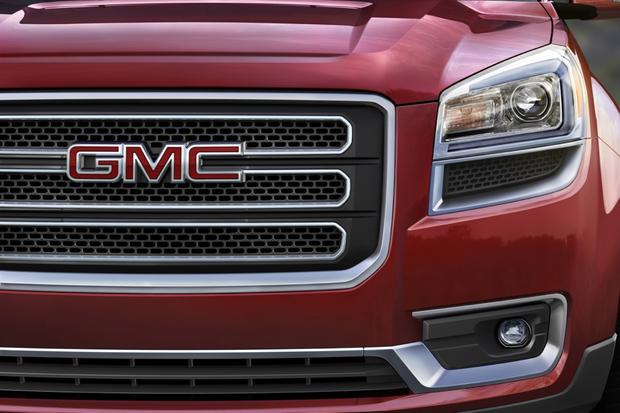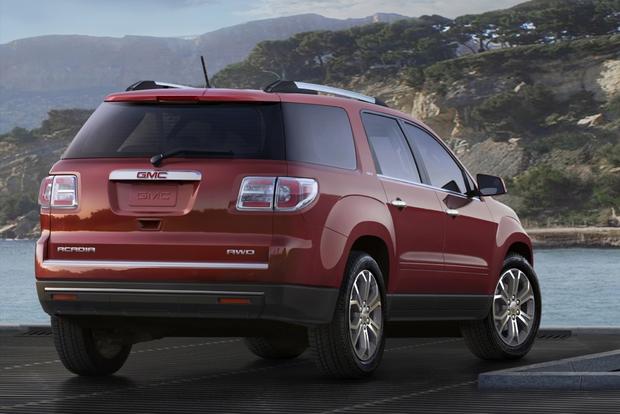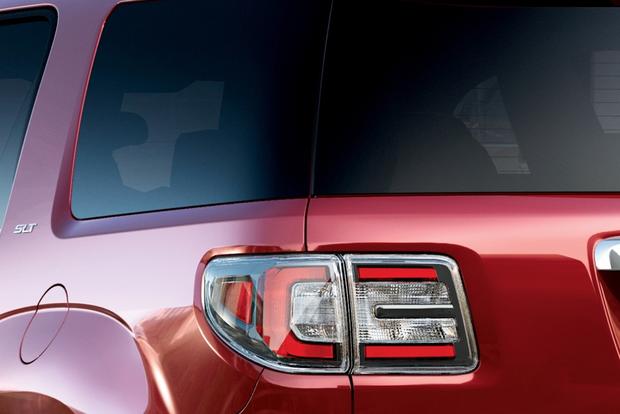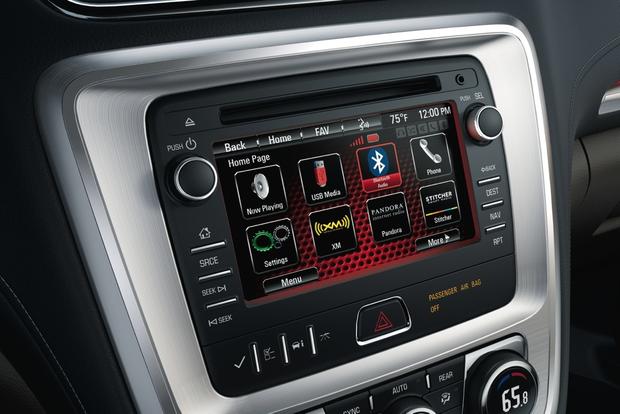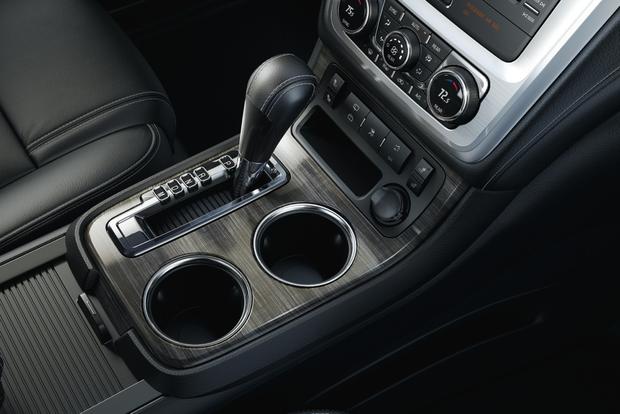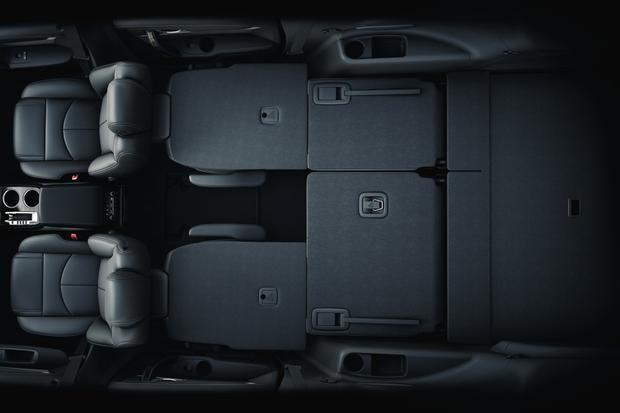 Pros: Bold styling; seating for up to 8 passengers; vast cargo space; car-like handling; very good fuel economy; compliant ride; comfortable interior
Cons: Not as capable as a true truck-based SUV; limited maneuverability
What's New: Updated exterior and interior designs; LED running lights; touchscreen infotainment; revised transmission and suspension tuning; standard backup camera; front center airbag; available rear cross traffic alert
Like its nearly identical siblings, the Buick Enclave and Chevrolet Traverse, the 2013 GMC Acadia offers an extremely complete package emphasizing passenger comfort, drivability, functionality, fuel economy and spaciousness. So spacious is the Acadia, in fact, that it can seat up to eight passengers and still retain a reasonable amount of cargo room.
Although the three large GM crossovers are mechanically and structurally the same, each establishes its own distinctive personality with unique features and design cues. While the Buick Enclave is the most upscale and the Chevrolet Traverse focuses more on utility, the GMC Acadia bridges the two by offering an even mix of practicality and rich user content. Furthermore, the Acadia distinguishes itself with bolder, squared-off styling that speaks to its GMC truck heritage.
Despite its freshly updated and ruggedly designed exterior, the Acadia is not based on a truck. It's not designed for heavy trailering or off-road adventures. For these kinds of activities, a full-size SUV like the Tahoe is better. That said, the Acadia is still capable of towing a 5,000-lb boat and treading through virtually any kind of road condition when equipped with all-wheel drive. That kind of competence is more than sufficient for the needs of most American families.
For 2013, the Acadia received a new exterior look, including a revised front end with LED running lights, a more refined interior with upgraded materials, a touchscreen infotainment system and new safety equipment, which includes a front center airbag and an available rear cross traffic alert system. A backup camera is standard for 2013, as well, alleviating some concern with rear visibility in the previous generation.
Combining the visual appeal of an SUV with the comfort and practicality of a minivan, the 2013 Acadia is one of the most well-rounded offerings among large people movers.
Comfort & Utility
The Acadia's interior is well crafted and handsome, with high quality materials and good fit and finish. It's not as upscale as the Buick Enclave, but it certainly exudes more of a premium feel than the Chevy Traverse. An optional 2-tone color scheme and ambient lighting help elevate this interior's visual appeal. The truck-inspired character of its exterior spills into the cabin as well.
The Acadia is available in 7- and 8-passenger configurations. Front seats are well-positioned and supportive. The second row offers a 3-passenger bench or two captain's chairs as well as a unique Smart Slide feature, which makes access to the third row remarkably convenient. The third row itself can comfortably fit two adults, which is something many large SUVs can't claim. For two children, the third row is downright spacious.

In terms of cargo, the Acadia is extremely roomy. The second and third row bench seats split 60/40, allowing a wide array of passenger and cargo hauling combinations. And with both rows folded down, the Acadia benefits from a long, low cargo floor with more room than most will know what to do with. Even with all the seats up, there is more usable space behind the third row than many other SUVs provide.
The 2013 Acadia is available in five trim levels: SLE, SLE2, SLT, SLT2 and Denali. Standard convenience features for the base SLE include cruise control, a manually adjustable tilt/telescoping steering wheel and a 6-speaker stereo. SLE2 trim brings an 8-way power-adjustable driver's seat, a power rear liftgate and GMC's IntelliLink infotainment.
The mid-level SLT gets leather upholstery, heated front seats, 3-zone automatic climate control and a 10-speaker premium audio system, while the SLT2 adds driver's seat memory and a 4-way power-adjustable passenger seat. The range-topping Denali is fully loaded with all the previously mentioned features, plus cooling front seats, dual sunroofs and a head-up display that projects key info on the windshield.
Technology
Depending on the individual trim level, standard tech features in the Acadia include a USB interface, Bluetooth connectivity, rear parking sensors and a backup camera system. Optional technologies include a rear DVD system and touchscreen navigation with real-time traffic data.
Performance & Fuel Economy
The 2013 GMC Acadia is available in front- or all-wheel drive configurations. It's powered by a 3.6-liter V6 engine producing 288 horsepower and 270 lb-ft of torque. This unit is managed by a 6-speed automatic transmission with manual mode.
Estimated fuel economy is 17 mpg city/24 mpg hwy with front-wheel drive; the all-wheel drive model offers 16/23 mpg.
Safety
The Acadia's roster of safety equipment includes ABS, stability control, traction control and six standard airbags, including third row head curtains. The new front center airbag, designed to provide a cushion between the driver and front passenger, is standard on all but the base Acadia SLE. Blind spot warning and rear cross traffic alert are standard on the Acadia Denali, and available on the rest of the lineup. GM's OnStar emergency Telematics service is standard across the Acadia range.
The Acadia earned the highest crash test ratings from the Insurance Institute for Highway Safety (IIHS).
Driving Impressions
The 2013 Acadia delivers, above all, a comfortable and well-controlled ride. It's smooth and quiet without feeling floaty, which results in daily commutes that are high on driving enjoyment and low on fatigue.
Like its Buick and Chevy counterparts, the Acadia benefits from car-like handling, a function of its car-like unibody construction. It feels sharper and more secure than most other big SUVs, which inspires plenty of confidence in corners. Still, drivers must remain conscious of the Acadia's large size, which becomes apparent on narrow city streets or in crowded parking lots. Among other concerns, low-speed maneuverability is limited.
The Acadia's power gives it a smooth and confident manner. And when the need arises, it can accelerate strongly, both off the line and in passing situations at highway speeds. However, don't expect the same performance when the vehicle is loaded down with passengers and cargo, or when towing a heavy load.
Although it's not meant for off-road, the Acadia is more than capable in harsh weather and on rough roads, especially when equipped with all-wheel drive. Available 19- and 20-inch wheels are helpful in wet and snowy conditions.
Other Cars to Consider
Ford Flex - The Flex offers more expansive rear seating, and a longer list of creature comforts and technology. The Acadia has superior ride and handling.
Mazda CX-9 - With a fresh design for the 2013 model year, the CX-9 has a sportier look than the Acadia. The Acadia offers more interior room for passengers and cargo, and its plush trim makes it a better bet for long-distance interstate cruising.
Chevrolet Traverse - Based on the same GM architecture as the Acadia, the Traverse is very similar in all respects. The Acadia's interior materials are of better quality, but the Traverse has a roll-mitigation system not found on the Acadia.
Dodge Durango - The Durango is more like a traditional SUV and, as such, offers more off-road and towing prowess. However, the Acadia is ahead in space, ride comfort and fuel efficiency.
AutoTrader Recommends
Of the 2013 Acadia's five trims, the mid-level SLT is our pick. It's equipped with the most balanced array of amenities for the money. The up-level SLT2 and Denali models are perhaps overloaded with creature comforts, while the base SLE is a bit too spartan for our tastes. We suggest considering adding some stand-alone options such as navigation and the rear seat DVD system to the Acadia SLT, especially for families who like to travel. And everyone, especially if you live in a cold climate, should consider the added traction of all-wheel drive.