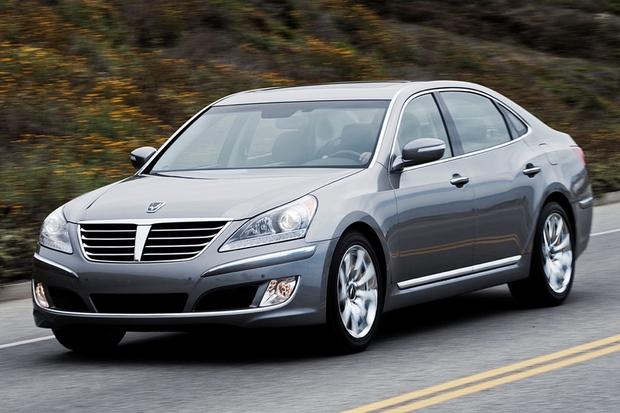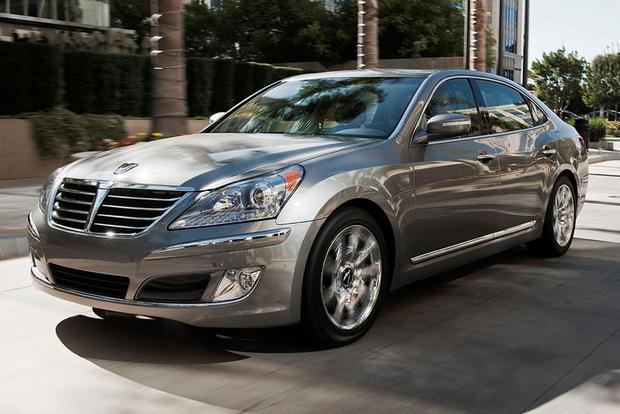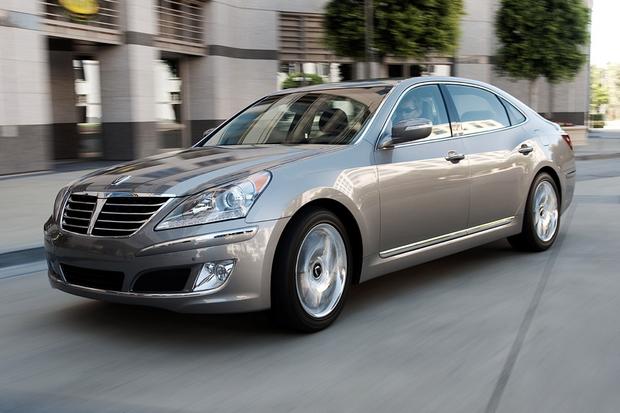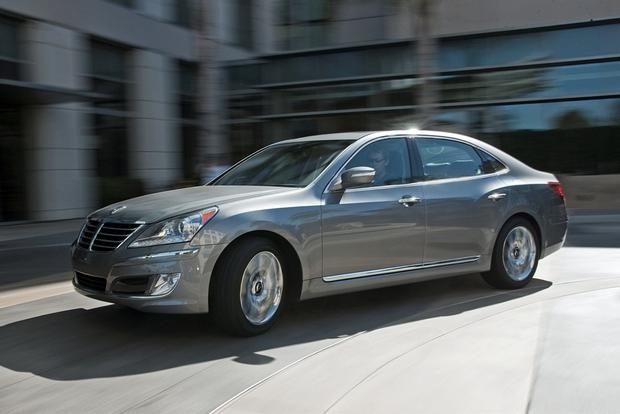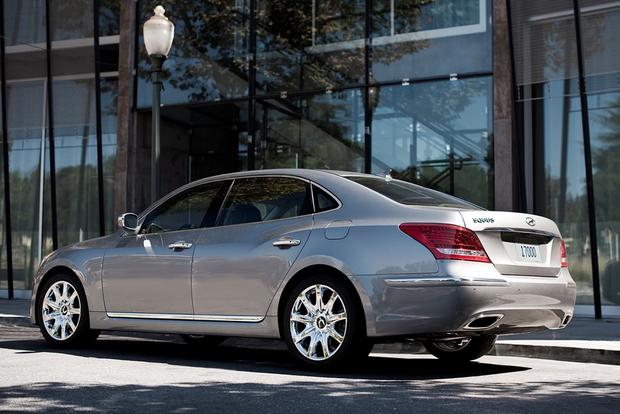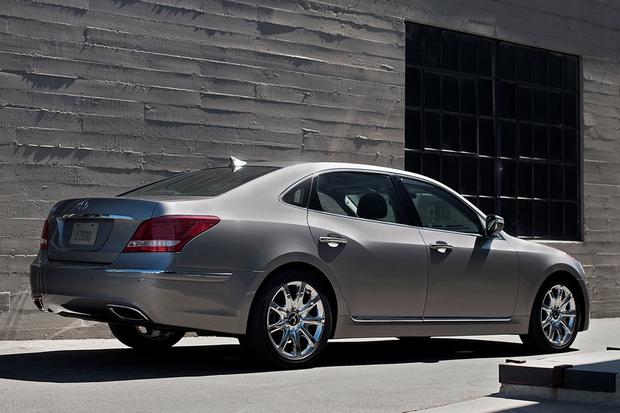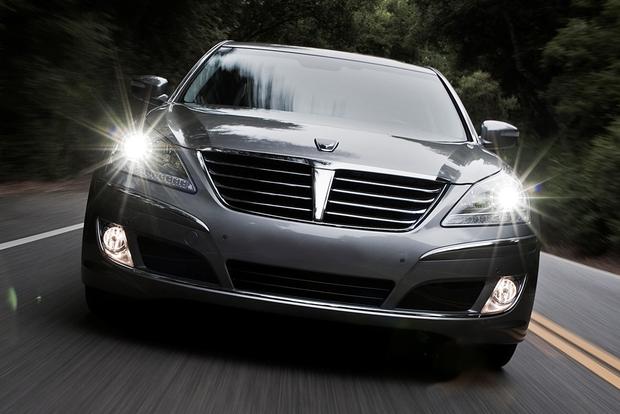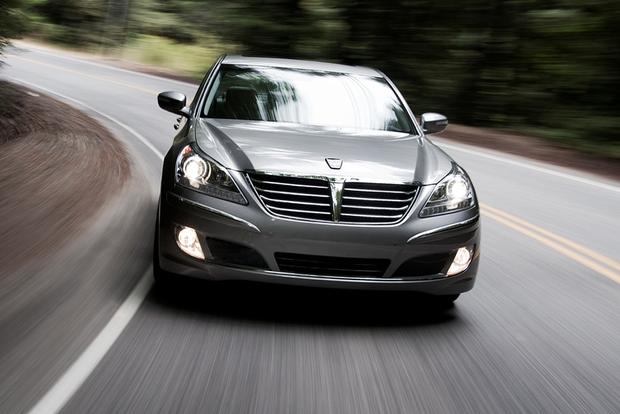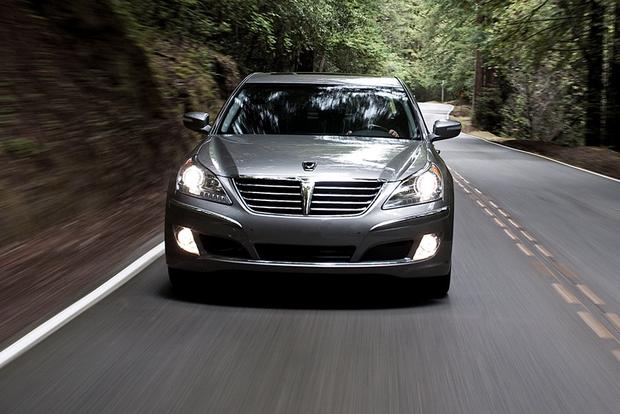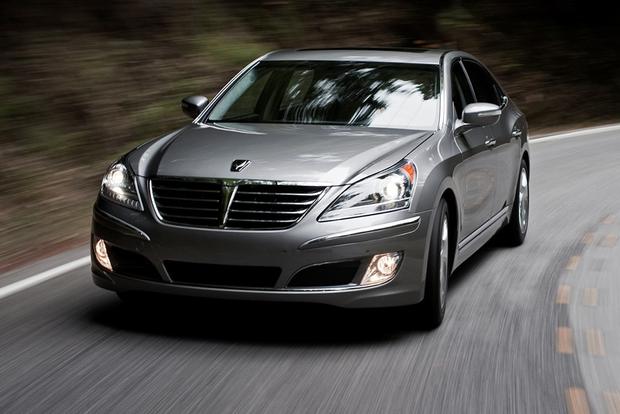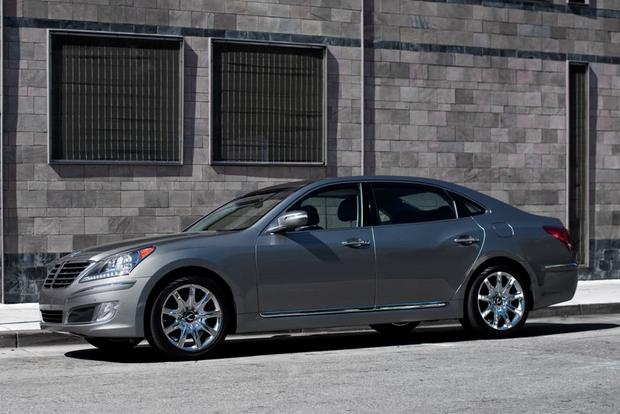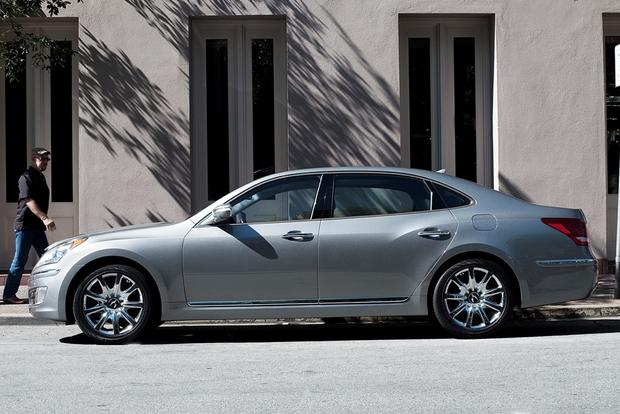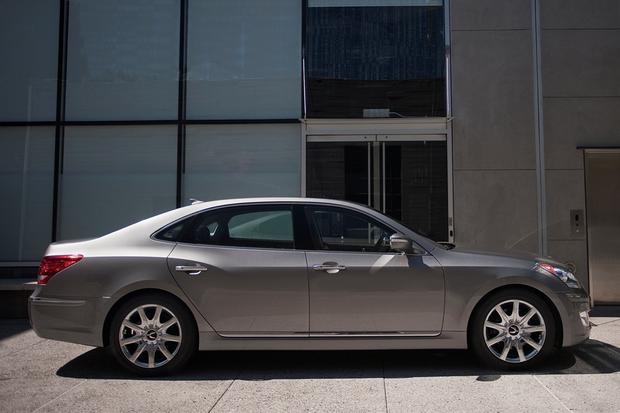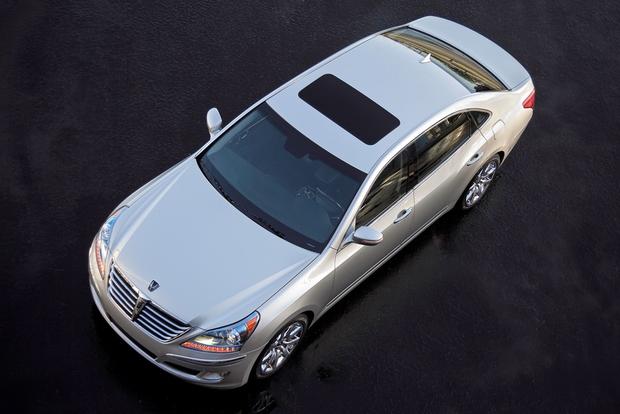 Pros: Refined ride; strong acceleration; most of the expected luxuries; exceptional value.
Cons: All-wheel drive isn't offered; interior quality reflects the relatively low price.
What's New: The 2013 Hyundai Equus is unchanged aside from a couple color-scheme tweaks.
Introduction
If you've been following automotive news over the past few years, you'll know that Hyundai has rapidly transformed itself into a top-tier automaker. Unfortunately for Hyundai, most people don't follow the automotive news. For the average car shopper, the concept of a $60,000 Hyundai luxury sedan might be a bit hard to swallow. In other words, the 2013 Hyundai Equus has its work cut out.
But Hyundai knows this, of course, and they've taken steps to reassure hesitant buyers. When your Equus needs maintenance, for example, Hyundai will actually send someone to your residence to pick the car up. And then there's the car itself, which is undoubtedly an impressive achievement. Forget about the Hyundai badge and just imagine a V8-powered, rear-wheel-drive, luxury-lined sedan that undercuts most rivals by tens of thousands. The Equus is the executive car for executives who can't pass up a good deal.
Of course, you do generally get what you pay for, and the Equus is no exception. Take a close look at the leather upholstery, the dashboard materials, even the infotainment system, and you'll understand how Hyundai's able to sell this thing at such a discount.
Still, the Equus does almost everything well, and its unique one-two punch of affordability and valet-style maintenance has been enough to clinch a surprising number of sales. If you're not up on the news, here's the latest: Hyundai makes a legitimate top-shelf luxury sedan, and it's absolutely worth a test drive.
Comfort & Utility
The Equus is offered in two trim levels: Signature and Ultimate. The Signature starts with 19-inch wheels; adaptive Xenon headlamps; LED accent lights; fog lights; front and rear parking sensors; a power trunk lid; a sunroof; leather upholstery; 10-way power front seats with driver lumbar; wood interior trim; dual-zone automatic climate control with separate rear controls; a 3-passenger rear bench; a power rear sunshade; an 8-in LCD display with a DVD-based navigation system and a rearview camera; and a 17-speaker, 608-watt Lexicon audio system with iPod/USB and Bluetooth connectivity.
The top-of-the-line Ultimate is distinguished by its 2-passenger rear compartment with a first-class passenger-side rear seat that includes adjustable leg support and a massage function. The Ultimate also adds an 8-in rear LCD screen with a DVD player and separate controls, a rear-console refrigerator, cooled rear seats and a forward-view cornering camera for the driver.
Although the Equus model's front seats borrow the seat-shaped power-adjustment levers of Mercedes-Benz, they lack the seemingly infinite adjustability of Benz or BMW chairs. It's clear that the car's engineers gave more thought to the rear passengers than to those in front. Indeed, the Equus model's one-size-fits-all wheelbase skews toward limousine-like proportions; just check out those elongated rear doors, which are typically only seen on competitors' long-wheelbase models. The Equus Ultimate capitalizes on all that space with a special massaging lounge-style seat for passenger-side rear passengers, but even the standard Equus offers palatial rear accommodations.
If you plan to drive your Equus yourself, you'll be pleased to learn that the driving position is appropriately stately, with plenty of visibility all around. The Lexus-style electroluminescent gauges are nothing fancy, but they're certainly crisp and clear. We're also fans of the infotainment system's iDrive-style control knob (see Technology, below), which lets you stay in your normal driving posture while changing settings.
The material quality would be great if the Equus weren't up against luminaries like the S-Class and 7 Series, which are so nice inside that they make the Equus seem humble by comparison. The silver trim on the dashboard looks a bit gauche, for example, and the leather on its seats doesn't have a particularly rich or durable feel. Don't get us wrong, though; the Equus model's interior is a very pleasant place to spend time.
As for trunk space, it measures an impressive 16.7 cu-ft.
Technology
As you'd expect, the Equus doesn't skimp on high-tech features, and we like that everything except the rear entertainment system comes standard--no nickel and diming here. But it's a bit disappointing that the navigation system is DVD-based, which means slower processing times and no digital music storage. The 8-in LCD display screen is likewise not quite cutting edge, and we prefer the fancy widescreen display in the 7 Series. Yet we do appreciate the Equus model's iDrive-like control knob on the center console, which lets you make adjustments remotely rather than having to lean forward touch-screen style.
Performance & Fuel Economy
The rear-wheel-drive Equus features a 5.0-liter V8 rated at 429 horsepower and 376 lb-ft of torque. The transmission is an 8-speed automatic. We've noticed that the 8-speed isn't especially responsive, but then again neither is the transmission in the Mercedes-Benz S550. What's most important here is refinement, and the Equus model's 8-speed has that in spades. The engine, too, is highly civilized and pulls respectably hard when you give it the spurs. Hyundai's target for performance was the Lexus LS model's V8, and we'd say they got about 90 percent of the way there.
Fuel economy is 15 mpg city/23 highway.
Safety
The Equus comes with standard stability control, 4-wheel anti-lock disc brakes, active front headrests and nine airbags (front, front-side, driver knee, rear-side, full-length side curtain).
Neither the government nor the independent Insurance Institute for Highway Safety (IIHS) has crash-tested the Equus.
Driving Impressions
One of the biggest surprises about the Equus is that it's not a complete land yacht; there's actually a little athleticism in its bones when you push it. But let's be honest, who's really going to push an Equus? This car exists to whisk VIPs down the road with quiet confidence, and that's what it does best. Road noise is barely perceptible--the ride, silky smooth. We think the Equus gives up little if anything to the 7 Series in terms of cruising comfort.
Other Cars to Consider
BMW 740i - We specify the 6-cylinder 740i because it's only (only!) about $13,000 more expensive than the Equus to start. Some might feel that's a small price to pay for the 7 Series model's superior sportiness and brand cachet.
Lexus LS 460 - The LS is in a transitional period this year, but both the new and old models are worth considering. While the new one gets edgier styling and an upgraded interior, underneath is largely the same lovely V8 engine and competent, cosseting chassis.
Mercedes-Benz S-Class - Still, the measuring stick after all these years, the venerable S-Class has a magical solidity at speed, and its engine offerings are second to none. Of course, it's massively more expensive than the Hyundai when all's said and done.
AutoTrader Recommends
The Ultimate model's rear-compartment upgrades are tempting, but they take a bite out of the value proposition. We'd stick with the base Equus at just under $60,000.