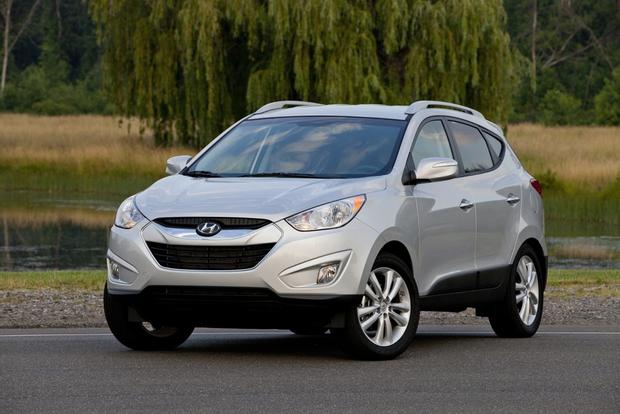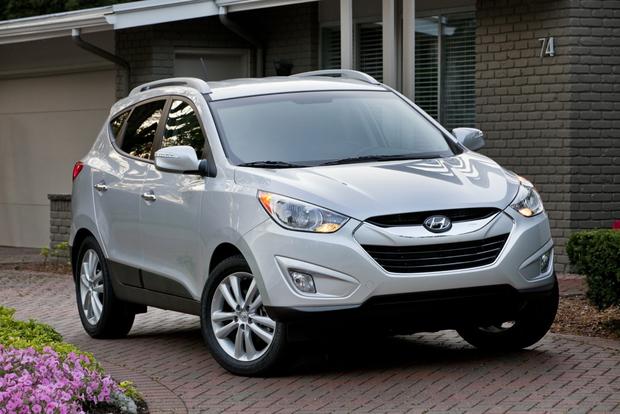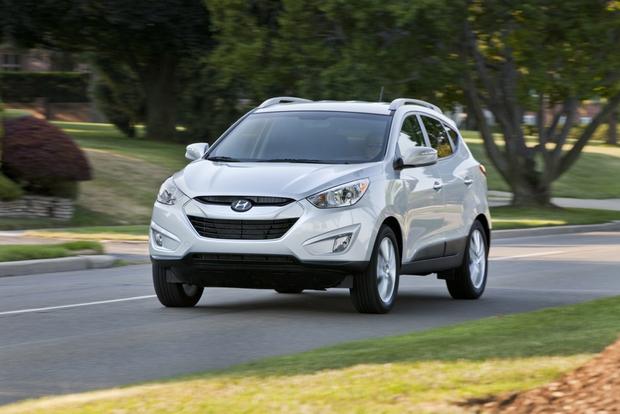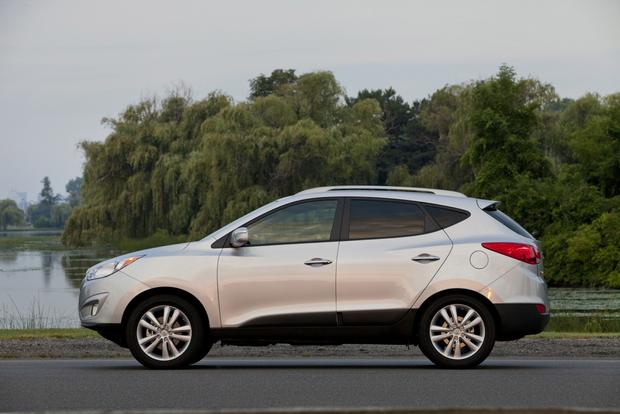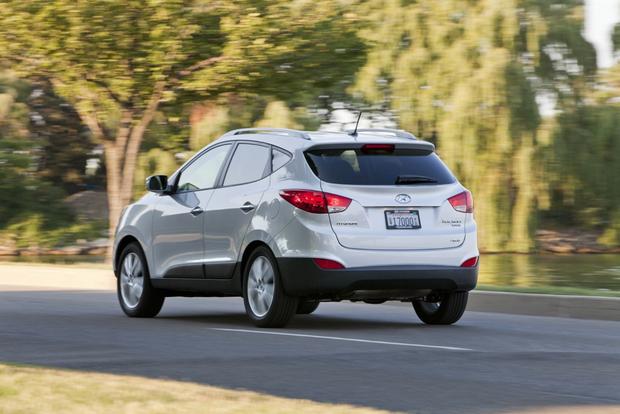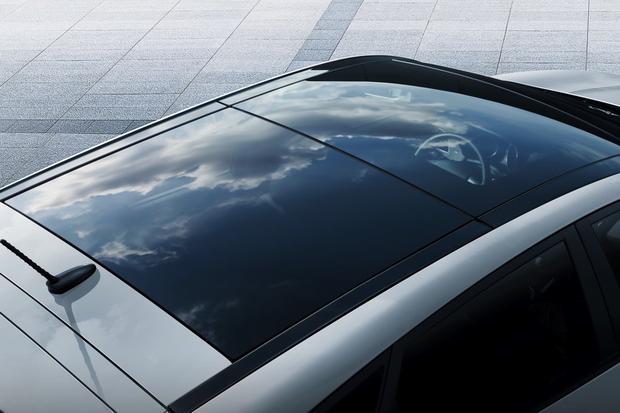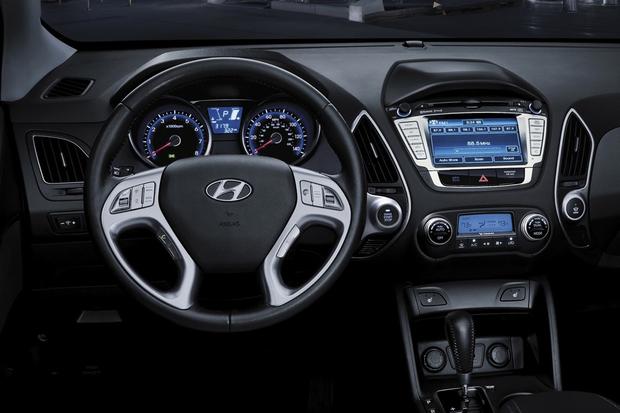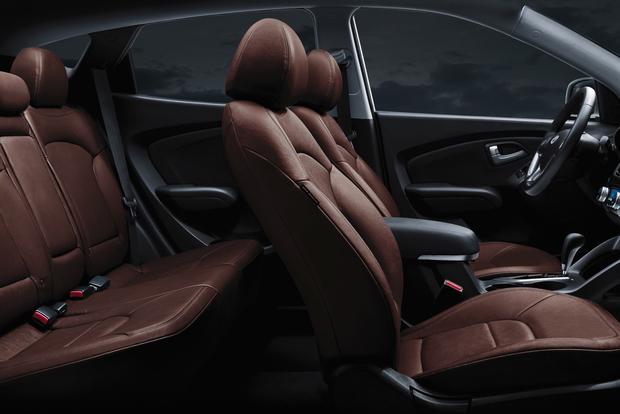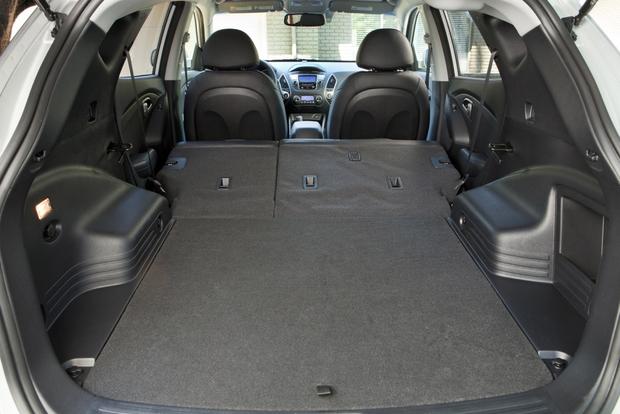 Pros: Compact dimensions; responsive handling; surprisingly roomy back seat; distinctive styling.
Cons: Sparsely equipped base GL model; underpowered 2.0-liter engine; max cargo space is relatively limited.
What's New: The 2013 Tucson gets additional standard equipment in both GLS (fog lights, automatic headlights, heated front seats) and Limited (keyless entry with push-button start) trims.
Introduction
The 2013 Hyundai Tucson isn't your typical jack-of-all-trades affordable crossover. That's because Hyundai also has a larger crossover called the Santa Fe in the same price bracket, so the Tucson doesn't have to be everything to everyone. Instead, the 2-row Tucson trades on its tidy dimensions, which give it an unusually nimble, sporty feel. It's a crossover for folks who aren't ready for a hulking family vehicle just yet.
The Tucson's rivals, meanwhile, just seem to keep getting bigger. The Honda CR-V is a borderline big vehicle these days, while the Kia Sorento and Toyota RAV4 are long enough to offer third-row seats. As for the Chevrolet Equinox, you could fit a couple seven footers in its limo-like rear quarters. Some still insist on calling these vehicles compact crossovers, but the Tucson is one of the few remaining vehicles that actually fit that description.
Don't get us wrong, though--the Tucson still provides plenty of space for four adult passengers to ride in comfort. And while cargo capacity is unimpressive by segment standards, the truth is that there's lots of room for stuff when you fold the rear seatbacks down. Our only consistent complaint has to do with what's under the hood, as the Tucson's 176 maximum horsepower doesn't leave much margin for error in passing and merging situations.
In short, this Hyundai is an unusually compelling package. Unlike most rivals, the Tucson continues to put the "compact" in "compact crossover," and that makes it a great choice for shoppers who like their crossovers as carlike as possible.
Comfort & Utility
The 2013 Hyundai Tucson is available in three trim levels: GL, GLS, and Limited. The base GL starts with the 2.0-liter engine, 17-inch steel wheels, variable intermittent wipers, air conditioning, a tilt-only steering wheel, a trip computer, power accessories and a 6-speaker audio system with iPod/USB connectivity.
The GLS adds 17-in alloys, automatic headlamps, fog lamps, upgraded shock absorbers, cruise control, hybrid cloth/leather upholstery, heated front seats, a leather-wrapped tilt-telescopic steering wheel with integrated auxiliary controls and Bluetooth connectivity.
The Limited tacks on 18-in alloys, keyless entry/ignition with push-button start, a power driver's seat, leather upholstery, a leather-trimmed front console and dual-zone automatic climate control.
Available on the Limited model only is a Premium package that contributes a panoramic sunroof, a 7-speaker audio system with a subwoofer and a navigation system with a 6.5-in display and a rearview camera.
In our interior evaluation, we found that the Tucson's front seats aren't nearly as aggressive as the car's handling character, so if you like to take corners with verve, prepare to slide around on your perch. Still, we know most Tucson miles will be logged in a straight line, and both the cloth and leather seats are up to the task.
The base GL's tilt-only steering wheel is a bit of an insult, however, as crossover shoppers shouldn't have to go up a trim level just to get a telescoping steering wheel. But the driving position is outstanding, yielding a commanding view over the hood.
The Tucson has standard-issue Hyundai gauges, which means they're crisp-looking, deeply hooded, and trimmed with attractive blue accents. Whether you stick with the basic manual controls or pony up for the navigation and automatic climate systems, we think you'll find them easy to master. Materials quality is just average, but the dashboard looks clean and modern at a glance.
The Tucson's back seat has a low bottom cushion by crossover standards, so taller rear passengers might find thigh support to be lacking. But because headroom and legroom are both ample, back-seat space is actually just fine for adults.
The cargo area behind the rear seatbacks measures a decent 25.7 cu-ft, but the maximum with the seatbacks folded is a so-so 55.8 cu-ft--that's only a few more cubic feet than what you get in the Elantra GT hatchback. As noted in the introduction, though, that's a lot of space on its own merits. The Tucson is a pretty handy vehicle.
Technology
Even the bare-bones GL gets standard iPod and USB connectivity, although Bluetooth is only standard if you upgrade to the GLS. But otherwise, the Tucson doesn't have much going on in the technology department unless you get the Limited and spring for the Premium package. Thus equipped, the Tucson features a rather basic DVD-based navigation system with a reasonably intuitive and attractive 6.5-in touchscreen. We'd like to see wider availability for this system, as a Limited with the Premium package doesn't come cheap.
Performance & Fuel Economy
The Tucson GL starts with front-wheel drive and a 2.0-liter inline-4 rated at 165 hp and 146 lb-ft of torque. A 5-speed manual is standard, and a 6-speed automatic optional. We like the automatic's prompt downshifts, but the 5-speed manual is imprecise, and the 2.0-liter engine is noisy and weaker than its numbers suggest. We much prefer the GLS and Limited, which come standard with front-wheel drive and a 2.4-liter inline-4 good for 176 hp and 168 lb-ft of torque. The 6-speed automatic is the only transmission with the bigger motor, but this tandem pulls the Tucson around with respectable verve and refinement.
All-wheel drive is optional on the GLS and Limited. Fuel economy for the GL is 20 mpg city/26 mpg highway with the manual and 22/29 mpg with the automatic, while the GLS and Limited actually improve to 21/30 mpg with FWD, dropping to 20/27 mpg with all-wheel drive.
Safety
The Tucson comes with standard stability control, 4-wheel antilock disc brakes, active front head restraints and six airbags (front, front-side, full-length side curtain).
In government crash-testing, the 2013 Tucson scored four stars out of five overall, including four stars in frontal impacts and five stars in side impacts. The independent Insurance Institute for Highway Safety (IIHS) gave the Tucson its highest rating of Good in all categories.
Driving Impressions
It's refreshing to hop into a Tucson and remember how fun a genuinely compact crossover can be. With its 103.9-in wheelbase and 173.2-in overall length, the Tucson is actually smaller than the compact Elantra sedan, so it's no wonder that this thing drives like a hatchback on its tiptoes. The Tucson does ride rather firmly, but we're not offended. Impact harshness rarely registers, and the payoff is that this little crossover can actually dance in the curves. Road noise can be an issue, however; there are definitely quieter crossovers in this class.
Other Cars to Consider
Kia Sportage - Mechanically similar to the Tucson, the Sportage boasts more angular styling and the availability of an awesome turbocharged 2.0-liter inline-4.
Mazda CX-5 - Mazda's new compact crossover goes toe to toe with the Tucson across the board, and it might be even more fun to drive.
Volkswagen Tiguan - If you're considering the Tucson Limited, know that the same money could get you into a decently equipped Tiguan, and the VW is both faster and generally nicer.
AutoTrader Recommends
We like the Limited for its feature set, but it starts at around $25,000 with front-wheel drive. That's a lot. Smarter money would go toward the considerably more affordable front-wheel-drive GLS.
In November 2012, Kia and Hyundai adjusted the fuel economy ratings on some 2011-2013 models. This article has been modified to reflect the accurate EPA ratings.