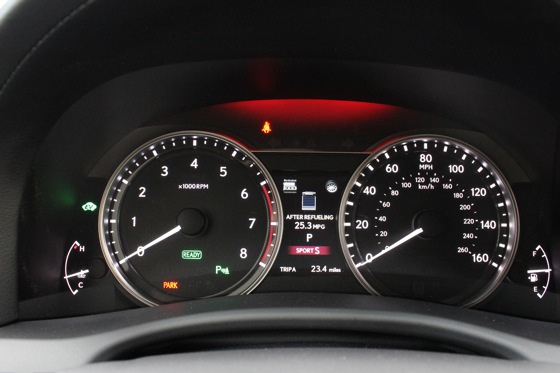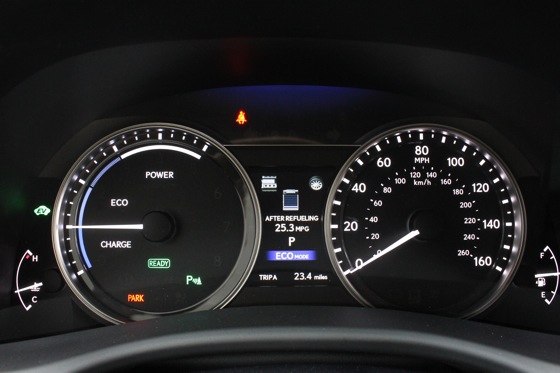 Pros: More stylish than ever; excellent handling; gorgeous interior; comfortable; dangerously fun to drive
Cons: Rear end still needs design help; straight-line performance lags; mouselike information and entertainment interface is clunky and distracting
What's New: The Lexus GS has been totally redesigned for 2013.
Lexus isn't known for showiness, extravagance or anything else that would set its cars apart on the exterior. The things it is known for-comfort, reliability, convenience and luxury-don't necessarily capture the imagination. Even so, in the past those qualities were enough for it beat many other luxury marques in sales. These days, however, the competition has stepped up its game. Now Lexus is scrambling to become a more eye-catching and inspiring brand.
With the redesigned 2013 GS, Lexus has introduced a new design language and emotive feel. The new GS is a sexy, road-gripping beast that provides some real competition for the long-dominant Germans. In fact, the GS's performance in the corners even beats that of many of its competitors, even though its relatively weak engine options make for lackluster straight-line acceleration.
If Lexus is looking to be taken seriously as a performance brand, it has accomplished that with the 2013 GS. At a starting price of $46,900, which goes up to about $60,000 when nicely optioned, the GS is luxurious, well designed and carries forward Lexus's reputation for reliability. Not only that, but it's fun to drive and can hold its own on the track.
Comfort & Utility
The GS options list had been getting bit cumbersome of late, so, for the 2013 redesign, Lexus has simplified it. But not to worry: more than enough luxury accoutrements have been retained - especially on the Luxury package - to satisfy the most demanding optionista.
As should be expected in this class of vehicle, all versions of the LS are well appointed. Fit and finish is top notch, with impeccable stitching and attention to detail. The GS's highly adjustable seats, especially on the top-end packages, are a pleasure to sit in. Passenger space is ample, as is cargo space in the trunk.
With several gorgeous wood-grain accent choices, the GS's interior shines with distractingly beautiful touches throughout. Unfortunately, the Linear Espresso wood trim is so dark that, unless it's lit well, it appears to be black plastic. At this price, you want to see what you've paid for. The best-looking wood trim of the bunch, a light brown matte finish bamboo, is only available on the GS450h hybrid model.
Standard equipment on the base GS350 includes 17-inch alloy wheels, bi-xenon headlights, LED running lights, push-button start, a moonroof, 10-way adjustable seats, leather seating, a 12-speaker surround sound audio system, Bluetooth and satellite radio. The optional Premium package ($1,400) adds rain-sensing wipers, heated and ventilated front seats and a power rear sunshade. Luxury package ($5,750) additions include larger wheels, adaptive headlights that curve with the road, active suspension, wood trim, 18-way power seats and three-zone air conditioning. The F Sport trim includes aggressive appearance elements, even larger wheels and brakes, a sport driver's seat and an upgraded suspension. All-wheel drive, an option on the 350 and the 350 F Sport, provides extra grippiness and much better all-weather performance compared with the standard rear-wheel drive.
The GS450h hybrid, considered the top-of-the-line GS, mates the base 3.5-liter V6 to a dual electric motor hybrid system and a continuously variable transmission. While it maintains most of the same standard features as the base 350, it adds LED headlights for both high and low beams.
Other options available on all versions of the GS include an extraordinary 17-speaker Mark Levinson audio system, a navigation system with a monstrous 12.3-inch wide-screen LCD, a blind spot monitor, head-up display, heated rear seats, park assist, lane keep assist, night vision and a pre-collision warning/braking system.
Technology
The 2013 GS is available with a veritable smorgasbord of technology options, including an absolutely massive 12.3-inch LCD wide-screen information and entertainment system and the Lexus Enform suite of Internet-enabled apps, which can do everything from play your favorite Internet radio stations to find and book a table at a highly rated restaurant. The apps include Bing, Pandora, iHeartRadio, OpenTable, MovieTickets.com and Yelp. Enform also provides live 24-hour navigation assistance.
Getting an iPhone 4 to connect up to the information and entertainment system is relatively straightforward, and music can be played directly from the device seamlessly via either the dock connector or Bluetooth. Unlike some other manufacturers' systems, the Lexus media connection worked flawlessly most of the time.
Although the 12.3-inch dual-panel LCD display is one of the clearest and least cluttered displays on the market, it suffers from a lack of touchscreen capability. Lexus is still insisting on using its clunky, slow and distracting mouselike interface. Not only does it require you to think too much and make too many clicks and movements to access various settings and commands, the mouse and accompanying armrest take up valuable real estate on the center console.
Other technology options worth noting include Toyota's head-up display, which provides access to key information with a glance at the front windshield, and the excellently executed Mark Levinson audio system. For true audiophiles, it is a pleasure to listen to.
Performance & Fuel Economy
Toyota opted to include a relatively underpowered 3.5-liter V6 as the only engine option on all versions of the GS; it makes 306 horsepower and 277 lb-ft of torque. Although it is powerful enough for daily driving, it lacks some oomph under performance situations, and straight-line acceleration is lacking, coming in at just under six seconds.
The 450h hybrid combines dual electric motors with the base engine for a slightly better total system output of 338 hp. Acceleration time doesn't change, though. This is no drag racer, but corners are where the GS shines-especially with the optional all-wheel-drive system. The advanced active suspension makes for stability and flatness in high-speed turns that are at least on par with the best the Germans can offer, and perhaps better.
Purists may scoff at the lack of a manual-transmission option, but gear changes from the standard six-speed automatic were incredibly crisp, especially with sport mode engaged. Steering-wheel-mounted paddle shifters provided a modicum of the manual experience and were also quite responsive to driver input.
During a weeklong test in a 350 F Sport with the Luxury Package, Lane Keep Assist, Dynamic Radar cruise control, rear-wheel drive and Mark Levinson audio, we averaged 18 mpg in the city and 28 mpg on the highway. Those numbers are exactly what the EPA tests predict. During a shorter test in a 450h hybrid, we averaged about 30 mpg in combined city and highway driving.
Safety
Lexus has become known for its innovative safety features, and the 2013 GS is no exception. Available safety options include a pre-collision system that monitors your eye and body position to determine whether you are paying attention and brakes for you when you're not. Dynamic radar cruise control, blind spot monitoring, adaptive front lighting and lane keep assist are also available.
Driving Impressions
During a week of driving a rear-wheel-drive 350 F Sport, we found ourselves looking for every excuse to get into the car and flog it around. From comfort and convenience to fun and performance, the GS is a joy to drive. Although straight-line acceleration is not as good as some others in this category, that seeming omission is more than made up for by incredibly confident cornering ability. The 18-way adjustable seats on the Luxury package are some of the most comfortable we've ever sat in and provide excellent support on long hauls. Their adjustable side bolsters can be quickly changed for the track, too.
Other Cars to Consider
BMW 5 Series - The 5 Series is perhaps the GS's most direct competitor, and when loaded with the M Sport package and all the other luxury options to make it equivalent to a fully loaded GS it is a serious contender for the crown in the luxury performance sedan arena.
Mercedes-Benz E-Class - On the plus side, the E-Class has Merc's reputation for quality, is available with a diesel engine and can be loaded with just as many luxury options as the GS. On the minus side, it is the weakest performer of the bunch.
Audi A6 - The A6 is not as popular as some others but, true to its German heritage, it's a solid performance car. It is available with far more options and arguably higher-quality luxury features, but all of those come at a price. For buyers looking for a more fuel-efficient option, the A6 isn't available in hybrid or diesel configurations.
AutoTrader Recommends
At this price range, adding the Luxury package to any GS is well worth it. All-wheel drive makes the car a bit more fun but is not necessary, except perhaps in cold-weather climates, and hurts fuel economy. The 450h hybrid has a bit more power, but if you're looking for fuel economy, it may not be worth the extra cost. So, to take advantage of all that the new GS has to offer, load a rear-wheel-drive 350h F Sport to the gills, and add all-wheel drive only if needed.