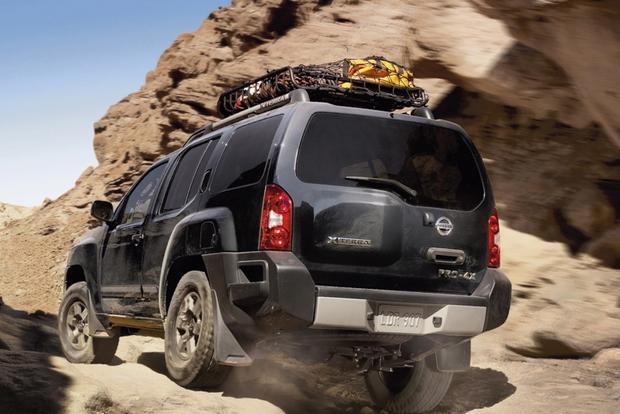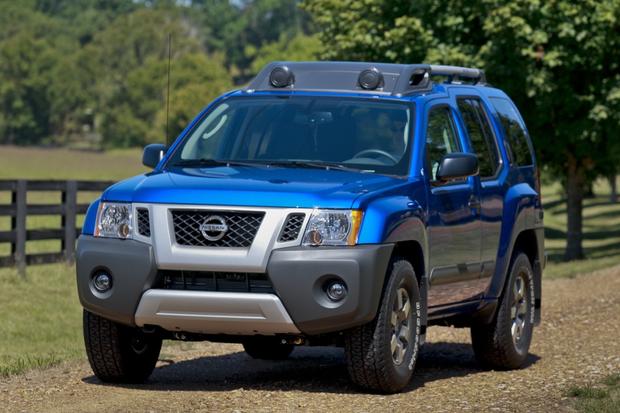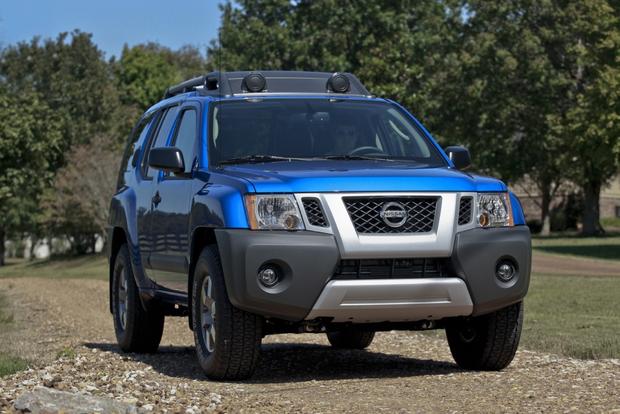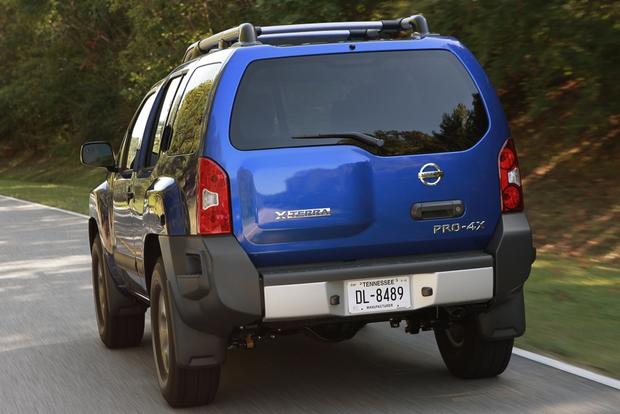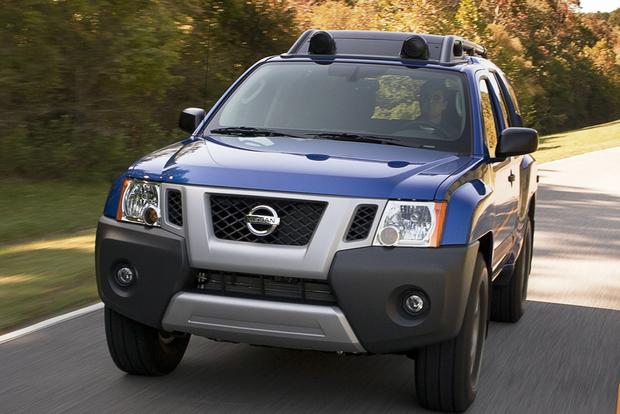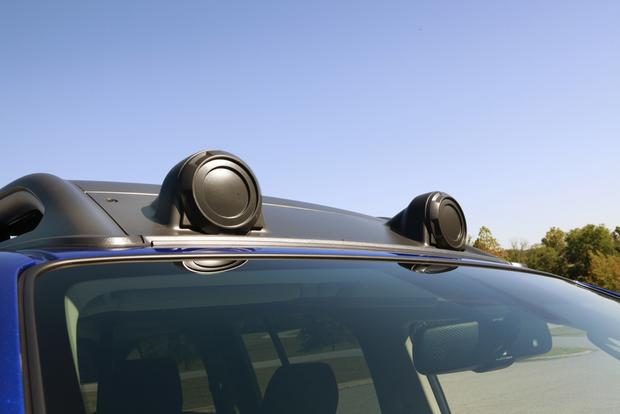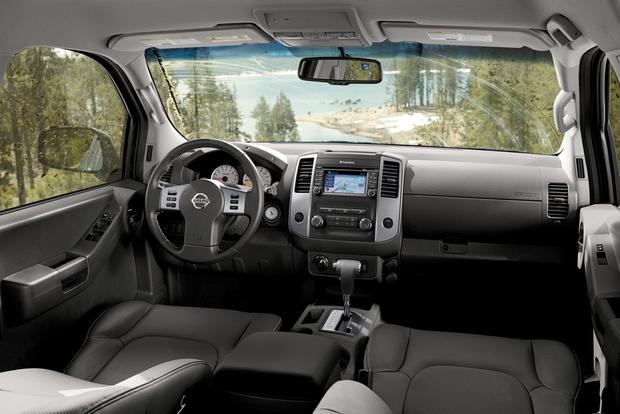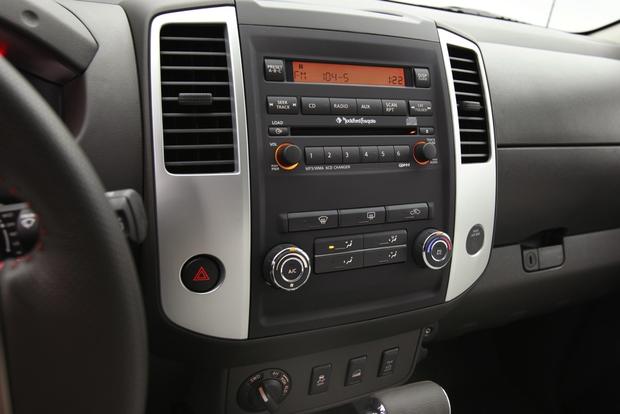 Pros: Rugged, off-road capability; versatile interior; competitive price
Cons: Truck-like performance; weak fuel economy
What's New: More standard features for top PRO-4X and midrange S trims
Now in its second generation, the 2013 Nissan Xterra is part of a dying breed, specifically truck based SUVs. Today, most SUVs have made the transition to more car-like construction and those are called Crossover vehicles; the 2013 Nissan Pathfinder is a good example. The Xterra is built on the same foundation as the full-size Nissan Titan pickup and the larger Armada SUV. As such, the Xterra offers off-road capability with optional 4-wheel drive. It also comes standard with a V6 engine and, for the new model year, offers better value thanks to a significant price reduction in comparison to the 2012 model. The downside is that the Xterra may not have the smoothest ride compared to other, more modern SUVs.
In base X trim, the Xterra now carries a suggested price of $22,940, not including delivery. That's $2,540 less than the 2012 Xterra X. Midrange S and top-trim PRO-4X models are less expensive than before, too, while offering more features. The S model now includes display audio and satellite radio, while the PRO-4X now comes standard with navigation and a backup camera.
For 2013, Nissan has added two new exterior colors to the Xterra lineup: Glacier White and Cayenne Red.
Comfort & Utility
The interior of the Xterra has been designed to provide everything you need and nothing you don't. Aimed at customers with active lifestyles, the Xterra has enough room for five adults with ample legroom, headroom and cargo space. The rear seat bottom cushions are removable, and the rear seat backs fold down in a 60/40 split to provide further storage space. The standard cloth seats are solid, as is the rest of the simple interior. Materials are mostly strong plastic; it may not be the best-looking material, but it feels resiliant.
In the rear, the Xterra includes ten cargo area utility hooks that can hold up to 110 pounds. There's a built-in first aid kit back there, too, and an optional adjustable channel system in the cargo floor. Standard interior features include sporty reclining front bucket seats, a footrest, dual front and rear 20-ounce cupholders, power windows, power locks, power mirrors, remote keyless entry and cruise control with steering wheel-mounted controls.
Technology
The 2013 Xterra also offers a range of advanced technologies including Bluetooth XM Satellite radio (XM subscription required and sold separately) and an 8-speaker Rockford Fosgate audio system with subwoofer.
Nissan is focusing on capability and sport with the Xterra, so it's less technologically advanced than other SUVs currently on the market. After all, when owners are hauling snowboards up to the mountain, surfboards to the coast or mountain bikes out to the country, do they really care about lane departure warning systems?
Perhaps not, but navigation -- now standard equipment on the Xterra PRO-4X -- could be helpful for both everyday errands and adventures off the beaten path.
Performance & Fuel Economy
The only engine on the 2013 Xterra is a 4.0-liter V6 producing 261 horsepower and 281 lb-ft of torque. Mated to the V6 is either an electronically controlled 5-speed automatic transmission or, for the S and PRO-4X models, a 6-speed manual. With 2-wheel drive, the 2013 Xterra is rated at 16 miles per gallon in the city and 22 mpg on the highway.
Four-by-four models feature a part-time 4-wheel-drive system with 2WD/4HI/4LO modes and an electronically controlled transfer case. Xterra PRO-4X models have two advanced off-road technologies: Hill Descent Control and Hill Start Assist, as well as an electronic locking rear differential.
Safety
The 2013 Xterra is fitted with driver, passenger, side impact and curtain side impact/rollover supplemental airbags. The Xterra also incorporates an energy-absorbing steering column, zone body construction with front and rear crumple zones, side door-guard beams, a shifter interlock system, vehicle dynamic control with traction control and a tire pressure monitoring system.
Driving Impressions
As truck-based SUVs begin to diminish, the Xterra becomes more and more distinctive because of its off-road capability and driving characteristics. When the Xterra was launched 12 years ago, it wasn't much different from most other SUVs on the market with its fuel-thirsty V6 and a pickup-truck ladder frame underneath. Now, however, even the Ford Explorer has adopted a softer, more comfortable unibody car-based platform. While these new car-like SUVs are more comfortable on the road, they don't allow for as many extreme off-road-capable features.
For better or worse, the Xterra is very much a truck. The stiffness in the chassis and suspension is easily felt over speed bumps and during cornering. These make the Xterra ideal for remote adventure locations, but they also make daily driving harsher. This isn't to say that the Xterra doesn't drive well -- it does, but only when compared with similarly built SUVs. When it is compared to the comfort of the 2013 Explorer, for example, it's another story.
The driving position is a bit uncomfortable for tall drivers as the seats are small, short, firm and low in the cabin. Youthful drivers will find little to dislike about the utilitarian cabin of the Xterra, but many older drivers will find long drives tiring due to the Xterra's all-around solid construction.
Fuel economy, as in most trucks, isn't fabulous. But the Xterra easily makes up for sacrifices in driving comfort and fuel economy with its utility and capability. The 4x4 Xterra can conquer most road conditions a driver could throw at it, and it does it with poise. For customers who need a sturdy SUV that can haul their gear to remote parts of the globe, few can meet the challenge as well as the Xterra.
Other Cars to Consider
Toyota FJ Cruiser: At a base price of $27,030 for a 4x2 model, the FJ Cruiser is one of the few remaining SUVs aimed at buyers who need off-road capability more than they need interior space and passenger capacity. With only two real doors and three windshield wipers, the FJ Cruiser is in a class of its own.
Jeep Wrangler: Starting at $25,695, the Wrangler is one of the most iconic and affordable SUVs currently on the market. Jeep now outfits the Wrangler with the new Chrysler Pentastar V6, which has totally transformed its drivability. Couple its new engine with its legendary off-road capabilities, and it's no wonder the Wrangler has such long-term appeal.
Honda Pilot: With a base price of $29,520, the Pilot is a bit more expensive than the Xterra. But for that money, customers recieve a more family-friendly and plush interior. Also built on the same platform as the Honda Ridgeline pickup, the Pilot is technically truck-based. However, unlike the Xterra, the 2-wheel-drive Pilot has front-wheel not rear-wheel drive.
AutoTrader Recommends
We like virtually every 2013 Nissan Xterra model, but if your main interest is in a true off-roader, we recommend you steer toward the Wrangler instead. But if you want a distinctive, youthful and affordable SUV, we say go for the Xterra's base X model with 4x4 for $24,990. If you can handle it, we recommend bumping up to the S or PRO-4X in which the 6-speed manual is available. Manual transmissions are rare in American vehicles these days, especially in SUVs. But we think the manual really brings the Xterra alive.