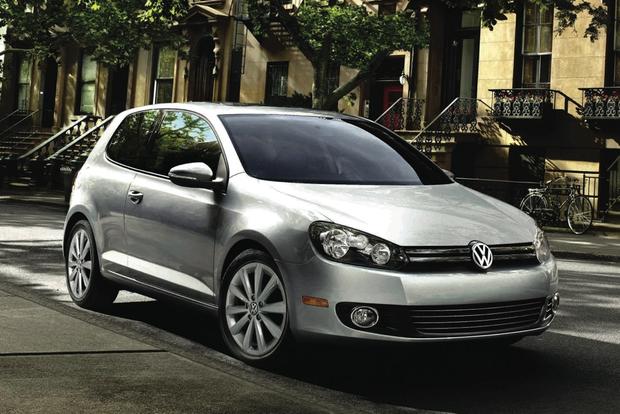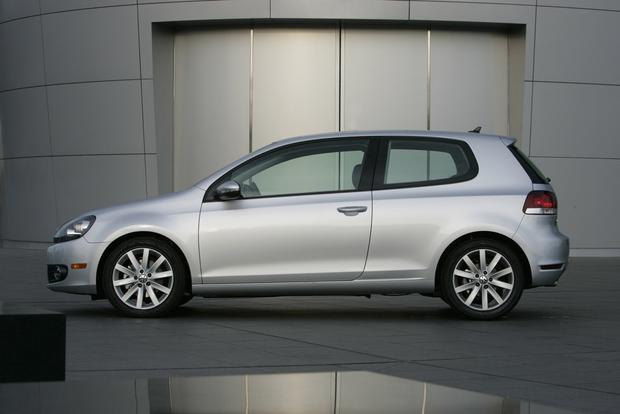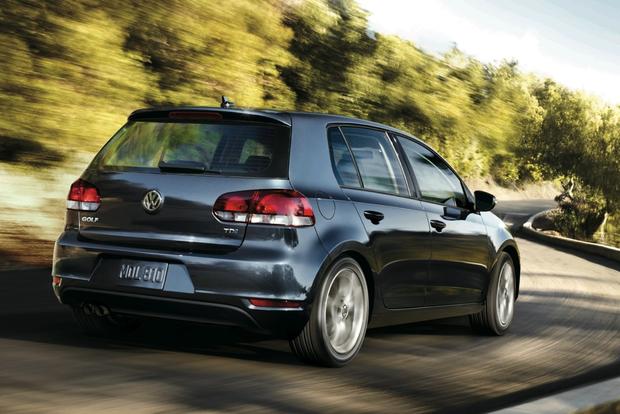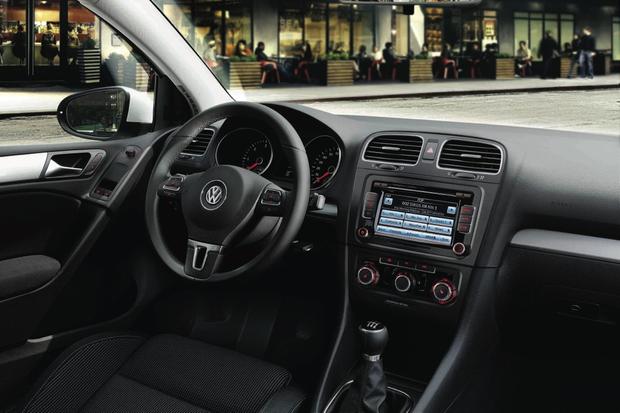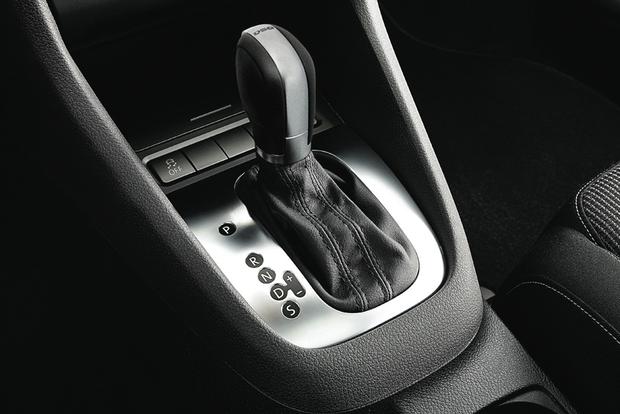 Pros: Excellent ride and handling balance; rich cabin; peppy engines; adult-friendly back seat; confident high-speed demeanor.
Cons: No iPod or Bluetooth integration on base 2.5L model; inefficient 5-cylinder engine; TDI diesel model is seriously expensive.
What's New: The only notable change for the 2013 Golf is that a front center armrest is now standard across the board.
Introduction
When Americans think about family cars, it's usually mid-size sedans that come to mind. The 2013 Volkswagen Golf tends to get left out. That's a shame, too, because in an objective comparison, the Golf might be the best of the lot.
Just look at what this VW brings to the table. Under the hood resides one of two strong engines: a rumbly 5-cylinder, or a hyper-efficient turbodiesel. In tight spots, the compact Golf is far nimbler than a Camry or Malibu. Despite the small footprint, there's room for full-size occupants front and back. Flip down the rear seatbacks and you've got 46 cu-ft of cargo space, or three times the trunk space of your average mid-size sedan.
What's more, the Golf benefits from sophisticated suspension tuning, boasting a nearly perfect balance between sportiness and suppleness. We're similarly impressed by the interior, which is almost Audi-like in its class and restraint.
Weaknesses? Not many. The biggest is that the gasoline engines don't get stellar fuel economy. So unless you want to pay extra up front for the diesel, you won't be winning at the pump. We'll also ding the Golf for being stingy with the technology features. A premium compact car in 2013 should come standard with iPod and Bluetooth integration.
But overall, the Golf is great, and the wide range of models makes it easy to find one that suits your wants and needs. Next time you're thinking about family cars, or just well-rounded cars in general, make sure the 2013 Golf is in the mix.
Comfort & Utility
The Golf hatchback comes with either two or four doors, and is offered in two basic trim levels defined by engine: 2.5L and TDI. Each trim comes with a few different optional packages.
The entry-level 2.5L features 15-inch steel wheels with plastic covers, a tilt-telescopic steering wheel, air-conditioning, full power accessories (including auto up/down power windows), a trip computer, cloth upholstery, a height-adjustable driver's seat, manual lumbar adjustment for both front seats and an 8-speaker audio system with an auxiliary input.
The 2.5L with the Convenience package adds heated front seats and Bluetooth connectivity. The 2.5L with Convenience and Sunroof adds (that's right) a sunroof, plus an iPod cable and a touchscreen audio interface with a 6-CD changer and satellite radio.
The base TDI boasts 17-in alloy wheels, heated windshield-washer nozzles, a leather-wrapped steering wheel, ambient interior lighting, a rear-seat cargo pass-through and all of the top-of-the-line 2.5L's features except the sunroof.
The TDI with Sunroof and Navigation adds the sunroof and an SD-based navigation system, while the TDI with the Tech package tacks on Xenon headlights with LED accents, a Dynaudio premium sound system and keyless entry with push-button ignition.
In our interior evaluation, we noted that the Golf's front seats offer a bit more lateral support than the VW norm. We also appreciate the standard adjustable lumbar support for both seats. As expected in a Volkswagen, the firm cushions provide excellent long-distance cruising comfort. Thanks to the tilt-telescopic steering wheel and height-adjustable driver's seat, the Golf can accommodate a wide range of physiques.
A close inspection of the Golf's cabin reveals top-quality materials leaps and bounds ahead of the Jetta's cut-rate plastics. Unlike the Jetta, the US-market Golf still shares its cabin with the premium European model, and it shows.
When it's time to host a couple of rear passengers (the middle position is for short trips only), you'll be amazed by how adult-friendly the Golf's back seat can be, even in the 2-door Golf. Legroom isn't exactly ample, but the Golf's high rear bench provides good thigh support while minimizing the amount of legroom required. Thanks to the car's breadbox-shaped cabin, headroom is virtually as generous in back as it is in front.
Cargo capacity in the Golf is just 15.2 cu-ft behind the rear seatbacks, but that figure expands to a healthy 46 cu-ft when the seatbacks are folded down.
Technology
Volkswagen is generally a technology forward company, so we're surprised that the base Golf 2.5L offers neither iPod integration nor Bluetooth connectivity. You're looking at the Convenience and Sunroof model if you want both, and that'll run you more than $20,000 (and nearly $23,000 with four doors). For context, take a look at all the standard tech you get in a Hyundai or Scion.
The Golf does have some welcome technology features on tap, including an intuitive touchscreen audio system. But we can't really give the Golf credit for its optional navigation system, because it's only available starting with a TDI model that costs around $26,000. No question, the Golf could use a technological makeover to compete better with more affordable rivals.
Performance & Fuel Economy
The Golf 2.5L is motivated by a naturally aspirated 2.5-liter inline-5 that makes 170 horsepower and 177 lb-ft of torque. The transmission options are a 5-speed manual and a 6-speed automatic. This engine is almost universally panned by American critics, but we beg to differ. The inline-5 cranks out some healthy midrange torque, and we can't get enough of its distinctive 5-cylinder growl. Shame about the fuel economy, though, which would be subpar even for those midsize sedans we've been talking about. The Environmental Protection Agency (EPA) rates the Golf 2.5L at 23 mpg city/33 mpg highway with the manual and just 24/31 mpg with the automatic.
The TDI model swaps out the inline-5 for a 2.0-liter turbodiesel inline-4 rated at 140 hp and 236 lb-ft of torque. The transmission choice is between a 6-speed manual and a 6-speed dual-clutch automated manual with shift paddles. The Golf is basically the smallest car in which the TDI engine is offered, so the strong low-end torque is quite apparent when you squeeze the throttle. Diesel cars are rarely quick, but the Golf TDI approaches that status. Fuel economy is outstanding at 30/42 mpg with either transmission.
Safety
The 2013 Volkswagen Golf comes with 4-wheel anti-lock disc brakes and six airbags (front, front side and full-length side curtain).
The government hasn't crash tested the Golf using its new testing methodology, but the independent Insurance Institute for Highway Safety (IIHS) gave the 4-door Golf its highest rating of Good in every crash test category.
Driving Impressions
The Golf's compact dimensions, firm yet supple suspension and responsive steering add up to an unusually engaging drive through tight corners. On the highway, the Golf's Autobahn breeding gives it an unerring sense of straight-ahead. Road and wind noise are subdued by compact hatch standards, and that suspension has a remarkable ability to smooth out rough roads without ever feeling floaty. You might not get a ton of features for your money with the Golf, but you do get a heck of a car in the deal.
Other Cars to Consider
Ford Focus - The Focus hatchback has European roots, too, and it gives the Golf a run for its money in most respects.
Mazda3 - If you find the 3's grinning face endearing, try one out with the SkyActiv 4-cylinder engine. It gets great fuel economy while retaining Mazda's fun-to-drive edge.
Mitsubishi Lancer SportBack - Everyone seems to forget about the Lancer, but we're here to tell you that it's a pretty solid car, and the SportBack hatchback version is quite attractive too.
AutoTrader Recommends
The base Golf 2.5L with the 5-speed manual is a highly practical option for folks who prioritize a premium driving experience over the latest high-tech gewgaws. At about $18,000 for the 2-door model, it's one of the best deals going.