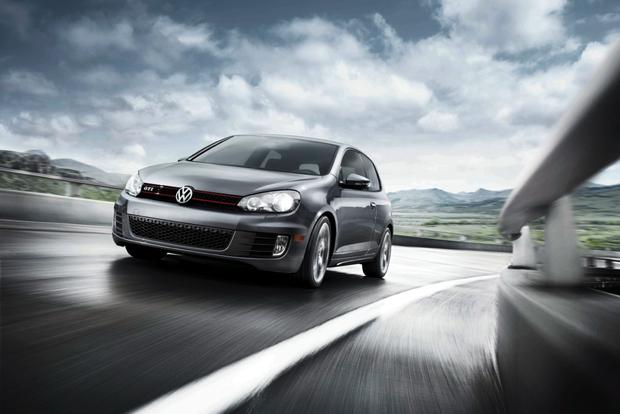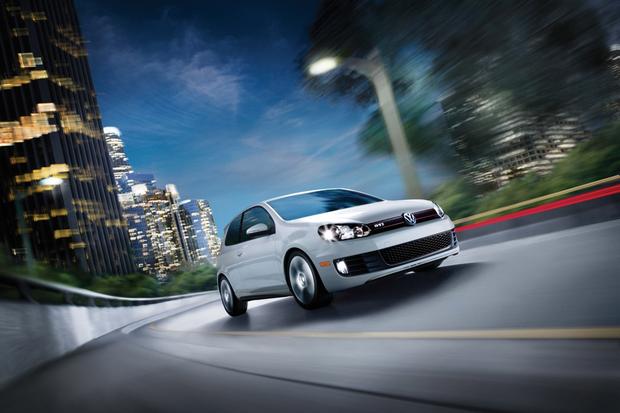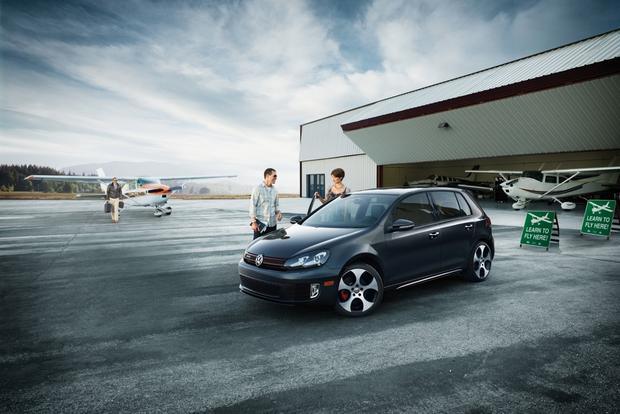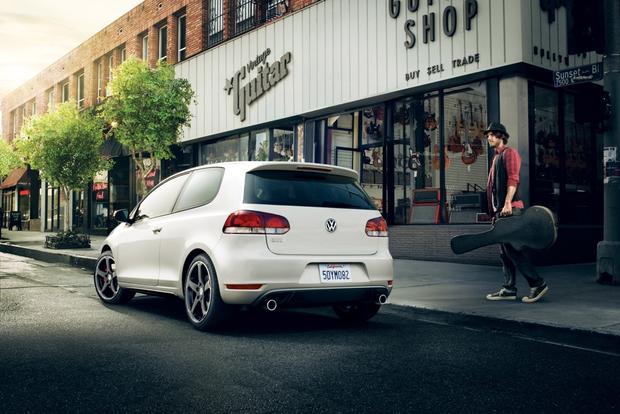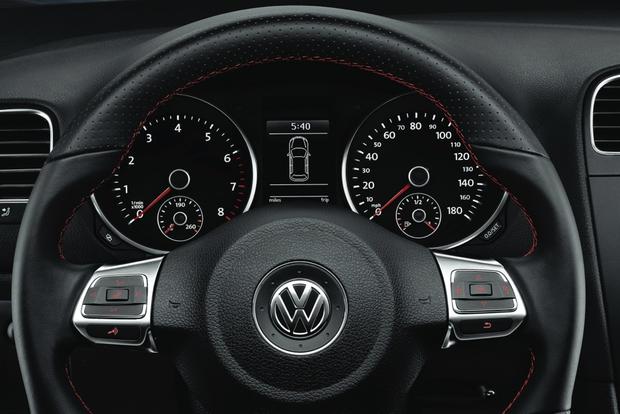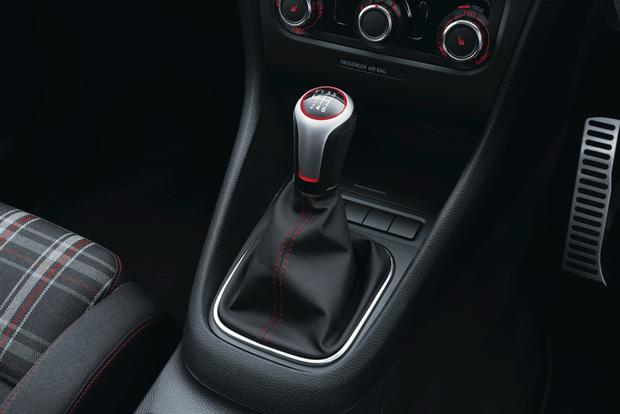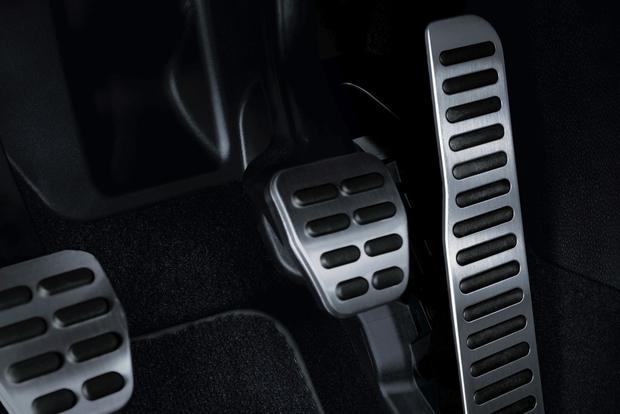 Pros: Spirited turbocharged engine; refined ride; nimble handling; upscale interior; adult-friendly back seat; good fuel economy for this class
Cons: Not as fast or intense as some rivals
What's New: Largely unchanged, the 2013 GTI receives new 18-inch Laguna wheels for mid-level models and an available golf-ball-style shift knob that's a retro throwback to early GTIs.
Introduction
Although the 2013 Volkswagen GTI is the sleekest, most luxurious one yet, it's really a classic Volkswagen at heart. In case your German's a little rusty, Volkswagen means "people's car," and that's exactly what the GTI is relative to its peers: the people's sporty hatchback.
Seriously, find us a group of people who don't like the GTI. Kids think it's cool and want one for graduation. Trendy twenty-somethings aspire to park one outside their downtown lofts. Family-oriented folks are into it, too, because the GTI packs plenty of practicality alongside its turbocharged performance.
Of course, if practicality isn't a priority, you've got all manner of alternatives at this price point. Want an enormous rear wing? How about a stiff suspension, or perhaps an arrest-me exhaust note? They're easy to find. But if you're looking for a performance car that's built for real life, one that's as content hauling friends and groceries as it is zipping through corners, the 2013 GTI is easily the people's choice.
Comfort & Utility
The 2013 Volkswagen GTI hatchback comes with either two or four doors and is offered in base trim or with a few available option packages.
The base GTI comes well-equipped with 18-inch alloy wheels, a tilt-telescopic steering wheel, air-conditioning, cruise control, full power accessories (including auto up/down power windows), a trip computer, plaid cloth upholstery, sport front seats with height and lumbar adjustments for both driver and passenger, Bluetooth connectivity, and an 8-speaker audio system with satellite radio, iPod integration and an auxiliary input.
The GTI with Convenience and Sunroof adds, yes, a sunroof, plus different 18-inch alloy wheels, a leather-wrapped steering wheel and a touch-screen interface for the audio system with a 6-CD changer and SD-card compatibility.
The GTI with Sunroof and Navigation adds--you guessed it--an SD-based navigation system with a 5-inch display. This package also includes xenon headlights with LED accents.
Finally, the Autobahn package features yet another 18-inch wheel design, black leather upholstery, keyless entry with push-button ignition and a 300-watt Dynaudio sound system.
While the GTI's interior is largely familiar from the regular Golf, there are some notable differences, starting with the front sport seats, which provide far better lateral support in corners. Also, both seats feature manual height and lumbar adjustments, an unusual perk. The standard plaid upholstery is a distinctive GTI touch that helps it standout from other hot hatches.
Just like in the Golf, the firm seat cushions provide great long-distance comfort, and the tilt-telescopic steering wheel helps drivers of all sizes find an agreeable position. The GTI also shares the Golf's attractive analog gauges and top-quality materials. For what it's worth, the GTI outdoes the Jetta-based GLI sedan in this respect, as the GLI gets a soft-touch dashboard but keeps the basic Jetta's cheap-feeling hard plastic door panels.
Rear passengers will be amazed by how well they fit in the pint-sized GTI. While legroom is somewhat limited, the high rear bench provides good thigh support while minimizing the amount of legroom required. A 6-foot passenger can sit behind a 6-foot driver without too much difficulty. Thanks to the car's breadbox-shaped cabin, headroom is almost as generous in back as it is in front. Europeans consider the Golf/GTI a bona fide family vehicle, and we don't blame them.
Cargo capacity measures just 15.2 cubic feet behind the rear seatbacks, but that figure shoots up to an impressive 46 cu-ft with the seatbacks folded.
Technology
Although the base Golf lacks some basic technology features, the GTI comes standard with all the technology most drivers care about. You get standard iPod and Bluetooth connectivity along with satellite radio and even an auxiliary audio input. Pricier GTIs offer an intuitive touch-screen audio system that includes an SD-card slot, though a USB port is unavailable. There's also an available navigation system, but being SD-based, it doesn't feature hard-drive music storage, and it drives the price up to nearly $28,000. It's too bad that keyless entry/ignition and the satisfying Dynaudio sound system are limited to the even more expensive Autobahn model; we'd like to be able to add those features to the base GTI.
Performance & Fuel Economy
The front-wheel-drive GTI is powered by VW's 2.0T engine, a turbocharged 2.0-liter direct-injection 4-cylinder engine rated at 200 horsepower and 207 lb-ft of torque. The transmission options are a 6-speed manual or a 6-speed dual-clutch automated manual with shift paddles.
Go ahead and obsess over acceleration times if you want--to give you an idea, 0-60 mph takes about 7 seconds--but know that they're just one piece of the puzzle. While it's true that you can get a lot more speed for your money, the 2.0T's flexibility and refinement across the rev range make it a pleasure to control. It even sounds great thanks to a special intake design that pipes engine noises into the cabin. Both transmissions are gems--the stick-shift for its extreme user-friendliness, and the dual-clutch automatic for its ultra-quick yet smooth and precise gearchanges.
Fuel economy is quite good for this kind of car. The GTI is rated at 21 mpg city/31 mpg hwy with the manual and 24/33 mpg with the automatic.
Safety
The GTI comes with standard stability control, 4-wheel antilock disc brakes, and six airbags (front, front side and full-length side-curtain).
The GTI hasn't been crash-tested, but the independent Insurance Institute for Highway Safety gave the 4-door regular Golf its highest rating of Good in every crash-test category.
Driving Impressions
The GTI is a pretty small car, but it only drives like one when you're carving your way through tight corners. Otherwise, you get a sense of substance and composure from behind the wheel that's basically unrivaled in this class. The GTI loves high-speed cruising, and its subdued noise levels and exceptionally supple ride make it a perfect pick for long trips. No other hot hatch is this civilized. Indeed, we see the GTI as a strong rival to the mechanically similar Audi A3 and even entry-level sport sedans like the BMW 328i and Mercedes-Benz C250.
Other Cars to Consider
Mazda Mazdaspeed3: The Mazda's definitely got more boy-racer genes than the GTI, but it's also got an impressive 263 hp under the hood, and its handling is sharper than the VW's.
Scion FR-S: A rear-drive sport coupe may seem an unlikely competitor, but the FR-S is priced similarly to the GTI. If you're drawn to the GTI because of its high-performance heritage, you might end up liking the FR-S better, practicality compromises notwithstanding.
Subaru WRX: The WRX continues to use the old Impreza as its foundation, so the recently redesigned Impreza's numerous refinements aren't included, but you still get excellent power and all-wheel-drive traction.
AutoTrader Recommends
We hear the siren song of the Dynaudio system, but we couldn't bring ourselves to pay $30,000 for a GTI. Much of the car's appeal lies in its affordable starting price, and even the base model gets the cool 18-inch wheels. So our choice would be the entry-level GTI with the manual transmission, though we'd make ours the 4-door model to ease access to the backseat. At under $25,000, this configuration is an outright bargain.