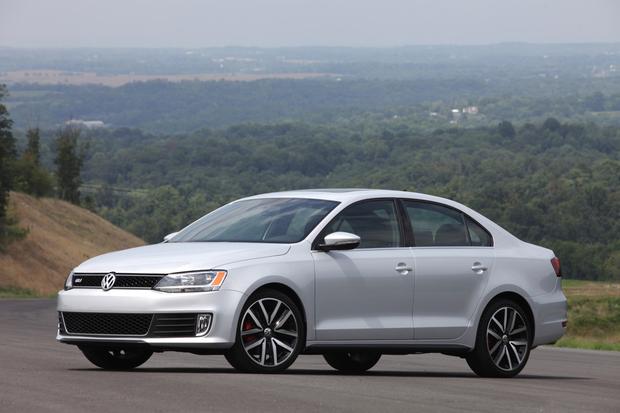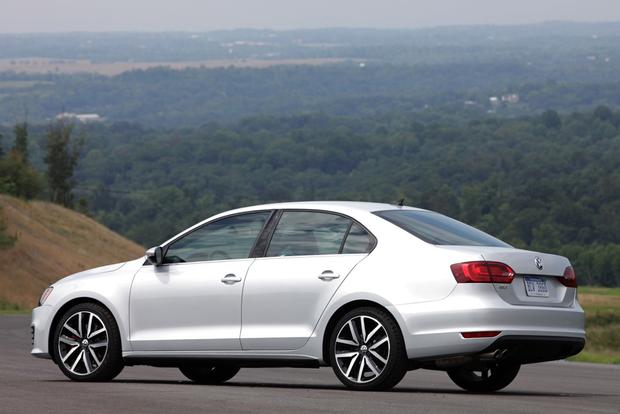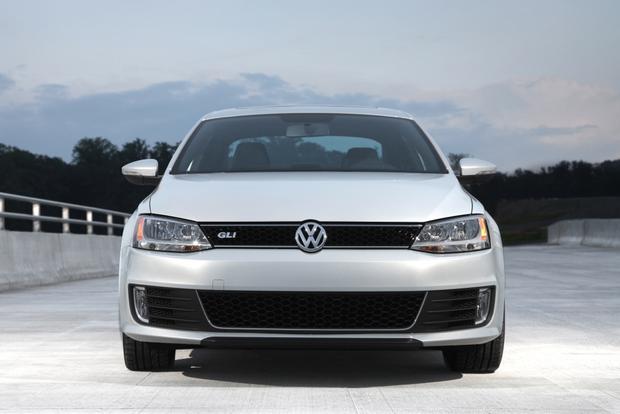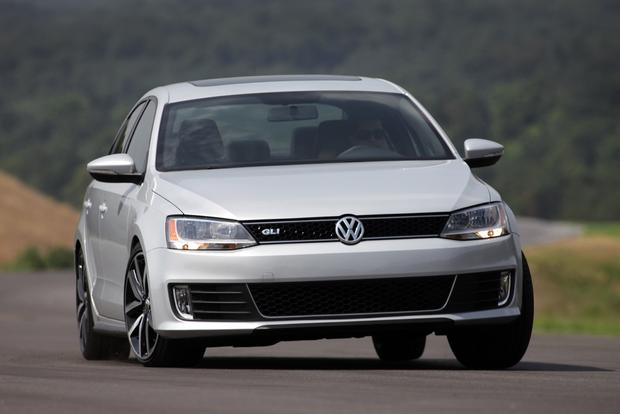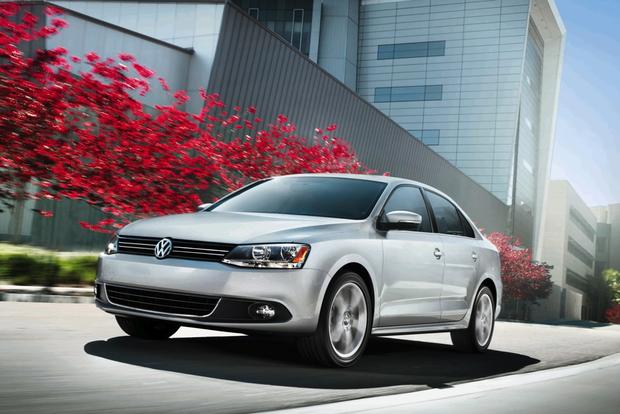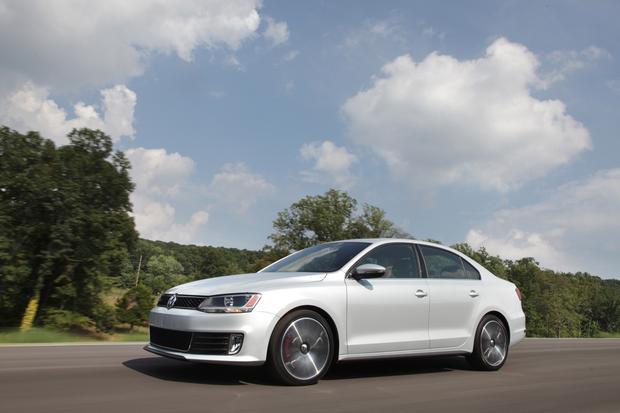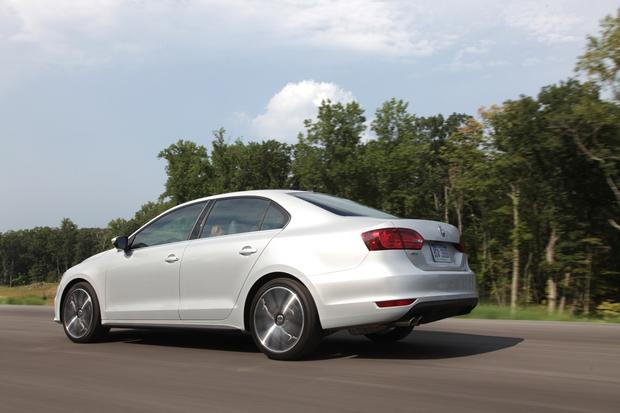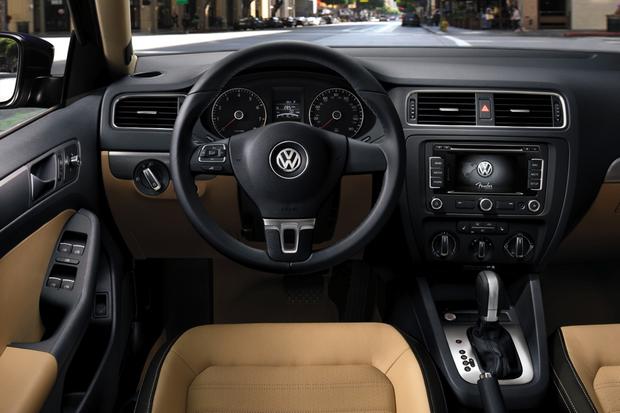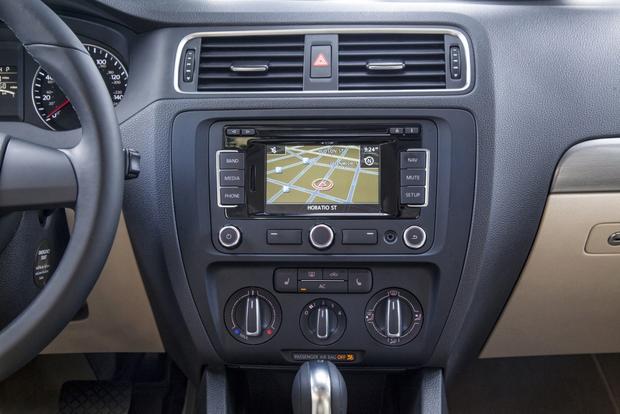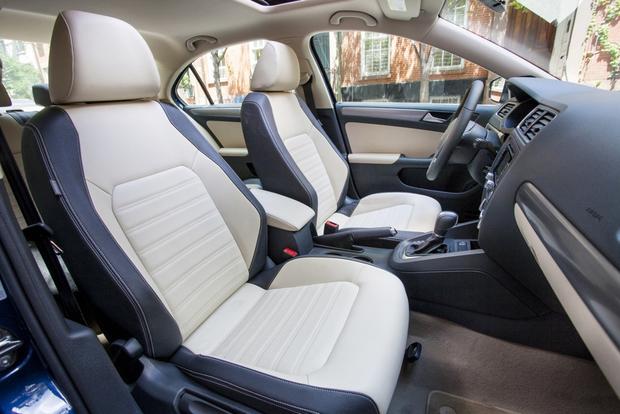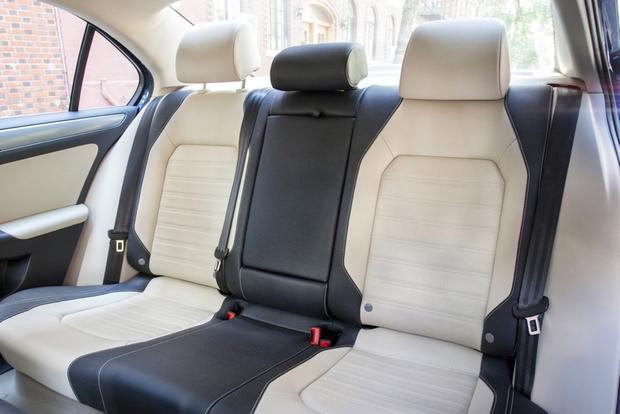 Pros: Roomy back seat; ample cargo space; refined ride; great optional turbodiesel engine; handy SportWagen is based on the upscale old Jetta.
Cons: Bargain-bin interior look (sedan); iPod/Bluetooth not offered below $20,000; subpar fuel economy in 2.0L and 2.5L models.
What's New: Four-wheel disc brakes are standard on every 2013 Volkswagen Jetta. The GLI gets standard launch control with the automatic transmission and can be equipped with bi-Xenon headlights and a rearview camera. The SEL gets the GLI-spec soft-touch dashboard, and the TDI lineup will follow suit during the year.
Stay tuned for coverage of the Jetta Hybrid, which is slated for a late fall/early winter debut.
Introduction
When it comes to selling cars, a low price usually trumps whatever critics have to say. That's certainly true of the latest Volkswagen Jetta, which has been panned in the press for its obvious cost-cutting measures but sells like hotcakes anyway thanks to its rock-bottom starting price. In other words, Volkswagen could simply ignore folks like us and keep raking in the profits. But instead the 2013 Volkswagen Jetta features improvements that seem designed to get critics and car buyers on the same page.
Most notably, the sporty GLI sedan and the SportWagen are no longer the only Jettas with a soft-touch dashboard. For 2013, the SEL sedan with the 2.5-liter engine gets one, too, and every Jetta TDI sedan will have gone soft by the end of the year. It might seem like a small gesture, but the uptick in perceived quality is dramatic. Moreover, the rear drum brakes that we complained about last year have been replaced by superior discs on every 2013 Jetta.
That said, we remain unimpressed by the budget-priced base sedan, the one starting under $17,000. Not only does this model have a low-budget looking interior, it's also saddled with a 2.0-liter engine that first appeared in the 1993 Jetta.
Accordingly, we're still not as bullish as the buying public on what this VW has to offer. But with the 2013 lineup's laudable tweaks, we're ready to reinstate the Jetta's membership in the must-drive club. Kudos to Volkswagen for looking beyond the sales numbers and refusing to rest on their laurels.
Comfort & Utility
The Jetta comes as either a sedan or a wagon (SportWagen) in four basic trim levels defined by engine: sedan-only 2.0L, 2.5L, TDI and sedan-only GLI. Each trim comes with different optional packages.
The entry-level 2.0L S features 15-inch steel wheels, full power accessories, heated exterior mirrors, air conditioning, height-adjustable front seats, a tilt-telescopic steering wheel, cloth upholstery and a 4-speaker audio system with an auxiliary input. The 2.0L S with Sunroof adds a sunroof, a front center console with an armrest and cruise control.
The 2.5L SE gets all of the above plus 16-in steel wheels, partial power front seats, leatherette upholstery, leather trim (for the steering wheel, shift knob and handbrake lever) and a rear center armrest. The 2.5L SE with Convenience adds 16-in alloy wheels, heated front seats, steering-wheel-mounted controls, Bluetooth connectivity and a 6-speaker sound system with iPod integration.

If that's not enough luxury for you, there are two additional 2.5-liter Jettas. The 2.5L SE with Convenience and Sunroof adds a sunroof and a touchscreen stereo interface with an SD-card reader, while the 2.5 SEL tacks on 17-in alloy wheels, fog lights, grippier front seats with driver lumbar adjustment, keyless entry with push-button ignition, a soft-touch dashboard, an SD-based navigation system and a multifunction trip computer. The SEL can also be outfitted with a navigation system and a 400-watt Fender-branded audio system with a subwoofer.
The base TDI model gets mostly the same equipment as the 2.5L SE with Convenience, but note that the entire TDI lineup will feature the soft-touch dashboard by the end of the year. The TDI with Premium contributes a sunroof and the Fender audio system with a touchscreen interface. The TDI with Premium and Navigation brings 17-in alloy wheels, chrome exterior trim, fog lights, keyless entry with push-button start, driver lumbar adjustment and the SD-based navigation system.
The base GLI comes with different 17-in alloy wheels, a subtle exterior body kit, red-painted brake calipers, fog lights, darkened taillights, sport pedals, red interior stitching, front sport seats with driver lumbar adjustment, cloth upholstery, a soft-touch dashboard, iPod/Bluetooth connectivity and the 6-speaker touchscreen stereo.

The GLI Autobahn adds 18-in alloy wheels, a sunroof, leatherette upholstery, heated front seats, heated washer nozzles, a cooling glovebox, dual-zone automatic climate control and the Fender audio system. The GLI Autobahn with navigation throws in bi-Xenon headlights with LED accents, keyless entry with push-button start and the SD-based navigation system with a rearview camera.
The SportWagen has a slightly different options structure, starting with a unique 2.5L S model that's basically a hybrid of the sedan's 2.0L S and 2.5L SE trims in terms of equipment. Also available as a TDI, the SportWagen has the same general feature set as the sedan, but it's a little fancier and pricier.
In our interior evaluation, we noted that the Jetta's standard front seats offer VW's familiar firm support, especially when the available lumbar adjustment is present. Lateral support is lacking, however, unless you get the sporty GLI, which has special sport seats that feature prominent side bolsters. The standard tilt-telescopic steering wheel and height-adjustable driver's seat help short and tall drivers alike find a comfort zone at the Jetta's helm.
Although the Jetta ostensibly competes against compact cars like the Civic and Corolla, its back seat is closer to midsize. Even 6-footers will have no problem fitting in the Jetta's rear quarters, and there's considerably more real-world legroom than in the diminutive Golf. We don't think it would have killed VW to make a rear center armrest standard on the base 2.0L sedan, but now we're picking nits. Overall, the Jetta's back seat is a major plus.
At 15.5 cu-ft, the sedan's trunk is huge relative to what the competition offers; the typical compact sedan's trunk checks in around 13 cu-ft. As for the SportWagen, it's got 32.8 cu-ft behind the rear seatbacks and 66.9 cu-ft with those seatbacks folded down. That's crossover SUV territory.
Technology
It's not surprising that the stripped-down 2.0L doesn't offer iPod or Bluetooth connectivity, but we're disappointed that the cheapest Jetta to offer these features is the 2.5L SE with Convenience, which lists at over $20,000. Moreover, if you want to use storage media in your Jetta, you'll have to step up to the pricier 2.5L SE with Convenience and Sunroof (or just the 2.5L SE if it's a SportWagen), and even then you only get an SD-card reader, not a USB port.
The Jetta does offer some appealing technology though, including an intuitive touchscreen audio system and an SD-based navigation system, not to mention a crisp-sounding Fender stereo (sedan-only). Just be prepared to pay a little more than you might expect.
Performance & Fuel Economy
The Jetta 2.0L is powered by a 2.0-liter inline-4 rated at 115 hp and 125 lb-ft of torque. A 5-speed manual is the standard transmission (it's what keeps the price under $17,000), with a 6-speed automatic available as an option. We're having a hard time thinking of a less appealing engine in any car on the market. It's dramatically underpowered by current standards, and while fuel economy is passable with the manual at 24 mpg city/34 mpg highway, it's a dreadful 23/29 mpg with the automatic.
Fortunately, the Jetta 2.5L is much more pleasant thanks to its 2.5-liter inline-5, which makes 170 hp and 177 lb-ft of torque with the same transmission choices. Haters love to hate on this engine, but honestly we can't get enough of its distinctive 5-cylinder growl. It's got strong midrange torque, too. Fuel economy is again lackluster, however, at 23/33 mpg with the manual and 24/31 mpg with the automatic.
The Jetta TDI swaps out the inline-5 for a 2.0-liter turbodiesel inline-4 rated at 140 hp and 236 lb-ft of torque. The transmission is a 6-speed manual or a 6-speed dual-clutch automated manual. Although the Jetta TDI is hardly a fast car, the turbodiesel's strong low-end torque makes quick bursts a breeze. It's ideal for passing and merging in urban areas. Fuel economy is outstanding at 30/42 mpg with either transmission in the sedan, though the SportWagen drops to 29/39 mpg with the dual-clutch automatic.
Finally, the Jetta GLI features the same 2.0-liter turbocharged inline-4 as the GTI hot hatch. Rated at 200 hp and 207 lb-ft of torque, the GLI's engine is notable for its assertive torque across the rev range, as well as pretty respectable speed when you're pushing it. Fuel economy is a plus as well, checking in at 22/33 mpg with the 6-speed manual and 24/32 with the 6-speed dual-clutch automated manual.
Safety
The Jetta comes with standard stability control and six airbags (front, front side and full-length side curtain). Every Jetta now features 4-wheel anti-lock disc brakes. Previously, lower sedan trims were stuck with inferior rear drum brakes.
In government crash testing, the Jetta sedan received four stars out five overall, including four starts for frontal impacts and five stars for side impacts. The government hasn't crash tested the SportWagen using its latest methodology, but the independent Insurance Institute for Highway Safety (IIHS) gave both the Jetta sedan and the SportWagen its highest rating of Good in every crash test category.
Driving Impressions
Much initial attention was given to the current Jetta's rear suspension, which was demoted to a less sophisticated torsion-beam setup except in the GLI and SportWagen. But to our surprise, the Jetta still delivers that classic German blend of suppleness and athleticism. In normal driving, the Jetta's ride may strike some as a bit firm, but impact harshness is rarely an issue. It's a pretty refined car overall.
Speaking of the GLI, we expected it to feel like a GTI sedan on secondary roads, but in truth the GLI is closer to a Jetta 2.5 SEL with a better engine. Handling is competent but not especially sporty. No shame in that, though; the GLI still offers a compelling medley of virtues, and the price is right.
Other Cars to Consider
Ford Focus - Raised on European roads, the Focus actually out-Euros the Jetta with its slick athleticism.
Hyundai Elantra - The lightweight Elantra naturally lacks the Jetta's Germanic solidity, but we like its compact, nimble feel, not to mention its excellent fuel economy and value for the dollar.
Mazda3 - Provided you find the model's grinning face endearing, try one out with the SkyActiv 4-cylinder engine. It gets great fuel economy while retaining Mazda's fun-to-drive edge.
AutoTrader Recommends
We think the SportWagen TDI is the pick of the litter, delivering the cargo capacity of an SUV and the fuel economy of a subcompact.