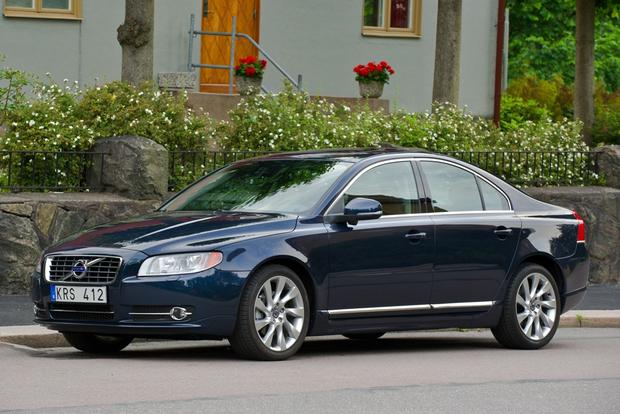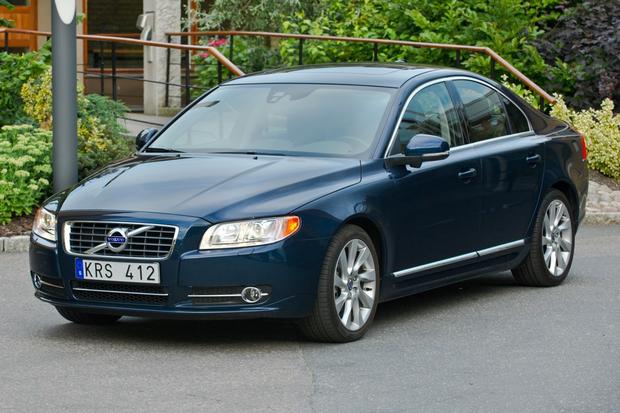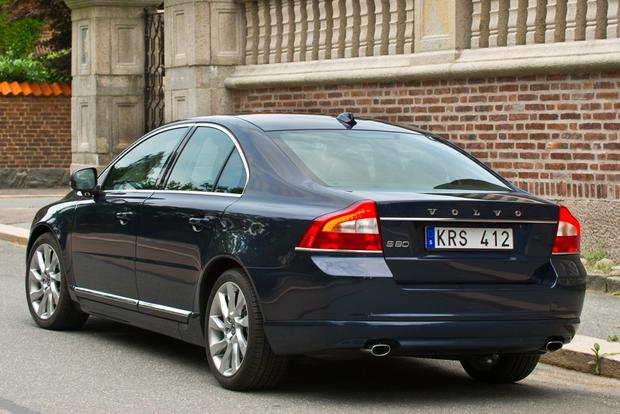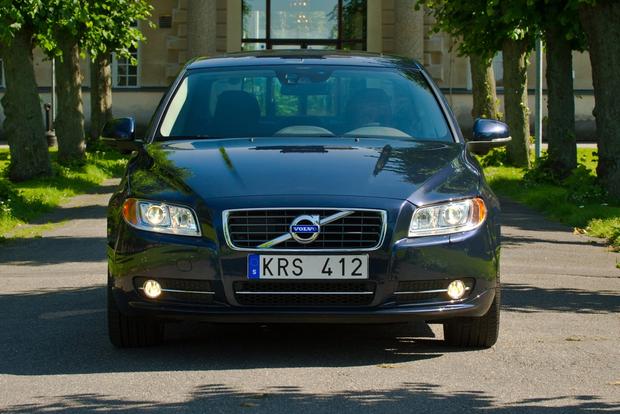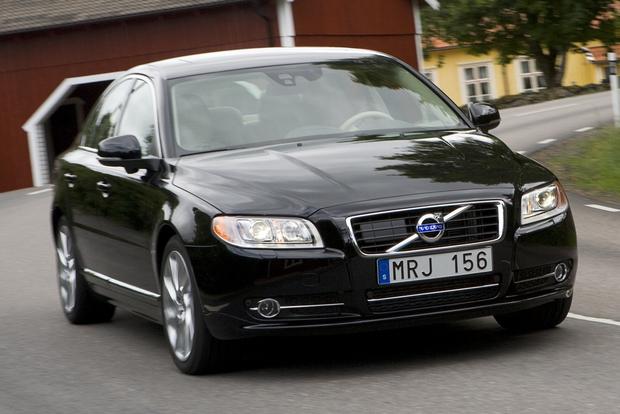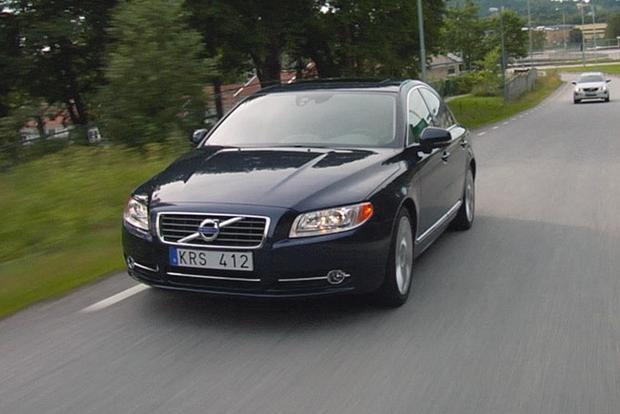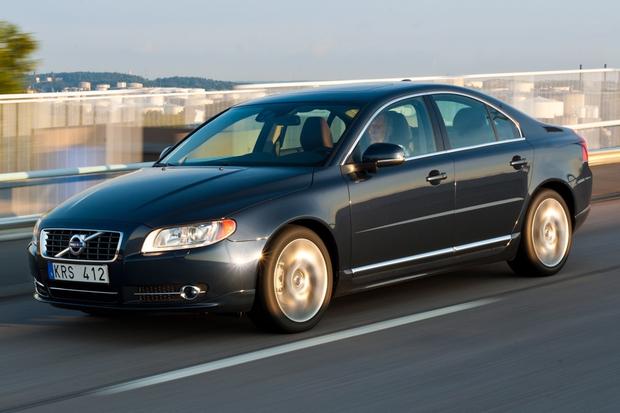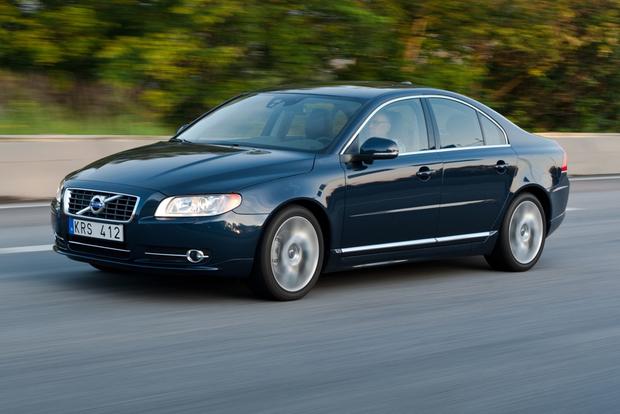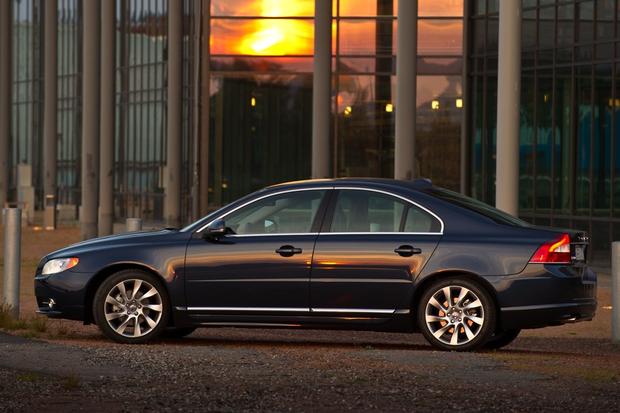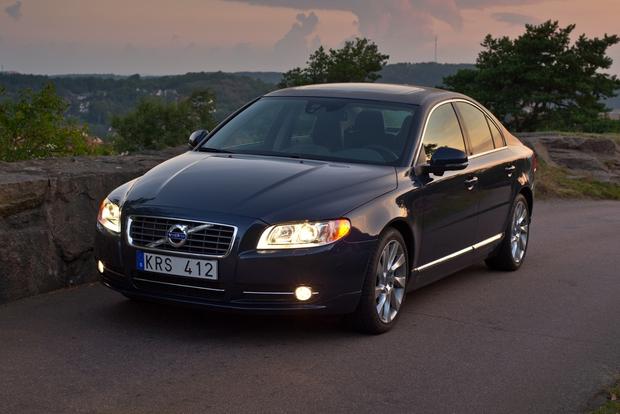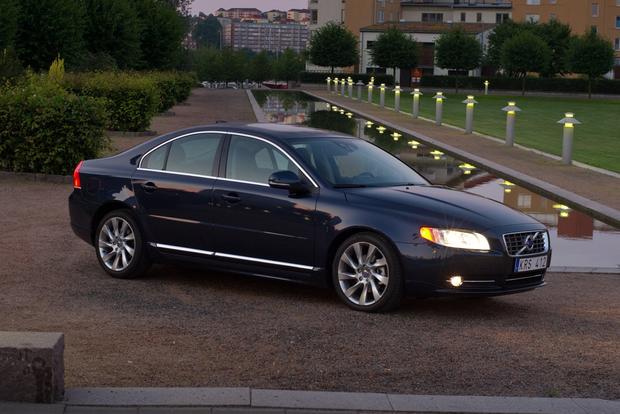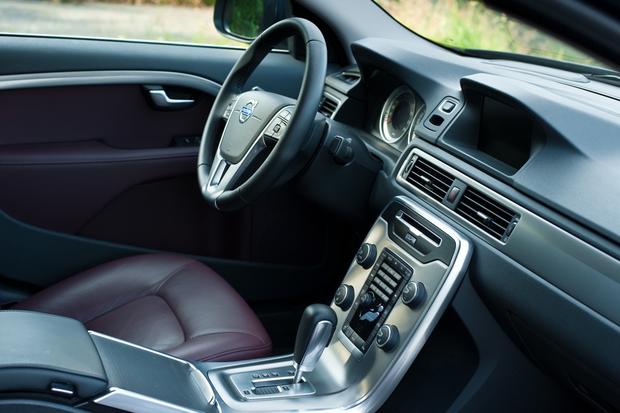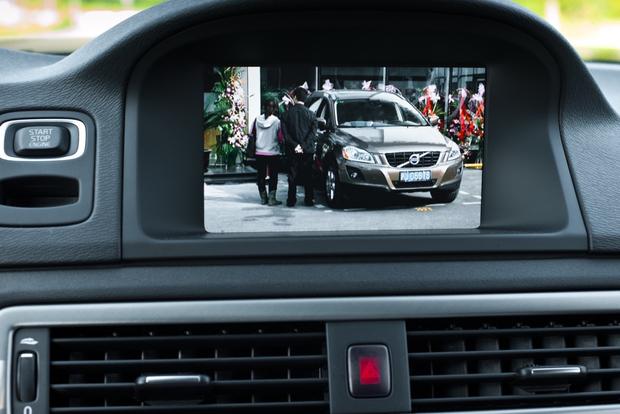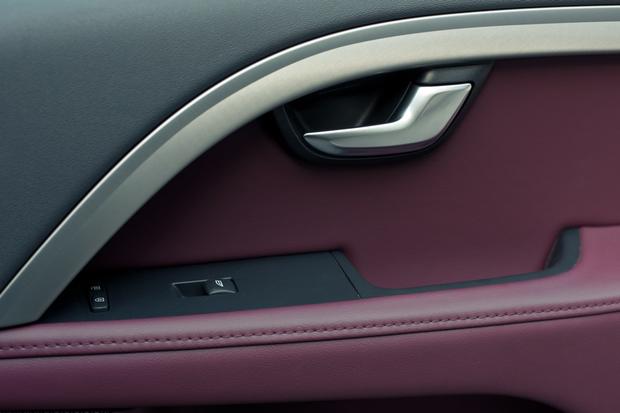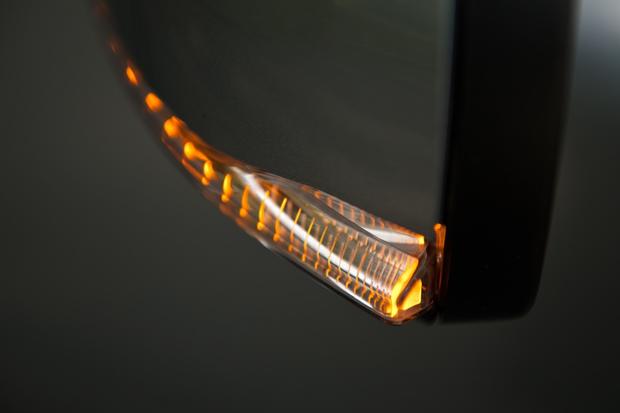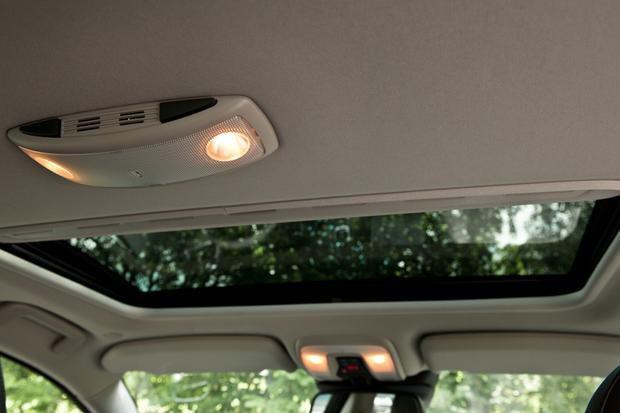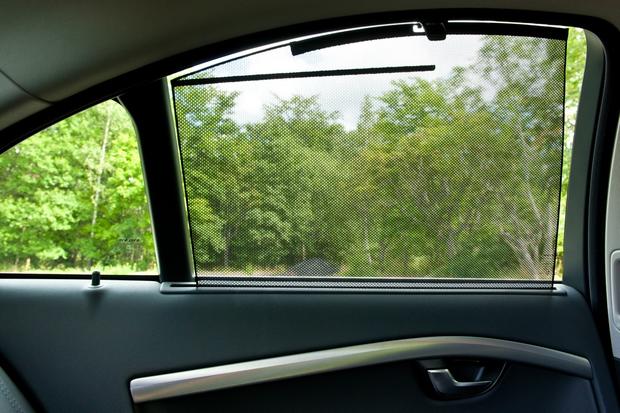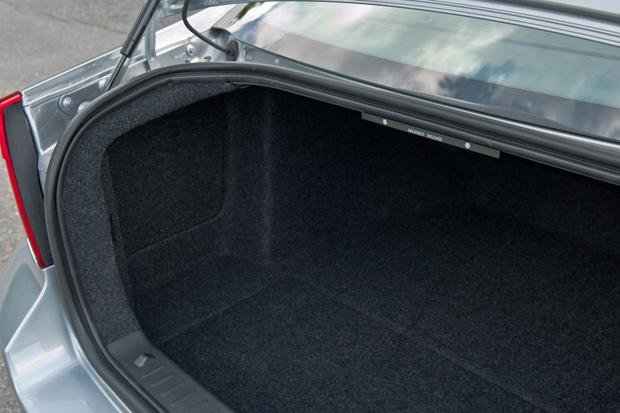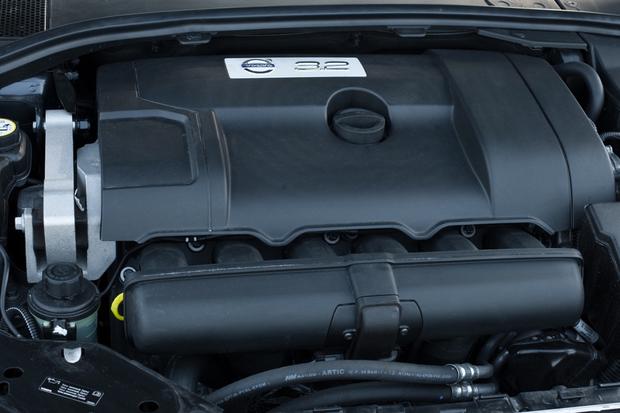 Pros: Surprisingly affordable; strong optional turbocharged inline-6; high-quality cabin; stellar seat comfort
Cons: Weak base engine; generally feels outclassed by newer rivals; S60 is more exciting
New for 2013: Minor technology features added
The 2013 Volvo S80 is Volvo's flagship sedan. It is also a sedan version of the XC70 wagon/crossover, though because it is a luxury car it rides lower to the ground. Last redesigned for 2006, the S80 is not the most exciting entry in its price class, wearing styling that was avant-garde in its heyday but looks conservative today.
What it is, however, is very well equipped and surprisingly affordable. Volvo has adopted an aggressive strategy with the S80, offering its top-of-the-line sedan at prices you'd expect to pay for, say, a new BMW 3 Series. Curiously, the S80 faces some internal competition from Volvo's own S60 sport-luxury sedan, which was redesigned for 2011 and very well received. So what value does the S80 add? Well, it has a bigger backseat than many comparably priced sedans, for one thing, and conveys more elegance in that understated Swedish way. There's maturity to the S80, if you will, that sets it apart from the so-called entry-level offerings that populate this price point. Think of it as Europe's Buick.
Indeed, the S80 deserves more consideration than it gets. If you find its looks appealing, take one for a spin; you might be pleasantly surprised by the S80, a flagship that isn't priced like one.
Comfort & Utility
The 2013 Volvo S80 is offered as either the 3.2 or the T6 AWD -- those designations refer to the drivetrains, discussed in detail below -- each of which come in base, Premier Plus and Premier Platinum trim levels. Standard features on the base 3.2 ($39,150) trim include 17-inch wheels, leather upholstery, power front seats, automatic climate control, a 7-in information and entertainment display screen and an 8-speaker audio system with iPod/USB and Bluetooth connectivity. Opting for the Premier Plus ($40,300) trim nets front and rear parking sensors and keyless entry/ignition, while the Platinum trim ($43,000) adds a 650-watt Dolby Pro Logic II surround sound stereo and a voice-activated navigation system.
The base T6 AWD ($43,150), T6 AWD Premier Plus ($44,300) and T6 AWD Platinum ($47,000) follow the same general equipment strategy as their 3.2 model counterparts. They add a sunroof (optional on the 3.2), 18-in wheels and can be equipped with a Dynamic Package that includes special 18-in wheels, a lowered sport suspension with stiffer calibrations and auto-leveling capability, sport seats and sanded silver interior trim. For $2,300, there's also a fancy Inscription appearance package available for the T6 AWD models with upscale interior touches like a walnut steering wheel, leather-covered dashboard, softer leather seats, ventilated seats and more.
As with the exterior, the S80's interior is understated and classy, with top-notch materials all around, a sleek center panel with sensible controls (including Volvo's unique humanoid diagram for airflow control) and a generally luxurious vibe that speaks well of Volvo's attention to detail. The front seats are wonderful, providing drive-all-day comfort to a degree that few others can match. While the backseat isn't as huge as that of a Mercedes-Benz S-Class, there's considerably more rear passenger space than in the S60 and its rivals.
Trunk capacity is 14.9 cu ft, which is about average for a luxury sedan of this size.
Technology
The S80 comes standard with iPod/USB and Bluetooth, so it's got those boxes checked. The new 7-in information and entertainment display has impressive graphical quality, and we don't mind that it's not a touchscreen, as the straightforward buttons under the screen guarantee that you won't have to deal with fingerprint smudges. Compared to the wide-screen displays in the latest Audi and BMW sedans for example, the S80 model's display seems outdated, an impression that is strengthened by the dash-top hump in which it is set. The technology is okay, but we're just worried that the overall effect is a bit quaint by current standards.
Optional on the S80 3.2 for $2,100 is a Technology package that includes adaptive cruise control, collision warning, pedestrian detection, distance alert, driver alertness monitor, lane departure warning, road sign information and active high beams.
Performance & Fuel Economy
The S80 3.2 comes with front-wheel drive and a 3.2-liter inline-6 good for 240 horsepower and 236 lb-ft of torque. This is a rather sluggish and unrefined engine by luxury-sedan standards, so we'd strongly advise investing a few extra grand for the T6. That way, you'll have a turbocharged 3.0-liter inline-6 with a very potent 300 hp and 325 lb-ft of torque, and as a bonus, the T6 also has standard all-wheel drive. Bear in mind, however, that the T6 gets just 18 miles per gallon city/26 mpg highway, while the 3.2 achieves 20 mpg city/29 mpg hwy. A decent 6-speed automatic transmission is standard in every S80.
Safety
As the flagship of a company famous for its safety, the Volvo S80 is a safety superstar. It has standard stability control, six airbags and an optional suite of computer-driven safety features, including an available collision/pedestrian avoidance system that can bring the car to a full stop if an impact is deemed imminent. Blind spot monitoring is also optional.
The government hasn't crash tested an S80 using its new methodology, but the independent Insurance Institute for Highway Safety (IIHS) awarded the S80 its top rating of Good in every category, not surprisingly.
Driving Impressions
The S80 has a nose for the fast lane, hunkering down at high speeds the way a good European luxury sedan should. Otherwise, though, it drives like a flagship, which means it's well isolated from the elements but not remotely engaging. If you're looking for a comfortable commuter with room for four adults, you could do much worse than the S80. Just don't expect much in the way of driver involvement. This Volvo is a throwback to the days when luxury meant soft, smooth and straight-ahead. We can see the appeal in that.
Other Cars to Consider
BMW 3 Series - The S80's pricing is so moderate that the 5 Series is too expensive to compare, so if you're interested in a BMW, see if you find the new 3 Series ($36,850) suitably sized. It certainly spanks the S80 in performance, fuel economy and tech, but styling and quality? Those are tough ones. It also gets really expensive really quickly, once you hit the options page.
Cadillac CTS - Slightly larger than the 3 Series, the rear-wheel drive CTS ($39,095) is much like the S80, at least in base form. Expect engaging performance with the 3.6-liter V6 and less, um, subtlety than the Volvo.
Lincoln MKS - Like the S80, Lincoln's MKS ($42,810) is plus-sized and stately, with a quiet ride, high-feature interior and smooth engines. The Lincoln, however, has real muscle under its zoot suit, including a 365-hp turbocharged V-6/all-wheel drive combo that can really move.
AutoTrader Recommends
We'd go with the T6 AWD model and add the Dynamic Package for the lowered, sport-tuned suspension. However, most Volvo customers are highly safety-minded, and for them, we think the Technology package is a must-have.
What do you think of the new Volvo S80? Let us know in the comments below.