Editor's note: You may also want to read more of Autotrader's model vs. model comparison reviews as well as the 2013 Kia Optima review and the 2014 Kia Optima review.
It might not look like it, but the 2014 Kia Optima is one of the oldest midsize sedan designs for sale today, and that's why it gets a longer list of changes this year than might be considered normal. The 2014-model-year recipe of updates and upgrades is designed to keep this Kia compelling to family-sedan shoppers seeking a safe, stylish, and — with the optional turbocharged engine — speedy form of 4-door transportation.
Does this tactic work? Should midsize sedan buyers consider the 2014 Optima not only against the competition but also in comparison to certified pre-owned (CPO) Optimas that are likely sitting on the same dealership lot as the new one? That's what we're aiming to find out.
Exterior
Though the Optima is aging, it is doing so gracefully. Apparently Kia thinks so, too, because while updating the car for 2014, its designers didn't screw around too much with a good thing. Changes to the 2014 Kia Optima include restyled front and rear ends with revised bumpers, LED running lights up front, new LED taillights around back, available LED fog lights, a new grille and a revised trunk lid. Kia has also introduced new aluminum wheel designs for the 2014 Optima.
Generally, the Optima Hybrid gets the same updates for 2014, one year after Kia made significant improvements to the model's gas-electric hybrid powertrain. In the case of the 2014 Optima Hybrid, though, the styling modifications are focused on enhancing aerodynamics. The exceptions to the rule are new Hybrid badges and LED running lights that are unique to this model. See the 2014 Kia Optima models for sale near you
Interior
The updated 2014 Kia Optima makes a better case for itself once you swing open the doors. New seats greet the driver and passengers, designed to improve both lateral and thigh support, and the Optima Hybrid offers a new White Leather Package for people who don't have children. Or dogs. Or a propensity to eat inside the car.
Once the driver slides behind the 2014 Optima's redesigned flat-bottom steering wheel, he or she faces a new instrument cluster that now includes a 4.2-inch, thin-film-transistor information screen displaying lots of data. New trim finishes include gloss black, brushed metallic and chrome accents for a more upscale appearance.
These changes certainly make the 2014 Optima appealing, but it's what Kia offers for this car in terms of new technology that makes the strongest case for buying one.
Mechanicals
Don't get too excited. Kia hasn't made substantial changes to the 2014 Optima's powertrain lineup, but then, it didn't really need to. It has, however, downgraded the standard 2.4-liter 4-cylinder engine's horsepower rating from 200 ponies to 192 hp. That's still easily competitive with the 4-cylinder engines in other midsize sedans, though.
If the reduction in hp bothers you, then you have more reason to opt for the thrilling 274-hp, turbocharged 2.0-liter 4-cylinder engine in the Optima SX Turbo and SX Limited models. Kia also offers a gas-electric hybrid powertrain in the Optima Hybrid model, and it is designed to get as many as 40 miles per gallon on the highway, according to the Environmental Protection Agency.
The one upgrade to the 2014 Kia Optima that is related to improving driving dynamics is the addition of a new Drive Mode Select system for the Optima SX and SX Limited models. Drive Mode Select adjusts the transmission and electric steering calibration to one of three settings: Normal, Sport and Active Eco. Is this enough to sway a decision in favor of the new 2014 model? Not likely.
Features
Kia outfits the 2014 Optima lineup in similar fashion to last year, offering the car in LX, EX, SX, SX Turbo and SX Limited trim levels. This year, though, all versions except for the base LX model gain a standard Smart Key passive-entry system with push-button engine-starting. Some people like these types of systems, and some don't. Whether you fall into the former or latter camp likely dictates whether you would prefer a brand-new Optima or an older, CPO version.
Technology
When it comes to technology, though, I think we can all agree that the 2014 Kia Optima is the more sophisticated machine. A new high-resolution, 8-in touchscreen infotainment system is optional for all versions of the 2014 Optima except for the SX Limited model, for which it is standard. The system includes a reversing camera and subscription-free UVO eServices, the latter being a smartphone-pairing technology that allows the driver to make and receive phone calls, stream music via the phone or Internet radio stations, and — thanks to the Parking Minder feature — even find the Optima in a crowded parking lot.
Choose the Optima EX, SX or SX Turbo, and UVO eServices can be paired with a navigation system with real-time traffic information. Only the SX and SX Turbo, however, offer a premium audio system with HD Radio in conjunction with UVO.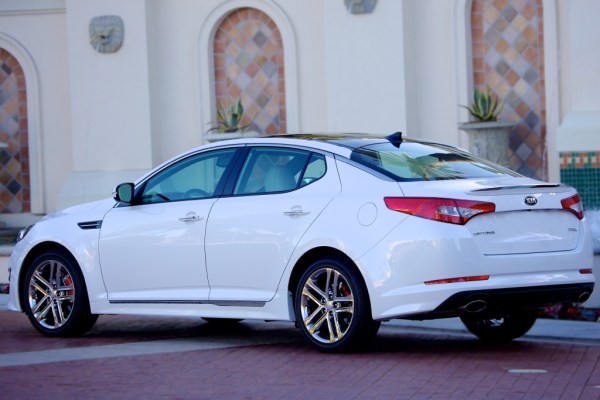 Safety
In addition to infotainment system improvements, the 2014 Kia Optima gains new safety features in the form of rear parking-assist sensors, a blind spot monitoring system and a rear cross-traffic detection system. Plus, the UVO eServices system provides 911 Connect services, which activates if the car's airbags deploy and puts 911 emergency-services personnel in touch with the Optima's occupants. The system can also communicate the car's exact location in order to speed rescuers to the scene of a collision.
In the event that a 2014 Optima does crash, rest assured knowing it is one of the safest midsize sedans for sale today, with one exception. In crash tests conducted by the National Highway Traffic Safety Administration (NHTSA), the Optima earned a 3-star rating for front-seat occupant protection in a side-impact collision. Otherwise, the Optima gets a 5-star overall rating from the NHTSA, as well as a Top Safety Pick designation from the Insurance Institute for Highway Safety.
Conclusions
For 2014, Kia successfully addresses the Optima's shortcomings without ruining what's been right about this car since it debuted for the 2011 model year. The 2014 Optima might be one of the oldest midsize cars on the market, but it also remains one of the most compelling choices in the segment. Find a Kia Optima for sale