Editor's note: If you're looking for information on a newer Mini Cooper, we've published an updated review: 2018 Mini Cooper Review.
You're forgiven if you've seen the redesigned 2014 Mini Cooper Hardtop and haven't noticed anything different about it. As is tradition, the new 2014 model looks much like the 2013 model it replaces, another Mini Cooper in a long line of Mini Coopers that, to most people, all look pretty much the same. However, as is also tradition, the engineering and the technology underneath the new 2014 Cooper's iconic styling represent significant improvement over the car it replaces.
Therefore, Mini dealers are in a big hurry to get rid of remaining 2013 Cooper Hardtop models, and generous rebates, low interest-rate financing and excellent lease deals make the old Mini more appealing than ever. The question is, if you take advantage of these opportunities, what will you be missing out on with the all-new 2014 Mini Cooper? Let's take a closer look at the changes.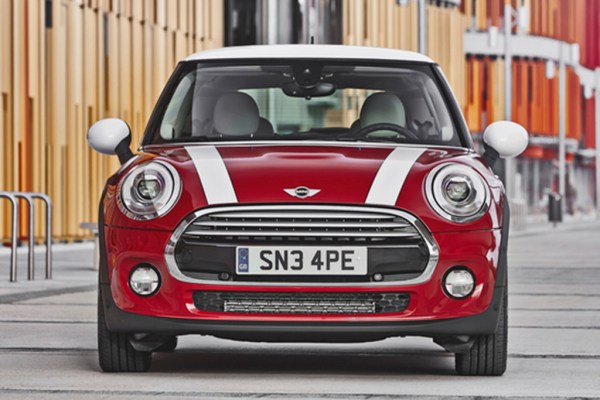 Exterior
With the new 2014 Cooper Hardtop, Mini increases the car's length by 4.5 inches, width by 1.7 inches and height by a third of an inch. The wheelbase is 1.1 inches longer than before, while the front and rear tracks are stretched by 1.7 inches and 1.5 inches, respectively. The result is a significantly larger footprint and a larger interior.
All the styling cues we've come to know and love are present and accounted for on the new Cooper. Round headlights, a hexagonal grille, side scuttles, a floating roof effect and vertical taillights represent classic Mini design in a modern way. The sporty Cooper S model continues to look the part, adding a hood scoop, center-mounted twin exhaust outlets, a rear spoiler, bigger wheels and other appearance tweaks intended to convey its performance capabilities.
While the new Cooper looks much like the old Cooper, the 2014 model is more aerodynamic than the 2013 model thanks to a 0.28 coefficient of drag, allowing Mini to claim fuel economy improvements over the previous model. Once the Environmental Protection Agency finalizes the 2014 Mini Cooper Hardtop's ratings, we'll all be able to confirm that assertion. See the 2014 Mini Cooper models for sale near you
Interior
As is true of the new Mini Cooper's exterior styling, the bigger interior adopts familiar design themes while providing added comfort for four passengers plus lots of extra cargo room. In the new Cooper, trunk capacity increases by more than 50 percent to 8.7 cu ft. Fold the back seat down and the car swallows 38 cu ft of your stuff.
For 2014, a start/stop ignition toggle switch is mounted on the dashboard beneath the climate controls, while switches for the headlights, the fog lights and the power windows move to conventional locations. If you're like me, a fan of the old Cooper's big dash-mounted speedometer, you'll be bummed to learn that you can't get one in the redesigned 2014 Mini Cooper. In the new car, the speedometer, tachometer, fuel gauge and a color information display are mounted to the steering column, while the round center control panel on the dashboard includes a second information display and the radio controls.
This same location is where Mini plugs the Cooper's optional 6.5-in or 8.8-in color infotainment displays, which support the available Mini Connected system, navigation system and more. A Mini touch controller surrounded by buttons, all mounted to the center console, operates these components and mimics the iDrive technology offered by Mini's parent company, BMW. As an upgrade, a dynamic LED lighting ring changes color to correspond to how the car is driven or to reflect operation status of various vehicle features.
Mini claims the new Cooper's interior is constructed of higher-quality materials than before, and as has been true of the modern Mini Cooper for well over a decade, the range of colors, materials and finishes is seemingly limitless. As a result, there's no reason you can't make a new 2014 Mini Cooper Hardtop uniquely yours.
Mechanicals
Mini kicks the old Cooper's underpowered 1.6-liter 4-cylinder engine to the curb, replacing it with a turbocharged and direct-injected 1.5-liter 3-cylinder engine in the 2014 Cooper. While its 134 horsepower might not sound impressive, keep in mind that it peaks from 4,500 rpm to 6,000 rpm, following closely behind the 170 lb-ft of torque* that starts at just 1,250 rpm. As a result of this power band, Mini says the base Cooper Hardtop accelerates to 60 miles per hour in 7.3 seconds with the optional 6-speed automatic transmission. Stick with the standard manual gearbox, and the same velocity arrives in 7.4 seconds.
If that's not good enough, the 2014 Cooper S shaves nearly a second off of that acceleration time thanks to a turbocharged and direct-injected 2.0-liter 4-cylinder engine. This motor's power spread is in keeping with the base engine's character, delivering 189 hp from 4,700 rpm to 6,000 rpm and up to 221 lb-ft of torque* starting at 1,250 rpm. Top speed for this model is 146 mph with the standard 6-speed manual gearbox.
The 2014 Mini Cooper's optional automatic transmission includes stop/start technology, which shuts the engine off when the car is idling. In conjunction with the optional navigation system, the software-controlled transmission shift points take the current route of travel into consideration when selecting gears in order to maximize fuel economy or performance, depending on how the car is set up and driven. A sports automatic transmission with paddle shifters is also available to further maximize performance.
New Mini driving modes come standard on all 2014 Cooper Hardtops, allowing the driver to select between Green, Mid and Sport driving modes, each calibrating engine response, steering effort level and engine acoustics accordingly. When coasting at speeds between 31 mph and 99 mph in Green mode, the transmission decouples from the engine in order to conserve fuel. In Cooper S models, the Mini driving modes also adjust the shift points for the optional automatic transmission and modify settings for the optional Dynamic Damper Control suspension, which is a new feature for 2014.
Additionally, the Cooper's electric steering is refined and features new torque-steer compensation technology. Hill assist, a brake-drying function and fading brake support are new standard features for 2014, and the previously optional dynamic traction control and electronic differential lock control are also included for all 2014 Cooper Hardtop models. New performance control technology is designed to counteract any tendencies toward understeer in the 2014 Cooper S.
*Reflects torque figures with the overboost system engaged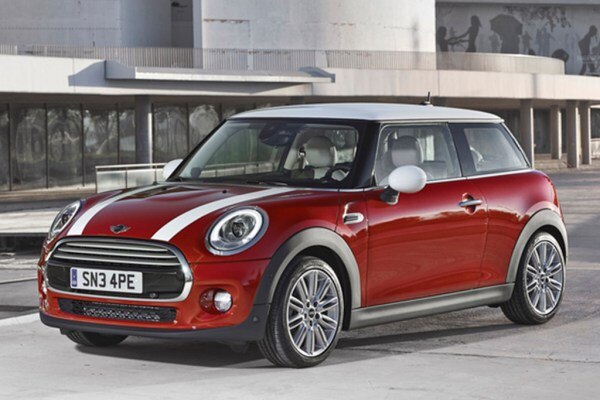 Features
Personalization is a perk of buying a Mini, and the new 2014 Cooper Hardtop can be configured in millions of different ways. Among the new features offered for 2014, buyers can install roof rails for the Cooper Hardtop, as well as an optional head-up display. Mini also offers new LED headlights with LED driving rings and adaptive light-distribution technology, LED fog lights and LED taillights. Pick these options, and nobody should have trouble seeing you coming or going.
Technology
With the redesigned 2014 Cooper, Mini expands the capabilities of its Mini Connected infotainment system's features, services and applications. Pair a compatible iPhone or Android smartphone to the system to enjoy multiple Internet radio choices, access to social-media platforms, RSS news feeds, MOG music-streaming service and more.
Safety
Eight airbags are standard in the 2014 Cooper Hardtop, including new knee airbags. A Driving Assistant Package is also new for 2014, containing active cruise control, collision and pedestrian warning with auto-brake capability, a high-beam assistant and a speed-limit information system.
Additionally, a new parking assistant feature automatically steers the Mini Cooper into a parallel parking space while the driver operates the transmission, brake and accelerator. Given the car's newly expanded dimensions, this technology might actually be useful.
Conclusions
All this new stuff is great, but do you need it? Or even want it? The whole point of buying a Mini Cooper is to reflect your jaunty self in sheet metal, and I'm sure many of you, like me, would prefer the smaller, less complex and older version of the Cooper, and not just because of the deal. That said, the 2014 Cooper Hardtop's new turbocharged engines are undeniably appealing, and anyone with experience knows the Cooper needs extra interior room.
Tell you what: Play around on Mini's website for a while, build a few versions of the car and then decide. Either way, I don't think you'll go wrong. Find a Mini Cooper for sale