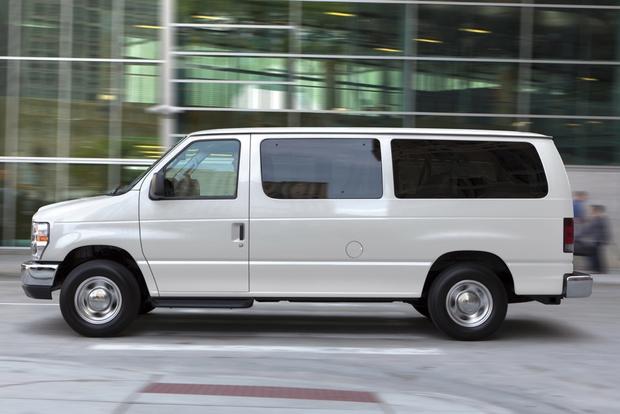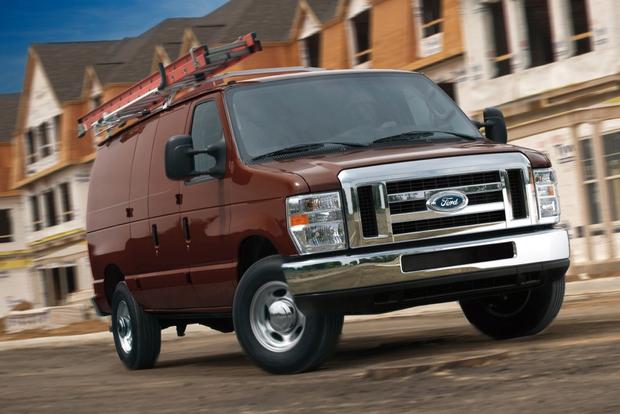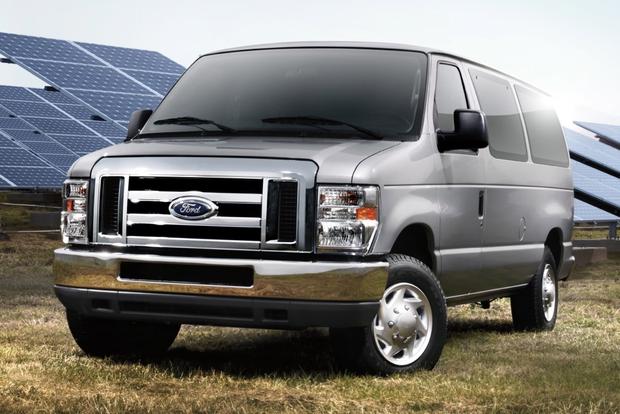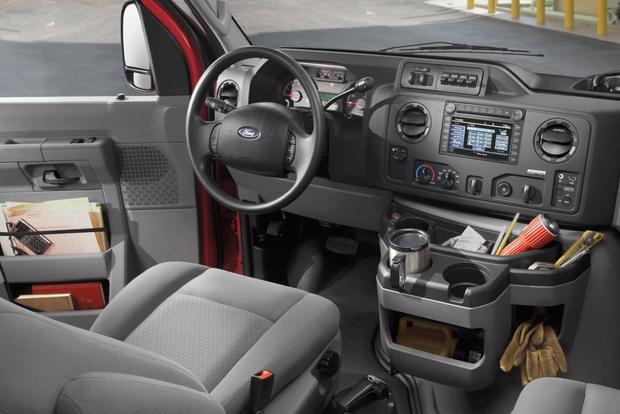 If you have big demands for moving people and/or cargo, a full-size van is probably your best bet. Thankfully, among the handful of vehicles capable of such feats is the 2014 Ford E-Series van, a time-tested workhorse loved by airport shuttle service and parcel delivery companies alike. With a well-established track record for reliability and longevity, the E-Series van outshines newer competitors who have yet to prove their worth.
Ford's E-Series van for 2014 comes in any number of configurations, including 1/2-, 3/4- and 1-ton models (E-150, E-250 and E-350), with passenger wagons available on 1/2- or 1-ton platforms. There are also standard and extended versions and a choice of gasoline- or CNG-powered engines. Keep in mind that the all-new, European-style Transit van is slated to replace the E-Series after this year.
What's New for 2014?
The 2014 Ford E-Series van sees no significant changes.
What We Like
15-passenger capacity; helpful work solutions packages; available V10 engine
What We Don't
No head restraints or side curtain airbag on the passenger wagon's rear seats; no diesel engine option or all-wheel drive
How Much?
TBD
Fuel Economy
The E-Series offers a choice of two V8 engines and one V10. The base engine for the E-150 and E-250 is a 4.6-liter V8 producing 225 horsepower and 286 lb-ft of torque. An optional 5.4-liter V8 good for 255 hp and 350 lb-ft of torque is available, standard on the E-350. The heaviest E-Series is also available with an optional 6.8-liter V10 rated at 305 hp and 420 lb-ft of torque. Both V8s are E85-compatible.
Fuel economy for the 4.6-liter V8 is rated at 13 miles per gallon city/17 mpg hwy (9 mpg city/12 mpg hwy when running on E85). The 5.4-liter V8 sees mileage drop to 12 mpg city/16 mpg hwy (9 mpg city/12 mpg hwy with E85). The V10 checks in at a dismal 10 mpg city/13 mpg hwy. Notably, it can be converted to run on compressed natural gas (CNG).
Standard Features & Options
The E-Series is offered as the regular-duty E-150 or heavy-duty E-250/E-350 in either Wagon (with rear seating and side windows) or Cargo (without rear seating and side windows) form. The Wagon features 8-, 12- or 15-passenger seating in XL and XLT trims, while the Cargo is offered in Commercial and Recreational trims. Two different wheelbase lengths are available.
The XL and Commercial trims come with just the basics, including steel wheels, manual accessories, air conditioning, vinyl upholstery, a tilt steering wheel and an AM/FM radio that has an audio input jack but no CD player.
The XLT and Recreational trims add modest luxuries, such as power accessories and a CD audio system.
Options include Ford's SYNC communication system and Crew Chief fleet management system. SYNC allows for voice control of a Bluetooth-enabled phone as well as control over an external MP3 player such as an iPod or Zune. The Crew Chief system allows fleet managers to track vehicles, dispatch drivers, keep tabs on vehicle maintenance and track usage patterns.
Those interested in the E-Series as a work vehicle will find it very accommodating, and we're not just talking about its massive cargo volume. The Outflex Composite Rack and Bins package, for example, includes multitiered shelves with snap-in dividers and a hardboard back, lockable storage drawers, a triple hook bar and a removable 2-drawer toolbox. Opt for the Masterack Work Bin Rack system and the E-Series becomes a rolling workshop, with steel drawers, shelves and storage cabinets as well as a full-length lockable partition between the van's work space and the passenger area. Other options for the E-Series include RV and Ambulance prep packages; the Crew Van package, which adds a 3-person second-row seat and a mesh bulkhead divider; and user-defined uplifter switches that permit aftermarket electronic devices to be wired to factory switches.
Safety
Regarding safety, the E-Series Van and Wagon shine in some areas but lag behind the times in others. Features such as AdvanceTrac with Roll Stability Control, ABS and an optional Trailer Brake Controller all help the driver control the big Ford van, but the omission of rear-seat side curtain airbags and the lack of head restraints on the passenger model's rear bench seats give us pause.
Neither the government nor the Insurance Institute for Highway Safety have crash-test results for the 2014 Ford E-Series.
Behind the Wheel
The E-Series van isn't fun to drive on twisting mountain roads. It doesn't rocket from 0 to 60 mph in less than six seconds, and it won't impress anyone at the country club. But the vehicles that do those things can't haul 15 people, lug a small hardware store in their trunk or tow up to 10,000 pounds. We'll just call it a draw.
Other Cars to Consider
Chevrolet Express/GMC Savana -- The GM twins can do everything the E-Series can do and then some. The E-Series has the same passenger volume as the Express/Savana, but both GM vans feature side curtain airbags for the first three rows. While the GM vans don't offer a V10 engine or the cool SYNC communications system, they do offer the options of a diesel engine and all-wheel drive.
Nissan NV -- Nissan's full-size van is new to the market, so it's hard to gauge its long-term reliability and resale value. The NV offers a taller ceiling height than the E-Series, and we prefer its dash and front-seat design. The NV also offers a more economical 6-cylinder engine, as well as a V8 with more horsepower and torque than the E-Series' V8s. Although the NV can only carry 12 passengers, it provides them with proper head restraints, seat-mounted seat belts and side curtain airbags.
Mercedes-Benz Sprinter -- The Sprinter vans cost a bit more than their E-Series counterparts, but they offer more interior volume, a more fuel-efficient diesel engine and lower step-in height. However, when it comes to gross vehicle ratings, the E-Series can haul and tow more weight.
AutoTrader's Advice
If you're doing light to moderate towing and hauling, the standard-wheelbase E-150 with the 4.6-liter V8 should be more than sufficient. Heavier jobs require the V10 and E-350 chassis, but this combo will result in poor fuel economy. If you're running a fleet and fuel costs are a major headache, you may consider the CNG conversion.