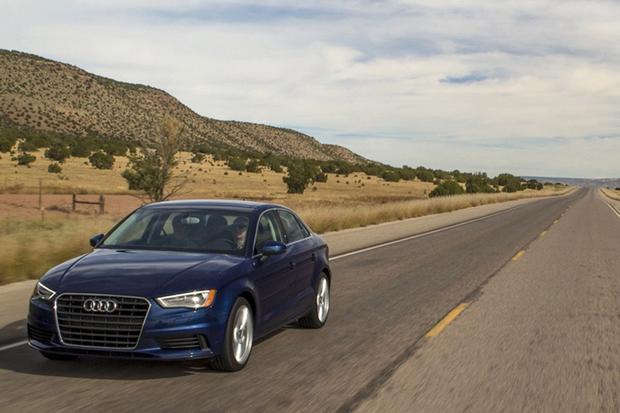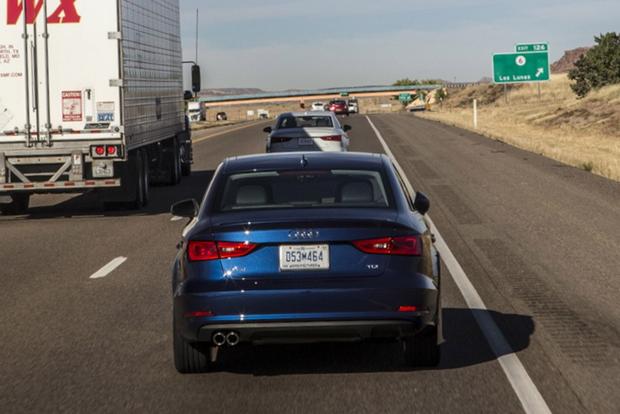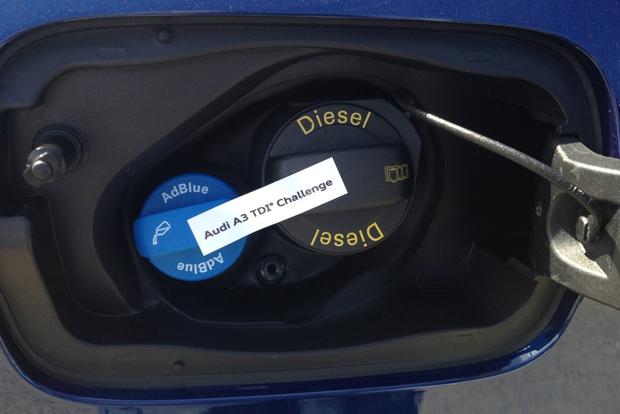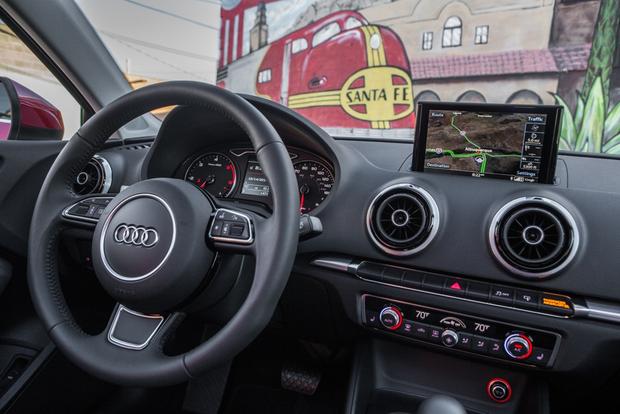 This 2015 Audi A3 TDI review is a bit different from our usual real-world reviews. That's because the first tank of diesel fuel was used during my participation in Audi's TDI Challenge. I drove this all-new premium compact sedan 834 miles from Albuquerque, New Mexico, to the Southern California coast without refueling. It wasn't until the seal on the fuel cap (attached by Audi to make sure no one cheated) was broken, and the tank replenished, that the A3 joined the real world of driving.
Miles per Gallon
It is possible to cover 834 miles on 13.2 gallons of diesel and achieve an average of 63.2 miles per gallon. Audi hired a hypermiler specialist to do just that. It does, however, mean going slowly for most of the trip, not using the air conditioning and keeping the windows closed to avoid aerodynamic drag (on a route through plenty of parched desert in this instance), and driving the last 80 miles or so with the dashboard low-fuel warning light on -- trusting the system has a built-in margin for error.
Over two days, my hardly exercised right foot contributed to an average of 59.7 mpg. Ultimately, 714.6 miles were traveled before pulling over for more diesel when the trip computer said there were 10 more miles until the tank was empty. This was just before a long uphill section that would affect consumption considerably.
In the real world, though, it's still possible to average close to 50 mpg or even more just by following some common-sense procedures. These include being as gentle as necessary with the throttle and brake pedals, staying in as high a gear as possible and not speeding ahead to only end up stepping on the brakes. The A3's trip computer shows instantaneous as well as average consumption, and just being aware of these figures will help a driver save fuel.
Diesel vs. Gasoline
Diesel cars are still a minority in the United States. Coming from Germany, where diesel vehicles are the majority, the Volkswagen/Audi group has several stunning engines to cater to diesel drivers. The 4-cylinder turbocharged unit in this A3 TDI uses Audi's clean diesel technology, bringing emissions to levels that should please environmentalists. The previous-generation A3 TDI was named 2010's Green Car of the Year by Green Car Journal magazine.
From its 2.0-liter displacement, the A3 TDI makes 150 horsepower. Granted, that's not much, but where diesel truly comes into its own is through torque. The surge of acceleration after the throttle is pressed is how we perceive torque. The A3 TDI offers 236 lb-ft of torque, which compares favorably to a gas-guzzling naturally aspirated V6. Yet the 2015 A3 TDI is rated at 31 mpg in the city, 43 mpg on the highway and 36 mpg combined.
Going from 0-to-60 miles per hour (although not the best use of the A3 TDI's talents) takes 8.1 seconds. The 6-speed dual-clutch transmission has Drive, Sport and Manual modes. There are no paddles on the steering wheel, so changing gears is done by nudging the shift lever. The transmission is a fine piece of hardware and a pleasure to use. It kicks down quickly when needed, and the torque provides enough thrust to reach highway speeds easily and even power out of corners.
Joy Ride
This car isn't just special due to how frugal it is with fuel. It's also something an enthusiast can enjoy. Because it's compact, it's nimble. The steering feels substantial yet precise. Turn it into a corner, and the front end will grip the pavement with confidence.
A sporty suspension like this does have its compromises, though. The ride quality is on the firm side of comfortable, which becomes more apparent on poor surfaces such as weathered concrete. On smooth tarmac, however, the A3 TDI glides.
Inner Space
The A3 Premium starts at $33,525 including destination. Standard equipment includes a panoramic sunroof, leather seating surfaces, 8-way power-adjustable driver's seat, bi-xenon headlights, 17-inch alloy wheels and a pre-collision safety system. Options include lane-keeping assist, a blind spot monitoring system, adaptive cruise control and a high-end Bang & Olufsen audio system.
No one is going to forget they're in a compact car while driving the A3. I'm average height for an adult male and could fit into the rear seat with no problems when the driver's seat was set up for me. There was room for the backseat passenger's feet below the front seatback, but little clearance between the roof and the top of my head.
Linking a phone to Bluetooth and using the infotainment system in general is fairly easy. There's no need to reach for the manual when doing so.
Our Take
The 2015 Audi A3 TDI is perfect for someone who covers a lot of miles. If you need a car that has comfortable yet supportive seats and a cabin that is relatively stress-free, consider the A3 TDI. It's a joy to be in, with characteristics such as good ergonomics, decent visibility, a pleasing design and little luxuries such as navigation, satellite radio and heated seats.
Driving long distances in an A3 TDI will also result in lower fuel bills (when compared to a gasoline equivalent) and less time wasted standing at the pumps. After 2 full days and over 800 miles, I wanted to drive the A3 TDI even more. I've been using the word "average" quite a bit here, but the A3 TDI doesn't feel average at all.
It's also alone in its segment. There are no other diesel-powered premium compacts. The 2015 BMW 228i coupe comes close in size and price, beats the TDI in terms of torque, but drinks more and drops the door count by 50 percent. The 2015 Mercedes-Benz CLA250 could be the closest rival. Again, it has greater torque and could win the beauty pageant for some, but a lot more gas station workers will be admiring its looks.