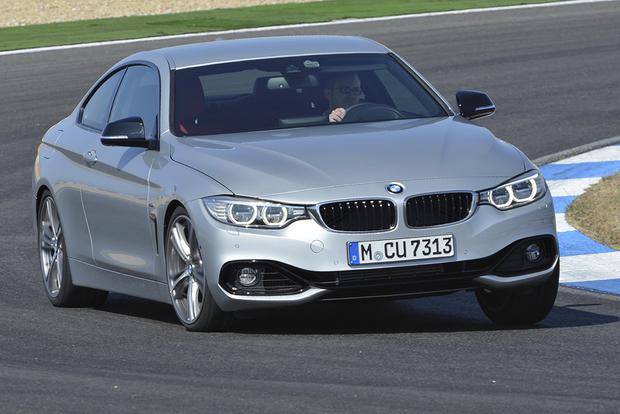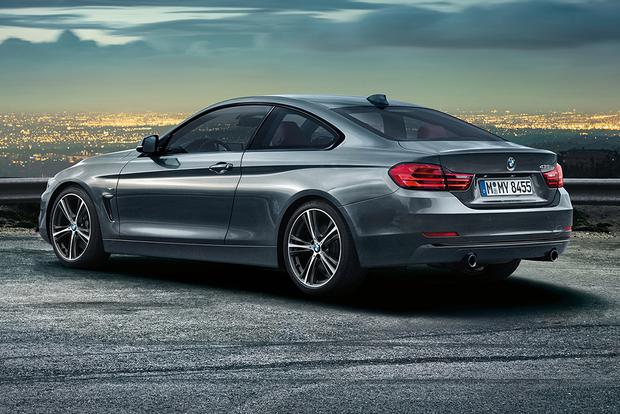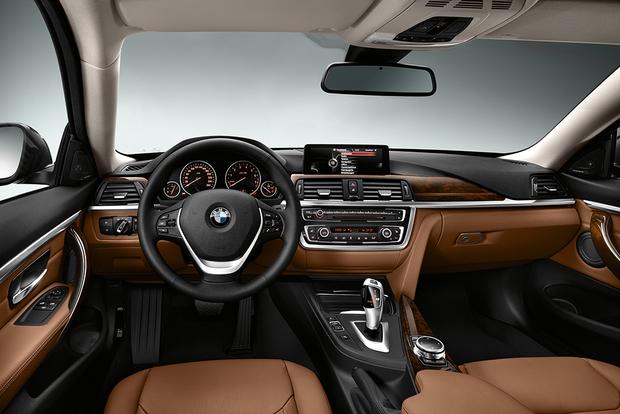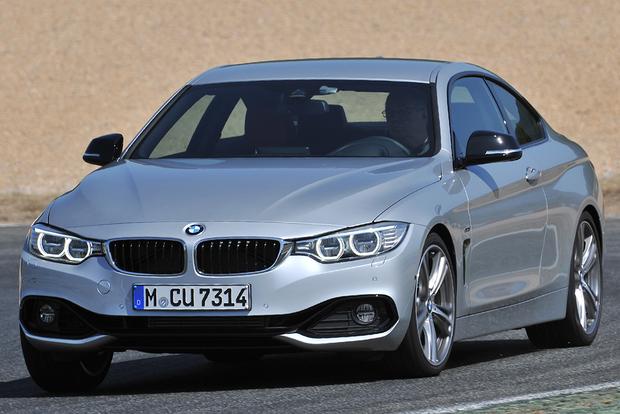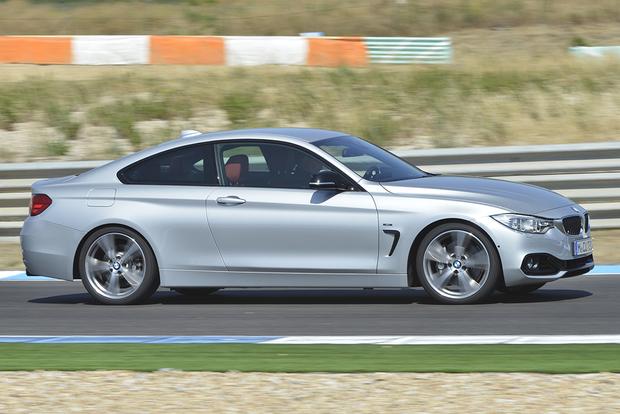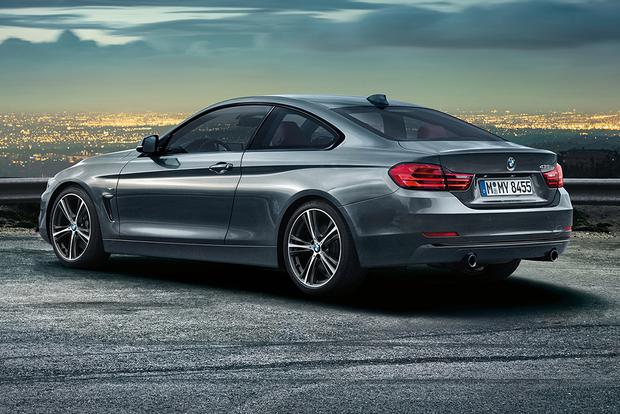 We'll probably get used to the 2015 BMW 4 Series in time, but right now its name still seems weird. Known and loved for decades as the 3 Series coupe and convertible, the 4 Series models now forge their own identity, leaving the 3 Series sedan and wagon to their own devices.
That's no big deal, though. After all, Audi did the same thing years ago, branching off from the A4 family with the distinct A5 coupe and Cabriolet. As for BMW, its other 2-door cars have tended to be even-numbered, so in that sense the company is just tying up a loose end. Nonetheless, the 3 Series is such an iconic car that it's hard to imagine the coupe and convertible wearing any other nameplate. Suffice it to say that the 4 Series siblings have a lot to live up to.
Happily, it takes about 2 seconds behind the wheel for most of these concerns to melt away. With their lower suspensions and wider tracks, the 4 Series cars actually handle better than the already adept 3 Series sedan. Acceleration is strong, no matter which engine you choose: The 428i's turbocharged 4-cylinder serves up plenty of punch, while the 435i's turbocharged inline 6-cylinder is sports-car fast. Through it all, the trademark refined ride remains intact, making any 4 Series a superb companion in all conditions.
In other words, the 2015 4 Series may have a relatively new name, but it's up to the same old tricks on the road. This might just be the best car that BMW has ever made.
What's New for 2015?
Changes are minimal for this model year. The big news is that the 4 Series loses its center-console cupholder lid.
What We Like
Strong yet fuel-efficient engines; high-quality interior; advanced cabin technology; superb driving dynamics; hardtop convertible security
What We Don't
Options can get pricey; convertible's styling isn't exactly graceful
How Much?
$41,700-$55,850
Fuel Economy
The 428i features a turbocharged 2.0-liter 4-cylinder engine rated at 240 horsepower and 255 lb-ft of torque. An 8-speed automatic transmission comes standard, but a 6-speed manual can be specified on the rear-wheel-drive coupe (the convertible models and the all-wheel-drive 428i xDrive coupe are automatic only). Fuel economy for the coupe is an impressive 23 miles per gallon in the city and 35 mpg on the highway with the automatic, 22 mpg city/34 mpg hwy with the manual and 22 mpg city/33 mpg hwy with all-wheel drive. The 428i convertible checks in at a comparable 23 mpg city/34 mpg hwy with rear-wheel drive or 21 mpg city/33 mpg hwy with all-wheel drive.
The 435i features a turbocharged 3.0-liter inline 6-cylinder rated at an even 300 hp and 300 lb-ft of torque. The 8-speed automatic is again standard, but the manual is available on both rear-wheel-drive and all-wheel-drive coupes (the 435i convertible is automatic only). Fuel economy for the coupe is 22 mpg city/32 mpg hwy (automatic), 20 mpg city/30 mpg hwy (manual), 20 mpg city/30 mpg hwy (automatic all-wheel drive) and 20 mpg city/28 mpg hwy (manual all-wheel drive). The 435i convertible yields 20 mpg city/31 mpg hwy (rear-wheel drive) or 20 mpg city/29 mpg hwy (all-wheel drive).
Standard Features & Options
The base 428i ($41,700) comes standard with 17-inch wheels, adaptive xenon headlights, fog lights, a sunroof (coupe only), auto stop/start (a fuel-saving feature that can be disabled), Driving Dynamics Control (offering three settings for throttle sensitivity and steering effort), power adjustable front seats with driver memory functions, leatherette upholstery, dual-zone automatic climate control, Bluetooth, iPod/USB connectivity and the iDrive infotainment system with a 6.5-in screen.
The primary appeal of the 435i ($47,200) is the powerful inline 6-cylinder engine, but it also gets an upgrade to 18-in wheels.
The 428i convertible ($49,700) and 435i convertible ($55,850) feature an expansive power hardtop and available neck-warming air vents.
The 4 Series can be customized with one of three trim packages: Sport Line, Luxury Line and M Sport. These are comprehensive appearance packages (the Sport also has a lowered sport suspension and sport front seats) that offer unique wheels and interior decor. The M Sport package adds shadowline exterior trim, a body kit, a sport suspension, an M steering wheel and extensive M badging inside and out.
In typical BMW fashion, the options list is lengthy and may prove expensive. The Premium package adds power front lumbar support and keyless entry/start, while the Cold Weather package brings a heated steering wheel and heated front seats. Additional options include an adaptive sport suspension, M Sport brakes, dynamic cruise control, a self-parking system, side- and top-view parking cameras, a Harman Kardon audio system and a navigation system. The Technology package contributes such items as a crisper 8.8-in infotainment screen, a navigation system, an upgraded iDrive controller with a touchpad and a head-up display. All 4 Series models are compatible with BMW Apps, which leverages your smartphone to bring social media into the driving experience.
BMW claims a whopping 15.7 cu ft. of trunk space for the coupe, which is remarkable given the car's relatively modest dimensions. The convertible impresses with the top up, checking in at 13 cu ft., but if you drop the top, you're down to 7.8 cu ft.; all that folded metal has to go somewhere.
Safety
The 4 Series comes with stability control, 4-wheel anti-lock disc brakes with collision-mitigation features and a full complement of airbags (including front, front-knee and side). The Driver Assistance Plus package adds a forward-collision mitigation system, a blind spot monitoring system and side- and top-view cameras. BMW Assist (which adds automatic crash notification and roadside assistance) is also offered.
Behind the Wheel
The 2015 BMW 4 Series model's glowing orange dashboard suggests a sense of purpose. You won't find any virtual LCD gauges here, just a simple round tachometer with a speedometer to match, a layout that BMW has employed for years. Of course, there's no escaping modern technology, and the 4 Series has plenty of it, starting with the visually arresting iDrive system and its standard 6.5-in display screen. The optional 8.8-in display is slicker still, but the overriding impression is that this is a driver's car, a 3 Series tradition that the 4 Series seems eager to carry on.
As usual, the available M-spec front sport seats are the ones to have, offering extensive multiway adjustments that include wonderfully snug power side bolsters. No matter which trim you choose, you'll enjoy the high-quality materials and classy accents for which these cars are known. The hardtop-convertible version demands few compromises, and its elaborate folding roof goes up or down in 20 seconds at speeds up to 11 miles per hour. The convertible-only 3-stage neck warmers give the 4 Series a direct answer to Mercedes' similar AIRSCARF system.
If you've driven older 3 Series coupes or convertibles, you'll notice that the 2015 4 Series feels notably larger and heftier. This is no longer a compact car. Rather, it's more of a personal grand touring car, and a convincing one at that. High-speed stability and smoothness are impeccable, yet cornering limits are higher than ever. The question is whether the sprightly base 4-cylinder engine is enough. It's certainly stronger than the Audi A5's engine, but we'd be sorely tempted by the 435i's hugely capable inline 6-cylinder. Either way, it's a bonus that BMW offers all-wheel drive with both engines and body styles.
Other Cars to Consider
2015 Audi A5 -- The A5's slinky styling remains a big draw, and if the engine's not perky enough for you, there's always the S5, which was conceived as a 435i (formerly 335i) competitor. The convertible's not a hardtop, though.
2015 Infiniti Q60 -- Unlike the Q50 sedan, the Q60 is a straight carry-over from the old G37, but it still has a ton of power and a cool sports-car vibe inside, plus a hardtop-convertible option.
2015 Mercedes C-Class Coupe -- The C-Class Coupe looks and feels like a smaller car, but that's not necessarily a bad thing. We miss when the BMW felt that way. There's no convertible, however; you'll need the E-Class Cabriolet for that.
Used Porsche 911 -- Believe it or not, if you add a few options to a 4 Series, you're getting into previous-generation Porsche 911 territory. Known as the 997 from 2005-2012, the 911 is still an awesome car. You can find one today at a steep discount compared to new.
AutoTrader's Advice
We can't resist the inline 6-cylinder's 300 hp, but the convertible doesn't look sexy enough to justify its price premium, so make ours a 435i coupe, and make sure that the M Sport package is part of the deal.