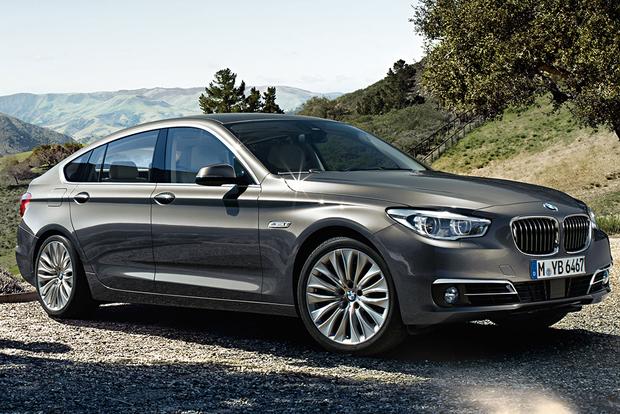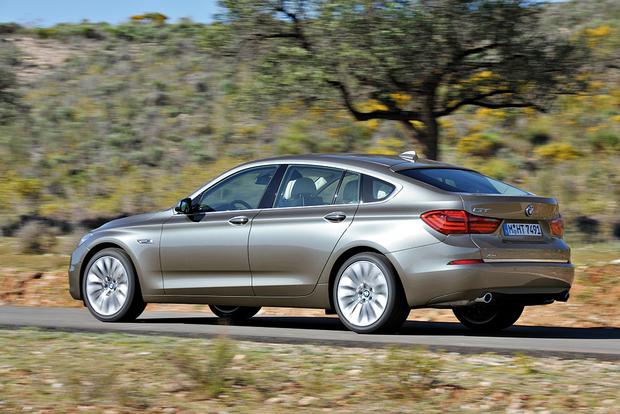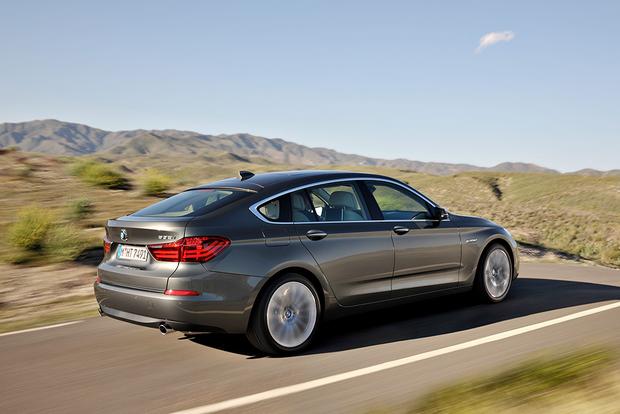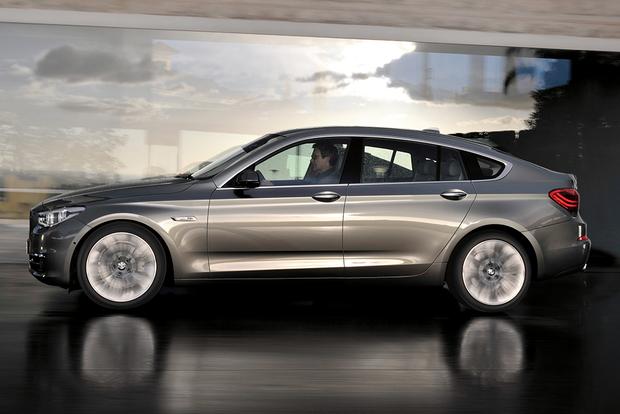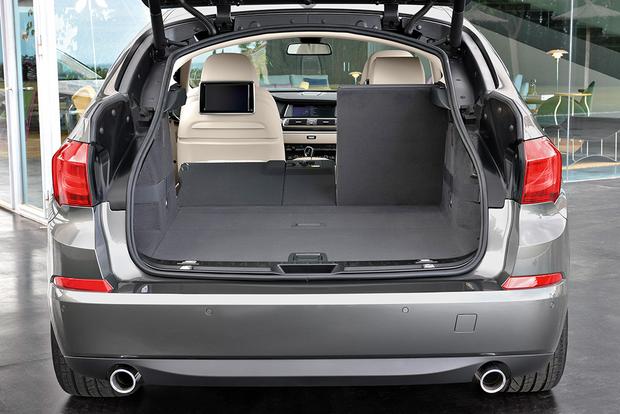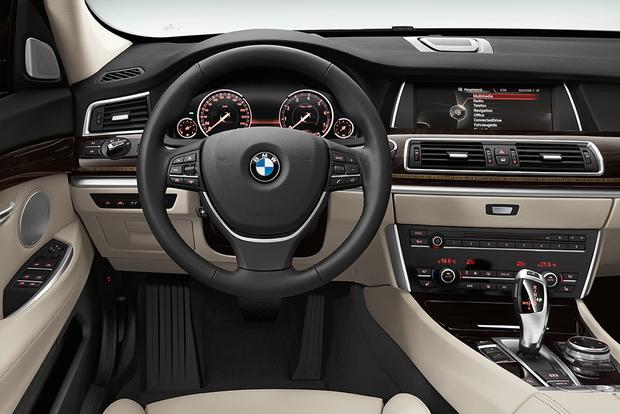 Pretty much every other 2015 BMW 5 Series Gran Turismo review says something snarky about the car's styling, but we're going to refrain. There's no sense in poking fun at the 5 Series GT like a playground bully. Why pick on BMW's funky midsize hatchback just because it looks different? It may be unconventional, but bottom line: This is one heckuva car.
If you spend some quality time with the 2015 5 Series Gran Turismo, you're likely to agree. There's just no denying this vehicle's across-the-board excellence, most notably the 550i's astoundingly capable 443-horsepower V8. If you're looking for a car that can schlep the kids to practice and then show its tailpipes to all comers at the drag strip (and who isn't?), the 550i GT is one of a select few that fits the bill.
But beyond enabling you to embarrass unsuspecting sports-car drivers whenever you please, the 5 Series GT boasts a world-class mix of refinement and practicality. The ride quality is royal (although the optional 20-inch wheels don't do it any favors), and for a vehicle of this size and weight, the handling's outstanding, too. With up to 63.6 cu ft. of cargo space behind the front seats, the GT can haul as much as some crossover SUVs.
We'll keep holding our tongue on the GT's styling, because when a car is this good, looks are almost beside the point. Perhaps the best way to think of the 2015 5 Series Gran Turismo is as a cheaper, more practical Porsche Panamera. Proud new owners will be laughing all the way to the bank.
What's New for 2015?
The 5 Series GT lineup now features a standard sport leather steering wheel and LED fog lights, while the 550i trim level gets standard keyless entry/start. The Modern Line package has been discontinued.
What We Like
Excellent engines; exceptional ride/handling balance; sumptuous interior; versatile back seat and cargo area; tons of standard features
What We Don't
Polarizing looks; firm ride with the bigger wheels
How Much?
$61,650-$70,050
Fuel Economy
The 535i Gran Turismo is powered by a turbocharged 3.0-liter inline 6-cylinder rated at 300 hp and 300 lb-ft of torque. With rear-wheel drive, the Environmental Protection Agency (EPA) estimates fuel economy at 19 miles per gallon in the city and 28 mpg on the highway. Adding xDrive all-wheel drive knocks those numbers down to 18 mpg city/26 mpg hwy.
The 550i Gran Turismo features a twin-turbocharged 4.4-liter V8 that generates a formidable 445 hp and 480 lb-ft. Fuel economy checks in at 16 mpg city/25 mpg hwy with rear-wheel drive and 16 mpg city/24 mpg hwy with all-wheel drive.
An 8-speed automatic transmission is standard on every 5 Series Gran Turismo.
Standard Features & Options
The 2015 BMW 5 Series Gran Turismo is offered in two trim levels: 535i and 550i.
The 535i ($61,650) comes standard with the 6-cylinder engine, 18-in alloy wheels, adaptive xenon headlamps, fog lights, an electronic limited-slip differential, a self-leveling rear air suspension, auto start/stop, a power tailgate, a panoramic sunroof, leather upholstery, 10-way power front seats with lumbar support and driver memory, a power-adjustable steering wheel, dual-zone automatic climate control, iPod/USB and Bluetooth connectivity, a 12-speaker audio system with dual subwoofers, and the hard-drive-based iDrive infotainment system with a 10.25-in widescreen display, 12 gigabytes of digital music storage, touchpad functionality and a rearview camera.
The 550i ($70,050) adds the V8 engine, special 18-in wheels, keyless entry/start, a hands-free foot sensor for the tailgate and 20-way multicontour front seats.
Options include wheels of up to 20 inches in diameter, adaptive LED headlights, adaptive suspension dampers, massaging front seats, power-closing doors, a 16-speaker Bang & Olufsen sound system and a rear entertainment system with twin 9.2-in monitors.
There are also two optional lines to choose from: Luxury and M Sport. Both add available Nappa leather upholstery, different 19- or 20-in wheel designs and unique styling elements inside and out. The M Sport line throws in an M steering wheel, shadowline exterior trim and an aerodynamic body kit.
As for cargo space, it seems there's not much in the trunk (technically 15.5 cu ft.), but let's look closer at that cargo bay. The 5 Series GT's lift gate is divided into two pieces, and the lower piece can be lifted independently for access to the area directly behind the rear seatbacks, which is where the 15.5 cu ft. comes from. Unlike in conventional hatchbacks and crossovers where trunk space is measured all the way up to the ceiling, the 5 Series GT's smaller measurement refers only to the trunklike compartment underneath the lift gate's lower half. Translation: It's a useful amount of space. Moreover, if you open the entire lift gate and fold the rear seatbacks down, there's 63.6 cu ft. available, a healthy number that puts the GT on par with smaller luxury crossovers such as the Cadillac SRX.
Safety
The 2015 BMW 5 Series Gran Turismo comes with standard stability control, 4-wheel anti-lock disc brakes and six airbags (front, front-side, full-length side-curtain).
Relevant options include a night-vision display with pedestrian detection, a self-parking system, side- and top-view cameras and adaptive cruise control with an Active Driving Assistant that can detect a forward-collision threat and stop the car.
In government crash tests, the 5 Series Gran Turismo received a perfect five stars overall, with four stars for front impacts and five stars for side impacts.
Behind the Wheel
Sliding into the Gran Turismo's driver's seat, the first impression is one of unexpected elevation. The GT has more of a crossover-style ride height, so instead of a seat that you plop down into, you're already at hip level when you sit down. Although the standard 10-way power front seats are excellent in their own right, the 20-way multicontour seats (standard on 550i) belong in any conversation about the best automotive seats in the world.
The gauges will be familiar to BMW fans, employing classic white-on-black numerals that change to orange-on-black at night. Interior materials are top-notch, and the graceful dashboard design is basically the same one you'll find in the 7 Series. The widescreen iDrive display looks great, and the latest iDrive controller can even interpret your fingertip scribbles via its touchpad surface.
One way that the 5 Series Gran Turismo outdoes its 5 Series sedan siblings is in back-seat comfort. The bottom cushions provide extra thigh support, and the seatbacks recline for added comfort. The seat also slides fore and aft.
Under the hood, acceleration is strong and smooth with the 535i's inline 6-cylinder, but the star is the 550i's twin-turbo V8. The level of power is absurd for an upright people mover such as the 5 Series GT, making this Bimmer a match for all but the very fastest production cars. The V8 is unbelievably refined too, with so little noise and vibration that it could pass for an electric motor at times.
On the road, the 5 Series Gran Turismo drives exactly like what it is: a tall 7 Series. We prefer the 7's lower center of gravity, but we do appreciate the GT's commanding view of the road ahead. That's not to say that the Gran Turismo doesn't handle well; in fact, this is one of the best-handling family vehicles on the market, exhibiting remarkable cornering composure for something so big and heavy. But the GT really hits its stride on the highway, as its composure at speed makes it feel more like a high-class European train than an automobile. We'll warn you, though, that the optional 20-in wheels noticeably worsen the ride quality, so we'd stick with the standard 18-in wheels or the optional 19s at the most.
Other Cars to Consider
2015 Mercedes-Benz M-Class -- In the 2-row luxury-crossover segment, the M-Class is arguably the most refined, and its available V8 engine is competitive with the Gran Turismo's V8, but the BMW's overall athleticism is superior.
2015 Porsche Panamera -- If your tastes run to unusual-looking luxury vehicles, check the bottom line on the GT you're considering and see if you can snag a new or lightly used Panamera for the same price. That's probably not the case, but it's worth checking, as the 4-seat Panamera is an epic car.
2015 Volkswagen Touareg -- The cheaper Touareg has a nice interior, a wonderful back seat and far more off-road capability than the carlike Gran Turismo. We really like the way the Touareg drives, too.
Used Land Rover Range Rover Sport -- Many would agree that the Range Rover Sport looks cooler than the 5 Series Gran Turismo, and Land Rover's certified pre-owned program makes slightly used Range Rover Sports relatively affordable.
Autotrader's Advice
We're suckers for a smooth German V8, so the 550i is a no-brainer. Drive one and see if you're not instantly addicted to that power.