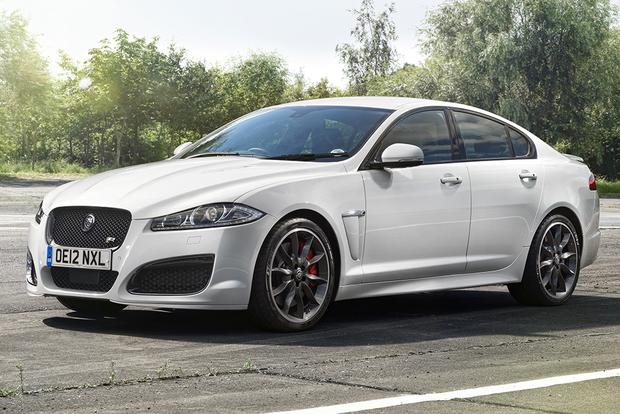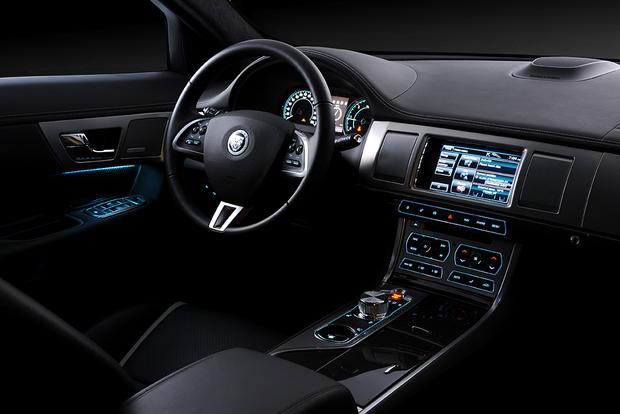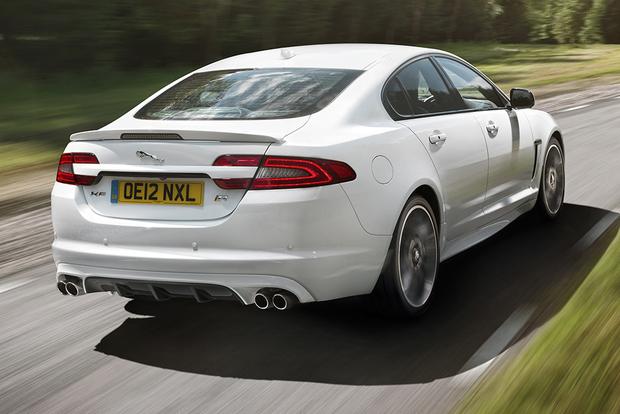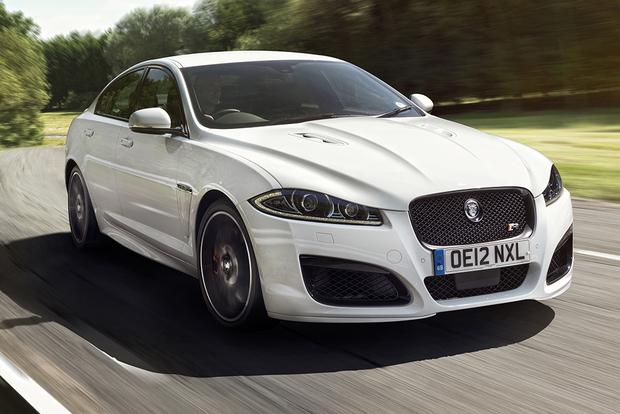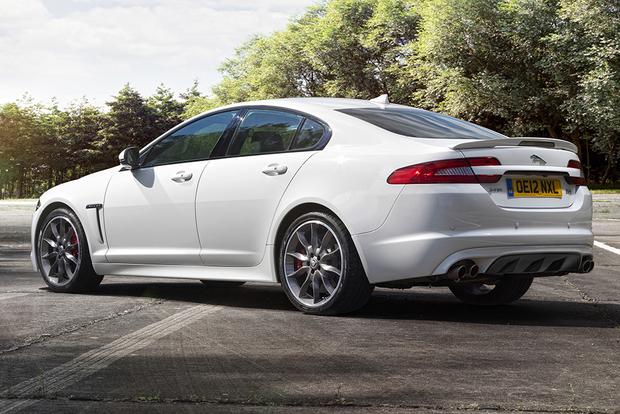 The 2015 Jaguar XF seems like it would have no trouble winning a popularity contest. Good looks? You bet. Athletic? With its 5-engine lineup, four of them pumping out 340 horsepower or more, and sport-tuned suspension, this midsized Jaguar could be called catlike for more reasons than just the company name. Good manners? Of course. Jaguars are still British cars first and foremost, despite the company's transition over the years to American (Ford) and now Indian (Tata) ownership.
Yet the XF's sales still pale relative to rivals from Audi, BMW and Mercedes. That's too bad, because we think that the 2015 model is more appealing than ever. It's available with everything from a turbocharged 4-cylinder to a fire-breathing 550-hp supercharged V8, with numerous middle-ground options. All-wheel drive is available, too. If our editors were shopping in this segment, we suspect the XF would be a popular choice indeed.
What's New for 2015?
The XF receives additional standard features and a revised trim-level structure with three new additions: Premium, Sport and Portfolio.
What We Like
Jaguar swagger; broad range of powertrains; state-of-the-art transmission; excellent ride/handling balance; big trunk
What We Don't
Forgettable 4-cylinder engine; high price of V8 performance models; interior could feel fresher
How Much?
$51,100-$99,925
Fuel Economy
The 2015 Jaguar XF Premium is motivated by a supercharged 2.0-liter 4-cylinder engine that produces 240 hp and 251 lb-ft of torque. It comes only with rear-wheel drive. Like all XF models, it uses an 8-speed automatic transmission. Fuel economy is estimated at 19 miles per gallon in the city and 30 mpg on the highway.
Next up are the Portfolio and Sport trims, which feature a supercharged 3.0-liter V6 that produces 340 hp and 332 lb-ft of torque. Fuel economy comes in at 18 mpg city/28 mpg hwy with rear-wheel drive and 17 mpg city/27 mpg hwy with all-wheel drive.
The XF Supercharged boasts a 5.0-liter V8 that cranks out 470 hp and 424 lb-ft of torque. Fuel economy takes a predictable hit, dropping to 15 mpg city/23 mpg hwy.
The XFR squeezes a little more supercharged thrust out of the 5.0-liter V8. Rated at 510 hp and 461 lb-ft of torque, it's oddly said to return the same fuel economy as the XF Supercharged.
At the top of the range is the blisteringly quick XFR-S with its 550-hp, 502 lb-ft version of the supercharged V8. Fuel economy is again 15 mpg city/23 mpg hwy, but we suspect that real-world results will be worse than with the other V8s.
Standard Features & Options
The 2015 Jaguar XF comes in six trim levels: Premium, Portfolio, Sport, Supercharged, XFR and XFR-S.
Standard features on the base Premium ($51,100) include the turbo-4 engine, parking sensors, bi-xenon headlights with LED accents, LED taillights, 18-inch alloy wheels, a sunroof, keyless entry/start, rosewood veneers, heated power front seats with memory functions, leather upholstery, Bluetooth, a navigation system and a 10-speaker 250-watt audio system with a 7-in touchscreen interface.
The Portfolio ($58,100) and the Sport ($58,100) offer mostly the same standard equipment, but the Sport takes an aggressive approach with 20-in wheels and various sport-themed enhancements, while the Portfolio is more refined with its 19-in wheels, upgraded leather and premium surround-sound audio system. Both of these trims feature the supercharged V6 and additional power adjustments for the front seats.
The Supercharged ($71,800) gets the supercharged V8 and many other niceties, including 20-in wheels, performance brakes, and an active rear differential and adaptive drive settings.
The XFR ($84,475) features a pumped-up version of the supercharged V-8, a body kit with a rear spoiler and R-line interior styling flourishes.
Finally, the spectacularly powerful and rare XFR-S ($99,925) flaunts performance enhancements such as an even more powerful supercharged V8, faster transmission shifts and racy styling enhancements with carbon-fiber trim.
Options are minimal on the XF, as most features come standard on specific trim levels.
Cargo capacity in the trunk is a remarkably large 17.7 cu ft.
Safety
The Jaguar XF comes with standard stability control, 4-wheel anti-lock disc brakes and six airbags (front, front-side and full-length side-curtain).
The XF has not been crash-tested stateside.
Behind the Wheel
We can't help but point out that the XF model's interior hails from a few years back, and it could use an update stylistically. But the XF still manages to emit an upscale vibe inside, especially when Jaguar's distinctive rotary shift knob rises out of the center console upon ignition. Your passengers will love it.
Front-seat comfort is generally adequate in the XF, but the base Premium trim's seats have surprisingly limited adjustability. We'd have a hard time resisting the more elaborate seats provided in the higher trims. Rear passengers will enjoy adequate legroom; tall ones, however, may find their hair brushing the XF model's sleek roof. In keeping with British tradition, both rows are generally treated to liberal applications of leather upholstery and wood inlays.
On the technology front, the XF is available with appealing features such as fabulous Meridian audio systems, Bluetooth connectivity and USB ports. Also enticing is the hard-drive-based infotainment system with navigation, voice-recognition capability and digital music storage. However, the 7-in touchscreen is a disappointment for this segment. Despite recent upgrades, it's still relatively small, and its software feels behind the times relative to, say, Audi's MMI system or BMW's iDrive.
Under the hood, the XF Premium's 4-cylinder engine is not high on our list; it's rather unrefined and barely gets better fuel economy than the supercharged V6. Moreover, the V6-powered Portfolio and Sport zip to 60 miles per hour in just 5.7 seconds (6.1 with all-wheel drive). As for the V8s, the Supercharged's 5.0-liter unit is more motor than most folks will ever need: 60 mph arrives in a scant 4.9 seconds, which make us question the point of the XFR and XFR-S. But there's something to be said for belonging to the 500-hp club, and the extra rumble from these models' quad exhaust tips might just seal the deal. Watch the bottom line, though. For the price of an XFR-S, you could have two base-model XFs.
On the road, the taut and focused XF strikes a wonderful ride/handling balance. Unlike some rivals, it doesn't feel big and bulky in corners. We've done some hot laps in the XFR-S, and it attacks apexes like a purpose-built sports car. Believe it or not, the other XF models aren't that far behind. During more sedate motoring, the XF continues to impress, providing a composed ride that's supple but never floaty. Road and wind noise are low, even with the 20-in wheels and tires.
Other Cars to Consider
2016 Audi A6 -- The A6's base 4-cylinder engine is better than the Jag's, and its supercharged V6 is a worthy rival to the XF Sport and Portfolio. See also the V8-powered S6 for an alternative to high-end XFs.
2015 Cadillac CTS -- The new CTS has wowed us with its responsive handling, and if you specify the twin-turbo V6, you'll have a sport sedan that can easily run with V8 competitors.
2015 Mercedes-Benz E-Class -- Blessed with a broad engine lineup, the E-Class loves the fast lane, though it trades some XF-style athleticism in corners for a softer highway ride.
Used BMW M5 -- If you're drawn to, say, the XFR, see if you can find a certified pre-owned M5 for roughly the same price. You'll get a nice warranty from BMW, and the M5 is a fearsome performer.
Autotrader's Advice
We know the V8-powered XF models are expensive, but to drive one is to need one in your life. Check out the XF Supercharged, which gives you most of the higher models' performance at a more reasonable price.