Editor's note: You may want to read more of Autotrader's model vs. model comparison car reviews as well as the 2015 Lexus RC 350 review and the 2015 BMW 4 Series review.
If you're interested in a sporty new luxury car, you'll want to have the 2015 Lexus RC and the 2015 BMW 4 Series on your shopping list. Both are among the newest models in the segment, having recently debuted within the last year or two, and they offer the latest and greatest in technology, equipment, safety features and performance. But which one is better? To find out, we've created a detailed comparison between the two cars, but first let's see what's new with both models for 2015.
2015 Lexus RC
The RC is a completely new model for 2015. Offered only as a coupe and based on the IS sedan, the RC touts two models — a base-level RC 350 and a high-performance RC F — along with rear- or all-wheel drive and a lot of cutting-edge features and equipment. See all 2015 Lexus RC 350 models available near you
2015 BMW 4 Series
After making its debut for 2014, the 4 Series sees only minor changes to trim levels for 2015. Bluetooth audio is newly standard, and heated seats can now be ordered as a stand-alone option rather than as part of a package. See all 2015 BMW 4 Series models available near you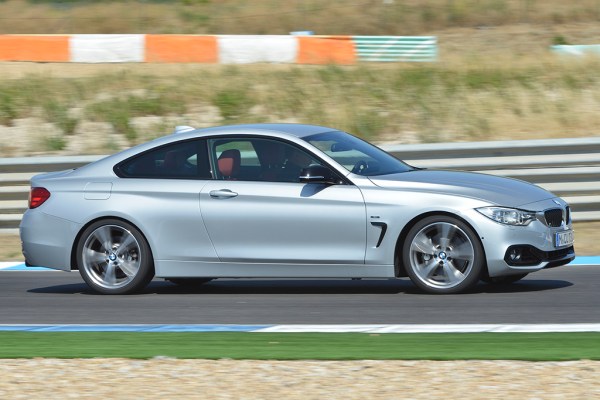 Reliability
Unfortunately, both the BMW 4 Series and the Lexus IS are too new for reliability ratings from experts at J.D. Power. The cars on which they're based, however, have earned J.D. Power ratings: The BMW 3 Series scored an average reliability rating, while the Lexus IS scored better than average.
When it comes to warranty coverage, both the 3 Series and the RC offer 4 years or 50,000 miles of bumper-to-bumper protection, but only the Lexus goes beyond that figure by offering a little extra powertrain coverage: 6 years or 70,000 miles. Between that and the IS sedan's strong J.D. Power scores, we have to give this category to the RC, though we're eager to see how the 4 Series and RC manage to score in their own J.D. Power ratings.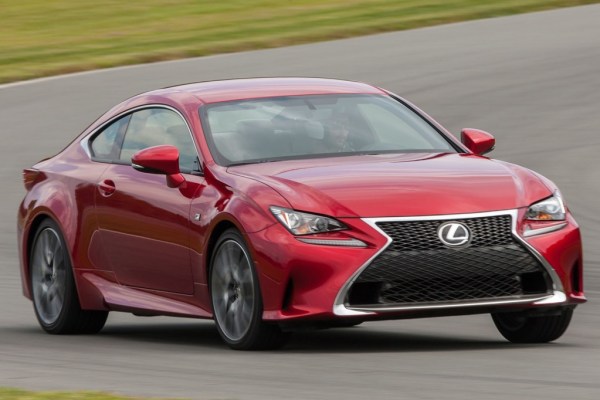 Fuel Economy
Two engines are available in the Lexus RC. The base-level RC 350 uses a 306-horsepower 3.5-liter V6, which is mated to either an 8-speed automatic (for rear-wheel-drive models) or a 6-speed automatic (for all-wheel drive). Gas mileage goes as high as 19 miles per gallon in the city and 28 mpg on the highway. Meanwhile, the high-performance RC F offers a 467-hp V8 that boasts up to 16 mpg city/25 mpg hwy.
Meanwhile, the 4 Series offers three engines. Base-level 428i models use a 241-hp 2.0-liter turbocharged 4-cylinder, which is rated at up to 23 mpg city/35 mpg hwy. The more powerful 435i offers a 300-hp turbocharged 6-cylinder, which touts 22 mpg city/32 mpg hwy. Finally, the high-performance M4 utilizes a 425-hp turbocharged 6-cylinder that boasts up to 17 mpg city/26 mpg hwy.
That's a lot of numbers, but the overall message is that the BMW gets better gas mileage than the Lexus. Yes, base-level 4 Series models offer a lot less power than the RC, so you'd expect better mileage, but even the sporty 435i and M4 models offer a few more mpg than similarly powerful RC models.
Safety
Both the RC and the 4 Series are too new to have undergone crash tests carried out by the federal government's National Highway Traffic Safety Administration. While the RC was able to earn an excellent Top Safety Pick+ rating from the nonprofit Insurance Institute for Highway Safety, the firm has not yet rated the 4 Series.
In terms of safety equipment, the RC and the 4 Series offer just about all of today's latest safety gadgets and features. Both cars tout available rear cross-traffic alert, forward-collision warning with automatic braking, rear cross-traffic alert and a blind spot monitoring system. Admittedly, both cars offer some unique items: The Lexus' Enform Safety Connect feature touts stolen-vehicle tracking and roadside assistance, for example, while the 4 Series periodically wipes brake rotors dry in the rain. But generally speaking, these are two of the safest luxury vehicles on the market, so when it comes to safety, you'll have a tough time choosing between them.
Technology
Given that both the 4 Series and the RC offer brand-new designs, both cars are equipped with roughly the same excellent level of modern technology. Both cars offer LED headlights, for example, along with advanced infotainment systems, all-wheel drive, frontal-collision warning systems with automatic braking, adaptive cruise control and more. Similar to the safety section, there are some features unique to each model, but in general, these two sporty luxury cars are a gadget-lover's dream.
Value
Although there is a lot of great things about the BMW 4 Series, value isn't one of them. Its starting price of just under $42,000 with shipping places it less than $2,000 below the RC's starting figure — and the BMW offers less power and less equipment. Upgrading to the RC's power level means opting for the 435i, which starts at more than $47,000 with shipping and still doesn't include everything that's standard in the RC. And then there's the M4: With a $63,000 base price, it's roughly the same price as the RC F, despite fewer features and 50 less hp. With that said, the 4 Series does offer one advantage: Unlike the RC, it's available as a convertible.
There are many reasons why someone would buy a BMW over a Lexus, including the brand name, the build quality and the driving experience. But value isn't one of them. To us, the Lexus easily wins this category.
Autotrader's Advice
Whether you choose the 2015 Lexus RC or the 2015 BMW 4 Series will depend a lot on exactly what you prioritize when it comes to new cars. If you're looking for power, features, technology and reliability, the Lexus is your car. The BMW, meanwhile, wins in terms of its soul — that can't-put-your-finger-on-it driving-experience category that European cars almost always seem to hold over their Japanese counterparts. For some drivers, that alone is worth the 4 Series' price premium over the RC. For others, the Lexus is a better value — and that's all they need to hear.