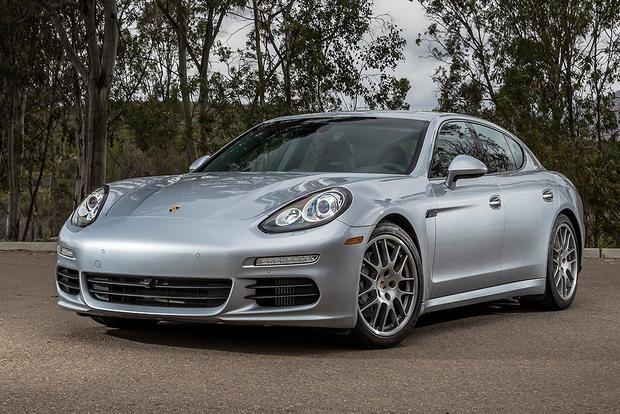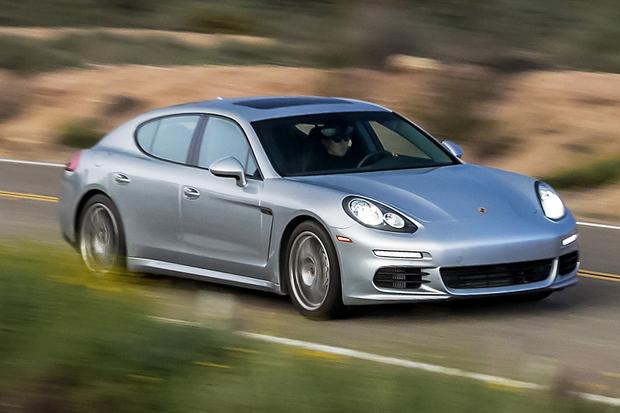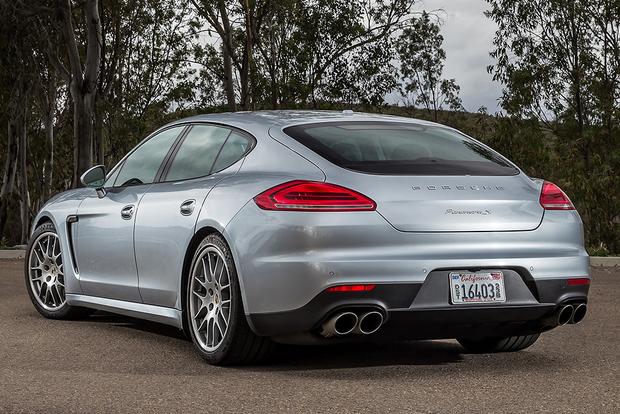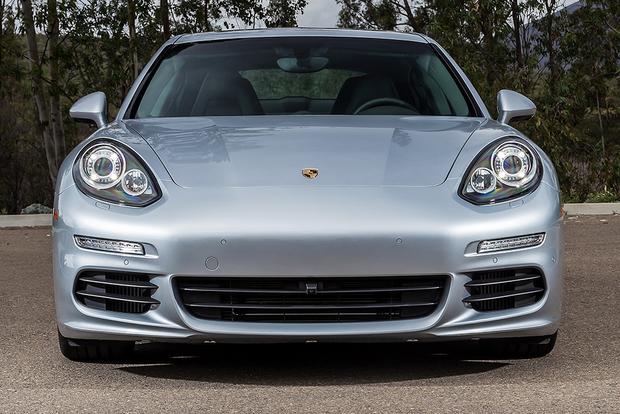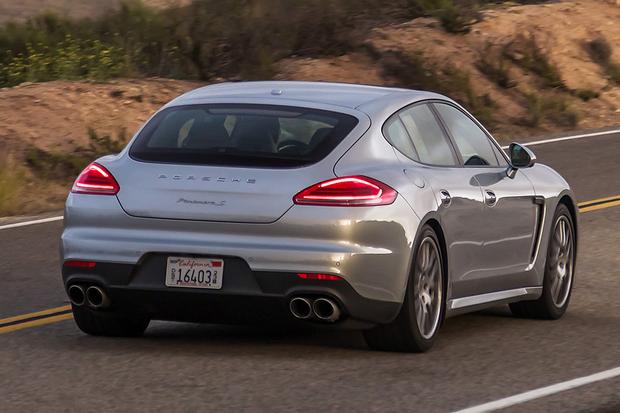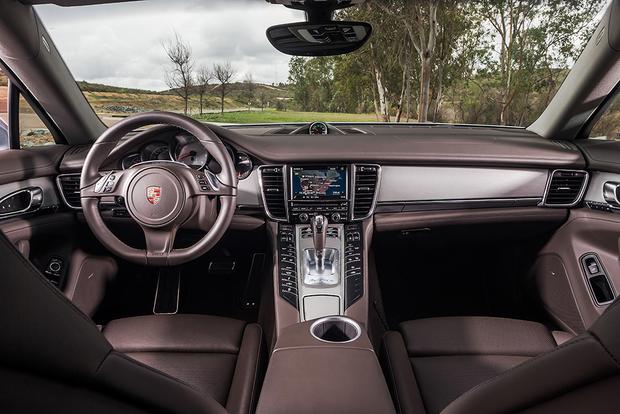 The 2015 Porsche Panamera is all about making a good thing even better. Let's be honest: Since its inception in 2010, the 4-door, 4-seat Panamera hatchback has been one of the very best cars in the world. In other words, Porsche could have stood pat over the years and still had a fighting chance against any executive-class car on the market. But that's not how this business works, so the Panamera has received numerous recent improvements that make it faster, roomier and generally more appealing.
What's New for 2015?
The hyperpowerful Turbo S model joins the fray in both regular and Executive body styles. Otherwise, the Panamera receives only a few equipment tweaks.
What We Like
Incredible handling for an executive car; potent acceleration; luxurious accommodations for four; plug-in hybrid with full electric capability; available long-wheelbase model
What We Don't
Styling remains controversial; only seats four
How Much?
$79,095-$201,495
Fuel Economy
The base 2015 Porsche Panamera (rear-wheel drive) and Panamera 4 (all-wheel drive) feature a 310-horsepower V6, while the Panamera S and 4S carry a twin-turbocharged 420-hp V6. The plug-in Panamera S E-Hybrid is powered by a supercharged V6 and a 95-hp electric motor that produce a total of 416 hp. The GTS has a 440-hp V8, and the Panamera Turbo rocks a 520-hp twin-turbocharged version of that V8. The Turbo S tops the range with a 570-hp twin-turbo V8.
In terms of fuel economy, the base Panamera is rated at 18 miles per gallon in the city and 28 mpg on the highway (18 mpg city/27 mpg hwy for the Panamera 4), while the Panamera S and 4S drop to 17 mpg city/27 mpg hwy (17 mpg city/26 mpg hwy for the 4S Executive). The GTS checks in at 16 mpg city/24 mpg hwy, and the Turbo and Turbo S return 15 mpg city/24 mpg hwy.
The plug-in S E-Hybrid, meanwhile, achieves 23 mpg city/29 mpg hwy, and it can also cover roughly 20 miles on battery power alone at up to 84 miles per hour. If you have access to a 240-volt charging station, the S E-Hybrid's depleted battery pack can be recharged in just 2.5 hours.
Note that all Panameras, except the S E-Hybrid, utilize a 7-speed dual-clutch automated manual transmission known as PDK. The Hybrid employs a conventional 8-speed automatic.
Standard Features & Options
The base Panamera ($79,095) comes with a V6 engine, 18-inch alloy wheels, xenon headlights, LED accent lighting, a power-operated hatchback, a sunroof, dual-zone automatic climate control, 8-way power front seats, Bluetooth, a USB port, a 7-in infotainment display with a hard-drive-based navigation system and an 11-speaker audio system. The Panamera 4 ($83,795) adds all-wheel drive.
The Panamera S ($94,195) and all-wheel-drive Panamera 4S ($99,295) models step up to a powerful twin-turbocharged V6, adaptive headlights and driver-adjustable suspension settings.
The Panamera S E-Hybrid ($99,995) boasts the advanced plug-in hybrid system described above, hybrid-specific instrumentation, an air suspension, the Porsche Car Connect interface (including a hybrid-specific smartphone app) and speed-sensitive power steering that's optional on other models.
The Panamera GTS ($114,395) features a V8 engine, extra LED accent lights, 19-in wheels, upgraded brakes, a sport exhaust system, a power-adjustable SportDesign steering wheel with paddle shifters and 18-way adaptive sport seats.
The Panamera Turbo ($142,295) offers many of the GTS model's performance-oriented features along with a stronger turbocharged V8, keyless entry/start, 14-way power front seats, extended leather trim and a 14-speaker Bose audio system. Notably, the Turbo's Sport Chrono package (also available on other Panameras) adds a racy acceleration stopwatch and an extra dollop of torque at full throttle.
The Panamera Turbo S ($181,295) pours on the performance with 50 extra hp, 20-in wheels, ceramic-composite brakes, a sport rear differential and numerous other flourishes.
The Executive models, meanwhile, boast exclusive features such as a wheelbase that's 5.9 inches longer (for increased rear legroom), self-closing doors, a standard air suspension, thicker glass, heated and cooled front and rear seats, 8-way power rear seats, a rear vanity mirror, power sunshades and 4-zone automatic climate control. Three trims are offered: 4S Executive ($126,595), Turbo Executive ($162,095) and Turbo S Executive ($201,495).
As we've come to expect from Porsche, there's a never-ending list of options for the Panamera, including many of the standard items on higher trims. Other highlights include adaptive cruise control, a rear entertainment system, a 360-degree rearview camera and a high-end Burmester audio system.
Cargo capacity in the regular Panamera models measures 15.7 cu ft. behind the rear seats (11.8 cu ft. in the S E-Hybrid) and nearly 45 cu ft. with the rear seatbacks folded down (40.7 cu ft. in the S E-Hybrid). Porsche hasn't specified the maximum cargo capacity of Executive models, but there should be slightly more of it due to the longer wheelbase.
Safety
The Panamera comes standard with anti-lock brakes, stability control and 10 airbags (front, front-side, front-knee, rear-side and full-length side-curtain). The available ceramic-composite brakes improve stopping power significantly.
Behind the Wheel
The Panamera's cabin hasn't changed much over the years, and we're not complaining. Other than the initially overwhelming array of buttons (unlike most rivals, the Panamera does not employ a knob-based infotainment interface), this is a thoroughly enjoyable driving environment. The materials are exceptionally nice, and four adults can ride in supreme comfort for many miles. The Executive models increase rear legroom, but the regular Panamera certainly doesn't lack passenger space. Forget about the spartan appointments that Porsche's 911 sports car used to be known for, because the Panamera has one of the nicest interiors on the market.
Once you hit the gas, though, you'll likely forget about all those luxuries. The Panamera provides a driving experience like no other. Imagine a car that's the size of a Mercedes-Benz S-Class but handles like a compact sport sedan, and you'll start to get the idea. Even the base V6 is respectably quick, but we recommend at least the turbocharged S and 4S models for full enjoyment. Our favorite model is still the GTS with its naturally aspirated V8, but of course the Turbo and Turbo S are fun in their own right, and the seriously fast S E-Hybrid brings unprecedented performance to the plug-in-hybrid segment. Are you sensing a theme here? You really can't go wrong with any of the Panameras in Porsche's stable. This is an amazing car.
Other Cars to Consider
2015 Audi A8 -- With standard all-wheel drive and sophisticated style, the A8 is a formidable foe.
2015 Mercedes-Benz S-Class -- The recently redesigned S-Class is a class leader in comfort and serenity and has plenty of power on tap, too.
2015 Tesla Model S -- If your lifestyle allows for an electric car, the Model S has all the bases covered, and it's made right here in the U.S.
Used Maserati Quattroporte -- Feel like saving a boatload of money on a certified pre-owned Italian? The previous-generation Quattroporte came standard with a Ferrari V8 engine, and it has timeless styling, too.
Autotrader's Advice
We love the extroverted GTS model's unique combination of sports-car attitude and executive-class luxury. It's one of our favorite cars, period.