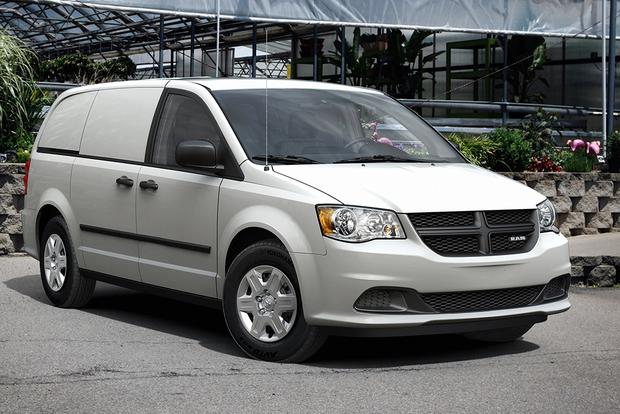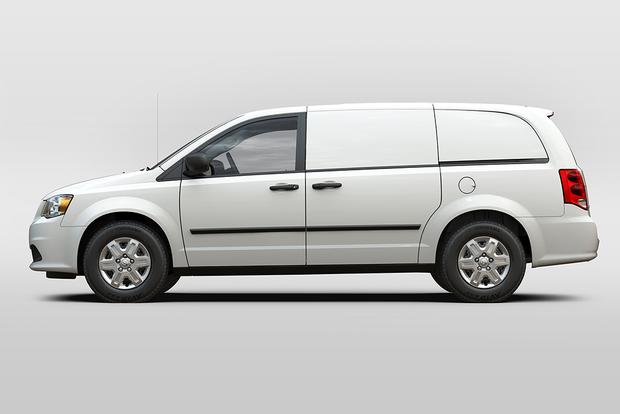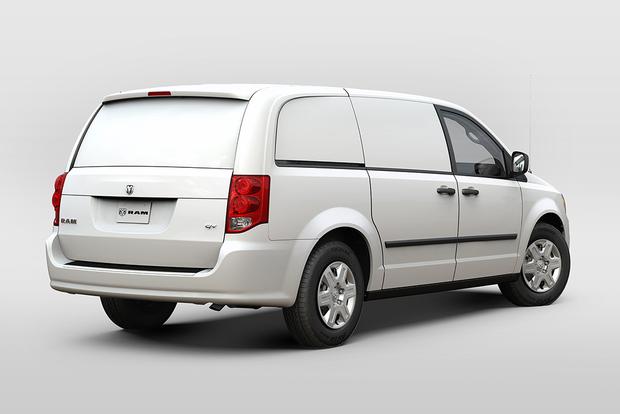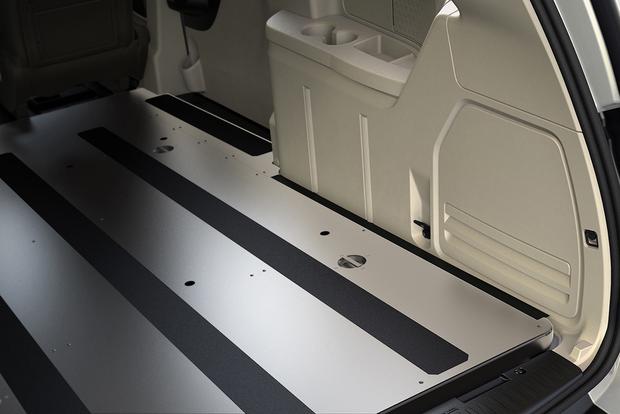 If you start searching for a cargo van, you might become quickly impressed with all the various offerings on the market today. After all, there are new models out from Nissan, Ford and Ram, and we suspect that more new vans are on the way. You've probably noticed that most new cargo vans are large vehicles designed to carry large loads, but if you're a city-dwelling business owner located where space is at a premium, which model should you choose?
Enter the 2015 Ram C/V Tradesman, a midsize cargo van based on the Dodge Grand Caravan minivan. Although it's not as useful as full-size models, including Ram's own ProMaster, it offers a few crucial benefits that those models can't, such as smaller dimensions for tight parking spaces and a smaller turning circle for narrow city streets. In effect, this is the cargo van for big-city businesses that don't mind trading a little interior space for city-friendly exterior dimensions.
What's New for 2015?
The Tradesman makes only one change for 2015, replacing last year's 16-inch wheels with newly standard 17-inchers.
What We Like
City-friendly sizing; powerful engine; surprisingly large interior; reasonable pricing
What We Don't
Limited towing capacity; rear doors don't swivel; mediocre fuel economy
How Much?
$23,000
Fuel Economy
The 2015 Ram C/V Tradesman offers just one engine: Chrysler's 3.6-liter Pentastar V6, which pushes 283 horsepower and 260 lb-ft of torque to the van's front wheels. The only available transmission is a 6-speed automatic. Fuel economy stands at 18 miles per gallon in the city and 26 mpg on the highway.
Standard Features & Options
The Ram C/V Tradesman comes in only one trim level, which starts around $23,000 with shipping. Standard features are sparse but include 17-in steel wheels, cruise control, keyless entry, power locks, power front windows, upgraded suspension for heavy loads and a CD player/auxiliary jack with a 2-speaker sound system.
Options are surprisingly plentiful, however. Available features include power rear windows, a power driver's seat, an onboard Wi-Fi router, a 6.5-in center touchscreen, a backup camera, a navigation system, Chrysler's Uconnect infotainment system, satellite radio, Bluetooth and steering-wheel audio controls.
Safety
Standard features in the Tradesman include front-side airbags, side-curtain airbags, stability control, traction control and anti-lock disc brakes. The only safety option is a backup camera. Although the Ram C/V Tradesman has not been crash-tested by the federal government, the structurally similar Dodge Grand Caravan received four stars overall, including four stars in frontal and rollover assessments and five stars in the agency's side-impact test.
Behind the Wheel
Unlike most cargo vans, the Ram C/V Tradesman feels more like a typical van than a work truck. Of course, that's because it is a typical van, and many of our comments regarding the Dodge Grand Caravan's driving experience apply to the C/V Tradesman, too.
For example, we still find the C/V Tradesman's chassis a bit crude, resulting in a ride that isn't the best over potholes and bumps. Interestingly, while this is a big problem in the family-focused Grand Caravan, it's only a minor gripe in a work vehicle such as the Tradesman. In fact, we'd say that the Tradesman is about midpack for ride quality among cargo vans.
If acceleration is strong in the Grand Caravan, it's downright fast in the Tradesman. The Tradesman gives up the Grand Caravan's rear seats, which means that there's little weight to slow it down as it pushes 280 hp. While we don't condone frequent bouts of high-speed acceleration, let's just say that you'll have no trouble keeping up with traffic in the Tradesman.
Our biggest gripe about the Tradesman relates to its tailgate. While a top-hinged tailgate is standard fare for minivans, we expect swiveling doors on a cargo van. They can make wide or tall items easier to load, and the minivan-style tailgate can get in the way when loading and unloading larger goods.
Other Cars to Consider
2015 Ford Transit Connect -- Ford's smaller Transit Connect slots below the newly available Transit in the brand's cargo-van lineup. Fuel economy and technology beat out the C/V Tradesman, though the Transit Connect offers less power and a smaller interior.
2015 Ram ProMaster City -- Interestingly, the Ram brand already offers a cargo van with a city focus. It's called the ProMaster City, and it offers impressive fuel economy and a similar-sized interior that's more purpose-built for hauling goods.
Used Chevrolet Express -- If you want a big interior without big-van sizing, consider the Chevrolet Express. Formerly a full-size van, it's now an in-between model straddling the line between the C/V Tradesman and the larger ProMaster. Prices are higher than the ProMaster's, though, so you may have to consider a used model.
Used Nissan NV -- The full-size Nissan NV comes in a wide variety of sizes. If you opt for a smaller configuration, you might find a van that meets your city-dwelling needs. Prices are high, however, so you may want to search for a used NV.
AutoTrader's Advice
Although the Ram C/V Tradesman hasn't received much attention in a world filled with newer models, we think it has a lot to offer, especially considering its powerful engine, surprisingly spacious cabin and reasonable pricing. We'd get the Tradesman with a few options, and we'd enjoy the Pentastar V6 at every possible highway on-ramp.