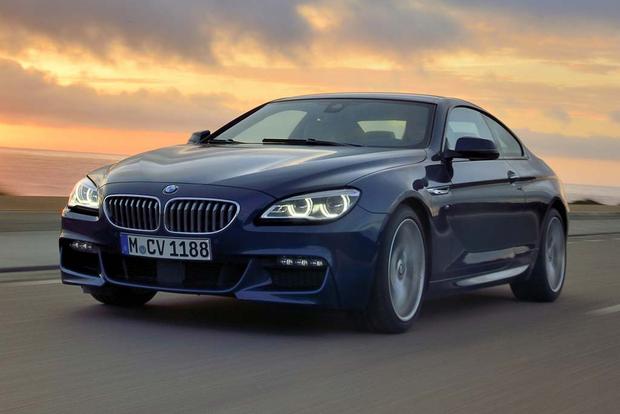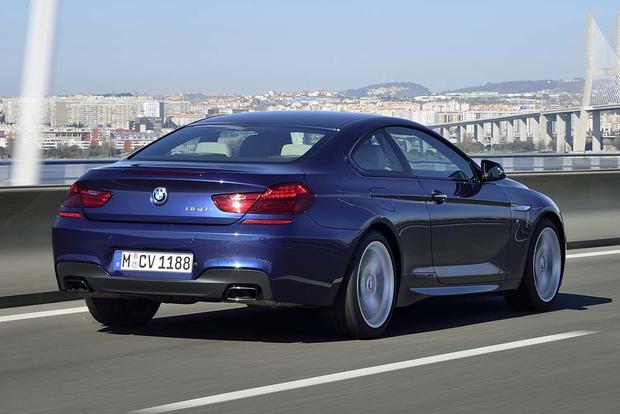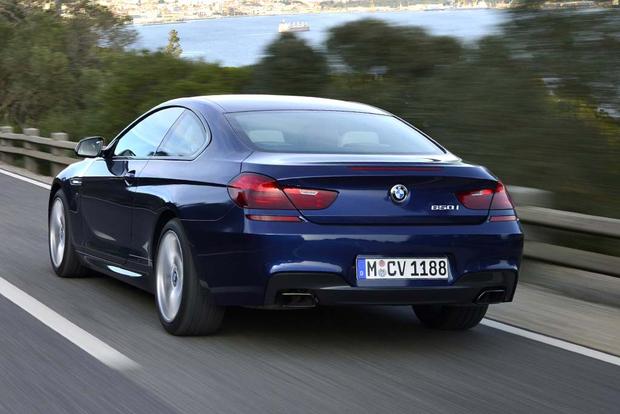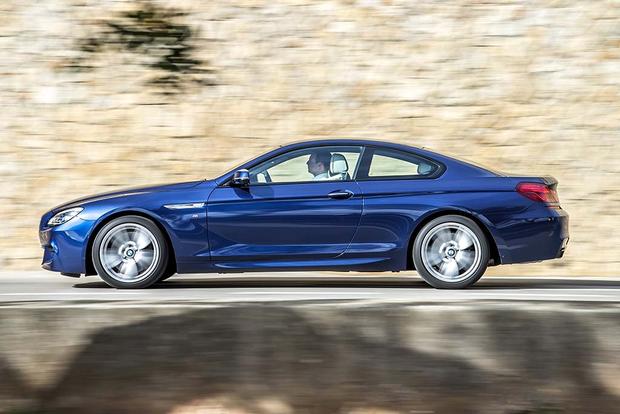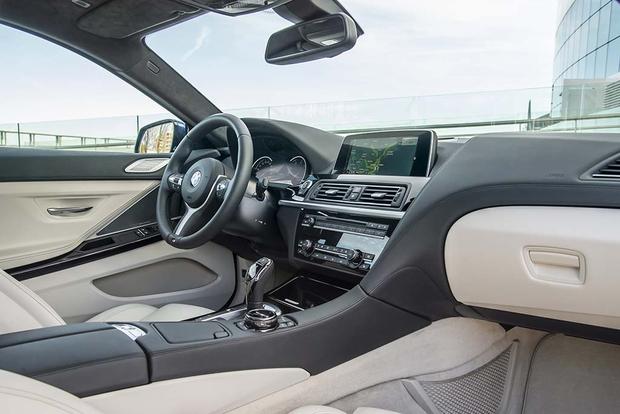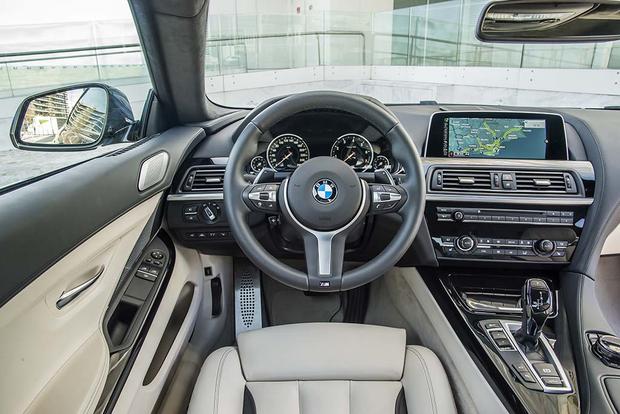 The 2016 BMW 6 Series is an ideal grand tourer. It provides effortless power, gorgeous surroundings and a ride that makes an 8-hour drive something to look forward to. What it doesn't do is stir the blood through the corners, since there's no disguising the car's considerable mass, despite a suspension tuned by some of the best engineers in the business. But it has its own attributes to enjoy, especially with a big V8 rumbling under the hood.
What's New for 2016?
It takes a keen eye and possibly too much free time to notice, but there are now nine bars in each half of the hallmark double-kidney grille (there used to be 10). This is part of a wider set of styling tweaks for the 2016 model year that also expands the grille's openings, relocates the (redesigned) fog lights and makes a few more subtle modifications to the front and rear.
Standard equipment now includes adaptive full LED headlights with automatic high beams, a sport exhaust system, a second microphone for Bluetooth and the ability to link up a second phone, some new paint finishes and new multispoke designs for the 20-inch alloy wheels.
What We Like
Fantastic engines; long-distance cruising abilities; high-quality interior; plenty of tech; availability of all-wheel drive
What We Don't
Less athletic than the BMW badge might imply; cramped back seat; no retractable hardtop for the convertible
How Much?
$78,295-$97,195
Fuel Economy
All 6 Series models come with an 8-speed automatic transmission (using BMW's distinctive joysticklike shifter). Rear-wheel drive is standard; all-wheel drive (what BMW calls xDrive) is a $3,000 option throughout the range.
The 640i has a turbocharged 3.0-liter inline 6-cylinder engine making 315 horsepower and 330 lb-ft of torque. The Environmental Protection Agency estimates fuel consumption for the rear-drive coupe and convertible at 20 miles per gallon in the city, 31 mpg on the highway and 24 mpg combined, which is impressive. All-wheel drive yields 20 mpg city/29 mpg hwy/23 mpg combined with either body style.
A twin-turbocharged V8 in the 650i generates 445 hp and 480 lb-ft of torque. Both the rear-drive coupe and convertible achieve 17 mpg city/25 mpg hwy/20 mpg combined. Adding all-wheel drive results in 16 mpg city/19 mpg hwy/25 mpg combined for the coupe and 15 mpg city/24 mpg hwy/18 mpg combined for the convertible.
Standard Features & Options
The 2016 BMW 6 Series is offered as a coupe or a soft-top convertible in 640i and 650i forms.
Both the 640i coupe ($78,295) and 640i convertible ($85,795) come standard with a turbocharged inline 6-cylinder engine, 18-in alloy wheels, adaptive LED headlights, LED fog lights, a sport-tuned suspension with adaptive dampers, front and rear parking sensors, a tilting glass roof panel (coupe), keyless entry/starting, a digital instrument cluster, leather upholstery, 6-way power front seats with driver memory settings, a power adjustable steering wheel, dual-zone automatic climate control, iPod/USB and Bluetooth connectivity, a 9-speaker audio system with the hard-drive-based iDrive infotainment system and a 10.2-in widescreen display, a touchpad-equipped controller knob, digital music storage, a navigation system and a rearview camera. The coupe gets a sunroof, while the convertible has special sun-reflecting leather on the seats and even the steering wheel.
The 650i coupe ($89,965) and 650i convertible ($97,195) add a twin-turbocharged V8, 19-in alloy wheels, a Harman Kardon audio system, 16-way multicontour power front seats with memory and Nappa leather upholstery.
Some of the 650i's extra features are available on the 640i as options, such as 20-in wheels, adaptive cruise control, side-view and top-view cameras and a 16-speaker Bang & Olufsen audio system. The comprehensive M Sport Edition package contributes aerodynamic tweaks, M-design 19-in wheels, a high-gloss Shadowline trim, black-painted brake calipers, dark-chrome exhaust tips, extensive M interior modifications (including extended Alcantara and Nappa leather trim) and a full range of technology features.
The back seat isn't really big enough for passengers, unless those sitting in the front have short legs or don't mind having their chin close to their knees. Even then, headroom is severely limited unless you're in the convertible with the top down. Speaking of which, there are no complaints about the vinyl roof's rapid power operation. It's important to note, however, that soft-tops are inherently vulnerable to break-ins and harsh weather in ways that retractable hardtops are not. Incidentally, the convertible's heated glass rear window can retract when the roof is up and stay in place as a wind deflector when the roof is down.
The coupe has a reasonable 13 cu ft. of trunk area, while the convertible offers 12 cu ft. with the top up. Folding the top down reduces that space by a couple of cu ft.
Safety
The 2016 6 Series comes with stability control, 4-wheel anti-lock disc brakes, active front head restraints and four airbags (front and front-side). Numerous high-tech safety features are available, including a blind spot monitoring system, lane-departure warning, night vision and a collision-mitigation system with automatic emergency braking. The convertible adds roll bars that pop up automatically in emergencies.
The BMW 6 Series has not been crash-tested by the National Highway Traffic Safety Administration or the independent Insurance Institute for Highway Safety.
Behind the Wheel
The first impression is that the front seats are particularly low. They're not hard to get into, but there's a definite sports-car flavor here. The standard 6-way power front seats are more than pleasant, but the optional 16-way multicontour seats are so versatile and supportive that they're virtually a must-have.
The gauges on the 6 Series use BMW's familiar white-on-black numerals that switch to orange on black at night. Interior materials are exceptional, and the dashboard swoops toward the driver, accented by the beautiful 10.2-in iDrive screen with its much-improved interface. The only real quibble is that the steering wheel seems a bit large for coupe/convertible duty.
The 640i's inline 6-cylinder brings strong yet civilized acceleration. But the main event is the 650i's spectacular twin-turbo V8, which is so quick at any speed that it makes us almost question the point of the M6. The 8-speed automatic transmission is a perfect partner, upshifting seamlessly and matching revs on downshifts enthusiastically.
Ultimately, though, the 6 Series is too large and heavy to really be considered athletic. Its true comfort zone is on the highway, where it's serene and planted at all speeds.
Other Cars to Consider
2016 Jaguar F-TYPE -- The F-TYPE only has two seats, but it's exceptionally capable, smooth and stylish.
2016 Porsche 911 -- The current 911 has morphed into something of a GT car, but it's still much more engaging than the sedate 6 Series. The 6 has the better ride, however.
Used Mercedes-Benz AMG SL63 -- The astounding SL63 is usually in a different price range, but a certified pre-owned example of this retractable-hardtop 2-seater could fall into 6 Series territory.
Autotrader's Advice
The 640i's fuel economy is great, but that's not what the 6 Series is all about. If your car-buying quest has brought you to this point, you might as well go big and get the 650i.