Editor's note: You may want to read more of Autotrader's model vs. model comparison car reviews as well as the 2016 BMW X5 review and the 2016 Mercedes-Benz GLE used car review.
If you're interested in buying a midsize luxury SUV, we suspect that you have the 2016 Mercedes-Benz GLE and the 2016 BMW X5 — two of the most popular models available today — on your shopping list. Both are handsome, high-tech and luxurious, and both come with steep price tags. So before you sign the papers on either of these two models, you might want to know which is better.
That's where we come in. We've created a close comparison between the two, but first let's see what's new with the X5 and the GLE for the 2016 model year.
2016 BMW X5
Following a major redesign for 2014, the X5 is unchanged for 2016, save for an upcoming plug-in hybrid model dubbed the xDrive40e. See all 2016 BMW X5 models available near you
2016 Mercedes-Benz GLE
Despite its all-new name, the GLE is actually just a revised version of the popular Mercedes M-Class SUV. Compared to last year's M-Class, it offers updated styling, a few new features, an improved COMAND infotainment system and a new plug-in hybrid model dubbed the GLE550e. See all 2016 Mercedes-Benz GLE models available near you
Reliability
According to the experts at J.D. Power, the X5 rates worse than average for predicted reliability. While the firm has not yet rated the GLE, the highly similar M-Class earned an average score, placing it slightly ahead of the X5. As for warranty coverage, the two models are identical, with each one touting 4 years or 50,000 miles of bumper-to-bumper coverage.
The result? This one is a little too close to call, though we think the GLE may have an ever-so-slight edge over its BMW rival. Still, if reliability is a top priority, you may instead want to consider a Lexus or Acura model over either of these two.
Fuel Economy
Drivers interested in gas mileage will want to choose from three X5 engines. The base-level 300-horsepower 3.0-liter turbocharged 6-cylinder touts up to 19 miles per gallon in the city and 27 mpg on the highway. Then there's a 255-hp 3.0-liter turbodiesel 6-cylinder option, which offers up to 24 mpg city/31 mpg hwy. Lastly, the new xDrive40e model offers a plug-in hybrid drivetrain that's capable of traveling around 15 miles on electric power alone.
Meanwhile, economy-minded drivers interested in a GLE also have three engines to choose from. There's the base-level GLE300d, which uses a 201-hp 2.1-liter turbodiesel 4-cylinder that gets 22 mpg city/29 mpg hwy. There's the GLE350, which uses a 302-hp 3.5-liter V6 that returns up to 18 mpg city/24 mpg hwy. And then there's the plug-in hybrid GLE550e, which can travel around 20 miles on electric power alone.
With the exception of the plug-in hybrid versions — which we suspect won't be strong sellers — there's little doubt that the X5 has the aging GLE beat out in terms of gas mileage, regardless of whether you want a gasoline engine or a diesel.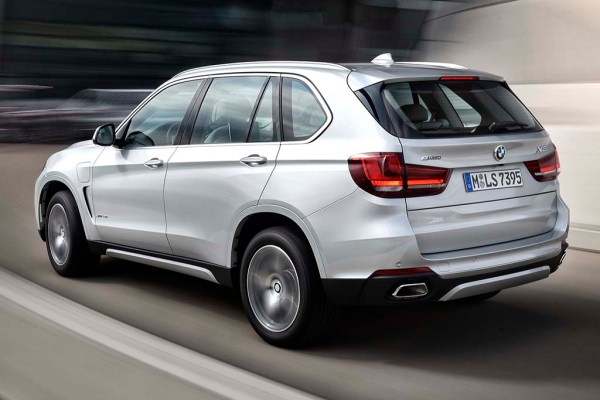 Safety
In crash testing carried out by the National Highway Travel Safety Administration, the X5 earned a perfect 5-star overall score. The M-Class also earned a 5-star rating, which we suspect will be shared by the GLE. Meanwhile, the GLE was named a Top Safety Pick by the Insurance Institute for Highway Safety (IIHS), falling just short of Top Safety Pick+ because it doesn't offer forward-collision braking. The X5 has not yet undergone enough IIHS testing for a full rating.
As for safety features, the X5 and GLE are largely on par with one another, with one big exception: the aforementioned forward-collision braking system. While forward-collision warning is standard in the GLE, only the X5 offers automatic forward-collision braking. The BMW also offers a head-up display, which we find useful, as well as rear cross-traffic alert, which isn't available in the GLE. Otherwise, both models offer adaptive cruise control, lane-departure warning, lane-keep assist, blind spot monitoring systems and side-curtain airbags, though the X5's slight advantage in equipment gives it the victory in this category.
Technology
When it comes to technology, Mercedes has done a great job keeping the aging GLE current with all-new models such as the X5, but BMW still has the advantage.
We've covered a few safety advantages offered by the X5 (rear cross-traffic alert, a head-up display and automatic forward-collision braking, for example), but it doesn't stop there: The X5 also offers more available stereo speakers, a night-vision camera system, 4-zone automatic climate control (compared to three zones in the GLE) and, in true BMW form, a sport suspension option — which you can't get in the GLE unless you pick the high-performance AMG GLE63. As it did in the Safety section, the X5 earns a victory in terms of technology.
Value
Although Mercedes pricing has historically been higher than BMW pricing, that's not the case here. The GLE starts at $52,000, while the X5 starts at $55,700. If you opt for a diesel, you'll pay $53,500 for a base-level GLE300d, while a base-level X5 xDrive35d starts at $58,700. This price gap — which gets larger as you move through the trim levels — is in spite of the fact that the GLE and X5 offer highly similar powertrain choices and equipment levels, as the BMW's equipment benefits are primarily relegated to its options list.
But don't count out the X5 just yet. BMW likely charges more to account for the X5's newer design, improved dynamics and more modern interior, all of which are far more likely to convince a luxury-car shopper to spend extra money than, say, a driver interested in a compact sedan. The result is that value is all about priorities: The GLE is certainly cheaper than the X5, but the BMW is more modern, and for some shoppers, that will easily justify the price premium.
Autotrader's Advice
Although we like the 2016 Mercedes-Benz GLE for its comfortable ride and long list of equipment, this one goes to the 2016 BMW X5. It's more efficient, more modern and better equipped, and it offers more safety features than its Mercedes-Benz rival. While we don't think the GLE is a bad choice, we think the X5 is a better one for drivers interested in an excellent luxury SUV, even in spite of its slightly steeper pricing.