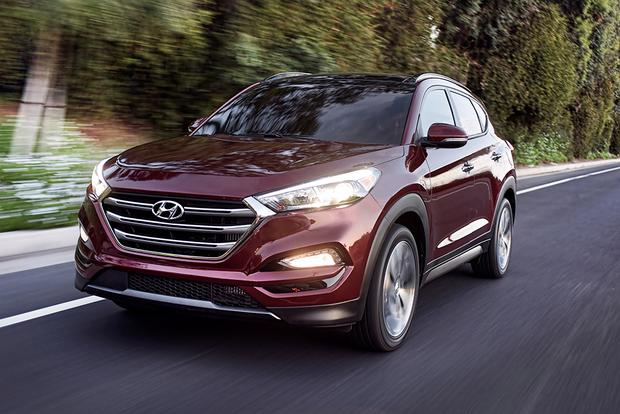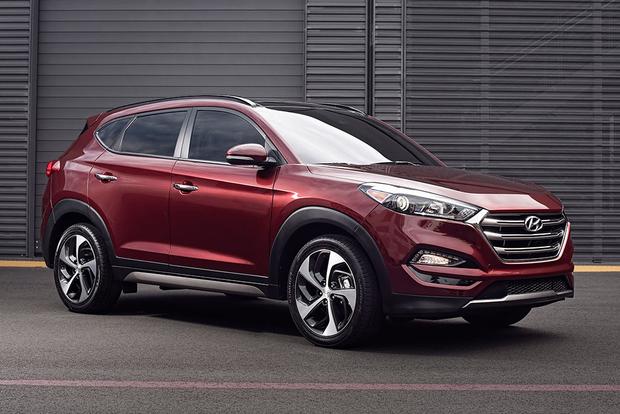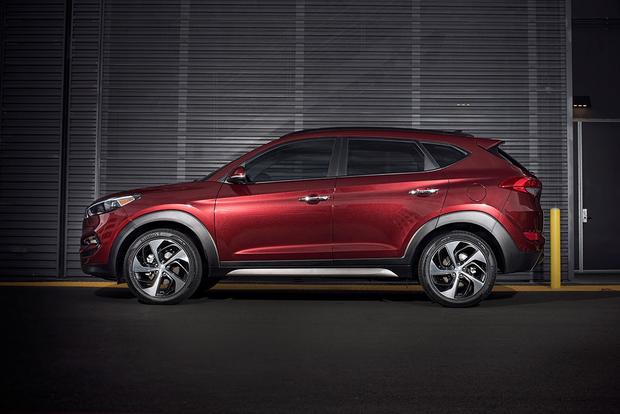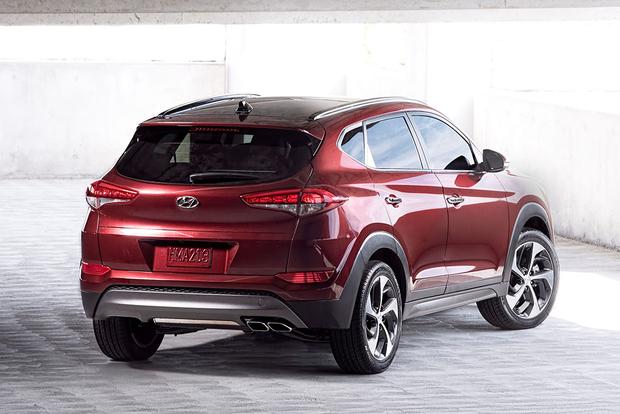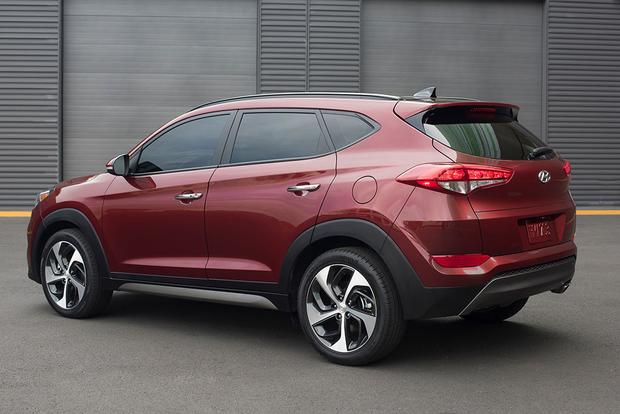 The competitive compact-crossover segment just got a new competitor: the 2016 Hyundai Tucson. Oh, sure, Hyundai has offered the Tucson before. The first-generation model came out for 2005, and it was redesigned in 2010, but at its advanced age, the previous-generation Tucson could hardly stand up to more modern rivals that offered more equipment, more features and better fuel economy.
Either the all-new 2016 Tucson, which has jumped to the head of its class. Now featuring excellent modern styling, a wide range of the latest features and impressive new powertrains designed with fuel economy in mind, the 2016 Tucson is now a formidable rival for even the most established opponents. It also boasts a smooth, comfortable driving experience and pricing that's competitive, though a little higher than we might have expected.
Although we're not sure if we're ready to say that the newly redesigned Tucson is the very best compact crossover on the market, we strongly believe that it's worthy of a spot on your shopping list.
What's New for 2016?
The Tucson is completely redesigned for 2016, offering new features, new powertrains, new equipment and a totally new look, inside and out.
What We Like
Lots of features; a wide range of standard and optional safety equipment; a smooth ride; stylish interior and exterior
What We Don't
Pricing a bit high compared to rivals; driving experience is dull
How Much?
$23,600-$30,900
Fuel Economy
The Tucson offers two powerplants. Base-level SE models use a 164-horsepower 2.0-liter 4-cylinder engine, which comes with a 6-speed automatic transmission and front- or all-wheel drive. Front-wheel-drive models return 23 miles per gallon in the city and 31 mpg on the highway, while opting for all-wheel drive drops gas mileage numbers to 22 mpg city/26 mpg hwy.
All other Tucson trim levels are powered by a new 175-hp 1.6-liter turbocharged 4-cylinder, which is mated to an impressively smooth 7-speed dual-clutch automatic transmission. Fuel economy with this engine tops out at 25 mpg city/30 mpg hwy with front-wheel drive, 24 mpg city/28 mpg hwy with all-wheel drive or slightly higher numbers if you opt for the fuel-saving Tucson Eco.
Standard Features & Options
The Tucson is offered in four trim levels: a base-level SE, a fuel-saving Eco, a midlevel Sport and an upscale Limited.
The Tucson SE ($23,600) is fairly basic, though it includes a few useful convenience features. Standard equipment includes a backup camera, Bluetooth, SiriusXM radio, alloy wheels and a USB port for an iPod -- all items that are also included in most of the car's rivals. The SE also comes standard with the Tucson's mediocre base-level 2.0-liter engine.
The fuel-saving Eco ($25,100) only adds a few extras, such as a chrome dual exhaust and turn signals built in to the side mirrors. Its main benefit is the addition of the Tucson's 1.6-liter turbocharged 4-cylinder engine, along with a few extra fuel-saving modifications to improve gas mileage.
Up next is the midlevel Tucson Sport ($27,100), which adds 19-inch alloy wheels, a blind spot monitoring system with rear cross-traffic alert, lane-change assist, heated front seats, a leather-wrapped steering wheel and a hands-free lift gate.
Topping the range is the high-end Tucson Limited ($30,900), which boasts an 8-in touchscreen with navigation, leather upholstery, LED headlights, automatic headlights, dual-zone automatic climate control, auto-dimming mirrors and Hyundai's Blue Link telematics system.
As for options, the Tucson has two major optional packages. The base-level SE can be equipped with the Popular Equipment package ($750), which adds a power driver's seat, LED running lights, illuminated vanity mirrors and a glove-box light.
Meanwhile, the upscale Tucson Limited can add an even more luxurious Ultimate package ($2,750) that touts an LCD gauge cluster, ventilated front seats, heated rear seats, a panoramic sunroof, rear parking sensors, lane-departure warning, an automatic braking system and adaptive xenon headlights.
Safety
Unlike its predecessor, the redesigned 2016 Hyundai Tucson offers virtually every modern high-tech safety feature you might expect from a car in this class. Standard features include side-curtain airbags, a backup camera and anti-lock brakes, while options include lane-departure warning, a blind spot monitoring system and a forward-collision prevention system with automatic braking.
Unfortunately, we're not sure how the Tucson holds up in crash tests, as it's so new that it has not yet been tested by the nonprofit Insurance Institute for Highway Safety or the federal government's National Highway Traffic Safety Administration.
Behind the Wheel
On the road, the Tucson is something of a mixed bag, though we suspect most crossover shoppers will appreciate the majority of what it has to offer. The Tucson touts a comfortable ride, predictable handling and, if you opt for the 1.6-liter turbocharged engine (as most drivers will), a tremendously smooth engine-and-transmission combination. In all, we think the Tucson offers one of the most pleasurable, supple rides in the compact-crossover segment.
Where the "mixed bag" remark comes in is for drivers who enjoy spending time behind the wheel. The Tucson isn't especially fun to drive, as acceleration is mediocre with either engine, and steering -- while suitable for the Tucson -- isn't exactly exciting. So while we think most drivers will appreciate the Tucson for its comfortable, smooth ride, those looking to have fun will probably want to consider another model with more power and improved handling.
As for visibility, interior room and cargo space, we found the Tucson to be roughly on par with other models in its segment: It's not a standout, but it's far from being the worst in its class.
Other Cars to Consider
2015 Ford Escape -- Although the Escape's design is a little older than the Tucson's, it still touts a lot of the same benefits, such as gas mileage, handling and technology. It also offers a more powerful engine choice. But ride quality isn't quite the same, and the Tucson has more safety features.
2015 Honda CR-V -- The recently updated CR-V offers a lot of technology and the same smooth, comfortable ride as the Tucson. We'd be sure to add it to our shopping list, too.
2016 Mazda CX-5 -- If you like the Tucson's equipment and fuel economy but want better handling and performance, the CX-5 is the way to go. It offers all the usual compact-crossover charm with improved suspension and steering for a more enjoyable driving experience.
Used Hyundai Santa Fe Sport -- Drivers who like the Tucson's many attributes (including Hyundai's excellent 10-year warranty) but need a little more interior space may want to consider the Santa Fe Sport, which offers everything we like about the Tucson in a larger package.
Autotrader's Advice
Although it's a little pricy, the Tucson Limited is our favorite model in the lineup. It offers an impressive array of equipment, teamed up with a smooth engine and transmission, a high-quality interior and a supple ride. So is it the best compact crossover on the market? Quite possibly.