Editor's note: You may want to read more of Autotrader's model vs. model comparison car reviews as well as the 2016 Jaguar XF review and the 2017 Jaguar XE review.
It's a busy year for Jaguar. In addition to rolling out a new SUV, the brand is debuting two totally new sedans: a fully redesigned version of the midsize XF and a completely new smaller model called the XE. But in addition to their size differences, what exactly separates the 2016 Jaguar XF from the 2017 Jaguar XE? And are there any crucial distinctions that you should know about before buying one or the other? We've created a close comparison to help you find out.
Exterior
On the outside, there's no doubt the XE and the XF bear a close family resemblance — so close, in fact, that we suspect many shoppers won't be able to tell the two models apart unless they're parked right next to one another, with the size difference more apparent (the XE is 183.9 inches in length, while the XF is about a foot longer). That's because the two models share grille designs, headlights and more. While this similarity may annoy some shoppers (especially XF owners), we think it's a good thing, as we think the two models are among the sleekest, most handsome sedans on the market today. See the 2017 Jaguar XE models for sale near you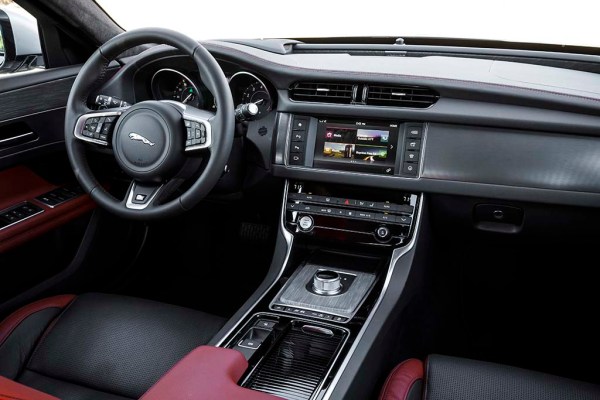 Interior
Differences on the inside are a little more obvious than they are on the outside. They're most obvious when comparing center control stacks, as the XE uses a more traditional design with one distinct piece compared to the XF's look, which uses additional lines and design elements to retain a more luxurious flair. Of course, interior room is also a major difference, and the XF simply has more of it, both in front and in back — but especially in back, where the larger Jag feels like a full-size luxury sedan compared to the much smaller XE. See the 2016 Jaguar XF models for sale near you
Mechanicals
The XE offers two engine choices. Most models use a 340-horsepower supercharged 3.0-liter V6, which touts an 8-speed automatic transmission and either rear-wheel drive or optional all-wheel drive. Drivers looking for additional fuel economy will want to opt for the XE 20d, which uses a 2.0-liter turbodiesel 4-cylinder that touts 180 hp and 318 lb-ft of torque. That engine also includes an 8-speed automatic transmission and rear- or all-wheel drive.
For the 2016 model year, the XF only offers one engine: the same 340-hp supercharged 3.0-liter V6 that powers the XE. While we suspect the XF's lineup will expand to offer several other powertrains in the near future, they haven't arrived yet. Like the XE, the XF comes with a standard 8-speed automatic transmission and rear- or all-wheel drive.
Features & Technology
When it comes to equipment, the XE and XF are virtually identical. Both offer the same infotainment system, along with identical safety aids, such as a self-park system, forward-collision warning with automatic braking, adaptive cruise control, a blind spot monitoring system, lane-departure warning and more. For drivers especially interested in performance, both models also tout an available adaptive suspension, while tech-obsessed car shoppers will like the head-up display, LCD gauge cluster, multispeaker sound system and 10-inch central touchscreen.
Indeed, when it comes to technology, neither of these models is especially distinct from one another in terms of technology, but both are among the most advanced models in the segment. That's a perk of being two of the newest models in the segment.
Driving Experience
Although we haven't yet climbed behind the wheel of the all-new 2017 Jaguar XE, we can only hope it's a livelier, sportier version of the XF. We say that because the only thing the XF is lacking is a little more oomph, as it plays the part of a handsome, luxurious sedan quite well otherwise. The XF also touts surprisingly respectable handling considering its size, though we admit steering tends to feel a little overassisted in just about every situation.
As for drawbacks, we think the XF's biggest is its lack of any additional powertrains beyond the standard 340-hp supercharged V6. While more engine choices are certainly on the way, shoppers with an eye on performance — or fuel economy — are currently left out of the sedan's target market. On the contrary, the XE will offer better performance and an optional highly efficient turbodiesel engine right from launch.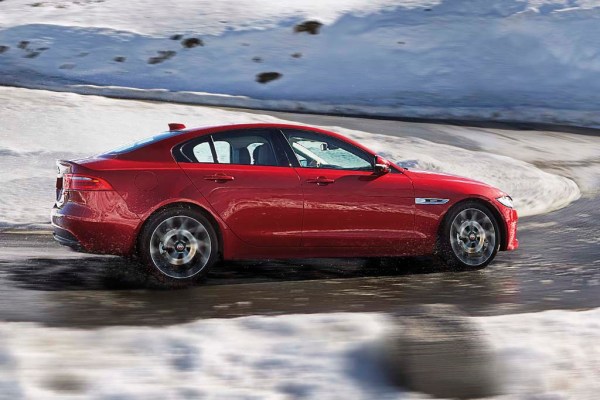 Safety
Although the federal government has not yet crash-tested the XE or the XF, it's worth noting that both models offer virtually all of today's latest safety features, including forward-collision warning, automatic collision-avoidance braking, automated parking, lane-departure warning, a blind spot monitoring system and automatic high beams. Drivers looking for an especially safe new car will find one in these two Jags — regardless of which model they choose.
Conclusions
The 2016 Jaguar XF and the 2017 Jaguar XE don't just have similar names — they're quite similar in a lot of ways, from their powertrains to their designs to their list of equipment and safety features. As a result, we highly suggest that most drivers consider the XE, which starts at $35,900 with shipping, before signing the papers on an XF, which starts at $52,900 including destination. You'll get a lot of the same equipment at a huge discount, and most of your neighbors will never know you went with the less-expensive Jaguar. The only exception is if you really need the extra space offered by the XF or if you prefer the larger Jag's more luxurious character. Find a used Jaguar XF for sale or Find a used Jaguar XE for sale