Editor's note: You may want to read more of Autotrader's model vs. model comparison car reviews as well the 2016 Lexus GX 460 review and the 2016 Lexus LX review.
If you're interested in buying a full-size luxury SUV, you've probably realized Lexus offers two, the 2016 Lexus GX 460 and the 2016 Lexus LX 570, while most luxury automakers only have one full-size SUV in their lineup. So, why the two? What's the difference? And which one is better? To help answer these questions and help you choose between these two SUVs, we've created a close comparison between the LX 570 and the GX 460 to examine several key areas.
Exterior
On the outside, most observers can easily tell the difference between the GX 460 and the LX 570. Of course, styling is one major difference, as these two models both offer distinctive looks, though we admit most car shoppers wouldn't find their designs to be dramatically different. What is dramatically different, however, is their sizing. Not only is the LX 570 7 inches longer than the GX 460, it's also 3 inches wider and slightly taller. These differences may not seem big, but they're quite apparent when the GX 460 and LX 570 are parked next to one another, as the LX 570 appears much larger than its GX stablemate. See 2016 Lexus LX 570 models for sale near you
Interior
The GX 460 and LX 570 are even more different on the inside than they are on the outside. Specifically, the GX offers more of a trucklike dashboard design, with upright panels, right angles and a general air of toughness instead of relaxed luxury. The LX 570 is the exact opposite, giving almost a high-end luxury sedan feel and appearance despite its SUV size. The LX 570 also offers an advantage when it comes to interior room, though both the LX and the GX have generous front and rear seat space. It's the third row where the LX 570 really trumps its GX stablemate, as the smaller Lexus offers a much tighter third-row seat. See 2016 Lexus GX 460 models for sale near you
Mechanicals
As indicated in their model names, the LX 570 and GX 460 use different engines, though both offer brawny V8 power. In the GX 460, the powertrain is a 4.6-liter unit that makes an impressive 301 horsepower and 329 lb-ft of torque. A 6-speed automatic is standard, as is full-time 4-wheel drive, and the GX 460 returns a mediocre 15 miles per gallon in the city and 20 mpg on the highway.
Meanwhile, the LX 570 comes standard with a muscular 5.7-liter V8 that makes a brawny 383 hp and 403 lb-ft of torque. Also offered with a standard 6-speed automatic transmission and full-time 4-wheel drive, the LX 570 returns a paltry 13 mpg city/18 mpg hwy, which is far behind most rivals.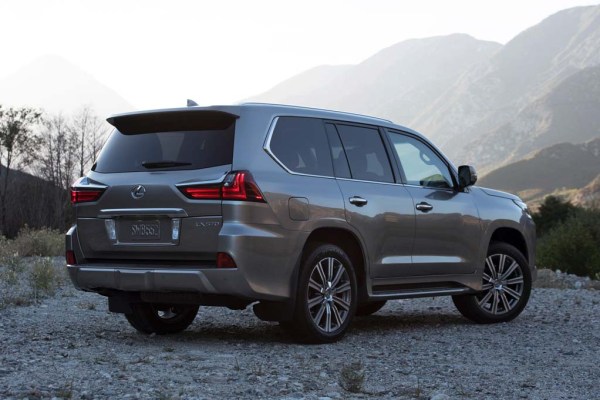 Features & Technology
Both the GX 460 and the LX 570 offer just about everything you could want in a luxury SUV, as they should, considering starting prices of around $52,000 for the GX (up to around $70,000 fully equipped) and an impressive $89,900 for an LX.
With that said, the LX offers a few additional features designed to sway shoppers away from the GX. For instance, while the GX 460 offers only one rear entertainment screen, the LX has an excellent dual-screen setup. The LX offers a 19-speaker sound system and a 12.3-inch center display to the GX's 17-speaker system and 8-in center display. The LX offers a few other unique features, like 4-zone automatic climate control, rear sunshades and ventilated rear seats. While the GX offers just about anything you could want, the LX has it all.
Driving Experience
On the road, the GX and LX offer surprisingly different driving experiences. Acceleration is one major difference. Despite the GX's smaller size, it's the LX that's considerably faster, thanks to one of the most muscular engines you can buy in a modern SUV. As it turns out, 403 lb-ft of torque is nothing to scoff at.
In the turns, it's the exact opposite, predictably. The GX 460 is nimbler than its big brother, but both SUVs feel surprisingly solid. As for comfort, the GX 460 tops most luxury SUV rivals, but it doesn't come close to the LX 570's on-road feel, which is among the softest of any SUV on the road. Interestingly, both SUVs are highly adept off-road, though we suspect most owners won't take them there.
Safety
Neither the LX 570 nor the GX 460 have been crash tested by the federal government's National Highway Traffic Safety Administration or the nonprofit Insurance Institute for Highway Safety. Our money is on them doing pretty well in just about any collision, though, considering their large size and abundance of safety features.
In more explicit terms, that abundance of safety features includes a wide range of standard items, like side-curtain airbags, anti-lock brakes and a backup camera, along with options ranging from blind spot monitoring and rear cross-traffic alert to lane-departure warning and forward-collision warning. Both SUVs also include the Lexus Enform Safety Connect system, which touts crash notification and stolen-vehicle tracking.
Conclusions
The 2016 Lexus GX 460 has more than enough space, power, equipment and safety features for virtually any shopper interested in a luxury SUV. If you're trying to choose between these two models, we highly recommend it. If you want the very best, a full-size luxury SUV that some would consider to be the ultimate SUV on the market, then only the LX 570 fits the bill. The question of whether it's worth the massive price premium over a GX 460 is something only you can decide. Find a Used Lexus GX Model for sale or Find a Used Lexus LX Model for sale