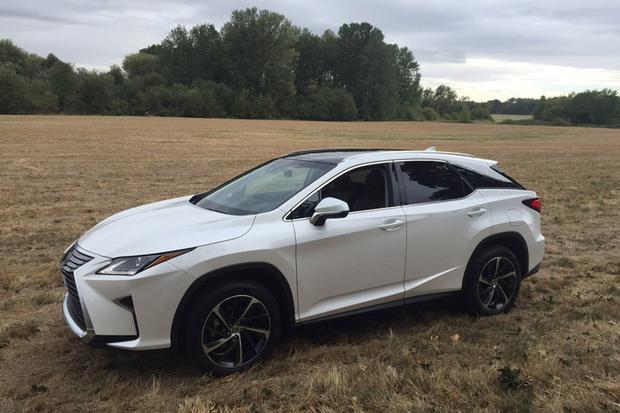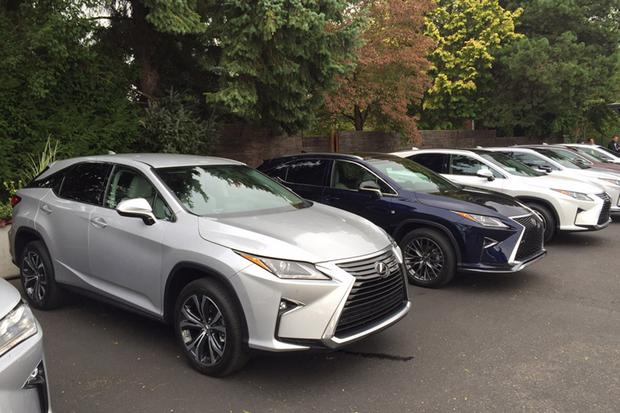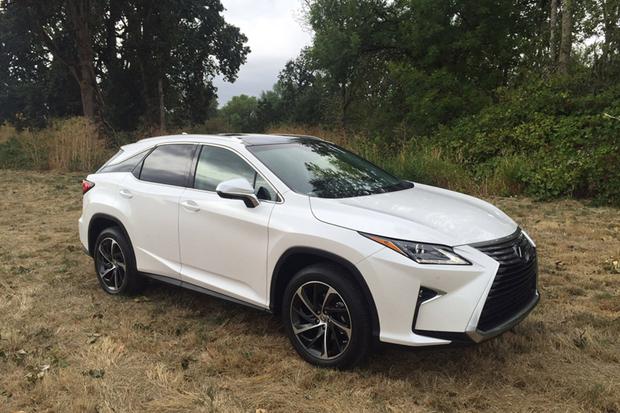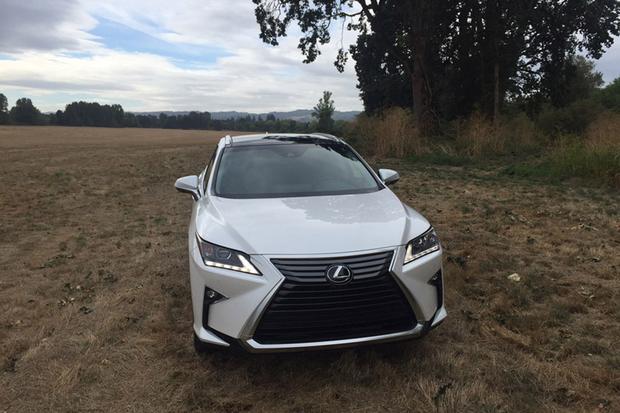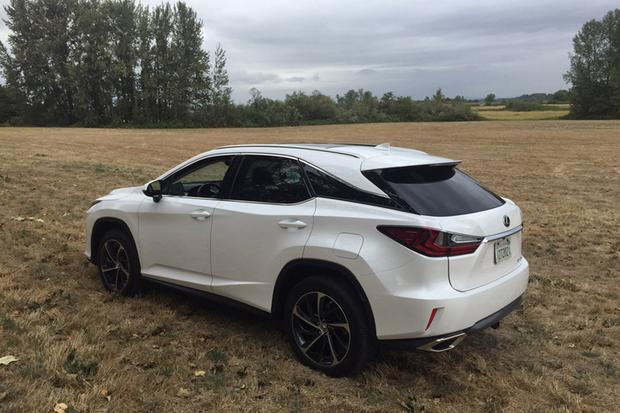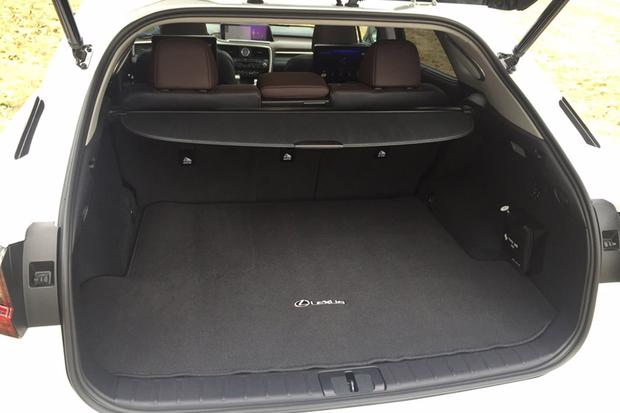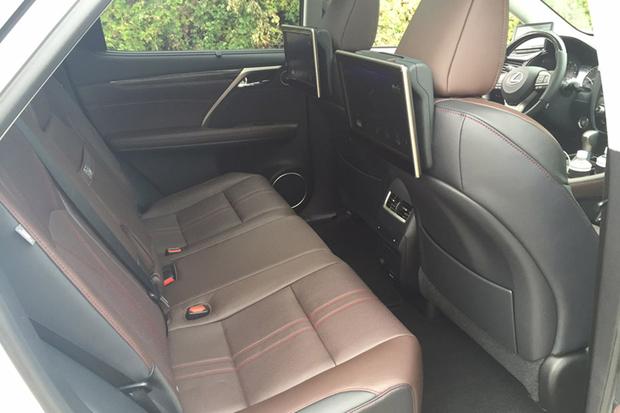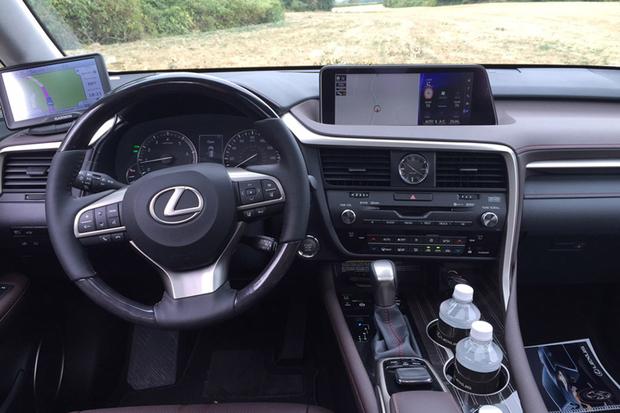 It's an understatement to say the Lexus RX is an important model for Lexus. In fact, it's the important model: the brand's most popular vehicle by far since the day it originally debuted for the 1999 model year. As a result, we jumped at the chance to drive the all-new, totally redesigned 2016 Lexus RX. So how does it stack up to rivals? And more importantly, how does it compare to the beloved outgoing model? Here's what we think.
Start With Styling
There's no doubt about it: The latest, fourth-generation RX represents the most radical departure from Lexus' traditionally staid, conservative styling in the brand's SUV history. So while we usually don't comment on something as subjective as styling, we think that it's certainly worth bringing up in this case.
Despite the RX's unusual new appearance and its aggressive lines, we happen to like the look. Well, some of our editors like it, while others think it's blatantly unattractive. But even those who don't like the look admit that Lexus really had to do something radical here, or we'd forever think of the RX as a great car for our parents -- and no one else. We think the new RX is sporty, youthful and futuristic in a way that many past Lexus models haven't been. But if you're a loyal RX buyer simply coming back for your next one, we strongly suggest that you prepare yourself for a departure from the luxury crossover's traditional appearance, as you might be surprised by what you see.
Inside the RX
Although the latest RX's interior has been fully redesigned just like the exterior, changes to the cabin seem almost inconsequential in comparison to the totally new shape of the body. Still, there are many new items to notice inside the cabin -- and we think there's a lot to like.
For one, the crossover ditches its somewhat generic center control stack for a well-designed, driver-focused unit that sports available high-end wood textures. The steering wheel is thicker and sportier -- regardless of whether you get the standard model or the sport-tuned F-Sport version -- and the gauge cluster offers a handsome new look that's delightfully reconfigurable on certain versions.
As for trim and upholstery, Lexus has done the RX well: There's comfortable, plush leather, a beautifully stitched dashboard and high-quality touches throughout the cabin. Make no mistake: The RX is no upscale Toyota. It never has been, of course, but that reality is especially true of the new fourth-generation model.
Perhaps the RX's only interior drawback is that it still doesn't offer 3-row seating. We're a little perplexed by this, as we know several shoppers who have chosen one of the RX's rivals -- such as the Acura MDX or Infiniti QX60 -- simply because they offer the third row. It's even more questionable when you consider that the popular Toyota Highlander -- which shares its platform and powertrains with the RX -- comes standard with three rows. Sure, Lexus has other 3-row SUVs, such as the V8-powered GX 460 and LX 570, but we'd rather see three rows in a V6-powered car-based crossover than the trucklike GX and LX. Of course, this won't matter to some buyers -- but for others, it could make or break their decision to buy the RX.
Powertrain Changes?
Although Lexus has made some subtle powertrain changes to the latest RX, engine and transmission issues were hardly a complaint of the outgoing model -- so the new RX doesn't go too far with any big updates here. Specifically, the base-level RX 350 gets an additional 25 horsepower from its 3.5-liter V6 for a new total of 295, while the RX 450h sees a bump from 295 horses to 308. There's also a new 8-speed automatic transmission that replaces last year's 6-speed.
To the average driver, these changes will be almost entirely unnoticeable. The 8-speed will help ever so slightly with smoothness, fuel economy and acceleration, while the extra power may result in a slightly quicker 0-to-60 time. Otherwise, the latest RX drives a lot like the old RX -- and that's a good thing. It's smooth, it's predictable, it's comfortable and it's stable. And despite what you might think, visibility isn't so bad -- especially considering the huge mirrors and overbearing blind spot monitoring system.
The sole exception to all this sameness is the F-Sport model, which is finally starting to show the fun side of the RX 350. While powertrains are carried over from the regular RX 350 to the F-Sport, F-Sport models offer notably better handling during even normal driving -- and that means drivers looking for a little fun from their luxury crossover can now consider the RX in addition to traditionally sportier SUVs such as the Audi Q5, BMW X5 and Infiniti QX70. This time around, there's even an F-Sport hybrid model -- in terms of driving dynamics, this might be the best RX in the whole lineup.
Features and Options
Although constant updates have ensured that the RX has never become a technological dinosaur compared to rivals, the new model boasts some impressive features that help keep it at the very top of the midsize-luxury-SUV class. Two examples include the excellent new lane-keep assist feature -- which will steer you back into your lane if you start to drift out -- and a newly updated adaptive cruise control system that can now bring you to a full stop if traffic in front of you also comes to a stop.
We also like the RX's new infotainment system, which offers a huge screen that allows for a dual-screen setup. One benefit of the new model is that the system is placed a little higher on the dashboard so you don't have to take your eyes as far off the road in order to read it. But we'll echo virtually everyone else's complaint that the Remote Touch system is hard to use, even after all its refinements and iterations. Simply put, we'd rather have a touchscreen.
Our Take
The 2016 Lexus RX has clearly undergone a massive amount of expensive development, careful engineering and vigilant focus-group testing. It shows. We're impressed with virtually every aspect of this SUV, from equipment to appointments to smoothness -- even the sporty new F-Sport model, undoubtedly the result of a response to consumer complaints that the previous RX just wasn't as fun to drive as the competition.
Lexus can't afford to make an RX that isn't a home run, and aside from the lack of 3-row seating and a few small drawbacks here and there, the brand should have absolutely no concern that this one will fall short.