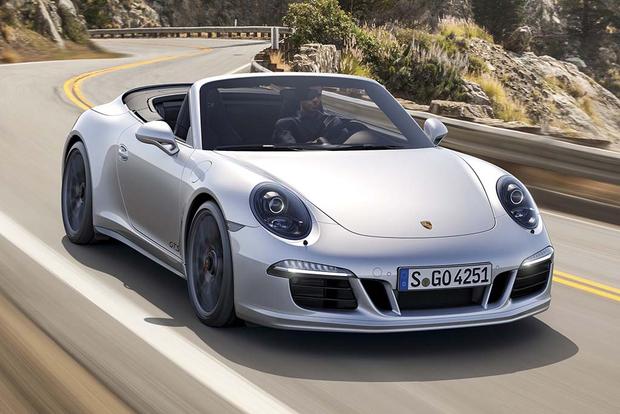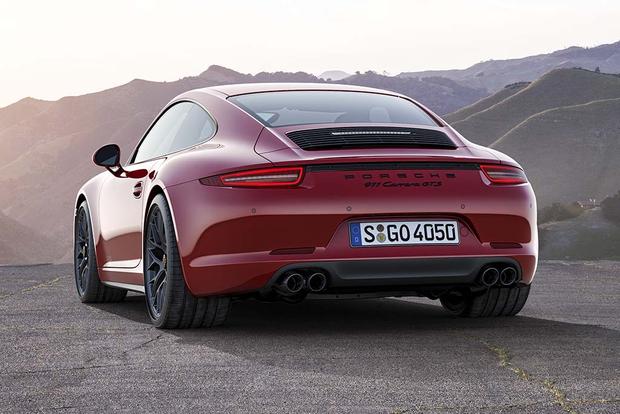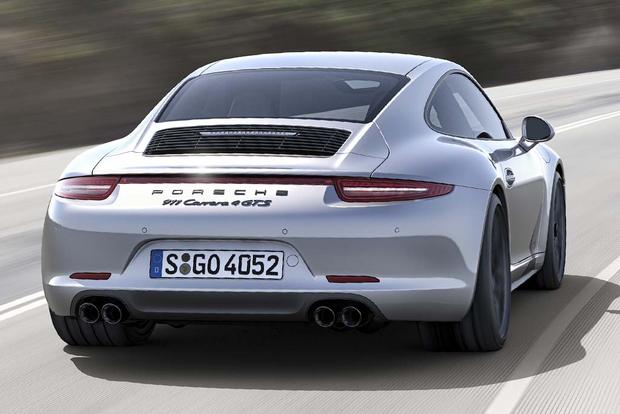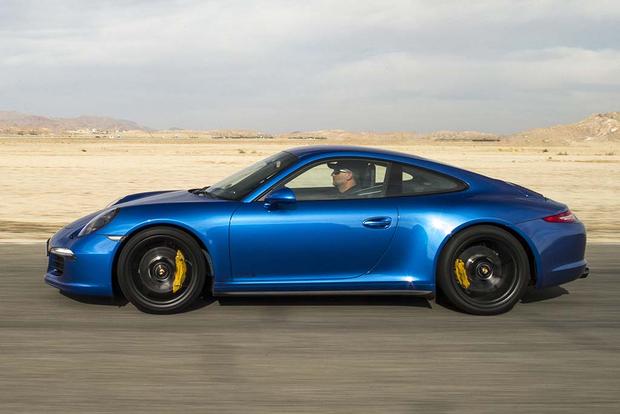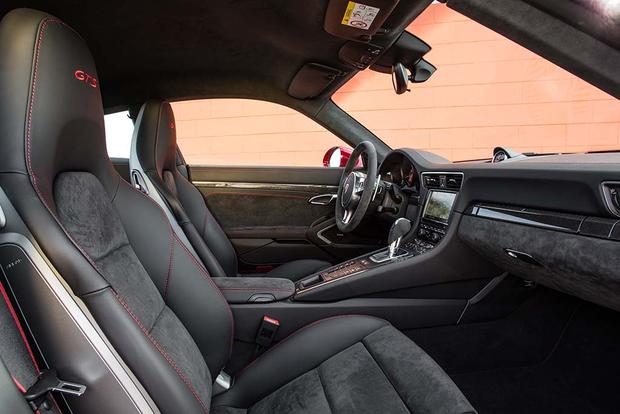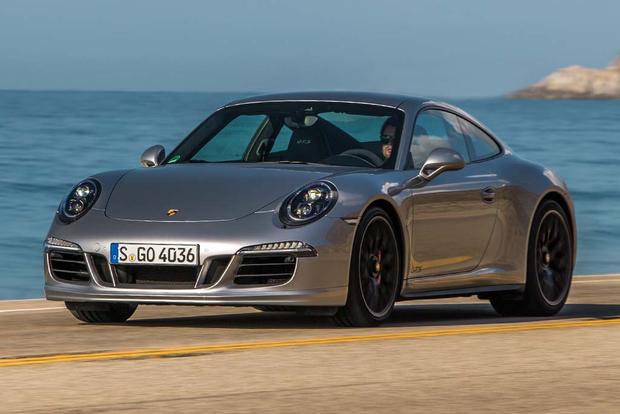 There may be no more familiar automobile silhouette than that of the iconic 2016 Porsche 911. As well as being one of the most recognized sports cars in the world, it's also one of the most coveted. Covering an enormous range of models and prices, the 911 and Carrera lines run the gamut from the base 911 to the coveted GT3, GTS and Turbo S models. And for 2016, two new trims have been added, bringing the total number of 911 variations to 21.
There's no question that today's Porsche 911 is the most luxurious 911 ever built, but it hasn't come without a few technological gremlins. While reviewing a 911 S in 2012, for example, we experienced six phantom check-engine lights, all of which went out once we turned the car off and restarted it. The dealership technicians were unable to identify any issue, which leaves us wondering how they would repair these electronic glitches.
What's New for 2016?
Two new models are introduced for 2016: the 911 Targa GTS and 911 GT3 RS.
What We Like
Raw sporting ability; luxurious interior; classic 911 profile; extensive dealer network
What We Don't
Expensive; costly options; impractical back seats; relatively common
How Much?
$85,295-$220,000
Fuel Economy
The entry-level 911 comes with a 3.4-liter horizontally opposed 6-cylinder engine that's good for 350 horsepower. The 911 S has a slightly larger 3.8-liter engine that produces 400 hp, while the GTS bumps the figure to 430 hp. In the GT3, hp moves to 475. A 7-speed manual transmission comes standard in both cars, and the PDK dual-clutch automatic is optional.
We're not sure how often shoppers in this segment seriously consider fuel economy, but the 911 receives middling-to-decent figures. The base 911 Carrera and Carrera S with the PDK transmission are rated at 19-20 miles per gallon in the city and 27-28 mpg on the highway. The foul-weather-friendly Carrera 4 and 4S models are rated between 18-19 mpg city/25-26 mpg hwy. The GTS earns 18 mpg city/26 mpg hwy with the manual transmission and 19 mpg city/26 mpg hwy with the automatic transmission. The 4 GTS earns a slightly lower 18 mpg city/25 mpg hwy.
Turbo models send the fury of a 520-hp turbocharged, horizontally opposed 6-cylinder engine to all four wheels, with Turbo S models doing the same with an even more powerful 560-hp version of the same engine. Fuel economy drops as low as 17 mpg city/24 mpg hwy for the Turbo S. However, most people capable of affording a 911 probably won't mind paying for extra fuel.
The new GT3 RS employs a 4.0-liter horizontally opposed 6-cylinder engine generating 500 hp. Fuel economy on this automatic-only coupe is 14 mpg city/20 mpg hwy.
Standard Features & Options
The 2016 Porsche 911 comes in 21 trims: Carrera, Carrera S, Carrera Cabriolet, Carrera S Cabriolet, Carrera 4, Carrera 4S, Carrera 4 Cabriolet, Targa 4, Targa 4S, Carrera 4S Cabriolet, GTS, 4 GTS, GTS Cabriolet, 4 GTS Cabriolet, Targa GTS, GT3, GT3 RS, Turbo, Turbo S, Turbo Cabriolet and Turbo S Cabriolet.
Most of the differences among the models reside in their performance, as opposed to standard and optional equipment. Porsche provides an almost unlimited number of customization options, and many of them add tens of thousands of dollars to the bottom line.
The 911 Carrera ($85,295; $97,195, Cabriolet) has standard Bluetooth, navigation, rain-sensing wipers, HomeLink, iPod integration, power windows, dual-zone climate control, 19-inch wheels, cruise control, heated side mirrors and keyless entry on the base 911.
The Carrera 4 ($92,025; $103,925, Cabriolet) is similarly equipped to the Carrera but adds all-wheel drive.
The Carrera S ($99,895; $111,795, Cabriolet) adds a more powerful 400-hp engine, 20-in wheels, adaptive dampers and a torque-vectoring rear differential.
The Carrera 4S ($106,625; $118,525, Cabriolet) is similarly equipped to the Carrera S but with all-wheel drive.
The Carrera Targa 4 ($102,595) adds all-wheel drive and a targa roof.
The Carrera Targa 4S ($117,195) adds a more powerful engine.
The Carrera GTS ($115,195; $127,095, Cabriolet) adds the Sport Chrono package, the Porsche Active Suspension Management (PASM) active damper suspension, bi-xenon headlights, the Porsche Dynamic Light System and a sport exhaust.
The Carrera 4 GTS ($121,895; $133,795, Cabriolet) is the same as the GTS but with all-wheel drive.
The Carrera 4 Targa GTS ($121,855) adds a removable targa-top roof panel.
The 911 GT3 ($131,395) adds a 475-hp engine and special track tuning for the suspension and steering.
The 911 GT3 RS ($176,895) deletes a number of the GT3's luxury upgrades in order to reduce weight. A 500-hp 4.0-liter engine is added, as is a wider track.
The 911 Turbo ($151,995; $163,995, Cabriolet) offers 520 hp, all-wheel drive, rear-wheel steering, unique body and trim pieces, Bose audio and HID headlights.
The 911 Turbo S ($183,695; $195,595, Cabriolet) is the ultimate Porsche, adding 560 hp and more standard features.
Many of the standard features on the upper trims are optional on the lower ones. Porsche 911 options include ceramic-composite brakes, a carbon-fiber interior, an upgraded leather interior and dashboard, vent surrounds and door panels, adaptive cruise control, active suspension management, a heated steering wheel, adaptive sport bucket seats with natural leather, heated and ventilated front seats, a power moonroof (glass) or sunroof (metal), the Sport Chrono package and more.
Safety
With its nearly useless back seat, the safety features in the 911 focus on the driver and front-seat passenger. Both passengers have full-size head, knee and side airbags, as well as side-curtain airbags.
Neither the Insurance Institute for Highway Safety nor the federal government has crash-tested the 2016 Porsche 911.
Behind the Wheel
Everything about driving the Porsche 911 makes you feel like a rock star. No matter how you equip it, the car is an absolute thrill to drive with its aggressive power delivery and ultra-tight handling. Steering is also among the most direct that we've ever experienced, despite Porsche's inclusion of an electrically assisted steering system. Inside, the cabin is comfortable and easy to navigate, and the car is intuitive to maneuver on enthusiastic drives. Whether you're looking for a comfortable cruiser, an exciting weekend warrior or a dedicated track toy, the 911 works as a one-size-fits-all solution -- that's if you have the budget, of course.
The only downside we see to driving a 911 is that the car feels larger and heavier than we expected. Porsche should be synonymous with small and light, but the 911 is neither.
Again, this all comes down to personal taste. If you're in the market for a scaled-down racer, it may be worthwhile to look at the Cayman S or the 2016 Boxer S. But if owning "the" Porsche is on your bucket list, the 911 is an easy choice.
Other Cars to Consider
2016 BMW 6 Series -- While not as aggressive as the Porsche, the BMW 6 Series offers a roomier and more comfortable interior in a generally sporty touring car.
2017 Audi R8 -- Audi's V10-powered R8 costs about as much as a well-equipped 911 S, and it's just as athletic, too. Plus, the R8 has the exclusive appeal of much more expensive exotic cars.
2016 Chevrolet Corvette Stingray -- The Stingray delivers more hp and more thrills than base 911 models, but for a lot less money. It's a performance bargain.
Used Aston Martin DB9 -- A previously owned 2012-2014 Aston Martin DB9 offers a thrilling ride and a bit more exclusivity than the 911 for about the same price.
Autotrader's Advice
The sweet spot is in the 911 Carrera S Cabriolet. With its 400 hp, legitimately premium interior and open-air experience, it's sure to give you a rush when you gun the accelerator, as well as delivering a generally pleasant ride for longer trips. The only consideration here is price, because with a starting price of around $112,000 and options that can push it well over $130,000, there are several interesting alternatives available. For the Porsche faithful, it's a slam dunk.