Editor's note: You may want to read more of Autotrader's model vs. model comparison car reviews as well as the 2016 Porsche Boxster review, the 2017 Porsche 718 Boxster review and Buying a Used Porsche Boxster: Everything You Need to Know.
What's in a name — or in this case, what's in a number? The 2017 Porsche 718 Boxster quite obviously represents a change from the 2016 Porsche Boxster that it replaces, but what's the deal with the new number, and is anything else different? Well, the inclusion of "718" in the name harkens back to a Porsche race car from the late 1950s, and it's intended to more closely link the mechanically identical Boxster and Cayman. However, there are some other changes as well, so let's take a look at them.
Exterior
The 718 Boxster doesn't represent a complete redesign, so it boasts the same basic proportions, dimensions and even look as before. The trunk and front-trunk lids, windshield and convertible roof are even unchanged, but cosmetically, almost everything else has been altered in some way. Mostly, things have been squared off a bit: There's a sharp crease on the front fenders, the lower air dam is a little boxier, and the headlights are different.
On the sides, the mirrors are new, the door handles are more streamlined and lack the 2016's comparatively clunky housing, and the engine's air intakes have been enlarged and reshaped to handle the extra cooling requirements of the new turbo engines. Finally, around back, the taillights now consist of multiple LED elements in a darkened, reshaped housing, while the lip spoiler that connects them has been enhanced with a raised, 3D Porsche script.
Interior
The changes inside are a bit less substantial, but they are nevertheless successful. The standard Porsche Communication Management touchscreen is new (see Features & Technology below), and the dash top has been reshaped. Specifically, the air vents have been rounded and rise from the dash, while the available Sport Chrono package clock that resided between those vents in 2016 has been moved forward into its own rising pod, as it is in other Porsche models.
The steering-wheel selection is also new, featuring a common design inspired by the exotic Porsche 918 Spyder. It looks better and is more ergonomic. Also, like in the 911, the wheel can house a rotary selector for the car's various drive modes when equipped with the Sport Chrono package. And when equipped with the PDK automated manual transmission, there's a Sport Response button in the center of that selector that sets various vehicle components for 20 seconds of maximum performance.
Otherwise, the 2016 and 2017 Boxster feature the same interior space — both cars are surprisingly roomy, even for those north of 6 feet tall. With the soft-top raised, wind noise is pleasantly quelled, although rearward visibility is compromised. Note that if you're really not a convertible person, the Porsche 718 Cayman coupe is basically the same car but with a fastback hardtop roof.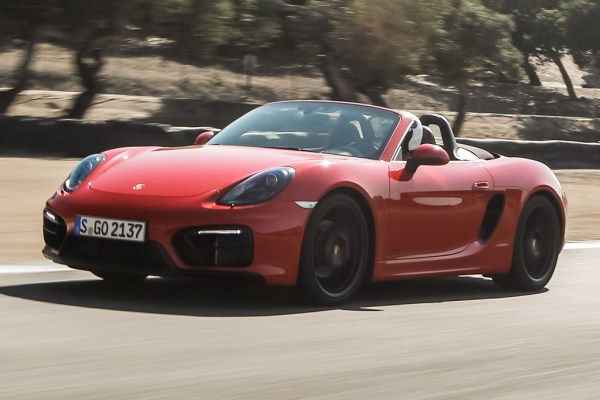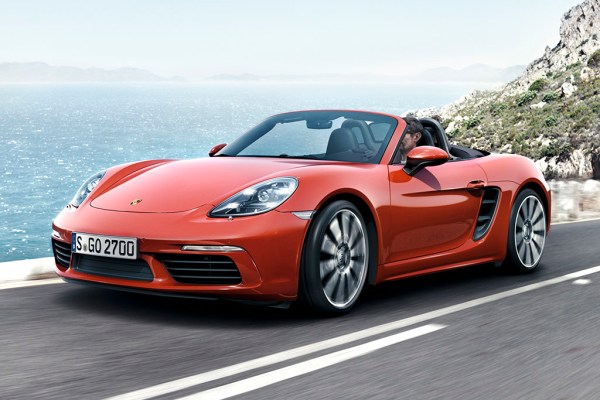 Mechanicals
Here's where the biggest changes occurred to the 2017 Boxster — and there's a chance you may actually prefer the previous model as a result.
The 2016 Boxster had a choice of two horizontally-opposed flat 6-cylinder engines tucked low in the chassis, just behind the passenger compartment. The base Boxster displaced 2.7 liters and produced 265 horsepower and 207 lb-ft of torque, while the Boxster S displaced 3.4 liters and pumped out 315 hp and 266 lb-ft of torque. Apart from their power, however, these flat-6 engines were renowned and beloved for their response and beautiful, mechanical noises that urged you to rev and drive it harder.
The new engines have less character but pack a bigger punch. They're also turbocharged and have only four cylinders. The new base engine is a 2.0-liter flat 4-cylinder good for 300 hp and 280 lb-ft of torque, which is a considerable difference — and you can feel it, especially when pulling away from a traffic light. The Boxster S, meanwhile, has a larger displacement of 2.5 liters, which improves response over the base engine and increases power output to 350 hp and 309 lb-ft of torque. Though their performance edge is hard to argue with, these 4-cylinders don't sound as exciting, and their exhaust notes are more a deep baritone as opposed to the old car's soaring soprano.
Besides the engines, there were also changes made to the suspension, specifically the available adaptive suspension — the standard and Sport settings have been moved further apart on the firmness spectrum to maximize ride comfort and handling. It works, and indeed, the 718 Boxster is both a more livable and exciting car to drive because of it. The steering is also 10 percent quicker, delivering an even sharper driving experience — although the 2016 remains a stunningly responsive car to drive.
Features & Technology
Every 718 Boxster comes with Porsche's latest 7-inch touchscreen interface. It's less susceptible to glare — crucial in a convertible — and can now be controlled with smartphone-style swiping and pinching gestures. It can also recognize finger-written letters and numbers when you enter in a navigation-system destination. It's also quicker to respond and generally easier to use.
Other new standard features include Apple CarPlay, bi-xenon headlights, a rearview camera and parking sensors.
Driving Experience
A Porsche Boxster, whether it's a 2016, a 2017 or even a 1997, will be a wonderfully fun car to drive. With its midengine, rear-wheel-drive layout, it's inherently designed for optimal handling balance and response. On the whole, though, the 718 Boxster is the better performance machine, even if the 2016's soulful 6-cylinder engines might make it seem a little more exciting.
Regardless of year, however, your driving experience can differ tremendously based on which options you select. There are two engines to choose from, as well as multiple suspensions, exhausts, steering systems, brake systems and wheels. Then there's the transmission. Both 2016 and 2017 Boxsters can be equipped with the 7-speed PDK automated manual transmission, which is arguably the best such transmission in the business, capable of firing off rapid shifts when driving aggressively as well as behaving like a normal automatic the rest of the time. The 6-speed manual transmissions differ, however, as mechanical updates for 2017 make the clutch much friendlier on your left leg. Opting for the manual also adds back in some of the driver involvement that you lose due to the 718's added torque — with the PDK, it's almost too easy to drive.
Safety
The 2017 718 Boxster now comes with bigger brakes and a multi-collision braking system, which automatically applies the brakes after an initial collision to help prevent a secondary one. Otherwise, the two Boxsters come with the same array of standard and optional safety features.
Conclusions
So, there's more to the 718 Boxster than just a name change. There's also an argument to be made that new and improved doesn't necessarily mean better or preferable. Test-driving both the 2016 and the 2017 Boxster would be a good idea. Of course, you'd have to buy a 2016 off the lot as opposed to being able to custom-order a 2017, but nevertheless, each has distinctive virtues you may appreciate.