Editor's note: You may want to read more of Autotrader's model vs. model comparison car reviews as well as the 2016 Mercedes-Benz E-Class review and the 2017 Mercedes-Benz E-Class review.
The 2016 Mercedes-Benz E-Class is a well-rounded, impeccably engineered luxury sedan packed with safety, entertainment and comfort features. It's one of the most appealing cars on the road. And yet, the 2017 Mercedes-Benz E-Class represents a stunning stem-to-stern redesign. Though fundamentally the same in concept, this new E-Class is a more advanced and luxurious car than the one it replaces. Let's take a look at those changes to explain what the differences are between the 2016 and 2017 Mercedes E-Class.
Exterior
Unlike the redesigns of some other German cars, it's easy to see the transformation that the E-Class sedan has undergone. Whereas the 2016 is a bit blocky, the 2017 is curvaceous. If anything, though, it's now tough to distinguish the E-Class apart from the cheaper C-Class. In terms of size, the 2017 E-Class gains 2.6 inches in wheelbase — good for extra rear legroom and overall vehicle stability — while the length increases by 1.7 inches.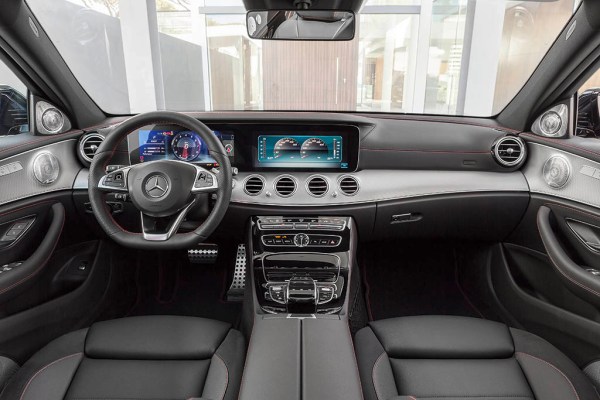 Interior
The 2016 E-Class interior is spacious and well-made, and like the exterior, there's a squared-off design aesthetic in keeping with classic Mercedes models. The 2017 E-Class is wildly different, featuring an organic design highlighted by a sweeping band of wood trim that stretches across the dash from door to door. Above, the new E-Class demonstrates its technological advancement with a large 12.3-inch display screen that can be augmented further with an optional second screen that serves as a virtual gauge cluster. Together, they combine to create a single, enormous widescreen display. This combination of the latest technology and sumptuously luxurious appointments is a striking contrast not only to the 2016 model but also to its many luxury-sedan competitors.
Mechanicals
Though the 2017 E-Class will eventually be available with a similar variety of engine choices to the 2016, for now, there's only one available engine. Replacing the 2016 E350 and its 302-horsepower V6 as the bread-and-butter model is the 2017 E300, which includes a 2.0-liter turbocharged 4-cylinder that produces 241 hp and 273 lb-ft of torque. A 9-speed automatic transmission is standard instead of the 2016's 7-speed.
You will, of course, note the 2016 E350 has more power than the 2017 E300, and despite its new 9-speed automatic transmission and a weight reduction of 70 pounds, we do expect the new model to go from 0 to 60 miles per hour a few tenths of a second slower. The 2016 E400 and AMG E63 bring considerably quicker acceleration, but they'll eventually be replaced by similarly all-new models. See the 2016 Mercedes-Benz E-Class models for sale near you
Fuel economy has improved, and although the figures don't seem as different as you might expect given the smaller engine, changes to the Environmental Protection Agency's testing procedures in 2017 have yielded lower numbers across the automotive industry. Consider this when seeing that the 2016 E350 returns an estimated 20 miles per gallon in the city and 29 mpg on the highway, whereas the 2017 E300 returns an estimated 22 mpg city/30 mpg hwy.
Elsewhere, multiple suspension options are available on both models, but the 2017 is further available with Mercedes' Air Body Control suspension that self-levels. It lowers automatically to reduce fuel consumption and increase stability and can be raised to clear obstacles.
Features & Technology
The 2016 E-Class features the previous generation of the Mercedes COMAND electronics interface, with a center console knob, dash-mounted buttons and a dash-top screen. It's not as complicated as some other tech interfaces and is relatively easy to use. The 2017 has the latest edition of COMAND, which has more features, more ways to control the system and much sharper graphics on its enormous screen, but it can be a bit confusing and overwhelming to use. Beyond the carry-over knob, there's a redundant touch-operated pad above it and miniature touch-operated control pads on the steering wheel (a Mercedes first).
In addition to the multitude of new safety features and driver-assistance systems described below, the 2017 E-Class mostly gains new features designed to cosset and impress. These include optional heated door and center console armrests as well as ambient interior lighting that provides 64 color choices. See the 2017 Mercedes-Benz E-Class models for sale near you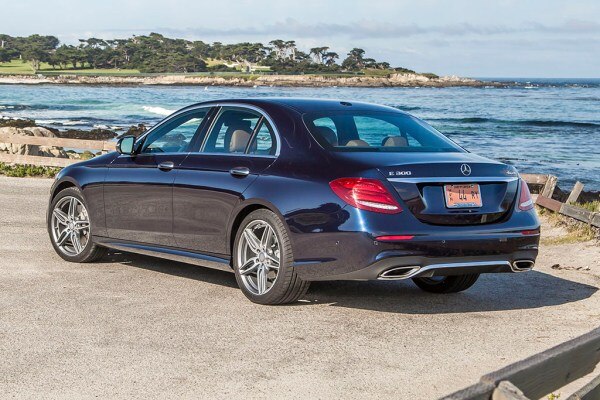 Driving Experience
There's a distinctive solidity to the 2016 Mercedes-Benz E-Class that's long been a trademark of the brand. It cruises down the road with resolute comfort and composure, and although it makes no pretenses to being a sport sedan like most competitors do, it's nevertheless nicely controlled around corners. Much is the same with the 2017 E-Class, although the comfort and isolation have been dialed up further. This is especially true if you opt for Air Body Control. Really, you can't lose with either generation.
Safety
The 2016 E-Class boasts an almost unbeatable number of standard and optional safety features. These include more airbags than most and a standard driver-inattention and drowsiness monitor. Options include lane-departure warning, a blind spot monitoring system and forward-collision warning, all of which can be bolstered by automatic braking and steering intervention. There's also an available automated parking system and an adaptive cruise control system (known as Distronic Plus).
All of these carry over to the 2017, but the list gets even longer. Standard equipment now includes Active Brake Assist (a collision warning and automatic emergency braking system), Crosswind Assist (which automatically mitigates the effects of crosswinds) and PRE-SAFE Sound (which creates subtle noises through the car's sound system when a potential accident is detected that triggers an inherent, protective reflex in the human brain). Optional items include an enhanced version of Active Brake Assist that can detect cross-traffic, Evasive Steering Assist (which provides steering assistance when avoiding other cars or pedestrians) and PRE-SAFE impulse side (which uses the front seats' active side bolsters to automatically push occupants away when a side collision is detected).
Driver-assistance systems have also been bolstered. Mercedes' excellent Distronic Plus adaptive cruise control becomes part of Drive Pilot. Besides automatically matching your speed to the car ahead, Drive Pilot can automatically keep you in your lane, even through moderate corners and when lines are unclear. The system can even make lane changes for you. Finally, there will eventually be a system called Remote Parking Pilot that allows you to pull the car out of extremely tight parking spaces using a smartphone app.
Conclusions
It's hard to imagine being disappointed by the 2016 E-Class. Then again, we also think it would be hard to pass up the stylish, technological tour de force that is the 2017 Mercedes-Benz E-Class. The new one is without question better, but settling on a 2016 would be no bad thing. Find a Used Mercedes-Benz E-Class for sale