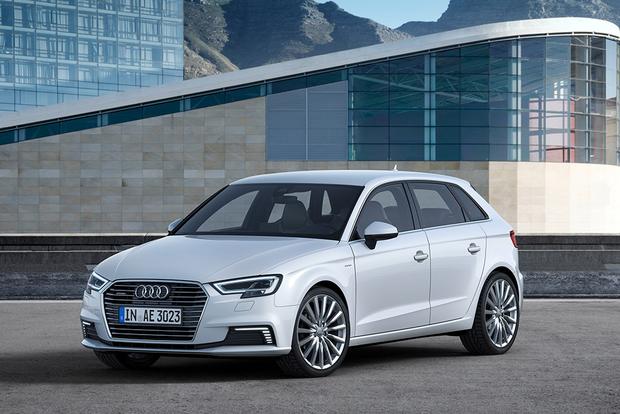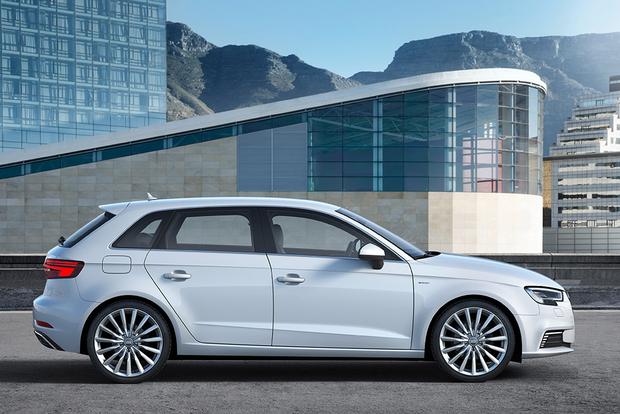 If you're looking for information on a newer Audi A3 Sportback E-tron, we've published an updated review: 2018 Audi A3 Sportback E-tron Review
The 2017 Audi A3 Sportback E-tron plug-in hybrid is the only hatchback in the A3 range. And it's the only way of owning a premium compact plug-in hybrid with the famed 4-ring badge on the grille.

There are some things we know Audi will always deliver, such as crisp and cultivated styling inside and out, rewarding dynamics and great technology. This car hits those marks while also being capable of excellent fuel economy.
What's New for 2017?
Subtly redesigned bumpers, front fascia and rear LED taillights are part of a styling refreshment for all A3 models. Audi's Virtual Cockpit is now available. New standard equipment includes forward collision mitigation and smartphone integration. Rear cross-traffic alert becomes standard in Prestige trim and optional in Premium Plus trim. See the 2017 Audi A3 models for sale near you
What We Like
Practical hatchback body; high-class interior; high-tech fuel economy.
What We Don't
Premium pricing.
How Much?
$38,850 to $48,500. There are various state and federal incentives to offset the purchase price.
Fuel Economy
A turbocharged 1.4-liter 4-cylinder engine joins an electric motor and a lithium-ion battery pack to provide a combined system output of 204 horsepower and 258 lb-ft of torque. A 6-speed automated manual transmission sends this energy to the front wheels.

The Environmental Protection Agency (EPA) estimates an average miles-per-gallon equivalent of 83 MPGe, including 16 miles driven purely in electric vehicle (EV) mode. Without EV mode in the equation, the EPA puts consumption at 35 mpg combined city/highway. This gives the car a total range of 380 miles.

As well as being able to select EV mode, the driver can also disengage the electric motor and use just the combustion engine. This can be a useful feature when battery power is required later in the journey.

Charging the battery from a 240-volt source takes two-and-a-half hours. Using a 110-volt socket requires eight hours.
Standard Features & Options
The 2017 Audi A3 Sportback E-tron comes in Premium, Premium Plus and Prestige trim levels.

Premium ($39,850) comes with 17-inch alloy wheels, automatic xenon headlights with LED running lights and taillights, rain-sensing wipers, sunroof, keyless entry/ignition, tilt/telescope steering wheel, 8-way power-adjustable front seats, leather upholstery, dual-zone automatic climate control, drive mode selection, heated side mirrors, LED cabin lighting, 5.3-inch touchscreen, rearview camera, Bluetooth and a 10-speaker audio system with SD card reader, USB slot and satellite/HD radio.

Premium Plus ($42,950) brings heated front seats, auto-dimming rearview mirror, adaptive LED headlights and parking sensors front and rear.

Prestige ($48,500) has advanced safety features (see the Safety section below) along with the Virtual Cockpit 12.3-in configurable instrument display, auto-dimming/power-folding side mirrors, upgraded infotainment system with a 7-in screen and handwriting recognition, 4G LTE Wi-Fi, navigation and a Bang & Olufsen 14-speaker/705-watt audio system.

The higher-grade infotainment system may be ordered as an extra in the Premium model. The Premium Plus and Prestige trims are eligible for a Sport package that includes 18-in alloy wheels, sport steering wheel and sport seats.

Cargo space behind the rear seats is 13.6 cu ft. The battery pack is located under those rear seats, so it doesn't affect the luggage area.
Safety
As well as all the mandatory equipment, such as anti-lock brakes and traction/stability control, the A3 E-tron has front knee airbags and full-length side curtain airbags.

Prestige trim enjoys adaptive cruise control, forward collision warning system with automatic emergency braking, lane departure prevention and blind spot monitoring with rear cross-traffic alert.
Behind the Wheel
The electric motor's virtually instant torque contributes to the impressive acceleration. The cabin is so quiet there's virtually no engine noise and hardly any transmission whine.

Top speed in EV mode is 80 mph. The car has a "glide" mode for downhill stretches. In a conventional car, lifting off the throttle would initiate engine braking, but glide mode keeps up the momentum.

The A3 E-tron has a high-quality interior well up to Audi's usual lofty standards. The ride is similarly sophisticated. This is one of the must-drive candidates among plug-in hybrid electric vehicles (PHEV).
Other Cars to Consider
2017 Chevrolet Volt -- Not at the same premium level as the Audi, but EV range for this plug-in hybrid is an impressive 53 miles.

2017 Lexus CT 200h -- Essentially a higher-end version of a Prius. So a premium compact hatch, but without the plug-in hardware.

2017 BMW i3 -- When bought with the range-extending engine, this electric car moves more into the area of a plug-in hybrid. It's an interesting vehicle of innovative construction.

2017 BMW 330e -- Not a hatchback, but a sedan. And only 14 miles in EV mode. But still a compact premium plug-in hybrid from Germany and an excellent car all the same.
Autotrader's Advice
There's nothing quite like the A3 Sportback E-tron. Which means it could be an ideal purchase or not quite hit the mark. It all depends on what is required and what a buyer's budget might be. But if this car looks tempting, then by all means explore it with greater depth. Find an Audi A3 for sale